Soup… so SUPER delicious!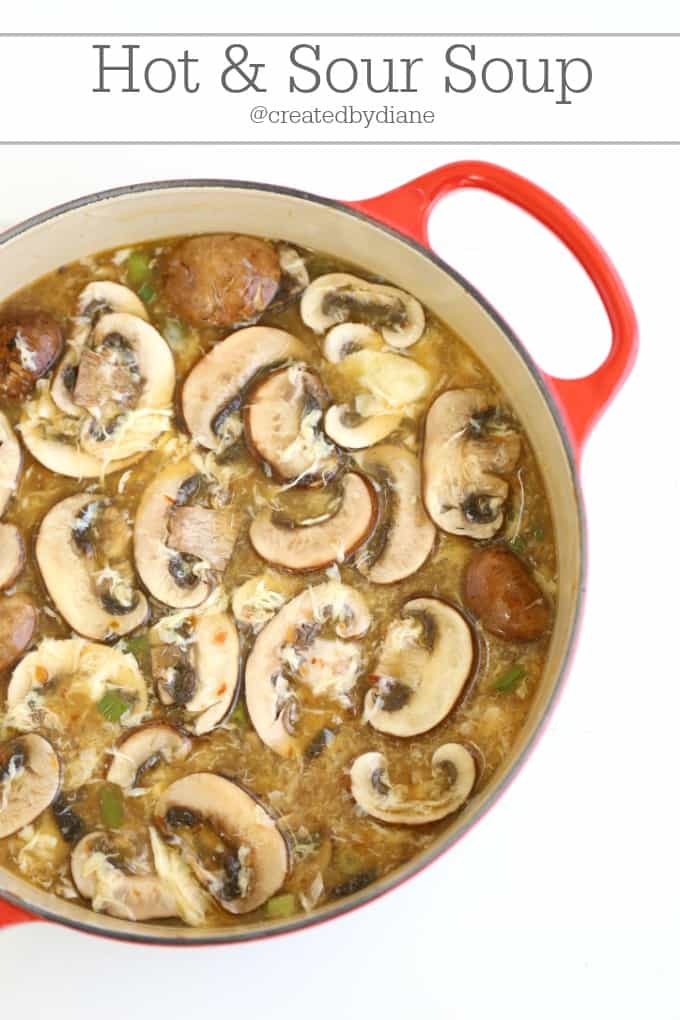 Hot and Sour Soup
Don't miss one delicious recipe and get my FREE e-cookbook click here!
I love quick easy soups like this that are packed with flavor and don't take but minutes to make!
For as long as I can remember I've loved hot and sour soup, it reminds me of cold rainy days but the best part about it is that it doesn't need to be cold or rainy to enjoy it.
So whip up a pot of this soup and enjoy, it's great with a toasted baguette for lunch or dinner or to serve right in the middle of the day!
You won't believe how easy this is,
just whisk the chicken stock, chili paste, ginger, soy sauce, vinegar, sesame oil, and cornstarch together in a pot over medium-high heat.
Bring it to a boil, then remove the pan to stir in the eggs.
Lastly, add in the mushrooms, onions, tofu and you're all set, give the mushrooms a few minutes to cook and then scoop it into a bowl and enjoy!
Hot and Sour Soup
Ingredients
4 cups chicken stock
2 tablespoons chile paste
½ teaspoon ginger (fresh or dry)
2 tablespoons soy sauce
2 tablespoons rice vinegar
1 teaspoon sesame oil
2 tablespoons cornstarch
1 egg + 1 egg white (mixed in a bowl)
3 green onions
4-6 oz mushrooms sliced (I used baby portabella)
2-3 oz diced tofu
Instructions
In a 4-quart pot whisk chicken stock, chili paste, ginger, soy sauce, rice vinegar cornstarch, and sesame oil, bring to a boil over medium-high heat.
Bring it to a boil.
Remove pan to a cool burner to add eggs. Stir broth into a circle as you swirl in the eggs.
Place back on medium-high heat, add in sliced mushrooms and tofu. Heat for 3-4 more minutes.