No matter what time of year it is, in my house it's ALWAYS time for SOUP!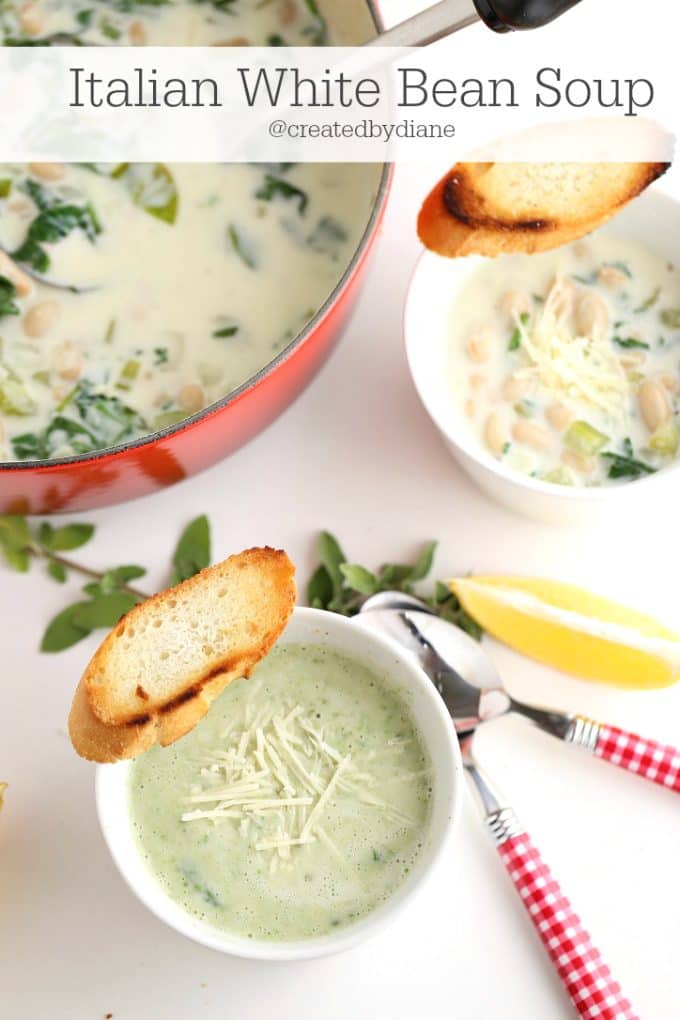 I have loved soup FOREVER,
my mom would make a large pot of soup when I was young and I would just devour it.
If we didn't have homemade soup, I would eat it out of a can.
Every day after school!
Really, I certainly had a few favorites.
Campbells used to make a wonton soup and it really was my all time favorite.
I haven't seen it in years. I do make a really easy wonton soup, but no need to spend the time wrapping wontons.
It's even called Inside Out Wonton Soup. It's always a huge hit with everyone especially my own little soup lover, who by the way is not so little anymore.
This soup is a brand new favorite.
The flavors will surprise you.
It's not an ordinary bean soup.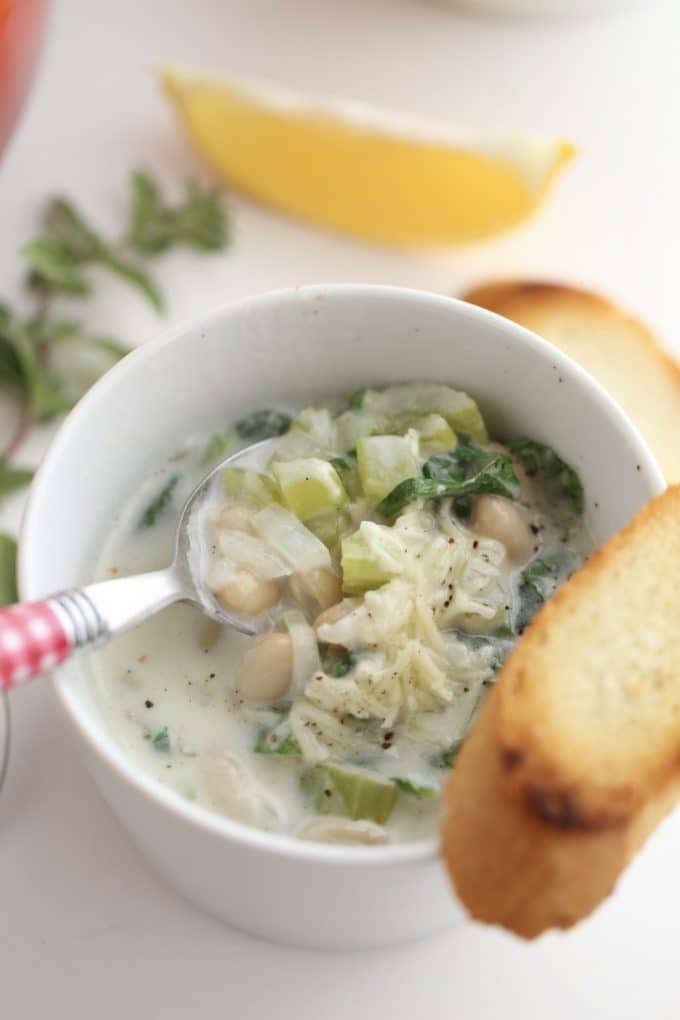 I love that the soup is not heavy even though it's lightly creamy,  it's full of beans, spinach, has great flavor with onions and celery and is full of spinach.
Now the kicker it doesn't only have Italian flavors, you squeeze fresh LEMON on top of it.
Oh, my goodness, why haven't I done that each time I made it.
It really made the soup over the top yummy!
I also topped it with some grated Romano Cheese.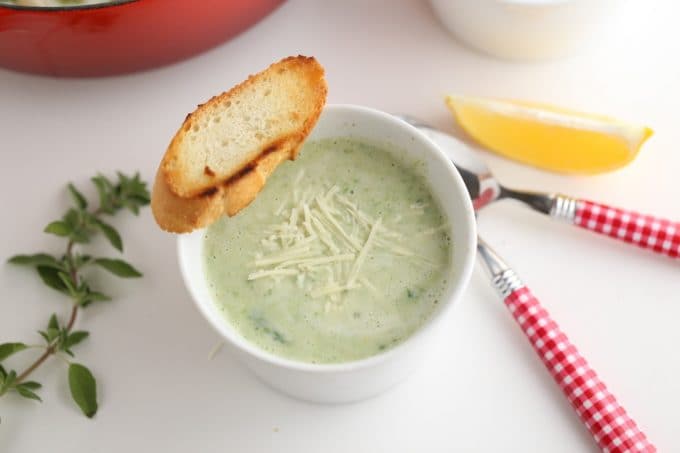 There is a bonus to this soup, it's really delicious chunky, or creamy!
Just pop your immersion blender into the pot or into the individual bowl of whoever likes smooth soup.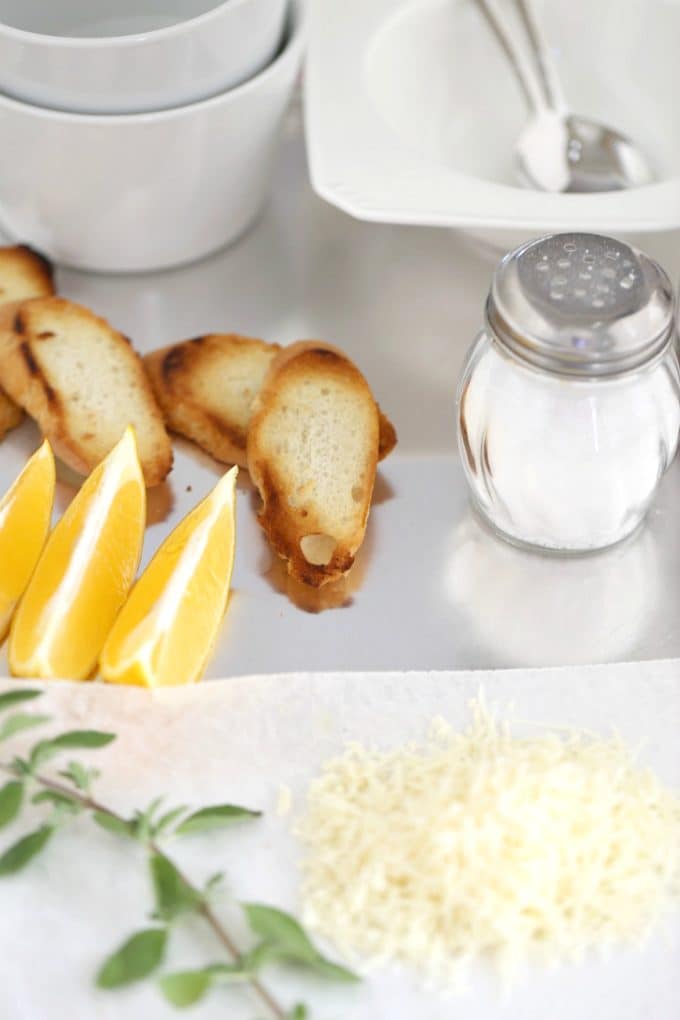 Topping the soup off with a couple of yummy items really makes it outstanding.
This soup offers 6-8 servings depending on the size portion your serve.

Italian White Bean Soup
Ingredients
2 tablespoon olive oil
2 tablespoon butter
1/2 medium onion, diced
3 celery stalks, chopped
2 tablespoon flour
1 tablespoon garlic, minced
3 cans white cannellini beans, drained
4 cups chicken broth (if you like a rich chicken flavor add chicken bullion- I added 2 teaspoons)
4 cups of milk
2 cups fresh spinach, chopped
4 fresh basil leaves chopped
1 stem fresh oregano, leaves removed and chopped
1 fresh lemon wedged for juicing on top of each bowl of soup
1/4 cup grated Parmesan/Romano Cheese
Instructions
In a 4 quart pot saute onion in butter and oil for 2 minutes.
Add in celery and garlic and saute.
Stir in flour.
Add the chicken broth and bring to a boil.
Add in milk and stir in bean and heat them on medium until they come to a simmer.
Add chopped spinach, basil, and oregano and stir.
Serve soup with fresh squeezed lemon and grated cheese and toasted bread.
Notes
puree soup with an immersion blender if you'd like the soup smooth.