Don't put away your soup ladle quite yet…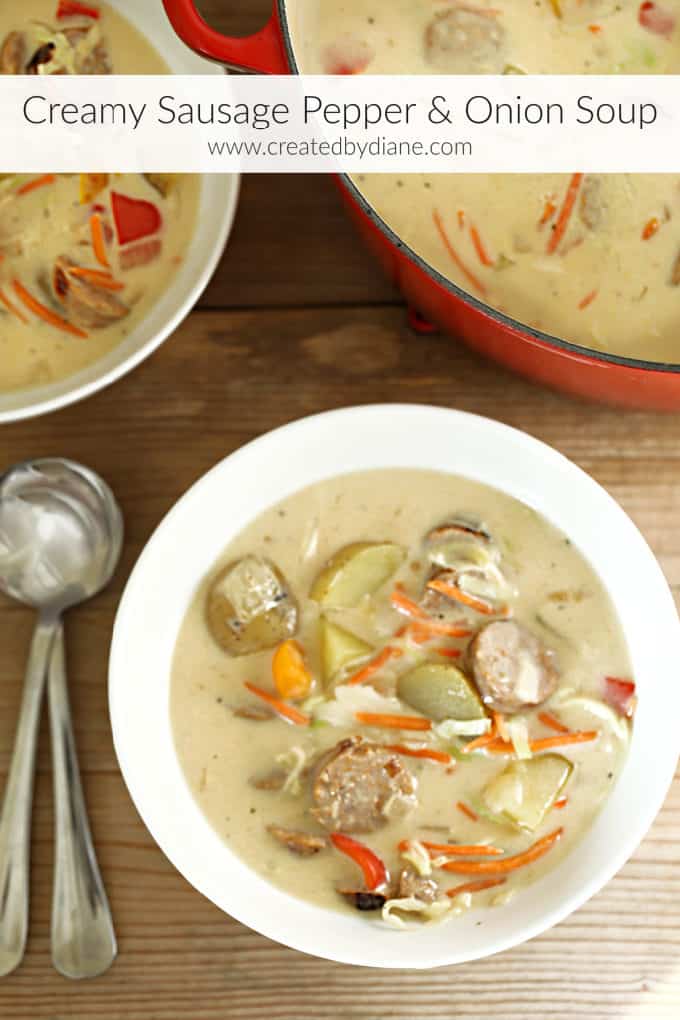 The weather is warming up now that it's spring,
but the nights are still pretty cool…
which makes it perfect soup weather!
This is a flavor combination that is typically served on a toasted roll on a stroll along the boardwalk. Which happens to be a favorite of mine!
Now in soup form, and creamy and irresistible.
I use hot sausage and add a little more crushed red pepper to the soup if you prefer sweet sausage and things not so spicy go right ahead and use sweet sausage and no crushed red pepper.
Other great soup recipes to try: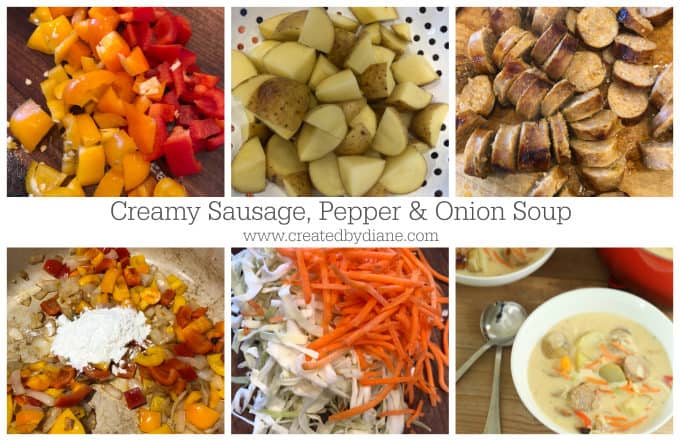 Adding flour to the vegetables sauteed with a little oil with help to thicken the soup,
alternatively, you can use all milk in the recipe with chicken flavor/bouillon, or add some heavy cream. 
Another great additive is grated cheddar cheese, it makes it yummy too!
I'm always trying to add more vegetables into meals, so I added some sliced cabbage and julienned carrots and it added a nice flavor and texture to the soup.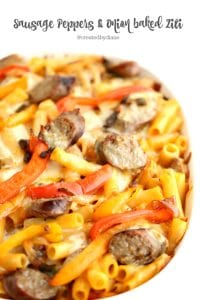 If you like sausage, peppers, and onions as much as me you'll also need to try this Sausage, Peppers, and Onions Baked Ziti Recipe it's so delicious!
Creamy Sausage Pepper and Onion Soup
Ingredients
1/2 onion diced
1 cup diced peppers (any color)
1 tablespoon oil
2 tablespoons flour
1 lb gold potato cut into 1-inch pieces
4 links sausage cooked and sliced
1 cup shredded cabbage
1/2 cup julienned carrots
3 cups milk
4 cups chicken broth (or water and chicken flavor, I add more chicken flavor for a richer taste about 1 1/2 tablespoons)
1/2 teaspoon crushed red pepper flakes
Instructions
In a 5-6 quart saucepan saute onion and peppers with a tablespoon of oil.
Meanwhile, cook sausage in a separate pan.
Add flour then stir to combine.
Slowly pour in milk and stir to create a thick sauce.
Add in chicken broth (or water and chicken flavor) and bring to a boil.
Add in potatoes.
Bring to a boil over medium-high heat.
Add in cabbage and carrot these don't need to cook really they are better left crunchier for a better texture.
Slice sausage, and add that to the soup along with crushed red pepper, and add salt and pepper to taste.
If the soup is not thick enough, while it's boiling add 2 tablespoons cornstarch mixed with 1/2 cup cold water and stir it'll thicken quickly. Alternatively, you can use all milk in this recipe and add chicken flavor/bouillon or add some heavy cream. It's also great with a cup of grated cheese added in.