Ham and cheese is a popular sandwich combination… just imagine a silky cheesy ham and potato soup becoming your new favorite recipe!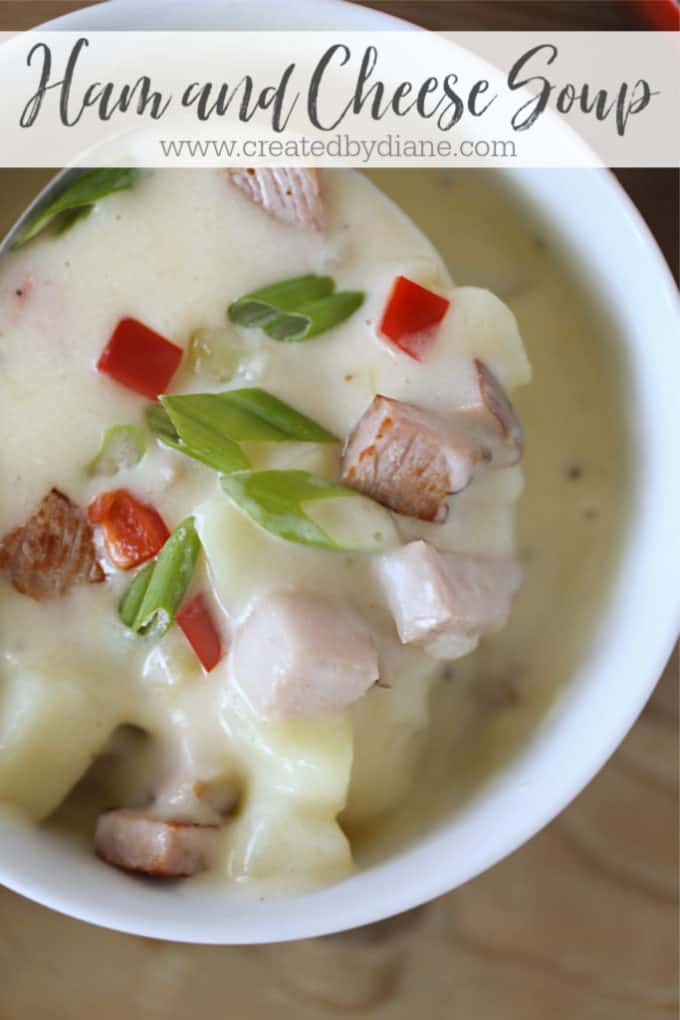 There aren't too many things better on a cold winter night than a delicious bowl of creamy ham and cheese soup.
Maybe a warm blanket and roaring fire, but I really like putting all three together!
And you will now, too. 
Since everyone likes ham… cheese… potatoes… and SOUP,
combining them into this Ham and Cheese Soup Recipe is a winning flavor combination and will become a family favorite, for sure.
I'll give you a few ways to make it your own. All the options will be delicious.
However, if you follow the recipe exactly, I promise that you won't be disappointed!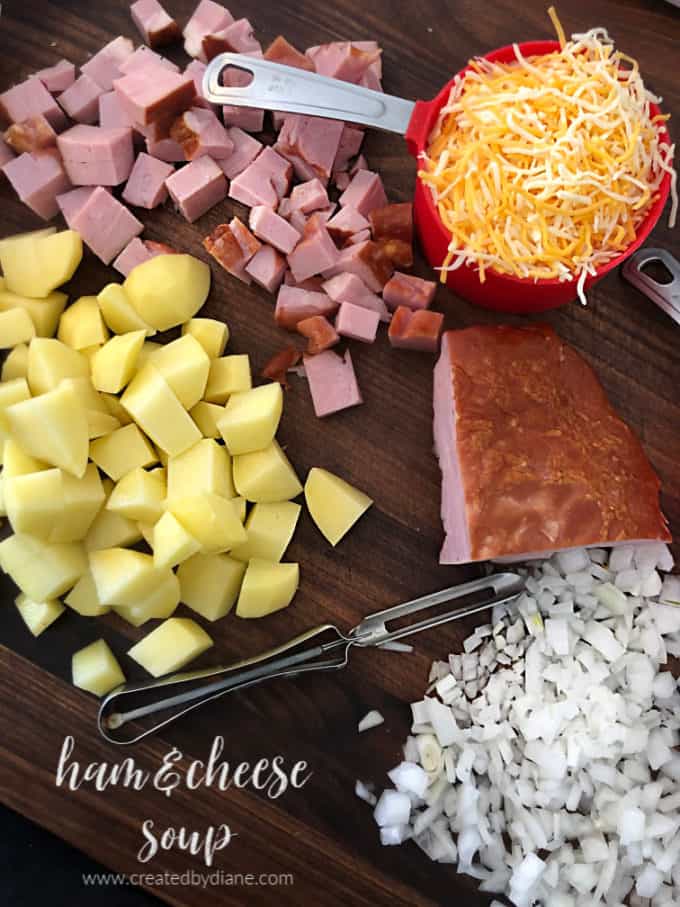 With just a few simple, delicious ingredients you'll be on your way to a great soup!
What type of ham can you use?
Any ham that you can cut into pieces would be fine. You can even use up what you have leftover from a baked ham or even from the deli. I like to use a half ham or quarter so that I can dice it into little cubes.  
We often have ham for holiday meals, and I always dice up a pound and put it in a plastic zip bag so I will have ham on hand any time I want to make this Ham and Cheese Potato Soup along with my Leftover Ham Fried Rice Recipe. 
Ham is fully cooked no matter which kind you buy. Try to stick with meat labeled ham or ham with natural juices. "Ham with water" and "ham and water products" may be bland and spongy. Plus, you're paying for the extra water weight. Since ham is one of three main ingredients, make sure it's a quality ham.
What type of cheese can you use?
Your favorite cheese pairing with ham is the right one for you. For me, it's cheddar and jack cheeses. I love the sharpness of the cheddar and creaminess from the jack. It's a classic combination and melts really well. Sharper cheddar cheeses, gouda, and swiss would all be great alternatives.
How do you thicken ham and potato soup?
There are two thickeners in this soup. These cheese will help thicken the soup and I use flour in a roux with butter to thicken the soup. Alternatively, you could swap out the flour for cornstarch, mix cornstarch with water cornstarch has twice as much thickening power as flour, so you can use a small amount and add more if needed.
How to keep the cream soup from separating?
Do not boil cream soups! When cream soups rapidly boil, the cream will separate and the texture will become grainy. The trick: As soon as the soup comes to a simmer (small bubbles), turn the heat down to medium-low to finish cooking the soup. This will allow enough heat to melt the cheese without separating the sauce.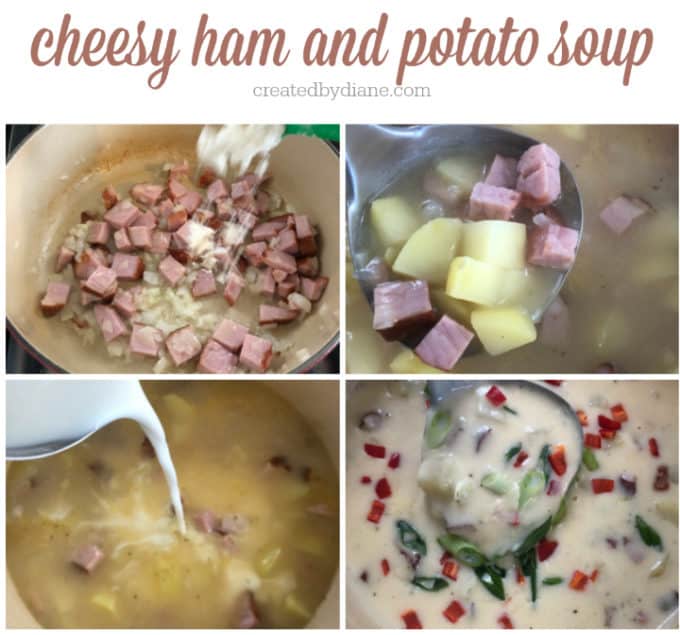 Here are a few ham and cheese soup garnish options:
Scallions
Diced red pepper
Red pepper flakes
Diced tomato
Bacon pieces
Croutons
and of course, you could make a ham and cheese sandwich to dunk in the soup if you want an over the top ham and cheese experience.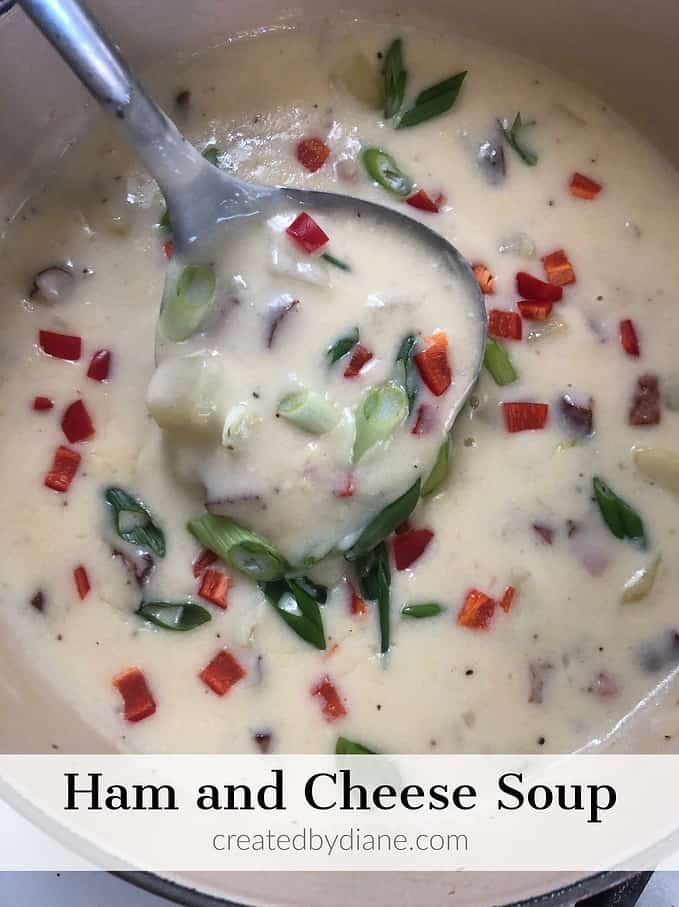 Now if you're a soup person like me, you're always looking for more great soup recipe be sure to take a look HERE for all my soup recipes, there are over 25 and don't forget these:
Be sure to check out my post on making homemade soup HERE.

Ham and Cheese Soup
creamy delicious cheesy soup with ham and potatoes
Author:
Diane Schmidt Created by Diane
Ingredients
1/2 small onion, diced
1 1/2 cups diced ham
1 tablespoon butter
1 tablespoon flour
1 cup grated cheese, cheddar, and jack cheese
3/4 lb small gold potatoes, peeled and cut into quarters
4 cups chicken broth
2 cups milk
garnish
2 chopped scallions
1/2 diced red pepper
diced tomato (optional)
Instructions
IN a 4 quart saucepan or dutch oven saute butter with onion and ham until the onion is clear and the ham begins to brown.
Add in the flour and stir well, then slowly add the chicken broth to create a thick sauce, then add the potatoes and bring to a boil and cook the potatoes until they are tender when pierced with a knife (8-10 minutes).
Then turn the temperature to medium heat.
Pour in milk, then add cheese and stir to combine well, simmer on medium-low heat.
Add salt and pepper to taste.
Garnish with toppings and serve.