I have ALWAYS loved wonton soup, and this recipe makes it so easy to make it anytime you want it! This simple uncomplicated soup recipe is ready in minutes and perfect any time!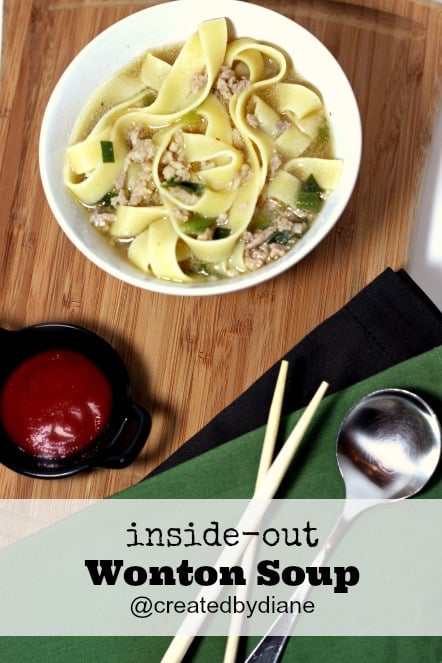 It's true almost any kind of homemade soup is good with me.
I have always been a soup girl.
I have a vivid memory of enjoying a can of Campbell's Wonton Soup with my friend Lisa in the sixth grade, funny she remembered it too and wrote about it to me once.
I don't even think they make it anymore, but if I saw it I would want it just for the memories to come flooding back.
For years now, I have made soup. So many varieties of soup.
AND this one is always a winner!
I'm planning on sharing some of my favorites.
The first one is…
my easy version of wonton soup
(I've made the wontons before and they are yummy, but most of the time I don't plan ahead and want it NOW, so here is the way to make it fast)
This recipe comes together so quickly and easily and has such a great flavor my kids love it too.
I'm all for fast and delicious recipes.
This needs to go on your must make list!
I know many people call for Chinese takeout for fast, but with this, you get a WHOLE POT of soup, fast and you can enjoy bowl after bowl!
This soup is great when you aren't feeling well and it's simple enough to even do it yourself if you aren't up to par.
This soup takes about usually under 25 minutes to make.
If you like it spicy, serve it with some sriracha sauce or add in some crushed red pepper.
You can add in some shrimp, water chestnuts, cilantro.
Inside-Out Wonton Soup
Ingredients
1 lb. ground pork until cooked
1/4 teaspoon grated fresh ginger or dry ginger
2 diced scallions diced
1/2 head napa cabbage chopped finely
2 tablespoons soy sauce
1/4 teaspoon sesame oil
6 cups chicken broth
*optional 2 carrots, grated
Instructions
Saute pork in a 4-quart pot until cooked over medium heat.
Add ginger, scallions, cabbage, add in soy sauce and sesame oil.
Then pour in chicken broth.
You can use wonton wrappers or fettuccine noodles for this soup.
Wonton noodles are thinner and light in texture. Fettuccine noodles are thicker and more substantial for serving this soup as a meal.
Cut 1/2 a package of wonton noodles in strips 1/2 " wide or use 1 pound fettuccine noodles
Add which you prefer to pot and cook on medium for 5 more minutes for wonton noodles, or 9 minutes for fettuccine noodles and then serve.
Very simple and delicious
since it looks like the wontons opened and the filling spilled out,
 I call it Inside-out Wonton Soup.