If you're looking to kick up your chicken soup game… this simple chicken pho recipe will WIN!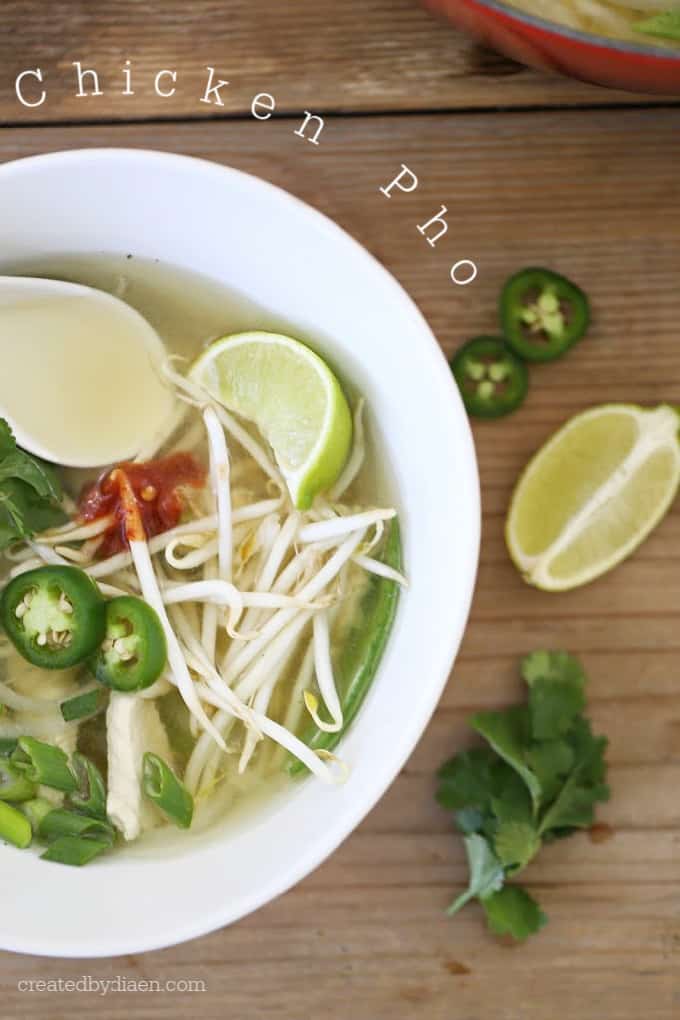 There are lots of Vietnamese restaurants nearby me, I love all the fresh flavors in their food and have some favorite dishes and drinks I order again and again. 
My girl orders chicken pho again and again so I wanted to be able to make her favorite at home.
According to my chicken pho expert, this recipe is as good or even better than ordering out.
Just wait until you see how easy it can be to get this on the table in under 30 minutes.
One of the best things about pho is you are served a bowl of great flavored broth with meat and then it's all up to you what you add into it.
Place all the topping on a plate for everyone to add to their soup.
bean sprouts

green onions 

lime

jalapeno

cilantro

chili paste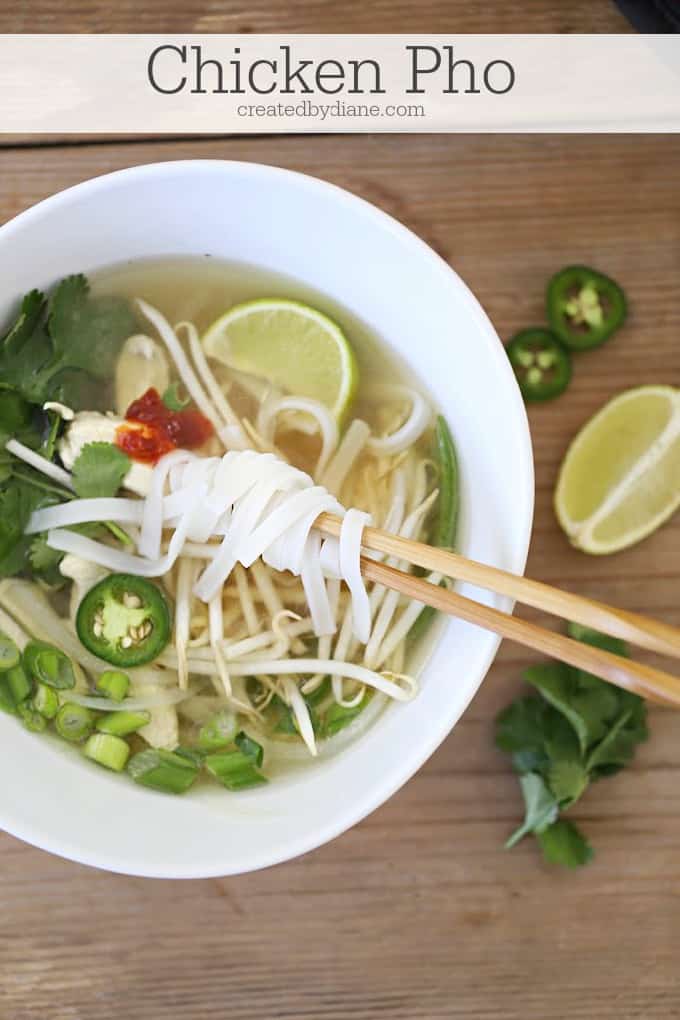 Pho, pronounced "fuh," is a Vietnamese chicken noodle soup with broth, pho rice noodles, herbs, and meat.
The soup got its name from the rice noodles and is traditionally made with beef bone broth and thinly sliced beef. You can now find beef, pork, shrimp, veggie or chicken pho in restaurants all around the world as well as a ton of variations. 
An authentic pho can take up to 9 hours or more to make. The focus is on making a deep, rich, delicious bone broth by simmering beef bones with herbs and spices. The result is amazing. But to create this delicious chicken version, it's really simple. No need to stand over the stove all day, just use homemade or store-bought chicken broth. YAY for simple! 
Start with your pho rice noodles. You can usually find these in the Asian section of your grocery store. I love going into Asian grocery stores, they have such a great selection of items to stock up on and make yours at-home recipes more authentic. Be sure to check out their Curries, and make my Curry Chicken Recipe… oh so yummy!
The noodles I use are the thicker variety, typically pho is served with thinner rice noodles, I just happen to have are narrow and flat like linguine or fettuccine noodles. You don't boil them like traditional noodles; you soak them. Follow the package directions since each brand's noodles will vary in thickness. I've found these usually take about 20 minutes to prepare, so start doing the noodles first. Thinner noodles and other varieties may be done sooner. If your noodles aren't getting soft enough give them a quick boil especially if they are thick noodles.
If you eat low carb, just skip the noodles. Add extra bean sprouts and you'll enjoy the soup the way I typically eat it. 
If you can't find rice noodles in your local store, you could use rice or your favorite noodles like spaghetti, linguine or for a quick noodle to use angel hair. But try to get rice noodles they make all the difference. And it makes this soup gluten-free for anyone who has a gluten intolerance.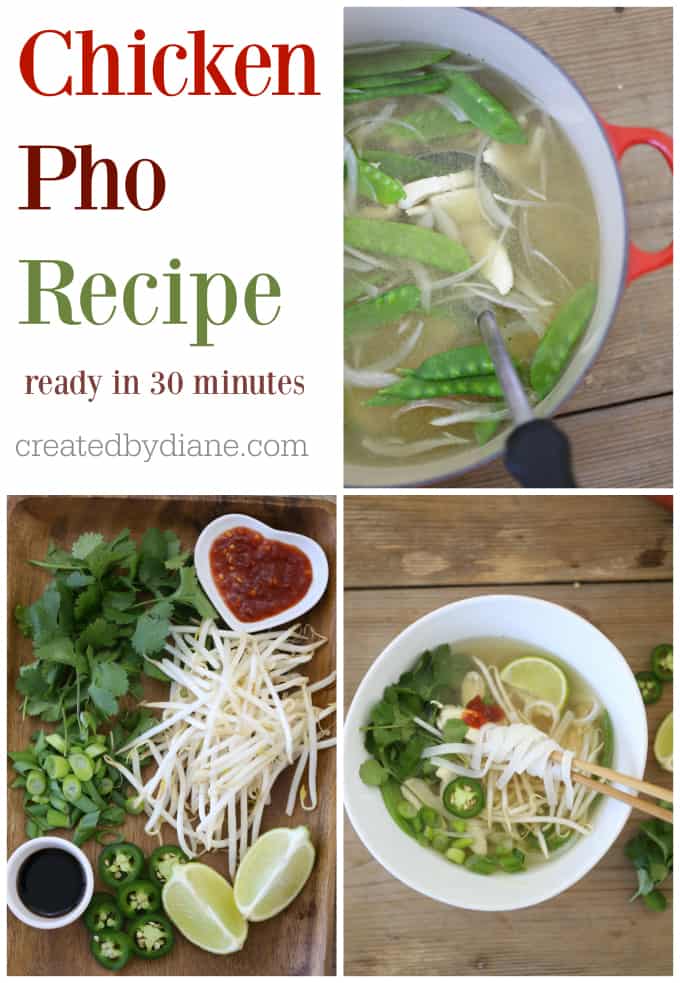 Cooking the perfect chicken for this soup:
The chicken in this soup is sliced thin and put into the simmering broth. That's a tip! After a lot of trial and error, I found that the best way to keep chicken soft and moist is to poach it in simmering water. Boiling it will only make it tough and chewy. You'll be so surprised by what a difference this simple change makes. 


What is the difference between simmering and boiling?
Boiling will look like large bubbles, and the bubbles rapidly moving. Simmering is small bubbles at a slow pace. Remember the key to this soup is tender chicken. So cooking the chicken on medium-low to low even without any bubbles will cook the chicken and keep it very tender. Use a meat thermometer and move the pot off the stove when the chicken reaches 165° and serve immediately.
Let's talk about the chili paste… oh my goodness it's my favorite addition, I love Sambal Oelek Chili Paste in this and many Asian inspired recipes like my brown sugar soy-glazed chicken.
What is a good substitute for chili paste?
First, let's start with my favorite chili paste Salem Oelek. I have found it available at grocery stores nearby me if you can't or want to know exactly what it looks like it's available online here.
If you don't have chili paste, there are a few things you can use as a substitute, crushed red pepper flakes, sriracha, or hot sauce will give a good flavor.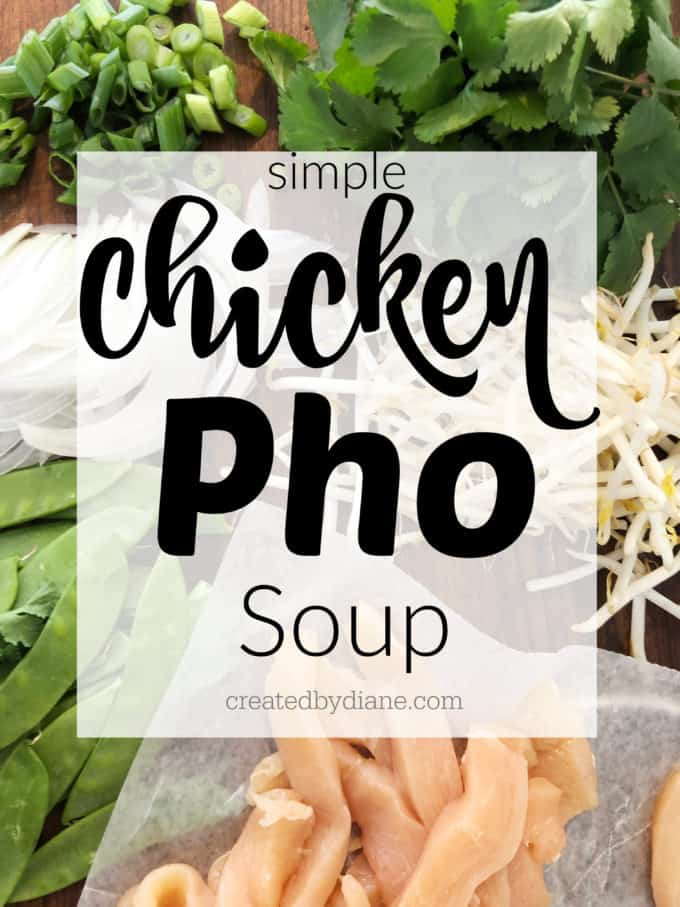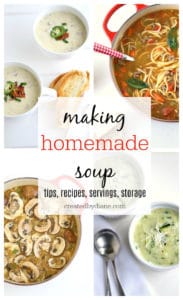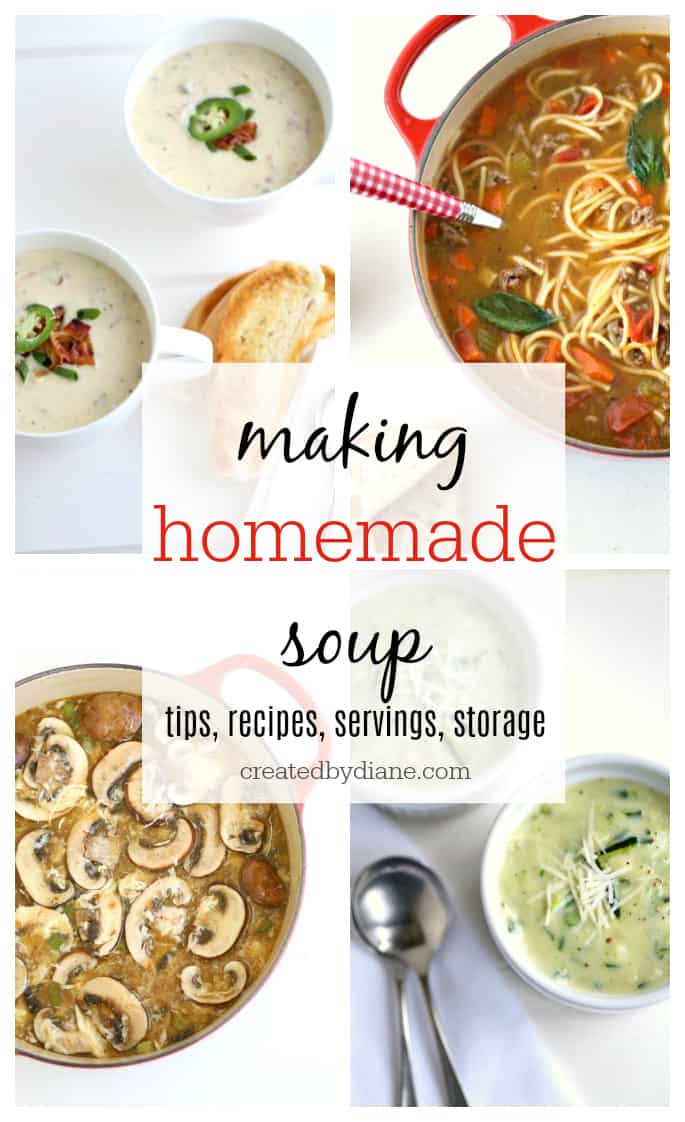 Be sure to check out my post on making homemade soup HERE.
Chicken Pho Recipe
a quick and easy chicken pho recipe with great flavor
Author:
Diane Schmidt (Created by Diane)
Ingredients
8 oz rice noodles
4 cups chicken broth
1 lb boneless skinless chicken breast, sliced thinly
1/2 onion sliced (I slice it lengthwise)
1 1/2 cup snow peas
2-3 cups bean sprouts
2 green onions, sliced
1 lime, quarters
1 jalapeno, sliced
1 cup cilantro
chili paste (Sambal Oelek Chili Paste is my favorite)
Instructions
Prepare rice noodles according to package (some soak for 20-30 minutes depending on thickness, some get boiled)
In a 4 quart pot bring the chicken broth to a simmer (small boil)
Add thinly sliced chicken and cook until chicken reaches 165° (DO NOT BOIL Chicken it will get tough, just poach the chicken gently) with onion and snow peas.
In large bowls add noodles and broth with chicken, onion and snow peas.
Place the bean sprouts, green onions, lime, jalapeno, cilantro and chili paste on a tray so everyone can add what they prefer to their soup.