I love sauces, really they are something I make for just about everything. They don't need to be high in calorie or fat to taste great. You HEARD me right. Take a look…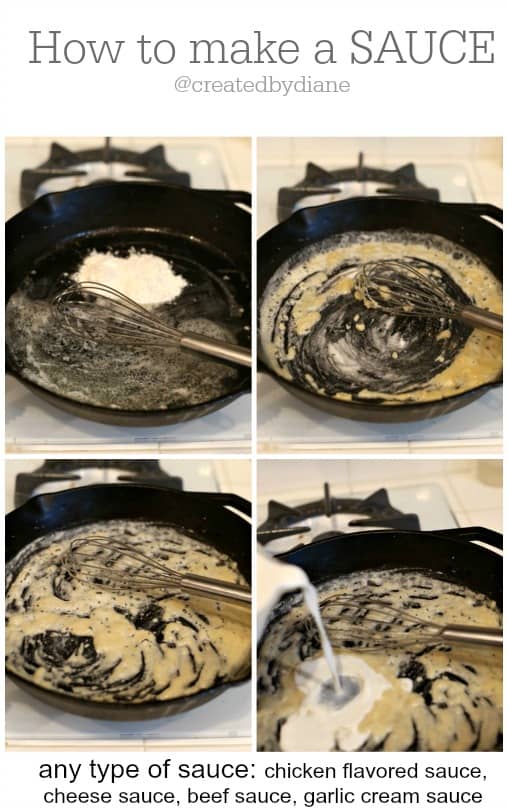 In minutes you can have a sauce made for just about anything,
and it's not hard to do.
Have you tried making sauces but they just didn't turn out right, were their lumps that just wouldn't go away?
or
Are you so intimidated by the just the thought of making a sauce that you have never really given it a try.
No all creamy sauces need to be made with heavy cream!
They don't need to be super high in calorie or fat.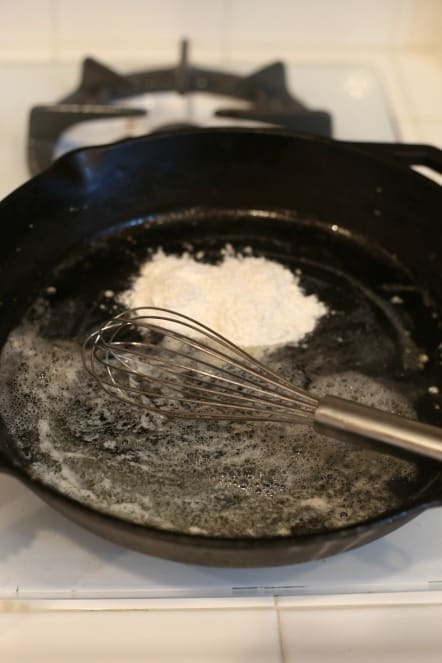 The type of sauce we will be making begins with a roux,
a roux is a fancy French term for fat and flour.
See I made it really simple for you 🙂
Equal parts of fat to flour is how to begin the sauce.
I melted two tablespoons of butter, then added in two tablespoons of flour over medium heat.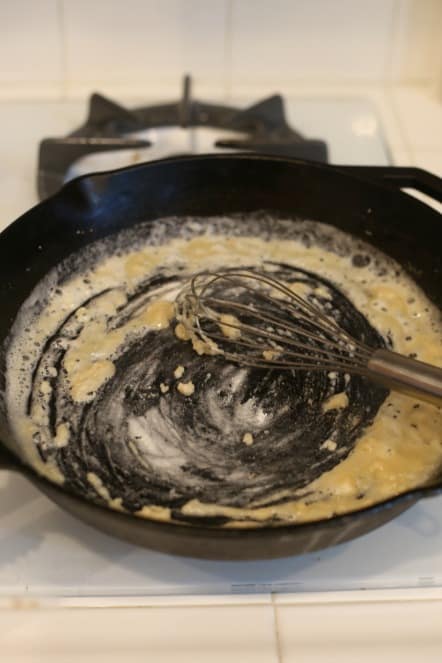 Whisk the flour into the butter and at this point you want to cook the flour so when you add the liquid the flour will thicken into a sauce, without tasting  like flour.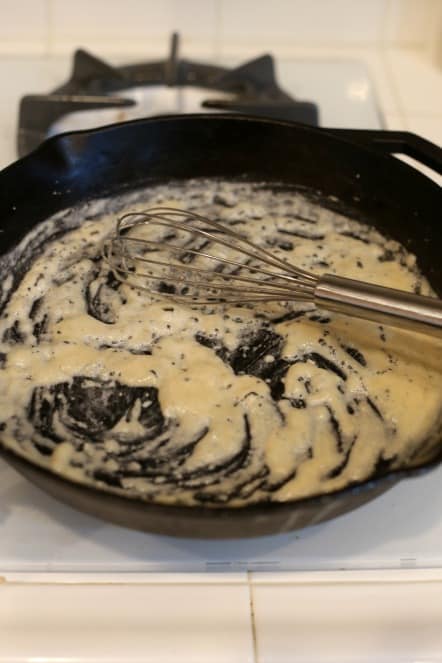 It's bubble and cook.
That is what you want it to do.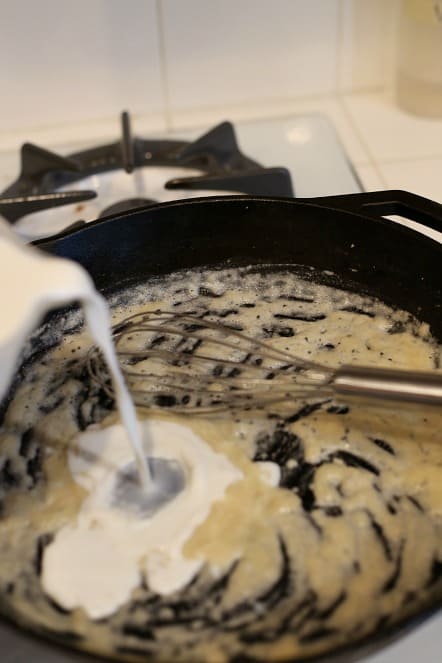 Now for the liquid,
you can add milk, water, broth/stock.
If you want a creamy sauce use milk or heavy cream. My mostly use skim milk.
If you want a gravy, use chicken or beef broth or stock.
There is one thing you do NEED to remember that is when you are pouring the liquid in, pour it SLOWLY.
Really that is the thing that will make or break your sauce.
By pouring it slowly the fat from the butter mixed with the flour will create a velvety sauce,
if you pour the liquid it really fast, you won't give the roux enough time to thicken the liquid and it will not thicken and be smooth, or it will be really thin,
so just remember to pour in the liquid slowly and whisk, or pour in 1/4 cup of liquid at a time and whisk it in so it's thick, then add in another 1/4 cup of liquid, continue until you've added all the liquid you need.
Now that you know how to make a sauce, this ebook will come in HANDY for quick and easy dinner recipes at your fingertips! NOODLES dressed in Sauces and such ebook.

How to make a sauce
Ingredients
2 tablespoons butter
2 tablespoons flour
4 cups liquid (milk, chicken/beef broth/stock)
Instructions
In saucepan over medium heat, melt butter
whisk in flour and cook until all flour is absorbed
slowly pour in liquid as you whisk it into the flour and butter mixture
alternatively you can add in 1/4 cup liquid at a time and whisk until each addition is absorbed before adding more liquid and repeat until all the liquid is added
Notes
you can use any type of milk, whole milk will give you a richer tasting sauce, but if you are watching what you eat, skim milk does make a great sauce. Don't be fooled into thinking a sauce has to be full of fat to be good.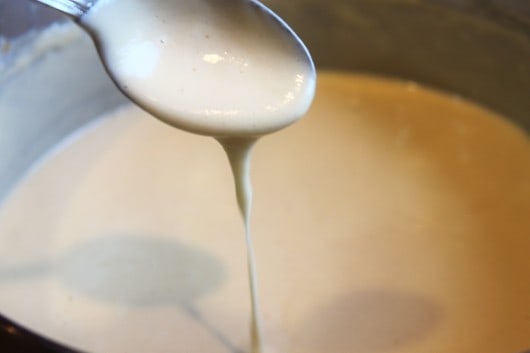 This is my cheese sauce, after you've added all the liquid. Add in some cheese (about a cup) for a great cheese sauce, you can serve it over vegetables, dip meatballs into it, and one of the best ways to use a cheese sauce if for making MAC & CHEESE click for mac and cheese recipe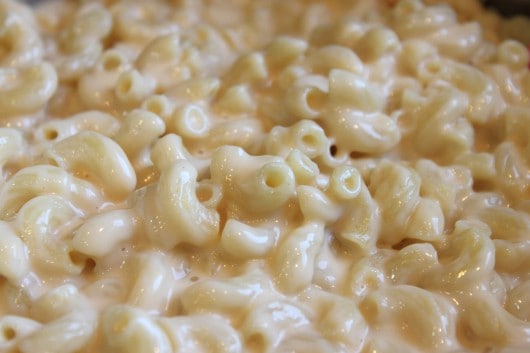 From chicken gravy for dinner or biscuits, to beef gravy for a roast, turkey gravy at the holidays, this is the way to get a delicious and creamy sauce ready in minutes.
One sauce I make often is a creamy garlic sauce for pasta and is delicious with broccoli. After I mix the butter and flour I add in a tablespoon of minced garlic then I add chicken broth and milk one cup of each. This is a family favorite and is a go to sauce for pasta when I am often out of time and ideas as to what to make for dinner and have it on the table fast!