Restaurant-style Mexican Rice Recipe is just about the most perfect dish, you can eat it a side dish or make it a main course with the addition of some protein.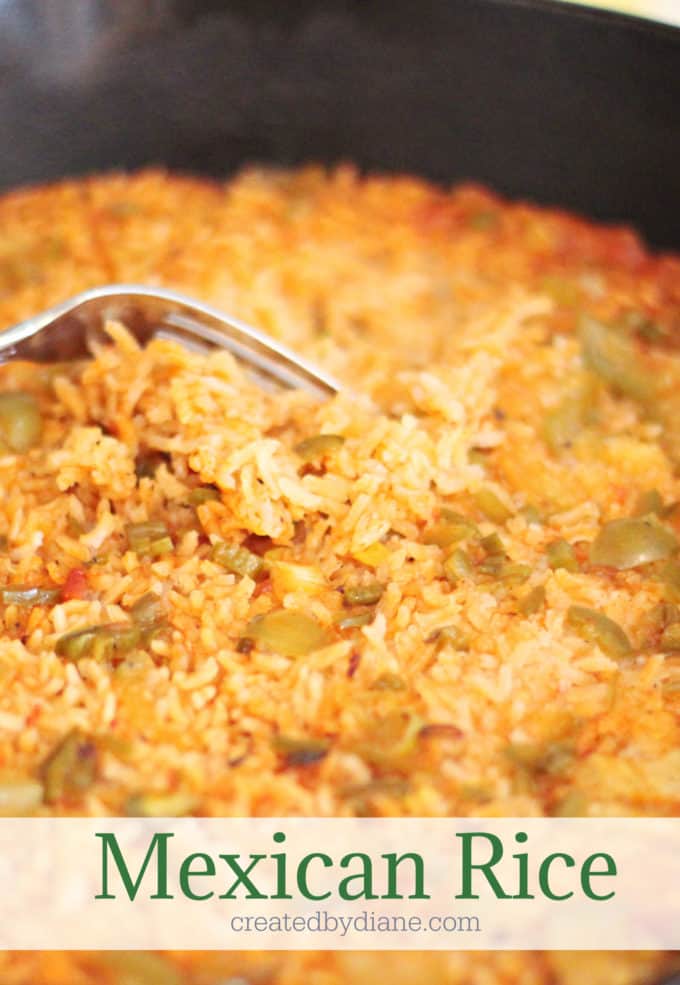 THE RECIPE IS AT THE BOTTOM OF THE POST, there is a printable recipe card.
If you're a rice lover, between this Mexican Fried Rice and My Chicken and Sausage Fried Rice… you'll be all set!
No need for take-out, now you can make your own with these great recipes. 
I'll share my tips and solutions for making better Mexican rice if you've tried before and had some problems.
This Mexican rice recipe is so great you'll want to serve it will all sorts of items, including my Tortilla Empanadas.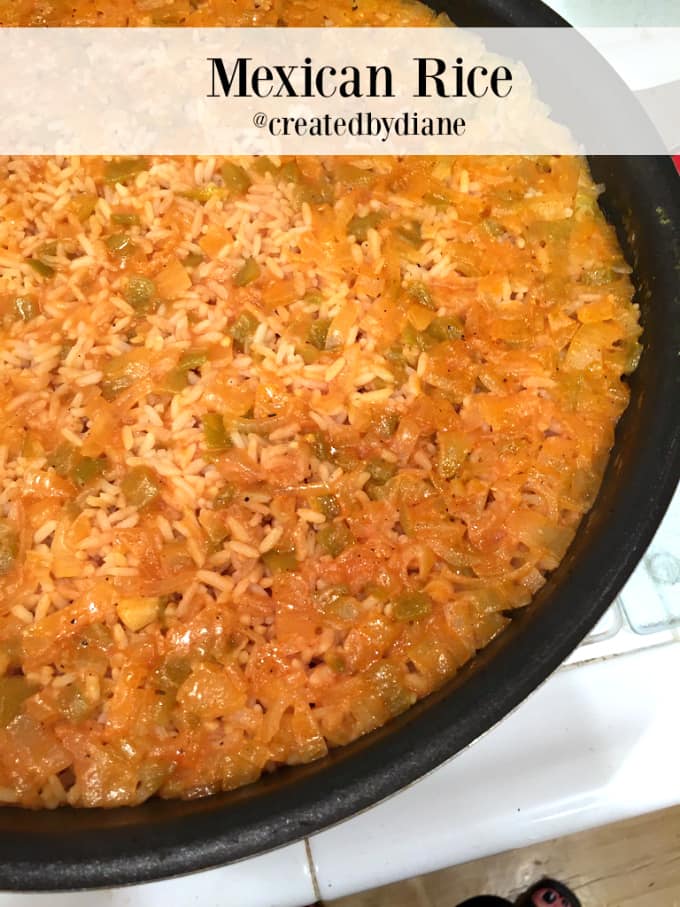 You can cook this rice in a skillet or pot, you should have a tight fitted lid that fits on the pan so the steam will trap inside and cook the rice nicely.
When I go to a Chinese food restaurant, I look forward to ordering fried rice.
I even like to order extra so I have leftovers. I really like to eat it for breakfast the next day.
Is that wrong?
I really don't want to share the leftovers with anyone…
With this recipe you can enjoy the great flavors of Mexican rice any time you'd like and make extra, the leftovers are delicious… serve leftover with eggs like the refied bean and eggs.
…I write my name on the carton. Hide it in the paper bag in the refrigerator, behind some containers. I keep my fingers crossed that no one will ask if there are any leftovers too. Chances are slim, we are talking about breakfast time. I think they won't jump out of bed like me and want Fried Rice, but you never know. I heat it and eat it right out of the container, no need to dirty a bowl.
(It will only give them more of a chance to notice what I'm doing once they smell the goodness).
Which brings me to this Mexican version of Fried Rice I made. Which tastes as delicious as Mexican Rice you get is great Mexican Restaurants. It's a great recipe to add chicken, pork, or black beans too and enjoy it as a one-dish meal.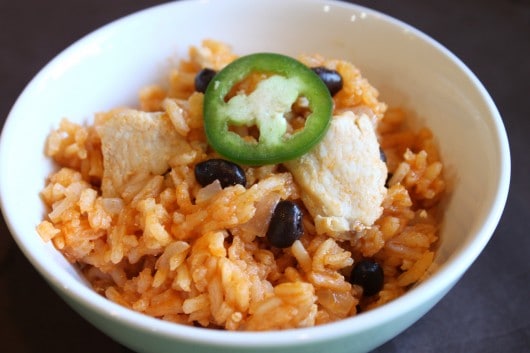 Oh, this is so delicious, and not fried in a ton of oil, so I don't feel guilty eating it at all. Fried doesn't mean unhealthy, or deep-fried. I most often use avocado oil, it has a high smoke point, tastes great but does not over-power any recipe. Olive oil while healthy, can have a heavy taste. You can use corn oil or vegetable oil, but avocado oil is far healthier.
This is so delicious, and not fried in a ton of oil, so I don't feel guilty eating it at all Not even for breakfast. The other day a friend called and was asking me all about the Mexican food places near us. Where do I buy my Carne Asada to cook at home?  Where do I buy Tamales?  Where do I go out to eat Mexican Food.
Which of course after this in-depth conversation had me wanting Mexican Food. I didn't really want to leave the house to pick up any, so I decided to whip up a quick Mexican Fried Rice and call it dinner. We do have lots of Mexican food here in Southern California, and yes I do eat out, but I cook it more often.
Common rice problem solutions:
What do I do if my rice is too firm and crunchy?
If the rice is not fully cooked and crunchy, but all the liquid has cooked into the rice, add 1/4 cup of water to the rice, place a lid on top and simmer the rice for 10 more minutes on medium-low heat. Do this again if it needs to cook longer until eh rice is fluffy and tastes good.
Often rice that is too firm either didn't have the proper amount of water, was cooked at too high of a temperature or did not have a lid on it while cooking trapping the moisture to "steam" the rice properly. 
Firm rice is a result of under-cooked rice it'll need moisture to steam more to cook fully and become fluffy.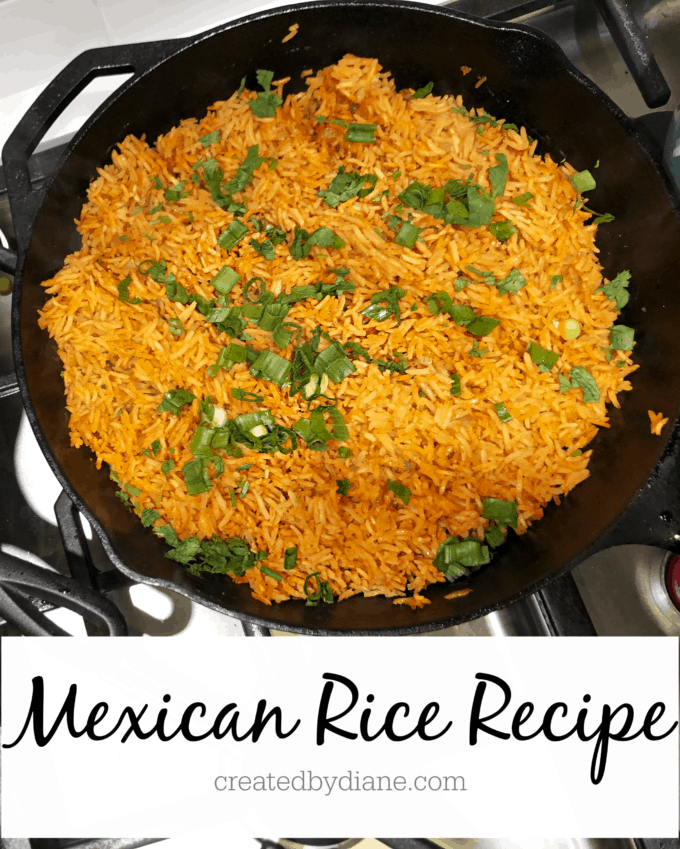 What can I do to fix mushy rice?
Mushy rice happens often if the correct amount of liquid is not used or the rice variety used is more starchy than long grain rice. If you have mushy rice there are a few things you can do to fix it, place the rice in a frying pan over medium-high heat and "dry" it out a little add some oil and cook the rice for at least 5 minutes.
What can I do to avoid mushy rice?
Be sure you are using the correct liquid to rice ratio (that info is on the package, most long-grain rice ratio is 2 parts water to 1 part rice) other varieties of rice may differ, be sure to read the package.
Cooking rice with additions like tomato flavor, onion, green chilis, and other items can through off the measurements a bit, so add them sparingly until you know for sure how much will work the amount of rice you need.
If you have the time, you can put the rice on a baking sheet to "dry-out" or you can refrigerate the rice until it's cold and then fry it in a pan once rice is cold it is typically no longer starchy.
What is the best pan to use to cook this rice?
Use a frying pan to cook your rice, it allows for more surface area for the pan to be heated, which will allow more rice to be touching the pan, uncover the rice to remove some excess moisture if there is any when the timer is done. Cooking rice in a pot with high sides can be the cause of mushy rice.
Start by lightly browning your rice in oil before you add any liquid, this will help the rice cook up separately and not release as much starch into the water, this method is essential to Mexican rice,  That is why I call it Mexican "fried" rice, you fry the rice first!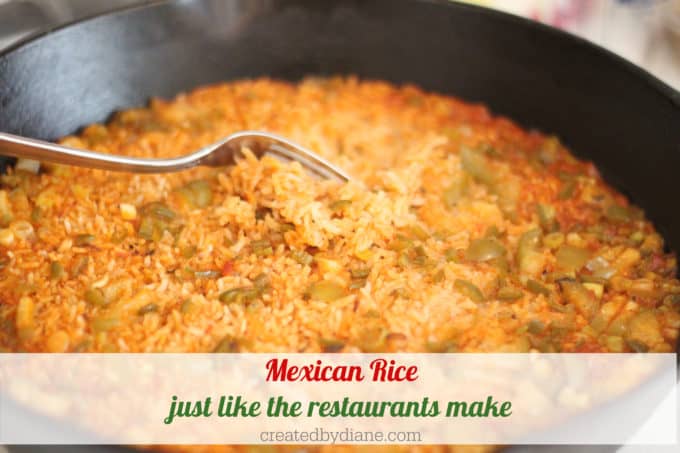 I don't like onions, what can I do?
Onions add a lot of flavor but if you don't like the onions themselves, cut the onion into large pieces, then remove them once the rice is cooked. You can leave the onions out altogether or use some onion powder or you could use chives, scallions, shallots can also be substituted.
I don't like tomato, do I have to add tomato sauce?
No, you don't have to add tomato sauce, you can just use tomato bullion if you prefer. 
How do you make Mexican rice from scratch?
Start by sauteing the rice in oil and brown it lightly in a frying pan. Add in the onion or other  Then add the chicken broth or water any bullion and tomato sauce
What type of rice is used in Mexican food?
Long Grain Rice, is the most popular rice used in Mexican Rice. You can use medium-grain rice, basmati rice, or another variety of rice, adjust the liquid and timing according to the variety of rice chosen.
Why is Mexican rice orange?
The signature color of Mexican rice gets its color from tomato sauce and tomato bullion. You can use both or either one depending on preference.
Why is my Mexican rice sticky?
Too much liquid, too low a cooking temperature, too small of a cooking pot can all attribute to sticky rice.
The key to perfect Mexican rice is to fry the rice in some oil first!  A wide frying pan is best. 
If you don't have a lid that fits your pan, carefully cover the pan with aluminum foil to trap in the steam so the rice cooks perfectly.
How do you make Mexican rice with white rice?
Mexican rice gets is color from tomato sauce or tomato bullion, it all starts with plain white rice (most often long-grain rice).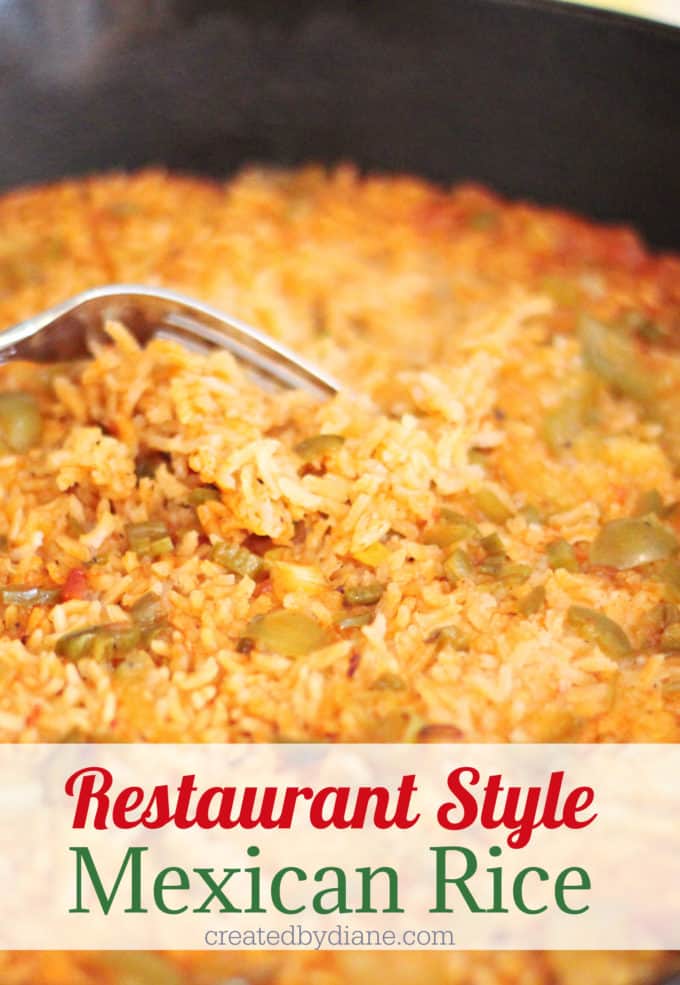 Enjoy this and some of my other Mexican inspired recipes:
SALSAS
Dessert
I also have a SIMPLE Mexican Rice Recipe here if you're looking for more rice options.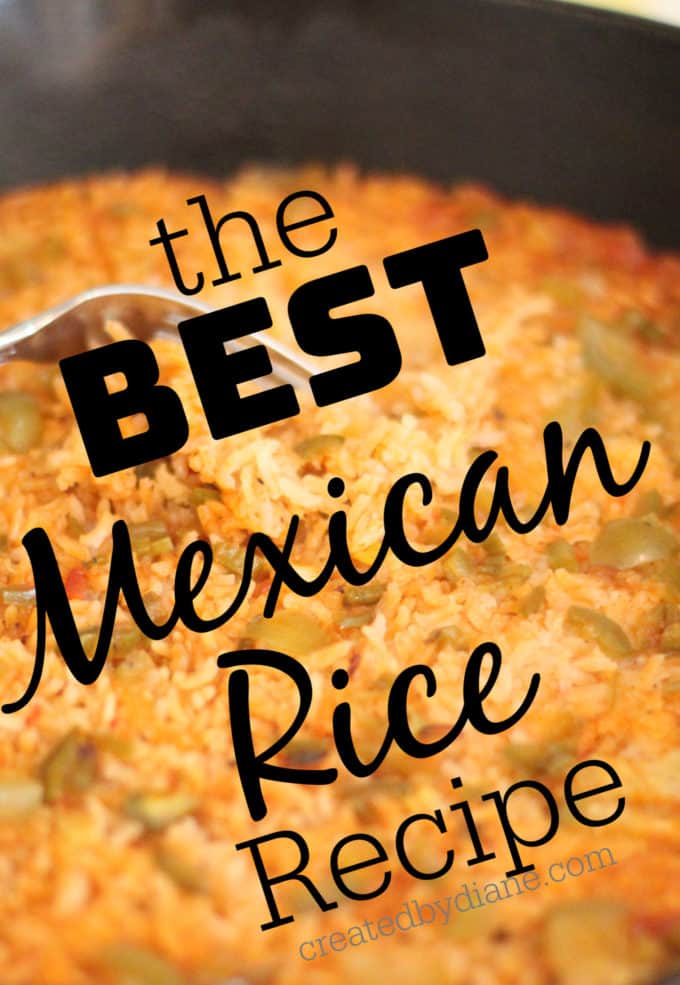 Items you might find in Mexican rice at a restaurant you can easily add: Corn, diced carrots, peas, garlic, diced fresh tomatoes.
*Note: I adjusted the recipe to reflect that… I no longer add tomato sauce to my Mexican Rice, I now only add tomato bouillon (Knorr makes tomato bouillon available in the "ethnic" section of the grocery store, usually near other flavors or Mexican foods). Feel free to add tomato sauce if you'd like, but I find now since I don't add it the rice is less gummy, wet, and more consistent flavor with the tomato bouillon.
Mexican Rice Recipe
Authentic Mexican rice recipe to make at home easily, everyone will think you got it from a Mexican restaurant.
Author:
Diane Schmidt Created by Diane
Ingredients
2 cups long-grain rice (the long grain rice I use is 1:2 one part rice to two parts water, adjust the portions according to the variety of rice you use so the rice come out perfect).
2 tablespoons oil
4 cups water
1 tablespoon Knorr Tomato Bouillon
1 medium onion, diced
1 can black beans
3 cooked boneless skinless chicken breasts
*options
2 tablespoons canned diced green chilis
sliced jalapeno
green onions
cilantro
corn
diced carrots
Instructions
In a large frying pan or pot with lid.
Heat the skillet over medium-high to high heat, add oil and rice, and stir and cook for 2-3 minutes.
The rice should be opaque (white).
Add diced onion and cook for 1 minute.
Add in 4 cups water and stir in tomato bouillon.
Cover with a lid, and cook on high temperature until it comes to a boil. Then immediately turn the temperature to low for 30 minutes or until rice is tender.
Uncover, then add additional optional items like diced green chilis, jalapeno, green onions, and cilantro, Alternatively you can add these items in before cooking as well.
If you want corn and carrots in the dish, dice the carrots small and add them before covering them with a lid.
Notes
To make this a complete meal,
Add in 1-2 cups cooked chicken, I can drained and rinsed black beans.
If you're looking for tips to cook other RICE recipes CLICK HERE. I show you how to cook rice 3 ways.