One bite of these Mexican Hot Chocolate Cupcakes and you're never going to want to drink your hot chocolate ever again. When you can get that same taste and flavor in cupcake form, why wouldn't you?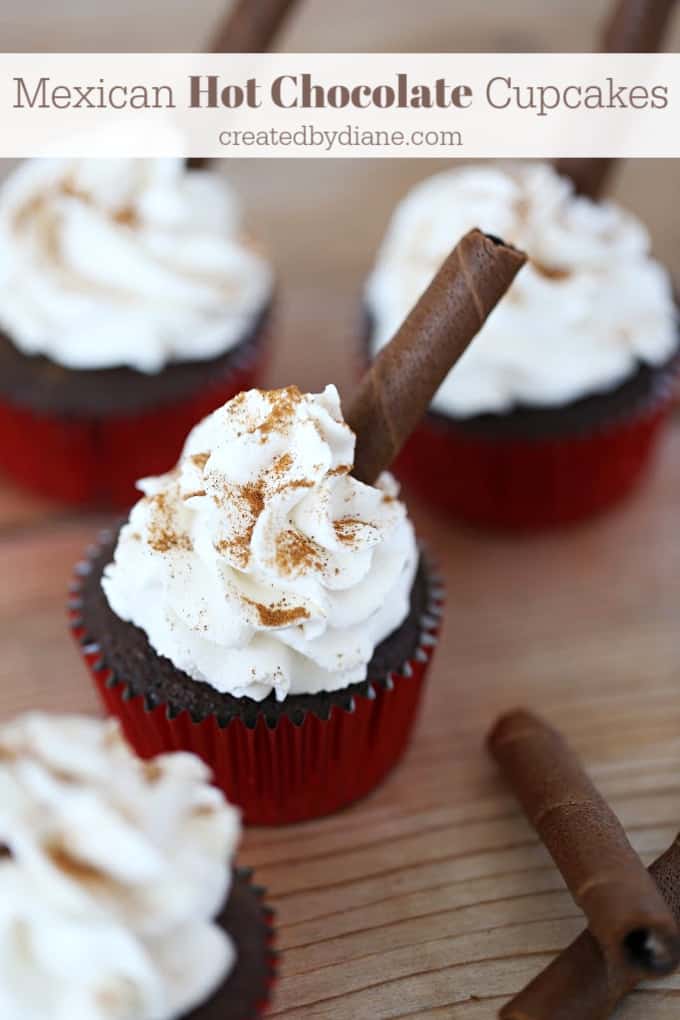 If you're anything like me…
you think of hot chocolate as a drink that you drink only during the cold times of the year.
It's sweet and hot but really doesn't do much besides give you a sugar rush and have you wanting more. 
But when you can get that same delicious taste and flavor because of bite after bite of these delicious hot chocolate cupcakes,
it's a whole new ballgame that I'm ready to play in.
In my house, we eat cupcakes all year long. No matter if the flavor is "winter-themed" or not, these hot cocoa cupcakes are going to be baked during the Winter, Spring, Summer, and Fall. 
I love the fact that these cupcakes use fresh real cocoa in them as well to really bring out that chocolate taste. It's so much better than some of the artificial flavors out there! 
If you're looking for a totally delicious cupcake that has a ton of appeal and fun, don't miss out on these tasty treats. They're a little spiciness to them and it's delicious.
And no hot chocolate is complete without whipped cream, so these are topped with a stabilized whipped cream. 
Not going to lie… these taste amazing!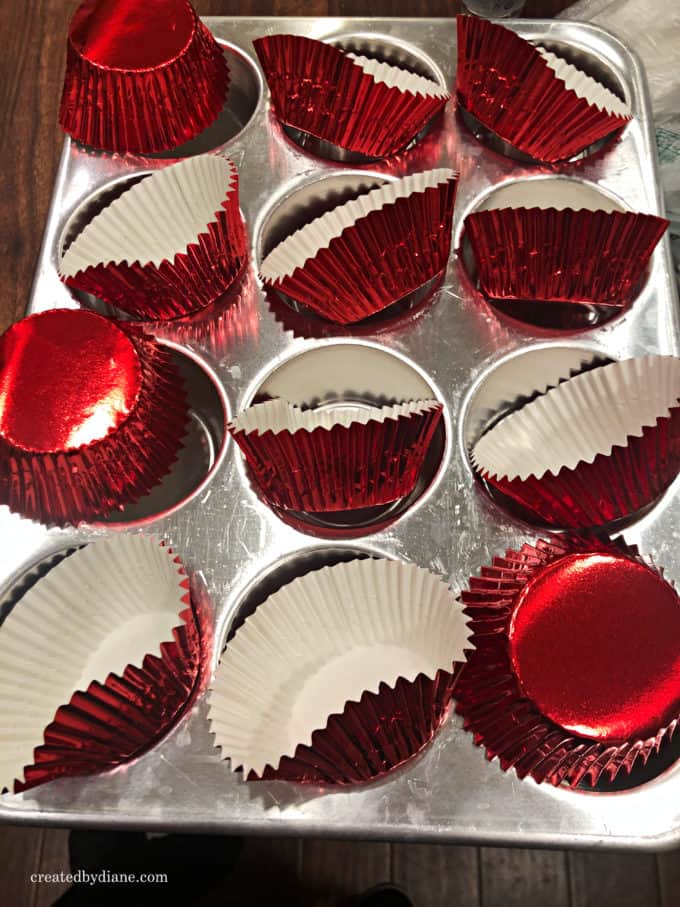 I'm a huge red fan, and these shiny metallic red cupcakes liners really look great with these cupcakes… you can find them here if you like them too.
I made these cupcakes a few times to get the flavor just right. 
I often use black glassine liners… you can see those below. They are really nice… but if you're looking to jazz the cupcakes up more use the red liners.
If you ever bake cupcakes in plain liner then decide you wish you had used more decorative liners, just put the baked cupcakes with a liner into the decorative liners and they'll look great! Doubled-up liners can make a really cute look, give it a try.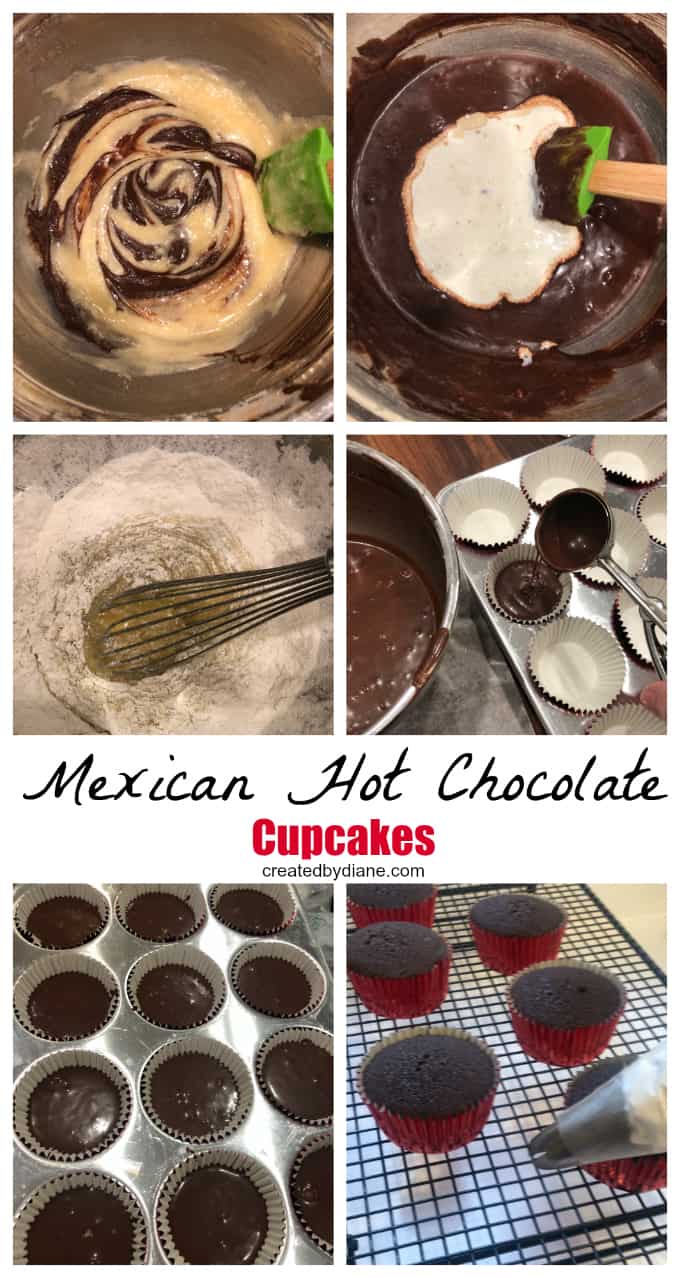 What ingredient adds "heat" to these hot chocolate cupcakes?
The spicy element to these homemade cupcakes is the addition of the cayenne pepper. It's just a little dash, which gives these cupcakes a nice spice. The other flavor in these is cinnamon, while not spicy but adds great flavor with the chocolate.
Can you leave out the spicy ingredient? 
Of course. If you want just a sweet flavor of hot chocolate cupcakes, all you have to do is omit the cayenne pepper and you'll get just that.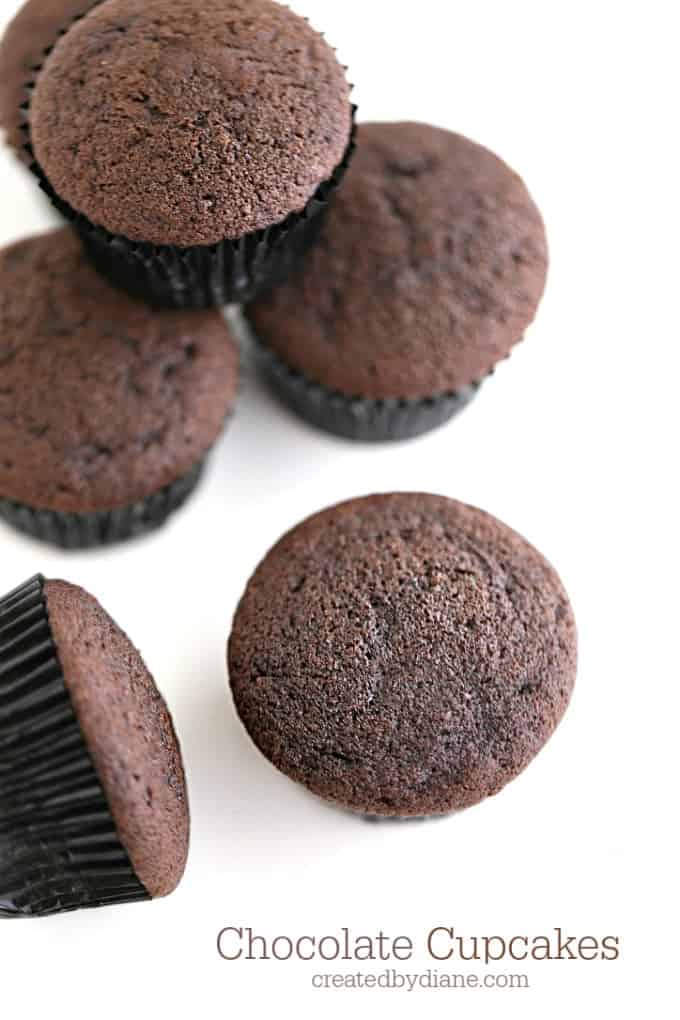 How do you store cupcakes once baked?
You'll want to be certain to add them to a storage container with a lid. The air is your enemy when it comes to cupcakes as it will dry them out really fast. I keep my cupcakes on the counter in the container as it makes them visible and easy to grab as I'm walking by. Once frosted with whipped cream, store them in the refrigerator, remove them 30 minutes before serving for the cake portion to come to room temperature.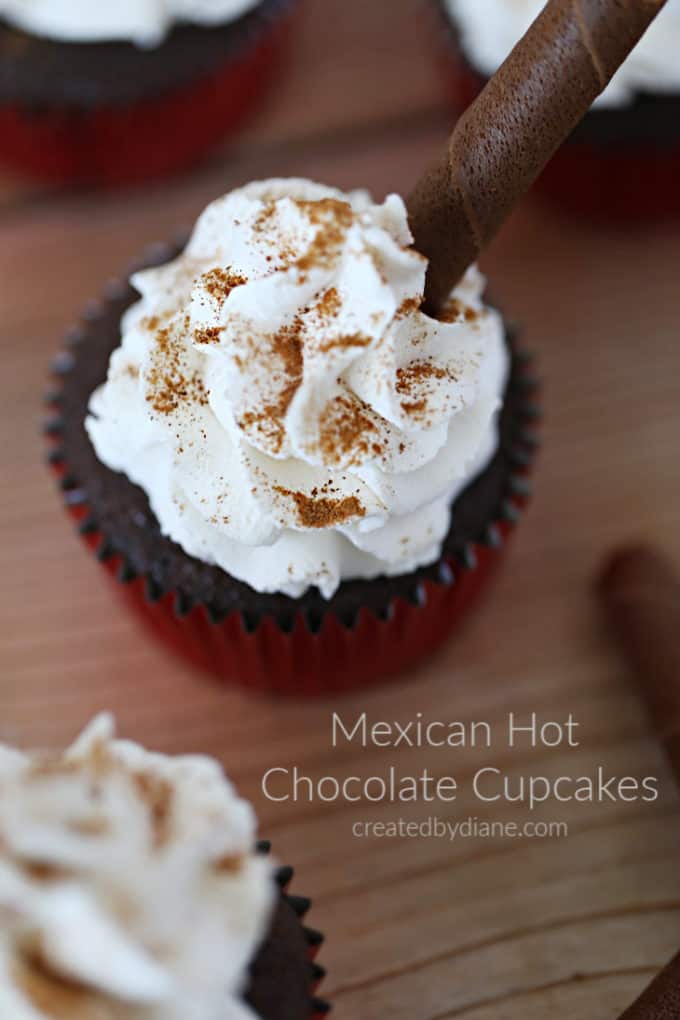 Top these cupcakes with some extra cuteness, sometimes it's all in the details.
These cupcakes are topped to look like a cup of hot chocolate… 
I used halved rolled wafer cookies and a touch of cinnamon… it really made them look over the top cute!
AND take a look at this…
Can I microwave this cake batter?
Yes!!!!
I tested these cupcakes a couple of times and had extra batter and decided to see if this would make a MUG CAKE.. and the answer is YES! You can microwave this cake batter, with great results. But add some mini chocolate chips for the best results.
I put a 3 tablespoon portion into a microwave-safe bowl that holds 1 cup and microwaved it on high for 1 minute. It was so yummy, light and fluffy, I wanted it a little richer tasting and added some mini chips and WOW so melted and chocolaty and fun! So if your oven goes out, don't worry I've got you covered…. microwave cake for the win! I'd recommend spraying the bowl with a baking spray so the batter doesn't stick, or use butter or shortening,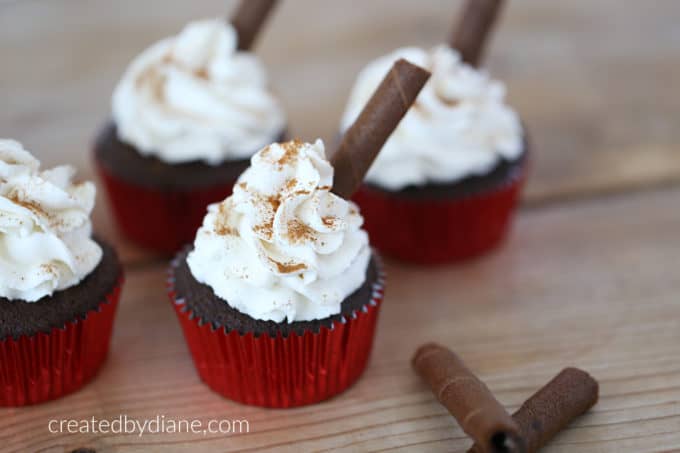 Get ready to fall in love with the fun flavor of these delicious cupcakes!
Mexican Hot Chocolate Cupcakes
rich and delicious cupcakes with a spicy heat that adds a delicious flavor with stabilized whipped cream on top
Author:
Diane Schmidt Created by Diane
Ingredients
4 tablespoons cocoa (I use dutch process cocoa)
1/2 teaspoon baking soda
1/2 cup boiling water
1/4 cup butter, melted
2 tablespoons oil (I use avocado oil or vegetable oil)
3/4 cup granulated sugar
1 teaspoon vanilla extract
1/4 teaspoon salt
1/4 cup heavy cream
1 cup all-purpose flour
1 teaspoon cinnamon
1-1/2 teaspoons cayenne pepper
1/2 teaspoon baking powder
2 eggs
whipped cream frosting
1-1/2 cups heavy cream
1 tablespoon powdered sugar
2 tablespoons dry milk
Toppings
1/2 teaspoon cinnamon
6 chocolate rolled wafer cookies, cut in half
Instructions
Preheat oven to 350°
Prepare a cupcake pan with 12 portions with cupcake liners.
You do not need a mixer for this recipe, but you can use it if you'd like. I use a whisk and a spatula.
In a medium bowl place cocoa, baking soda and boiling water and whisk to combine. Set aside until needed.
In a large mixing bowl whisk the melted butter, oil, sugar, vanilla, and salt together.
Mix in the eggs.
Add the flour, cinnamon, cayenne, and baking powder to the cocoa mixture, whisk until combined.
Add the heavy cream and mix until combined.
Place 3 tablespoons of cupcake batter into each cupcake liner.
Bake for 18-20 minutes or until a toothpick comes out clean.
Allow cupcakes to cool for 5 minutes, then remove cupcakes from pan and place them onto a cooling rack to cool completely.
Whipped cream
Whip cream with an immersion blender and tall container or with a bowl and mixer.
Place whipped cream, powdered sugar, and dry milk to your container, then whip it on high until the cream creates a stiff peak.
Pipe the frosting onto the cupcakes with a 2D tip.
Top cupcakes with a pinch of cinnamon and add half of a rolled wafer cookie to each cupcake.