If your first question is: What is Chili Verde? It's a pork stew with a savory green sauce.
There is a delicious flavor from fresh roasted peppers and tangy tomatillos. There are three options to cook this, On the Stove, Slow Cooker, and Instant Pot Chili Verde… you choose the method, it's all delicious.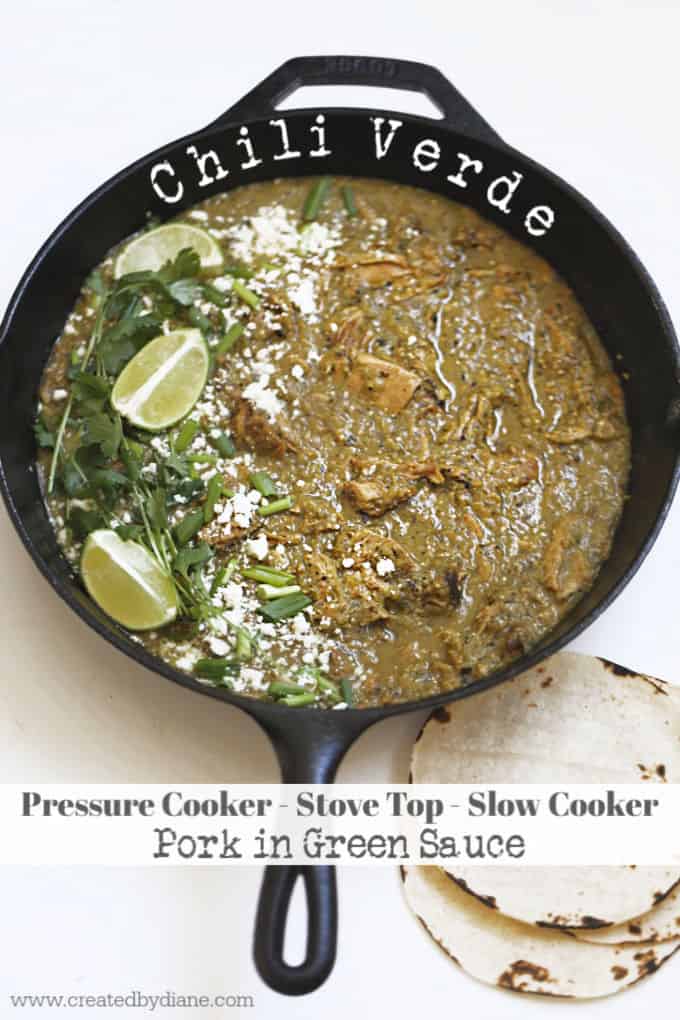 Chili Verde is the ONE recipe my husband bases how good a Mexican restaurant's food is.
He orders it each and every time we try a new Mexican restaurant. 
In the past I've made it at home with a jar of green sauce, truth be told I have bought tomatillos, but never really knew what to do with them.
I had no idea if they were "ripe" or not, and I just gave in and would end up using a jar or can, and while not half bad… I knew it didn't compare to fresh.
I go to lunch at a Mexican restaurant with a friend often and I just LOVE their salsa verde I finally made a batch and I think it's quite close to what the restaurant serves. This recipe is based on that exact salsa. 
I've made Chili Verde in a pot on the stove, and in the instant pot (pressure cooker),  you can also make it in the oven in a dutch oven, or even a crockpot (slow cooker).
Follow the method that is easiest for you because as long as the pork is cooked until tender, it will taste great no matter how you cook it. 
Since pork needs to be cooked for several hours in order to be pull-apart tender, it gives everything a chance to come together. The combination of tomatillos, peppers, chilis, and onions builds into a rich sauce for the pork. The result is tender pork in a delicious thick green sauce!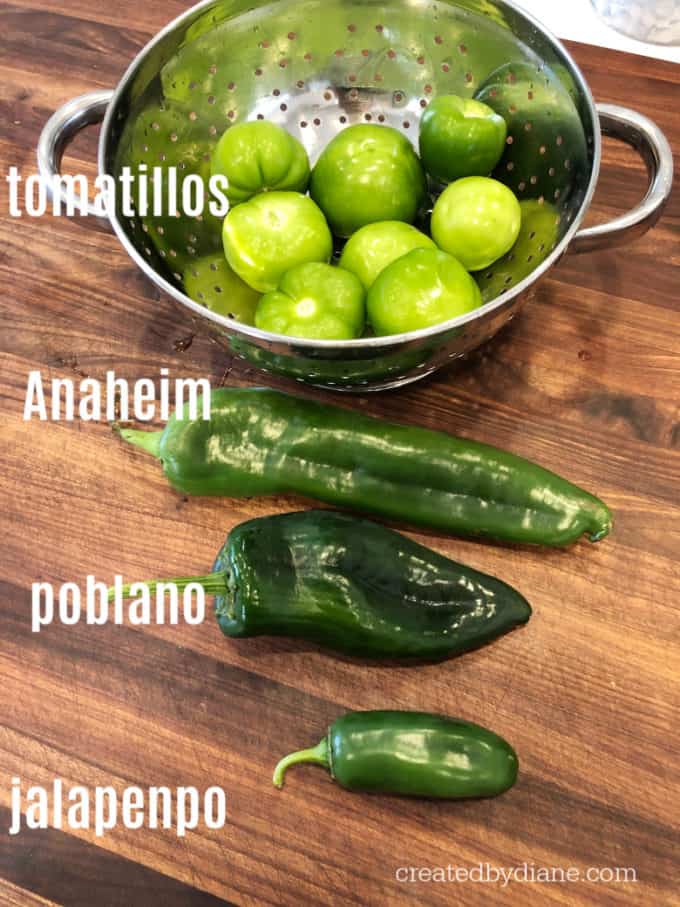 You'll need:
Tomatillos
Jalapeños
Poblano peppers
Anaheim Chilis
Garlic
Onions
Lime 
Cilantro
Chicken broth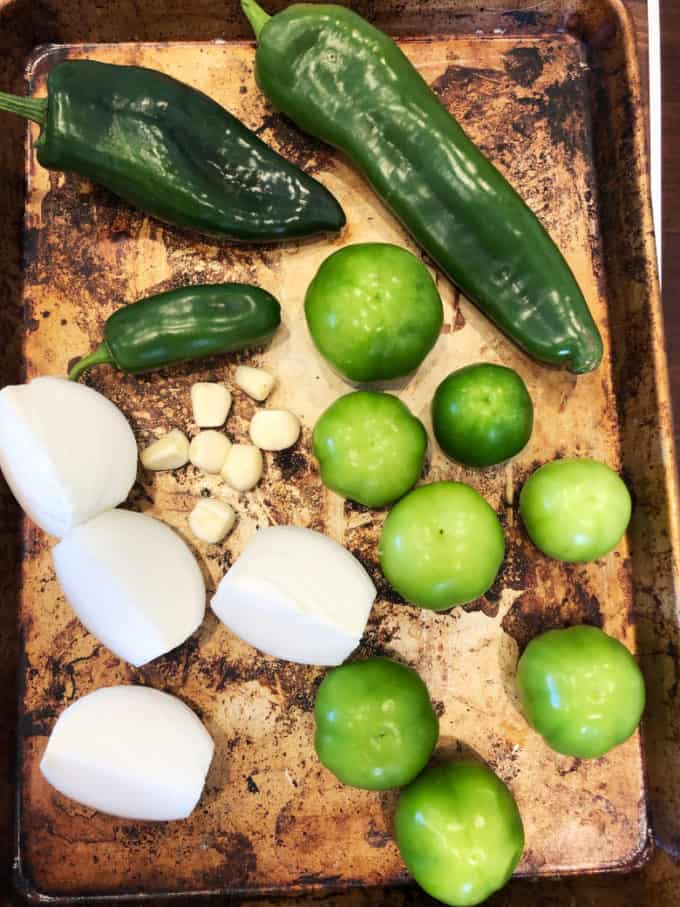 Roasting the vegetables will give this dish the added flavor that makes it over the top delicious. You can roast them in a skillet on the stove (cast iron works great) or on a baking sheet in the oven.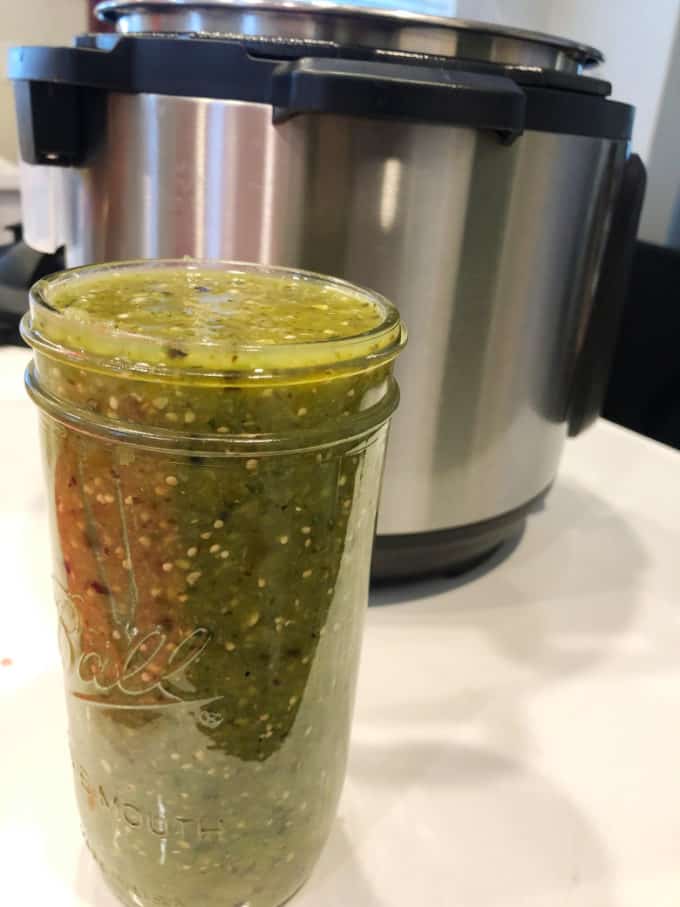 Cooking Chili Verde
We'll go over 3 ways to prepare Chili Verde, stovetop, pressure cooker, and slow cooker methods.
You can choose to sear the meat in a pan before cooking for extra flavor, but it's not necessary.
Stove Top Chili Verde
both large and small portion instructions
use an 8 quart pot if making 7 lbs or larger
Amount: 7lbs
Time: Cook pork for 2 1/2 hours in a large dutch oven or large saucepan
If you're making a considerably smaller portion the timing may be slightly less. But if you are cutting the meat into small portions like 2″x2″ they will cook relatively the same time. As smaller pieces will cook quicker than one large roast. I did cook 3 lbs cubed pork on the stove for 2 hours. I've also tried the recipe with boneless pork chops and it the results was delicious. 
Time: 2 hours
Amount: 2-4 lbs
Pressure Cooker Chili Verde
"Instant Pot" or another electric pressure cooker 
Amount: 4-7 lbs in the pressure cooker
Time: 1:45 (1 hour and 45 minutes)
SLOW COOKER
"Crock-Pot"
Amount 4-5 lbs
Time Cook on high for 6-7 hours, on low for 10 hours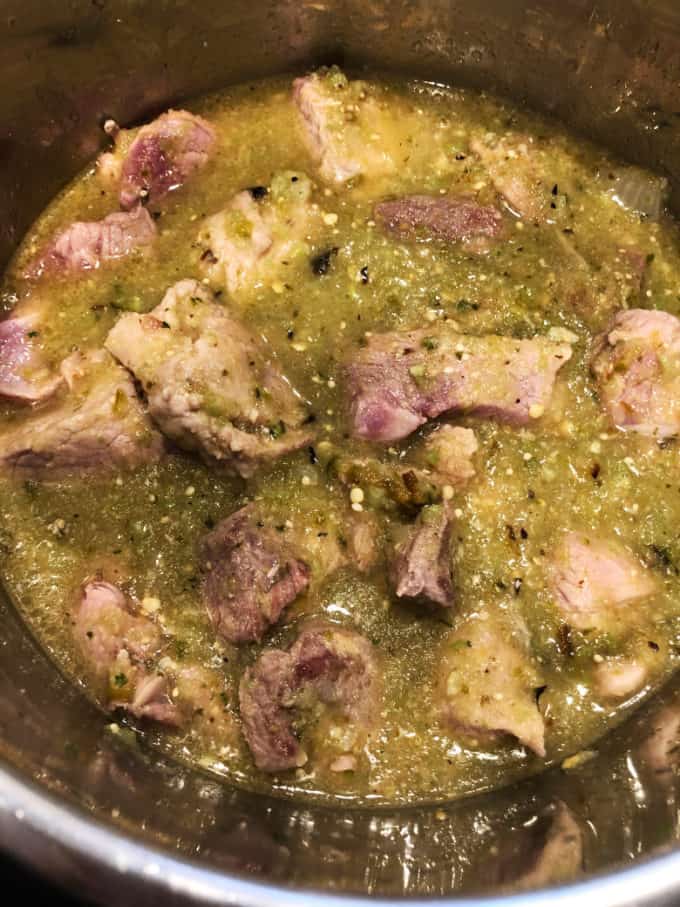 What do I do if my pork is not tender when it's done cooking?
Any of these methods can be altered to the amount of meat you want to cook. The longer you cook this type of meat the tender it'll be. If it's not cooked enough, it'll be tough, it won't shred with a fork, if that happens, just put it back on the heat and give it a little more time.
Tips on size of meat to put into the cooking pot
I used to cook large pieces and always had an area of a large roast that wasn't quite done, but…
Now I cube the meat about 2″ square to ensure even cooking time every time I cook Chili Verde.
It really changed how tender the meat became and only takes a few minutes to cut up and ensures tender flavorful pork.
I typically use boneless pork, it's easier to work with and fits in the pot better, is easier to cut up, but if I do happen to buy on the bone, I do cut it up as best I can and add at least 1/2 hour to the cooking time for any method used.
What goes well with this dish?
Now you can enjoy this Chili Verde with a side of rice and beans how a lot of people enjoy it, you can also put it in a taco, wrap it in a burrito or even pour it over some cooked potatoes for a delicious pork stew.
Add your favorite vegetables to make this a complete meal, I like grilled corn with this, topped with cotija cheese.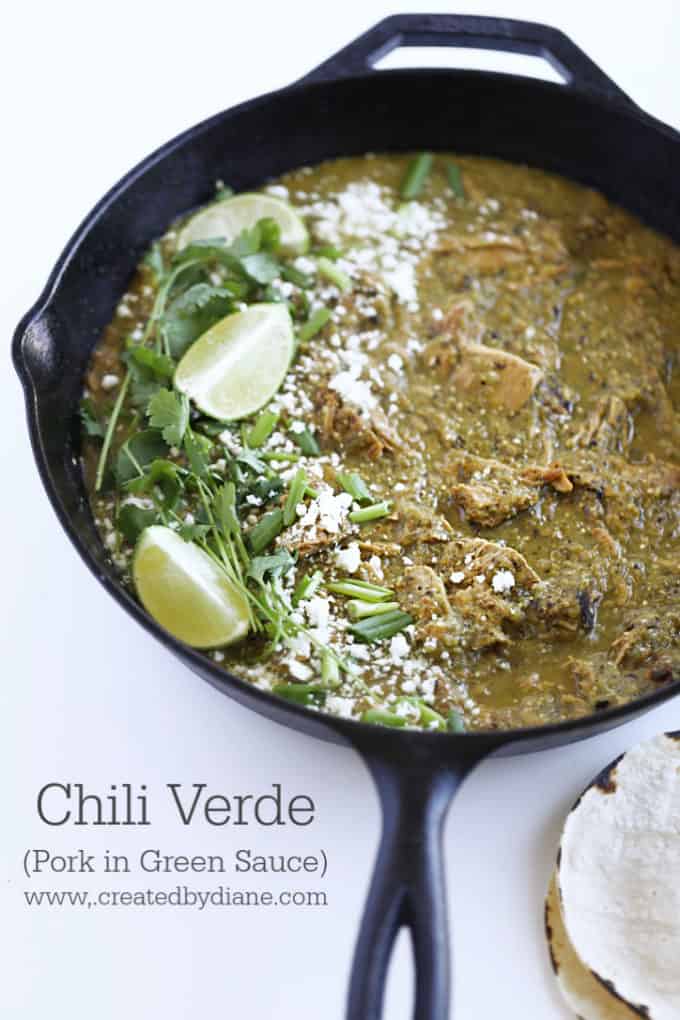 Chili Verde (Pork in Green Sauce)
Flavorful slow-cooked Mexican pork in green sauce, perfect for a filling in tortillas or enchiladas.
Author:
Diane Schmidt (Created by Diane)
Ingredients
7 lbs pork roast, shoulder or butt (can also use pork chops but the more marbling of fat on the meat the tastier the end result)
2-4 tablespoons oil to cook pork in
10 tomatillos (6 roasted, 4 raw)
2 jalapeno peppers
2 poblano pepper
1 anaheim Chili pepper
4 cloves garlic, raw
1 onion, sliced
1 lime, juiced
1 cup cilantro, chopped
chicken broth: enough to cover, 8 cups for 7-8 lbs for cooking on the stove or slow cooker, a pressure cooker will only need 1-2 cups chicken broth.
1 teaspoon salt
Instructions
Cut the pork into 2" square pieces.
In a skillet brown the meat on high with oil, until crisp edges form.
Remove husks from tomatillos and wash them with cold water and rub them so the stickiness is removed.
Slice the tomatillos, peppers, onions, and garlic, roast them In a cast-iron skillet or baking sheet on high heat or oven at 425° until blistered with black charred spots, and softened.
Place those ingredients with lime juice, cilantro, and salt in a food processor or blender and blend smooth.
Pour mixture into cooking pan of choice (pressure cooker, saucepan, or slow cooker)
Then place the meat in the cooking pot with green sauce and chicken stock.
Pressure Cooker- 1hour 45 minutes on high pressure, NPR.
Stove Top- 3 hours
Slow Cooker- 6-7 hours on high 10 hours on low