Mexican Street Corn often known as Elote can be found on the streets of Mexico, at fairs, boardwalks and farmers markets and are irresistible.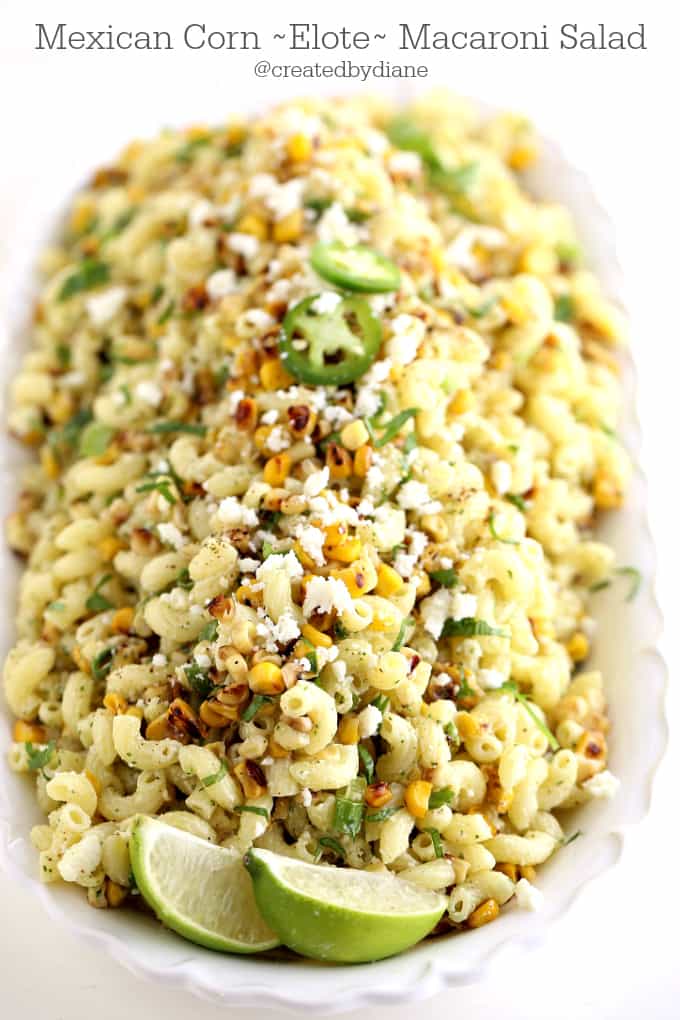 Mexican Corn ~Elote~ Macaroni Salad
Don't miss one delicious recipe and get my FREE e-cookbook click here!
Mexican corn pasta salad will be the new hit item you make, trust me it gets devoured! And other options are to make it with quinoa, just add 2 cups cooked quinoa to the recipe instead of pasta, don't want pasta or quinoa, just make the corn salad, it's great any way you serve it!
Tangy, cheesy, slightly spicy and sweet all at the same time,
equals delicious in my book!
This has such an irresistible flavor,
and since this version is way more than just an ear of corn…
it's a delicious vegetarian meal, perfect anytime.
It can be served on its own or makes a perfect side dish to tacos, Carne Asada, Pollo Asada.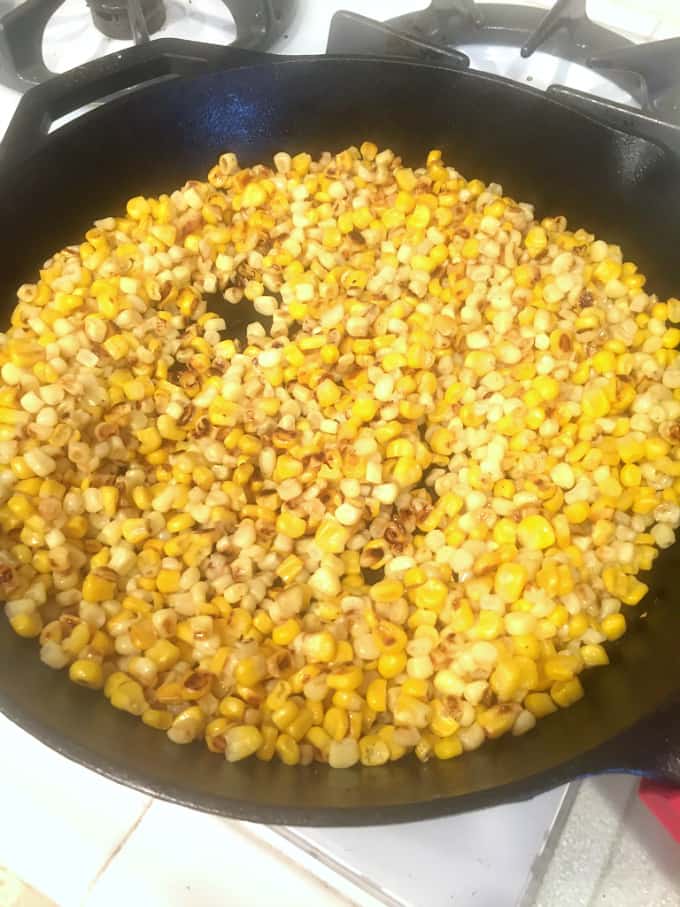 I love that I often have everything I need on hand to make this dish, I did use frozen corn. You can roast corn on the cob if you prefer.
I used a mix of yellow and white corn as it's what I had on hand. I do find frozen white corn to be sweeter and think it's a great choice and easier than dealing with cutting corn off the cob.
I use a cast-iron skillet, for oh so many reasons. It gets super hot, which helps brown and slightly caramelize the corn in this dish and gives added flavor to all sorts of foods. That toasted corn flavor is fantastic!
I have many cast iron skillets, if you don't already have one… this may be just the time to do so.
If you are using pasta the sauce is key with the homemade mayo…. if you're using quinoa the recipe can be made without the mayo, or less if you prefer.
One thing I won't budge on is the mayo,  I REALLY have to insist if you haven't made homemade mayo, you must! It's so delicious and brings this dish to a whole new level of delicious flavor. My homemade mayo recipe, I suggest making one change to the recipe since this dish is so great with lime juice, swap out the lemon juice or vinegar with lime fresh lime juice, or use a mixture of both. But add some lime juice to the dish, it really give it great flavor.
OPTIONS:
I use fresh corn cut off the cob in the summer and it's so delicious 4 ears or more.
I add extra lime juice often when tossing it together.
Add as much jalapeno as you like. If it's a really spicy jalapeno I often add 1/2 if it's mild I'll add more.
If you really like cilantro add some to the aioli it really kicks up the flavor of the mayo.
Be sure to check out my post on Homemade Mayo if you'll be making the mayo from scratch as I do. You can use store-bought mayo, but homemade tastes best!
If you're looking for a more traditional elote on the cob, check here.
Mexican Corn Macaroni Salad
Ingredients
1 lb macaroni pasta
1 jalapeno, diced
24 oz frozen corn (yellow or white or both)
2 oz cotija cheese crumbled (found in the Mexican Cheese section)
1 lime juiced
1 cup mayo (homemade with lime juice ,recipe for homemade mayo here)
1 teaspoon garlic ( minced or paste)
2 teaspoons Mexican Hot Chili Powder or regular chili powder
4 green onion, chopped
1/2 cup fresh chopped cilantro
1/2 teaspoon salt
1/4 teaspoon black pepper
Instructions
Cook macaroni according to package directions to al dente, rinse in cold water until pasta is cold.
Prepare homemade mayo recipe but replace the lemon juice or vinegar with lime juice or use store bought
Add to the mayonnaise: garlic, chili powder, salt and pepper
In cast iron skillet heat on high with a tablespoon of oil
Saute the jalapeno and corn, stir and cook on high until the corn is golden and browned nicely.
In a large bowl mix the macaroni, corn, and jalapeno with the mayo mixture, green onion, cilantro, cheese and additional lime juice.
top with Mexican hot chili powder, additional cheese, cilantro, lime and jalapeno slices.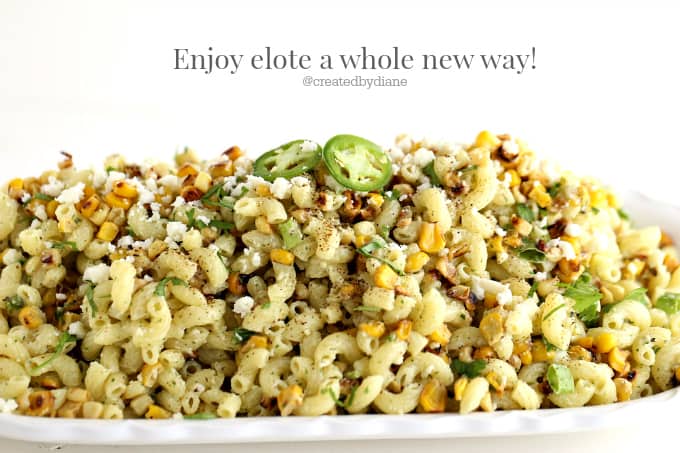 I dare you not to want to grab a big spoon and dive right in!