Bring on the TACOS… or taco salad for the carb watching people like me!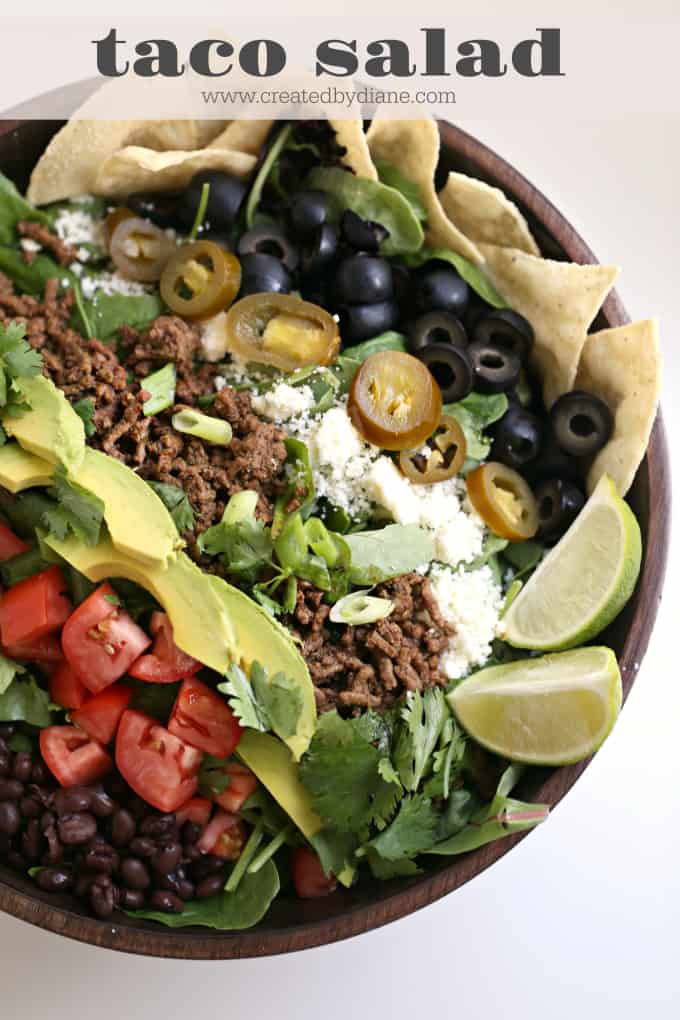 I've loved tacos for as long as I can remember.
There is something so yummy about tacos that I can't quite put my finger on, it could be the meat, or the toppings, oh the cilantro…
and the cheese,
I love it all.
One of the best things about tacos and taco salad is you can top it with all your favorites no matter what they are!
more great Taco and Mexican inspired recipes:
One of the best things about taco salad is you can really add on anything you like,
me I like black beans and cotija cheese and don't forget the avocado, I always have a few in the fridge, they are a staple in my house, some even make their way into guacamole, most often I just slice them and enjoy.
This taco salad is full of romaine lettuce, black olives, pickled jalapenos diced tomatoes green onions, and cilantro… I love cilantro!
then I drizzled a little olive oil on top and squeezed fresh lime juice then mixed, the creaminess of the avocado blended right in and made this the perfect hot weather meal, but really I like it all year long.
I've also made it with ground chicken… YUM! and you can add peppers, grilled onions, sour cream, salsa, roasted corn…
which remind me of 2 corn recipes I make that you may like too…
and don't forget Mexican Rice… it's yummy too!

Taco Salad
Ingredients
1/2- 3/4 lb ground beef (or ground chicken)
Taco Seasoning Mix ( my recipe HERE ) print this recipe separately so you have it.
4 cups chopped romaine lettuce (or any variety of lettuce)
1/4 cup sliced black olives
1/4 cup pickled jalapeno slices
1/3 cup black beans
1/2 avocado sliced
1 oz crumbled cotija cheese
1 Roma tomato diced
2 green onions diced
5 sprigs of cilantro chopped
a handful of tortilla chips
1/2 fresh lime
1/2 tablespoon olive oil (or avocado oil)
Instructions
Saute ground beef then add in 1 tablespoons taco seasoning mix and a couple tablespoons water, heat until thoroughly blended.
Fill a salad bowl with the lettuce then line up the remaining ingredients.
Top with ground beef.
Squeeze the lemon juice on top of the salad along with olive oil, stir and serve.