I love corn, and this recipe can be made with fresh corn or frozen corn. It's so delicious, easy to make, and I'll tell you what I add to it to take this pan roasted corn recipe over the top!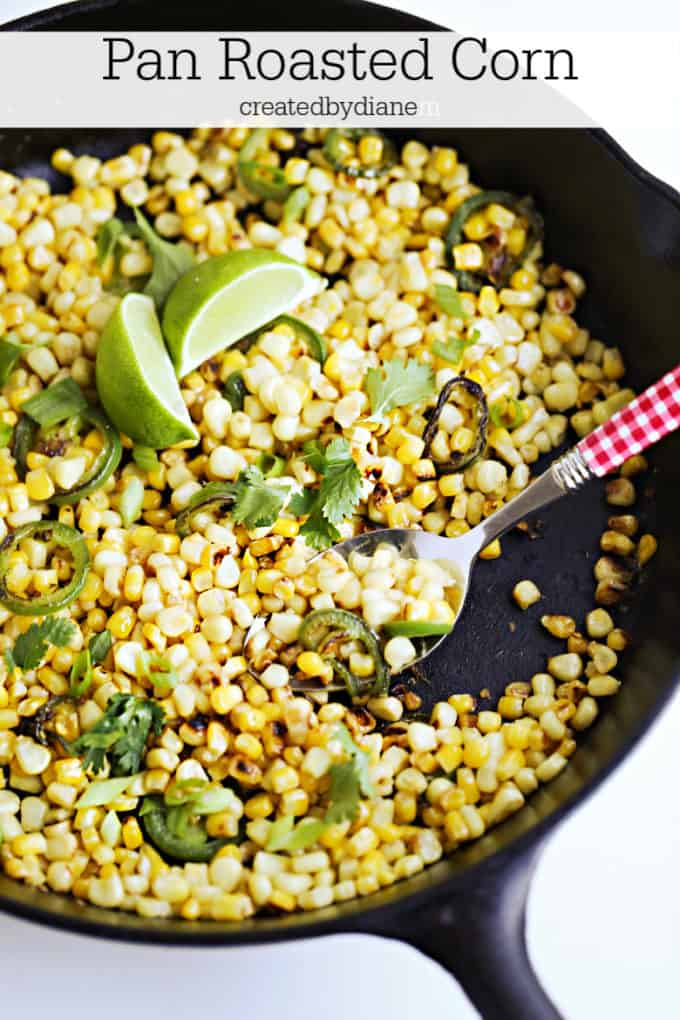 From simple to ultra-flavorful this corn recipe can be customized to your liking in a few steps.
Let's be honest no matter if you have fresh corn or frozen corn you can boil it in water, but it tastes WAY better when you roast it. Since corn can be eaten raw, there is really no reason to overcook it, the texture suffers and so does the flavor. 
I prefer to roast corn in a pan on the stove.
Alternatively, you spread corn out on a baking pan and roast it in a 400° oven, this is great if you're having a party and want to cook more than 2 pounds of corn at once.
Pan-Roasted Corn is perfect for Taco Tuesday!
Ready in minutes, this fresh and spicy side dish is my go-to.
It's always a crowd-pleaser!
It's no secret that I absolutely LOVE Mexican food, and it's easy to elevate ordinary corn to Pan Roasted Jalapeno Corn is one of my favorite Mexican side dishes. If you find yourself always going back to Mexican rice or refried beans for taco night, I urge you to change things up with this corn! It has such a fresh flavor with just enough spice. You can always find corn in my freezer because it's so easy to turn into a quick side dish that the whole family loves.
If you like all the Mexican flavors like jalapeños, cilantro, lime, chili, and Cotija cheese… get ready to add those in. To present it like Elote (Mexican street corn) off the cob you can drizzle some mayo or crema over the top, then sprinkle on some chili powder or smoked paprika before serving.
If you're more of a simple flavor person and just prefer your corn with butter salt and pepper, then that will be simple and delicious, and the perfect side dish to just about any meal, it's great to serve with tacos, grilled steak or chicken. 
This is my favorite Mexican side dish, I make it often and always have corn in my freezer. This quick pan roasted elote is ready in minutes and is a real crowd-pleaser, think beyond taco Tuesday and serve this with other meals too.
I like to get my cast iron skillet really hot before adding in the oil and corn, you can use any type of skillet I do like when the corn kernels get charred on the outside it really ads ta great flavor, just like grilling does to foods and cast iron is great for cooking this recipe I have lots of cast iron recipes you can see more here.
Stir this corn into a can of drained black beans for a really great side dish!
Looking for more recipe to serve with this corn try

and don't forget to grab some chips and make some salsa:
f you love elote (Mexican Street Corn) as much as I do, drizzle some mayo or Crema (Mexican Sour Cream) on this finished recipe. For the perfect drizzle, I place my mayo or Crema in a sandwich bag, snip off one corner, and squeeze it in a zig zag pattern on top of the corn. Top with chili powder or smoked paprika and a generous sprinkling of cotija cheese. If you have never tried elote, I cannot urge this enough. You'll wonder why you waited so long!
(the version above has added black beans, making it a one-pan side dish, perfect for tacos!
If you're using fresh corn cut off the cob and want to know:
How to cut kernels off the cob
Cut the bottom off the ear of corn, so that it's flat. Place the ear of corn, flat side down, in a bowl, holding the corn at the top of the ear. Using a sharp knife, start at the top and cut downward, using a gentle sawing motion. You'll want to cut about 2/3 of the way through the kernels to avoid including any of the tough cob.
If you're going to use frozen corn
Do NOT need to rinse it or thaw it, just add the corn the HOT skillet. I use both fresh and frozen corn with great results!
How Many Ears of Fresh Corn Equal a 16oz Bag of Frozen Corn?
Roughly, 4 medium-sized ears of corn produce enough kernels to equal a 16oz bag of frozen corn.
While this Corn is great as a side dish, we also love it piled onto tacos or taco salads to add a fresh crunch!
Whichever way you decide to eat it, I know you're going to find yourself making it again and again.
I use coarse kosher salt and coarse black pepper!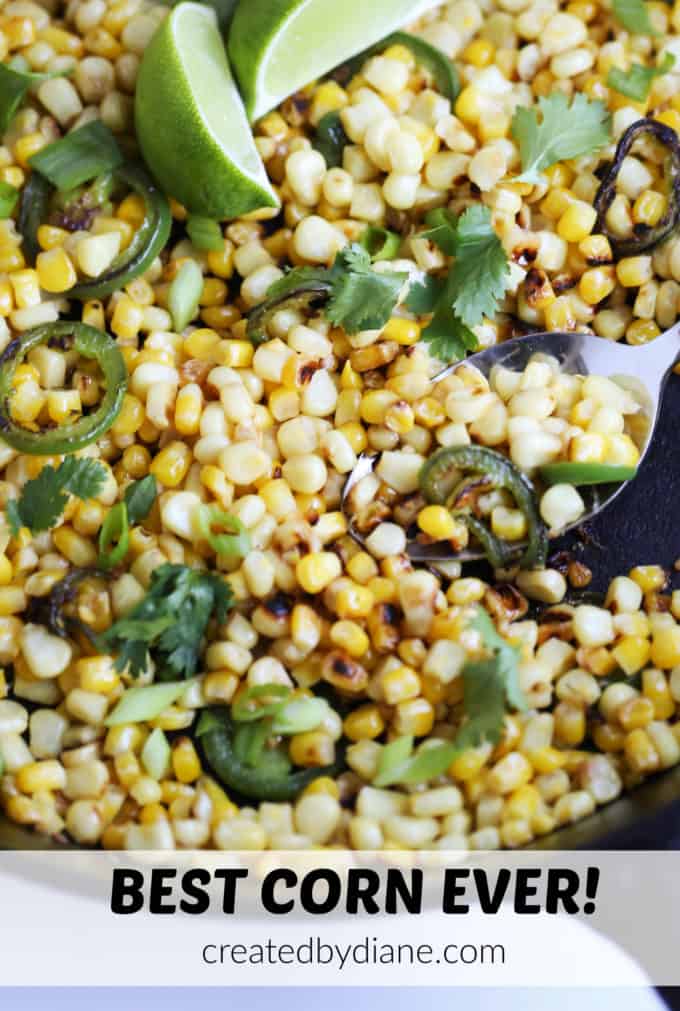 You'll find endless ways to use this pan-roasted corn recipe, plain, with onions and jalapenos, with beans… the possibilities are endless.
Pan-Roasted Corn
this recipe is a must to make corn as flavorful as can be with a few simple steps and some delicious toppings. Roast corn with butter salt and pepper, or bring on the Mexican flavor with jalapeno, lime and Cotija cheese, elote style!
Author:
Diane Schmidt Created by Diane
Ingredients
1 tablespoon oil or butter
1 jalapeno sliced
1/4-1/2 cup diced onion (if desired)
1 lb frozen corn (or 4 ears of fresh corn kernels removed from the husk)
2-3 tablespoons fresh cilantro, chopped
1/2 lime, juiced
Pinch of salt and pepper to taste
other option to add Cotija cheese, chili powder, smoked paprika, mayo or crema
Instructions
Heat a skillet on the stove over high heat.
Add oil and jalapeno and onion, cook for a minute.
Stir in the corn and make quarter size spots in the corn covering the dish to allow steam to escape, this will allow the corn to be able to char as well.
If the corn cooks in too thick of a layer it's more likely to "steam" that is not what we're looking for here.
Stir corn and flatten it out once the first side has charred, then char the second side.
Stir in cilantro, lime juice, salt, and pepper.
Add some cotija cheese, chili powder, and drizzle with mayo if desired.