Sometimes straight forward is best, and this Simple Mexican Rice recipe is top of the charts for both simplicity and flavor.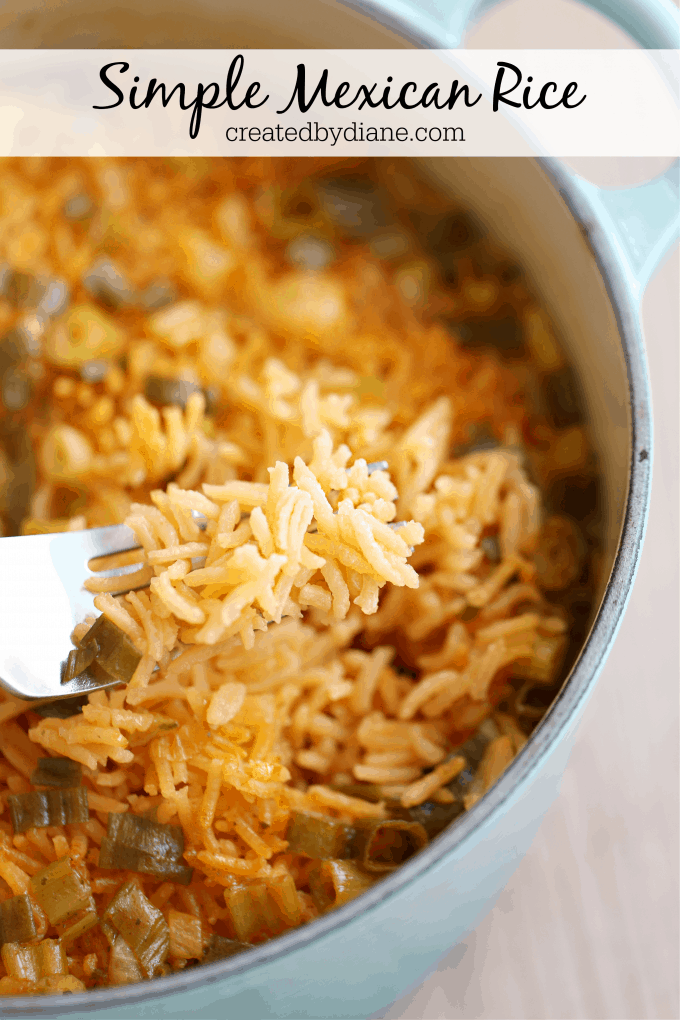 This authentic Mexican rice recipe is warm and comforting and is great on its own or as an addition to Elote or any of my Mexican recipes here!
I live in Southern California and if there is one thing about the food here is you can get delicious authentic Mexican food easily, just like if you're in the East Coast (NY or NJ where I'm from ) you can get great pizza and bagels…
Oh, how I miss good pizza and bagels and Keiser rolls!
… but here we get great Mexican food:
like rice, tamales, refried beans, tortillas, carne asada tacos, nachos, salsa and so many more great Mexican items, be sure to give my Instant Pot Shredded Pork (Carnitas) recipe a try.
This Mexican rice dish is a winner for many reasons. All you need is a 2-quart pot, a spoon, and a bit of patience – and you'll have a wonderful plate of rice singing with seasoning and warmth. This recipe can be easily multiplied for the amount you'd like, just make sure the pot you use can accommodate that amount of cooked rice.
Now the flavor… the flavor is just like you get at a Mexican restaurant! Yum. And isn't it great that you'll have perfect Mexican rice any time you' like!
In a 2- quart pot or larger, sauté rice with a little oil over high heat until all rice is coated. You will be browning the rice, a process that takes about 2-3 minutes. Keep stirring so the rice doesn't stick.
Once, the rice looks evenly golden, turn the temperature down to medium.
You will add in the water, tomato bouillon, and sliced onion, this will boil up quickly since the pan is nice and hot. 
Stir until it comes to a boil, then place a lid on the pot and turn the temperature to low, keep the rice at a simmer for 30 minutes.
Voila! You're finished!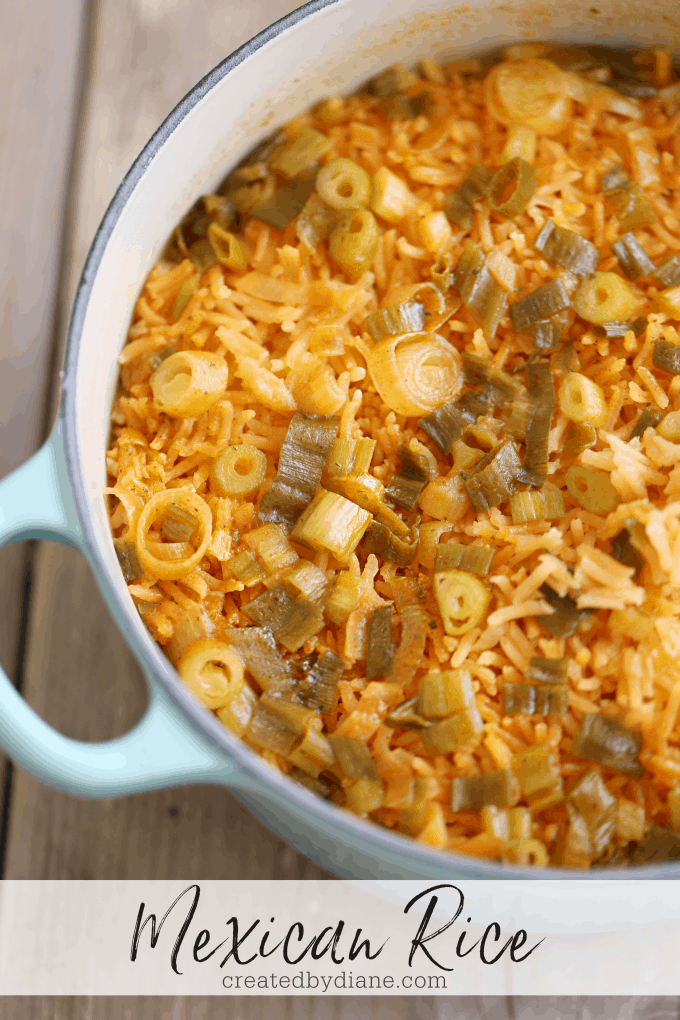 Inquiring minds want to know:
Can I add other vegetables?
Yes! Most often you'll find some corn of diced carrots in Mexican Rice, so go right ahead and add some if you'd like. Onion is another option, if you are big on onion add in a 1/2 a diced white onion. There are many options, sliced jalapenos or serranos for spice or you can also add in some chili flakes for a bit of kick, this recipe is really versatile!
Can I do this in a rice cooker?
You could, however, there is a unique toasty flavor that comes from sautéing the rice. The roasted flavor adds depth to this dish and balances the sweet taste of tomato. However, if you're short on time, or need to be able to do other things while cooking – you could use a rice cooker. It will however not have the texture of Mexican rice it will be steamed rice when finished. The Instant pot has a saute feature so you may want to give it a try for a similar result. I haven't made it in my instant pot yet, but I will and update this post when I do.
I don't have tomato bouillon, is there something else I can use?
The tomato bouillon is the KEY to this dish, it's what gives the rice it's unique flavor, I've made many batches using other tomato items look HERE for my other variety using tomato sauce. The texture is different, just so you know ahead of time. You could substitute 2 cups of chicken bouillon,  but let's face it it won't be the same either.
What other flavors can I add to this rice dish?
Some other common Mexican rice additions are garlic or cumin, you can add whole garlic cloves and cook them with the rice them remove them once the rice is cooked for a great flavor, if you love garlic go right ahead and leave the pieces of garlic in. Add a dash of cumin for a little flavor kick, and top the rice off with some chopped cilantro if you'd like.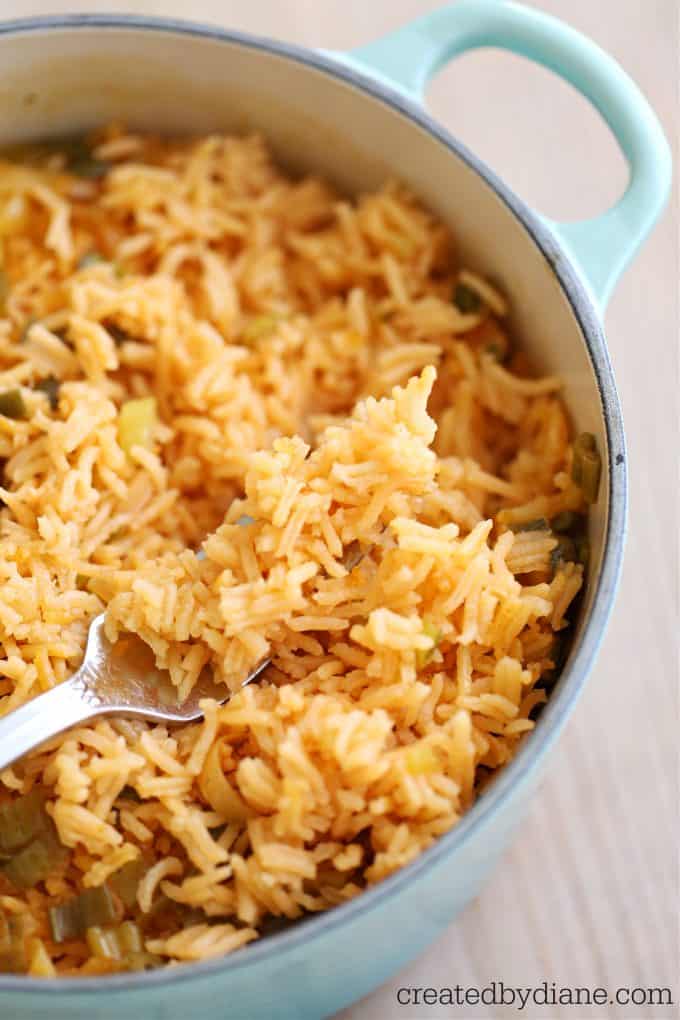 This is the dutch oven I cook my rice in when using this recipe. I just love the pretty blue color and it's perfect for when you don't need a huge pot and the best part is the coated cast iron stays warm for a long time keeping your food at a great temperature if you decide to go back for seconds after dinner, or make this before the main dish is ready.
Simple Mexican Rice
the most delicious restaurant-style Mexican rice
Author:
Diane Schmidt Created by Diane
Recipe type:
Side Dish, Rice
Ingredients
1 1/2 cups rice (long grain or basmati rice)
2 teaspoons oil ( avocado oil, canola or vegetable oil)
3 cups water
2 tablespoons tomato bouillon
2 green onions, diced
Instructions
In a 2 quart pot or larger saute rice with oil over high heat until all rice is coated, and looks golden this takes about 2 minutes.
Turn the temperature down to medium.
Add in the water, tomato bouillon, and sliced onion.
Stir until the water comes to a boil, place a lid on the pot and turn the temperature to low, and keep the rice at a simmer for 30 minutes.