Living in Southern California, we're spoiled with easy access to amazing Mexican food. Elote is one of the the best ways to enjoy corn. This seasoned corn on the cob is the perfect side dish at summer cookouts when corn on the cob is at its peak!
But don't think this fantastic corn can only be made with corn on the cob, it doesn't have to be, frozen white corn cooked in a cast iron skillet is just as AMAZING!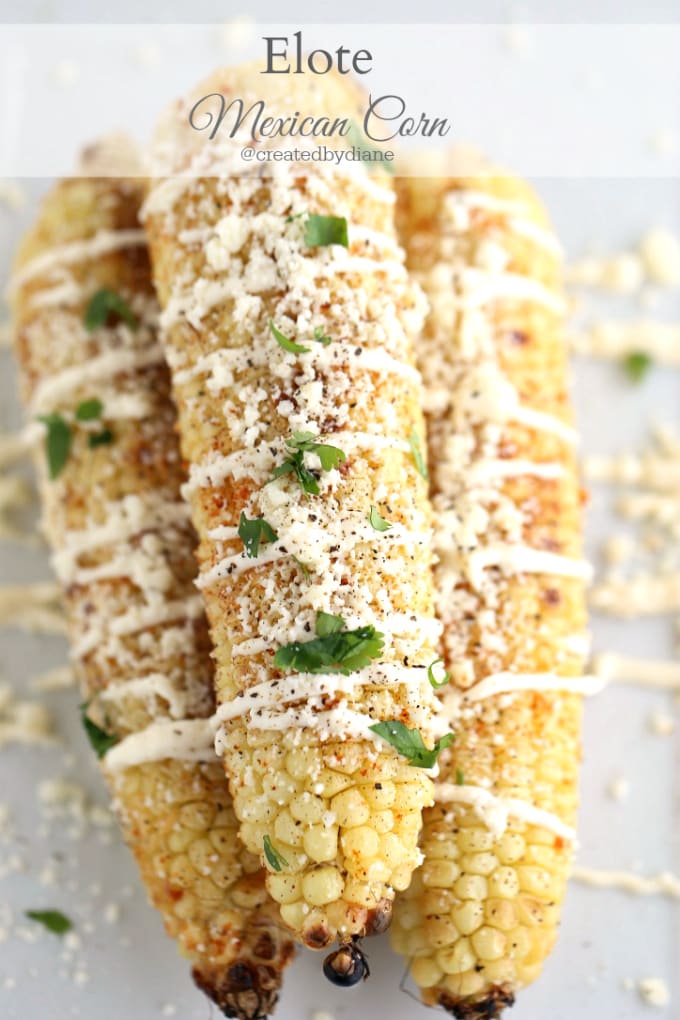 This Mexican street corn is bursting with bright flavors, this corn is downright addictive. Now you can make it at home! No need for a passport and airline ticket to Mexico for this one…
I'll tell you exactly how to make it at home a couple different ways.
Boil, yes you can boil the corn. Then put it on the grill to roast it up.
I typically just put it on the grill in the husk, then pull the husk off after they are cooked to get some color on the corn.
If you want to make this indoors, just put your oven at 425° and place the husked corn on a baking sheet drizzled with a little olive oil for about 2o minutes, as soon as the cob is slightly softened it's ready.
You can make it on the stove in a cast iron skillet, or boil it in a pot of water then brown the corn on the cob for a few minutes in the skillet.
In the winter when corn on the cob is not really a great option, buy frozen white corn, it's really sweet and you can cook it on a hot cast iron skillet or in the oven on a baking sheet at 425° until it's cooked.
Then come the toppings!!!!
What makes his so addictive is the lovely, nutty char you get by grilling the corn first. If you tried this with only boiled corn, it just wouldn't be the same, be sure to get some color on the corn it's really delicious.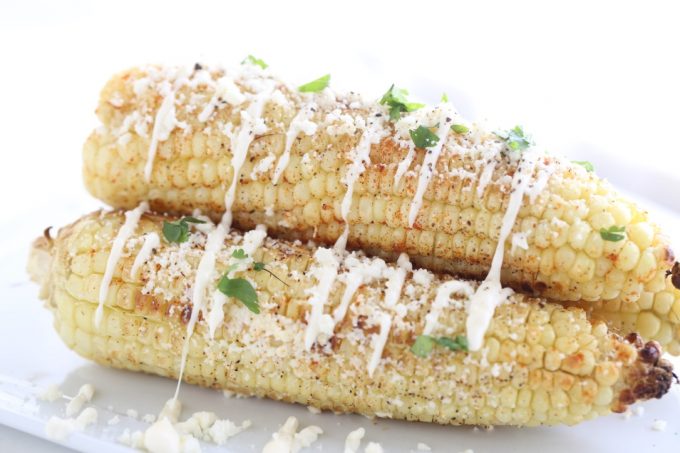 My friend and I took a day trip to apple country last year, and she was excited to see an elote vendor. She admitted she'd never eaten elote but was eager to try it.
The vendor handed us the beautifully cooked corn, slathered with butter and mayo, through the window and left us to season them up to our own taste.
We went to town, sprinkling on the salt and pepper, chili powder, cotija cheese and cilantro and a bit of fresh squeezed lime.
We sat ourselves down on a nearby curb and ate… needless to say, my friend absolutely loved it as much as I do.
What's not to love, this corn is just so flavorful!
Try this at your next barbecue. You can season them yourself and serve them on a platter, or just serve the cooked corn, spread with butter and let everyone sprinkle on their own seasonings and drizzle with mayo on top. 
Elote-Mexican Corn
Ingredients
4 ears corn on the cob or 24 oz. frozen white corn
2 tablespoons butter
2 tablespoons mayonnaise
¼ cup crumbled Cotija cheese
1 teaspoon Chili Powder (regular chili powder or hot Mexican Chili Powder)
Salt and Pepper to taste
1 fresh lime
2 tablespoons chopped fresh cilantro
Instructions
Grill or cook the corn on the cob on a baking sheet in a 425° oven until corn is cooked. When testing for doneness of corn the cob should be easily pierced that way the kernels will come off the cob easily.
You can cook the corn in or out of the husks.
Butter the cooked corn.
Drizzle corn with mayonnaise.
Sprinkle chili powder, salt, and pepper onto corn.
Add crumbled Cotija Cheese.
Squeeze fresh lime juice onto corn.
Top with fresh cilantro.
Notes
When I cook frozen corn in a cast iron skillet, I typically add a sliced jalapeno to spice it up.