A super fun meal, that doesn't take a ton of time. Tender marinated beef is the key to the success of this meal.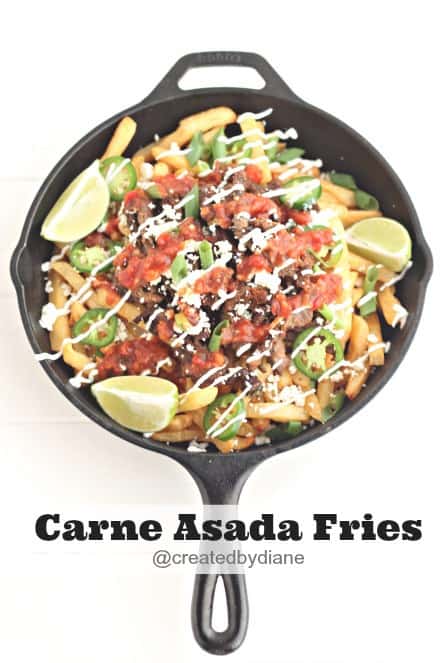 There is nothing like a hot skillet full of tasty Carne Asada Fries
I don't like when fries get cold,
serving them in a heated skillet, keeps them hot and crispy!
I like my fries piled high
full of deliciously marinaded Carne Asada,
topped with Cotija Cheese
jalapeños
and of course sour cream and salsa!
Feel free to add your favorite toppings, jalapenos, guacamole, corn, black beans, lime juice all yummy!
toppings are key here, feel free to pile on all your favorites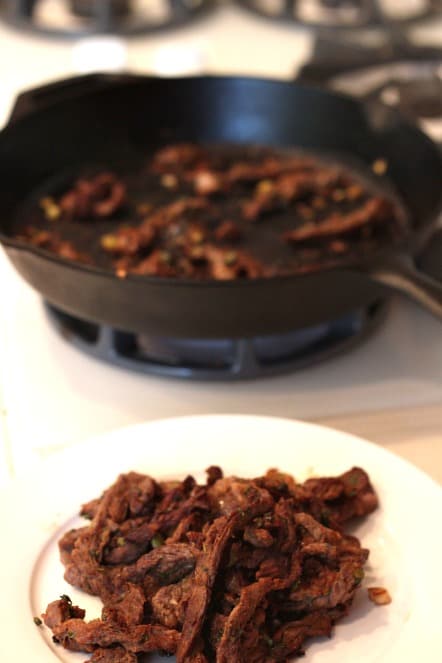 You can grill the meat or cook it in a cast iron skillet to cook it up deliciously crispy.
Don't overcrowd the pan, or the marinade will steam the meat.
 The meat cooks quickly in small batches.
Cook the meat while the fries bake.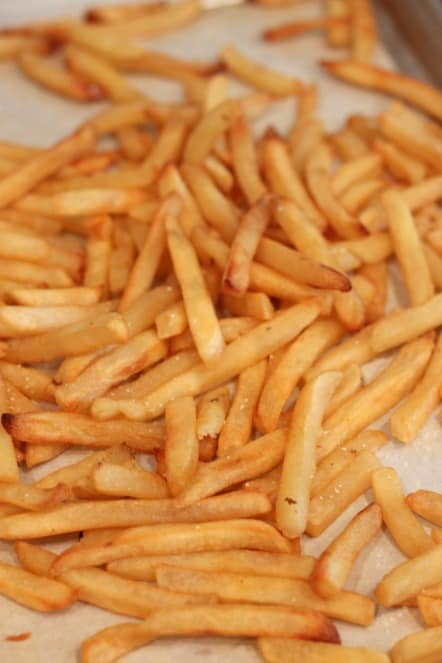 Bake up a batch of french fries until they are crispy.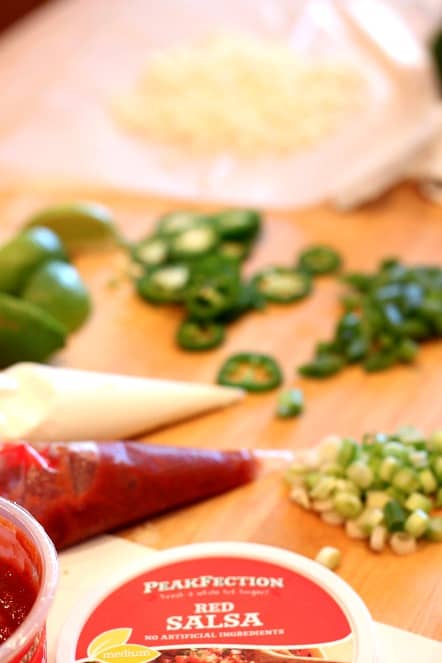 Having everything prepped and ready to go when the meat and fries are cooked is essential.  I placed sour cream and salsa in disposable piping bags to make it easy to top the dish with when it's ready to serve.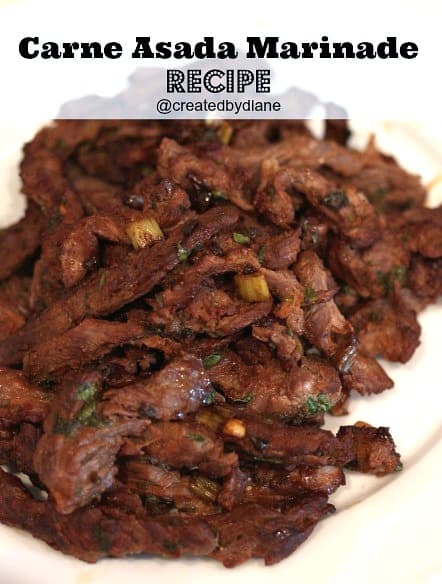 Carne Asada is great in tacos, burritos, on top of nachos and it's pretty hard to resist eating the whole plate full whatever plans you have for it.
To keep the food hot, heat a cast iron skillet just as all the food is ready. Place the french fries on the bottom, top it with the Carne Asada, then pile on all the yummy topping you can think of!
THIS is the skillet I use and love and I use it so much I have 3 of them and more in other sizes too, it's a kitchen must have.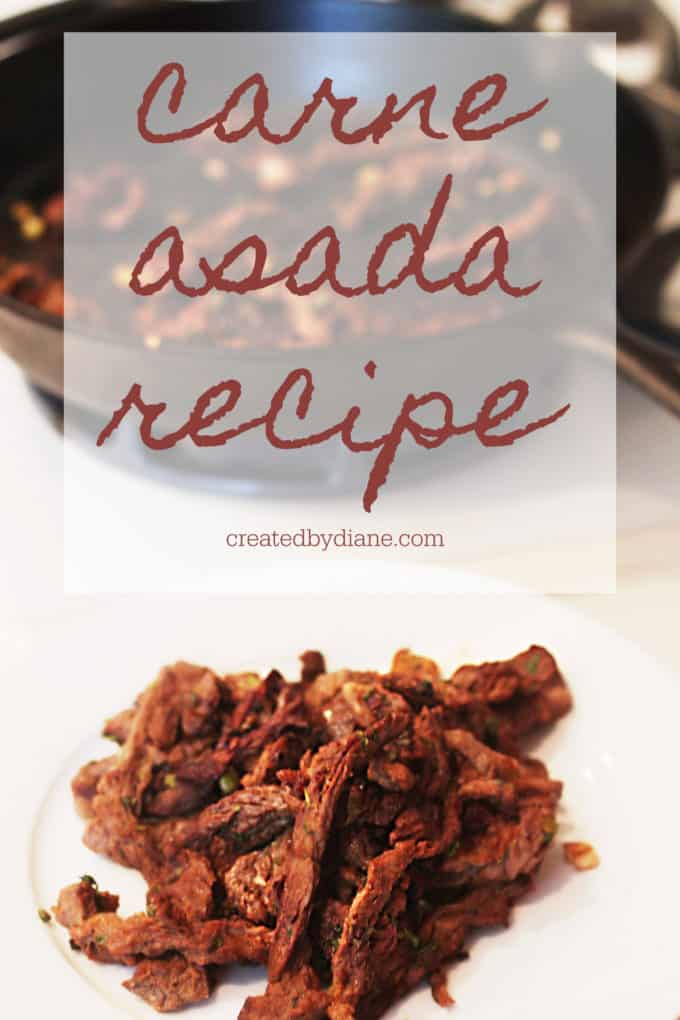 Carne Asada Marinade
Ingredients
I orange juiced
2 lemons juiced
2 limes juiced
2 tablespoons Salsa
1 jalapeño seeds removed and diced
1 teaspoon smoked paprika
1/2 teaspoon cumin
1/2 teaspoon salt
1/8 teaspoon ground black pepper
2 scallions diced
2 tablespoon fresh chopped cilantro
*you can easily double the spices if desired
Instructions
mix all ingredients and marinade
pounds of flap meat, flank steak, skirt steak or flat iron steak (which are all similar cuts of meat) cut into thin strips
marinate meat overnight
Grill in cast iron skillet in small batches so the juice doesn't steam the meat
the meat will cook quickly since it's cut thin, don't overcrowd the pan.
Carne Asada Fries
Ingredients
1- 1 1/2 pounds Carne Asada (marinade recipe above)
1 package frozen french fries (30 oz)
1 oz. Cotija Cheese
1 jalapeño (fresh or pickled, depending on how spicy you prefer)
2-3 scallions
sour cream
salsa
lime
Instructions
Heat skillet or grill meat until it's fully cooked.
Meanwhile, bake french fries until they are crispy
Heat a clean cast iron skillet to serve the Carne Asada Fries so they stay hot if desired
Place the french fries on the bottom of skillet or serving dish, top with Carne Asada,
add on Cotija Cheese, jalapeño, scallions, sour cream, salsa, and lime juice.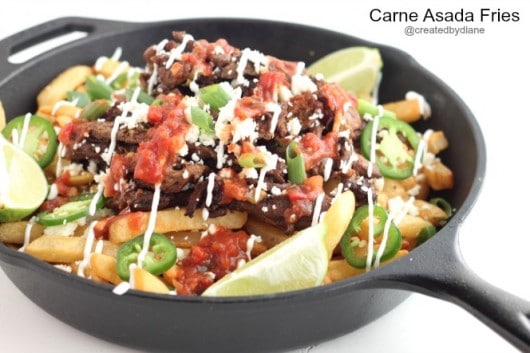 These are great to serve on GAME DAY, as an appetizer or for a fun change to a weeknight meal.
They won't last long, trust me.
*Thanks for supporting the brands that I work with, all opinions are my own.
 I'm partnering with Kroger to bring you this recipe using their PeakFection Red Salsa.