There are so many reasons I love fried rice, this chicken and sausage fried rice dish is so full of flavor and easy to make too.   
Which makes it the perfect meal anytime, especially with busy weeknights that seem to follow as soon as school starts, whether you have children in school or not, before we know it the holidays will be here and the cold weather rolling in. This meal will warm you right up!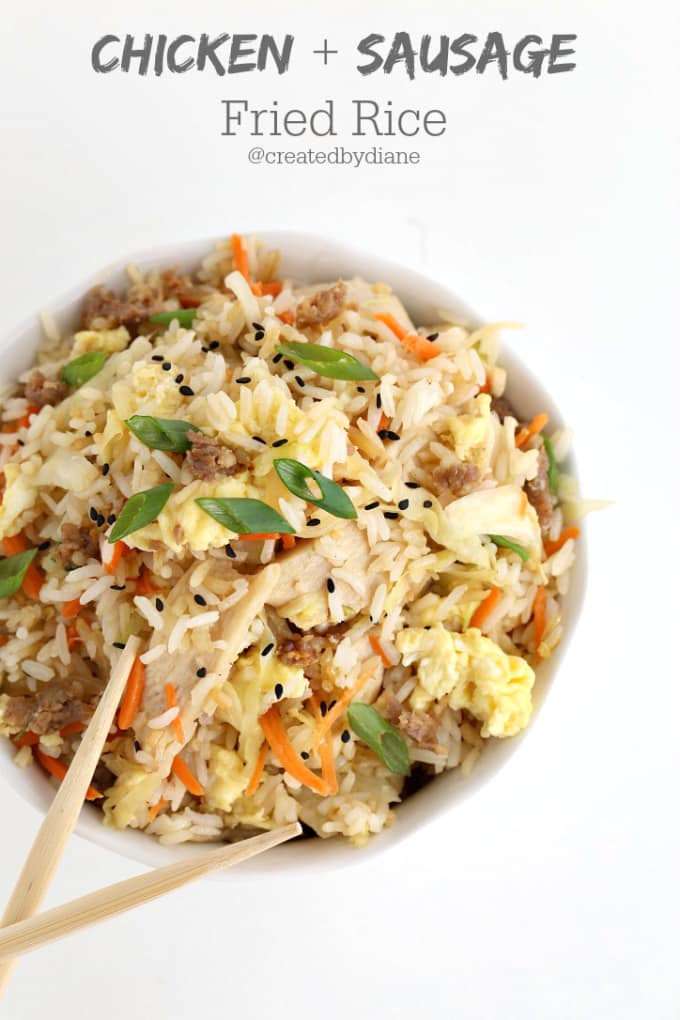 I love fried rice for breakfast…
it reminds me of having leftover Chinese takeout in the fridge when I was a kid.
I would ALWAYS want to be the lucky one who got to eat it.
Well now, I rarely order Chinese Food, as I know how easy it is to make fried rice at home and I get to put all my favorites in it.
As long as I have rice cooked, it doesn't take any longer to make a whole bunch of fried rice at home as it would to call and order, go out, and get it.
Plus, I made a  lot usually so that I have plenty of leftovers the next day. For breakfast, or lunch or whenever… really it's perfect anytime.
How to COOK RICE 3 ways, is a post you will want to see to help you make perfect rice every time, which is perfect timing for this fried rice. If you have little or no time to make rice, they now sell cooked rice in small containers in the rice aisle or prepared rice section of grocery stores. We all need a little help sometimes getting great meals on the table so I say whatever works for you, do it!
There are so many reasons I LOVE this recipe.
I love how just 2 links of sausage adds just an ENORMOUS amount of flavor!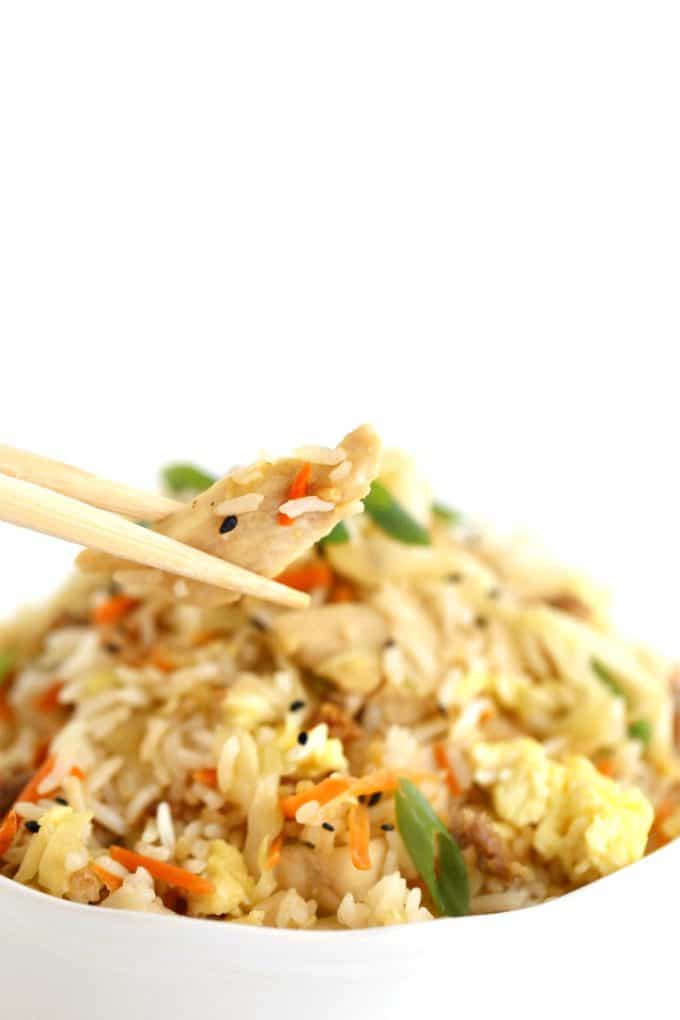 You can use breakfast sausage if you prefer, and this would be a great item to have for a BRUNCH!
Truth be told, maybe you've heard me say it before… I love fried rice for breakfast. I often don't prefer traditional breakfast and if that sounds like you too. Take a look at another of my favorites. Spaghetti and Eggs, click here to see my recipe for Scrambled Egg and Bacon Spaghetti! 
Now don't get me wrong, I also love this for dinner too.
I can't ever seem to get enough of fried rice!
Check out some of my other fried rice recipes Bacon and Egg Fried Rice and Luau Fried Rice.
Chicken and Sausage Fried Rice
Ingredients
1 large chicken breasts sliced thin (or 1-2 cups cooked chicken)
2 links hot Italian sausage (casing removed)
4 cups cooked rice
6 eggs, scrambled
1 cup thinly sliced cabbage
1/2 white onion, sliced
3 green onions diced
1 cup grated carrots
2-3 tablespoons soy sauce
2 teaspoons sesame oil
2-3 tablespoons vegetable oil
pinch of sesame seeds
If you like spice, add a few drops of chili oil, or 1/2 teaspoon crushed red pepper.
Instructions
In a large skillet over high heat,( I use a cast iron skillet as it stays hot especially when adding in cold foods) place 1 tablespoon vegetable oil, heat chicken, then add in sausage. You cook them together or separate, your choice, I often cook them together. If you are using pre-cooked chicken no need to add it until you add the vegetables.
Separate the sausage as it cooks, be sure to cook it thoroughly (test with a meat thermometer if necessary)
Remove meat from pan.
Cook eggs, then remove them from the pan.
Heat a tablespoon or two of vegetable oil with a 2 teaspoons sesame oil and stir in rice to coat it.
Add in green onions and carrots and cook for 2 minutes.
Add in scrambled eggs.
Serve topped with sesame seeds.
Notes
cooked rice- having pre-cooked cooled rice is key to fried rice, do not use warm rice. If you cook it before preparing this meal, place the rice on a shallow pan and place it in the fridge until it's cold.