Baked Refried Beans and Eggs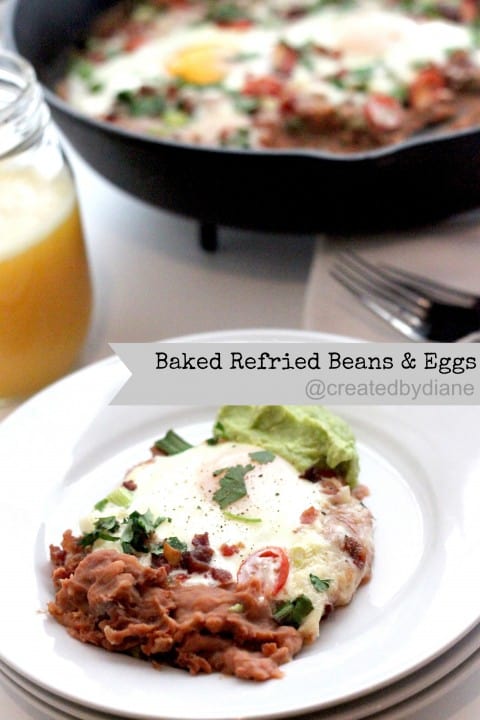 Rise and shine and lets get breakfast on the table!
Breakfast couldn't get any easier or tastier than this if you ask me.
Really, this one will be on your table in minutes and  you will be thanking me. (Well my family sure did) and I will graciously accept cookies or any other sugary treat.
I love hearty breakfasts that are uncomplicated.
This sure delivers.
I just love hot and cheesy refried beans and well top it with some tomatoes, scallions and cilantro and you have just got my taste buds jumping!
Now add some BACON on top and well, it's crunchy, cheese, and um….DE-licious!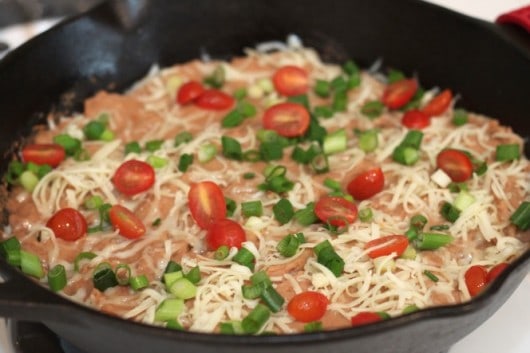 Heat Cast Iron Skillet, place beans on bottom to melt. Spread beans, add toppings…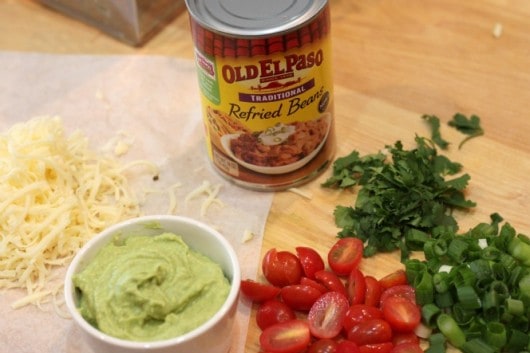 Having your items all prepped and ready to go is the key.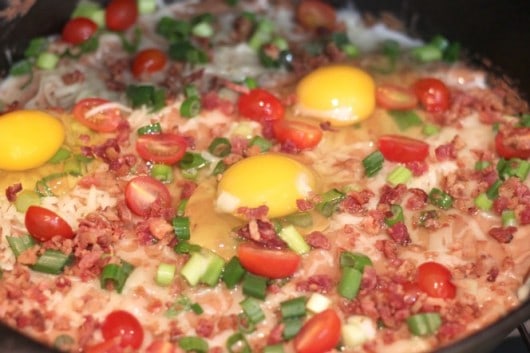 crack eggs on top and don't forget the BACON!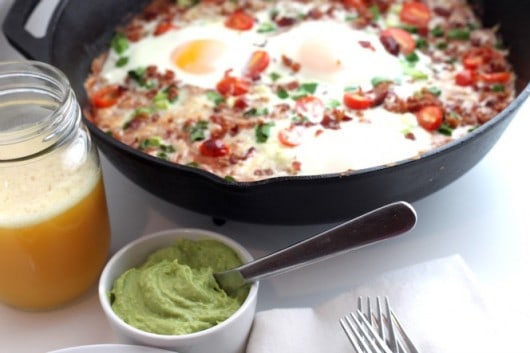 Bake for ten minutes or until eggs are the doneness you prefer.
What a quick and easy meal.
We will be making this beauty again and again.
THIS is the skillet I use and love and I use it so much I have 3 of them and more in other sizes too, it's a kitchen must have.

Baked Refried Beans and Eggs
Ingredients
1 can Old El Paso Traditional Refried Beans
2 oz grated Pepper Jack Cheese
2 diced scallions
1/3 cup grape tomatoes sliced
3 tablespoons chopped cilantro
1/2 cup crumbled bacon
3 eggs
Instructions
Preheat oven to 350 degrees,
Heat cast iron skillet on the stove on high until it's hot.
Place refried beans in skillet(I use a 12" cast iron skillet) and turn heat to medium until beans soften and are easy to spread.
Turn heat off.
Spread beans into a smooth layer.
Add cheese, scallions, tomatoes, cilantro, bacon and crack eggs on top.
Place in 350 degree oven for 10-12 minutes, or until eggs are the doneness you prefer.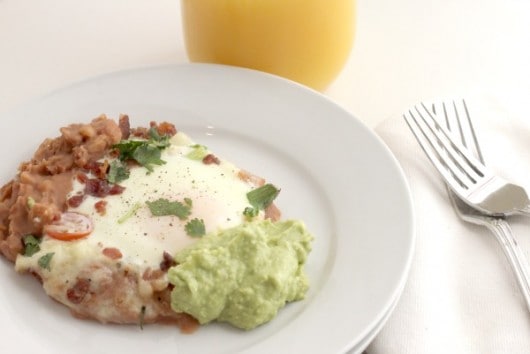 I just love one dish breakfasts, easy to make and well, easy to clean up too.
I created this recipe for Old El Paso and General Mills. All opinions are my own, those are priceless.