Grilled Apple Cinnamon A la Mode Tacos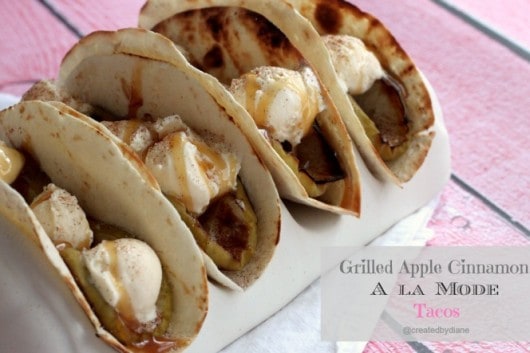 Tacos have sure come a long way since I was a kid, pretty much then…
living on the East Coast, it was ground beef tacos when anyone mentioned a taco.
There were no taco shops, you couldn't buy a taco anywhere I was aware of…
Now living in Southern California, there are taco shops everywhere and if they were smart,
they'd start serving these for dessert!
I love that now there are so many resources in the stores to get Mexican Food Products! It makes planning way easier than having to go and find a Mexican Market, which I have had to do years ago.
These tortillas are from Old El Paso, they make it easy to come up with dinner ideas with the large array of products they seem to have in many stores.
They are so delicious, I should not mention how many of these I ate all in the name of product control…..
I can't help it that when I whispered to everyone to come and get one, no one heard me!
So I made another round for them when they finally decided to join me…
It really only takes minutes to make these and they received rave reviews.
I'm not sure who thought putting cinnamon sugar on apples for apple pie and apple cobbler, but it was a genius idea and I always have a small shaker full of cinnamon sugar in my cabinet. I sprinkle it on toast, pancakes, muffins, and apples! If you don't have such an item, just mix some cinnamon and sugar and find an empty salt shaker so you can have it ready anytime you need it too….believe me you can come up with MANY items to put it on. Yeah, and vanilla ice cream is one of them…with cookies stuck into it….cinnamon sugar is not just for Snickerdoodles!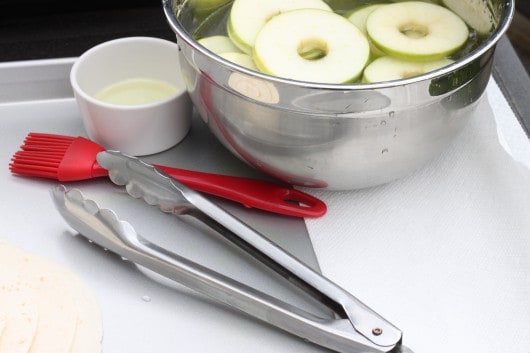 Gather all the ingredients (except for the ice cream) and head on out to the grill. I use a silicone brush to apply the oil so the apples don't stick. I have the apples in cold water with the juice of 1/2 a lemon so they won't turn brown.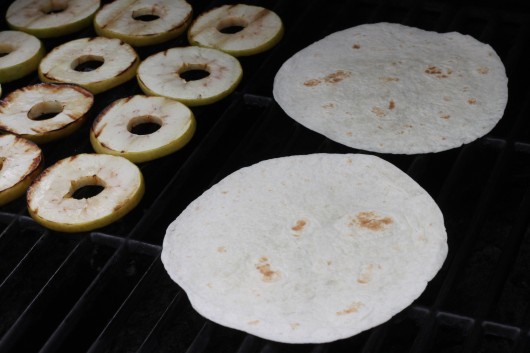 Grill both sides of the apples, then put on the tortillas they won't take as long.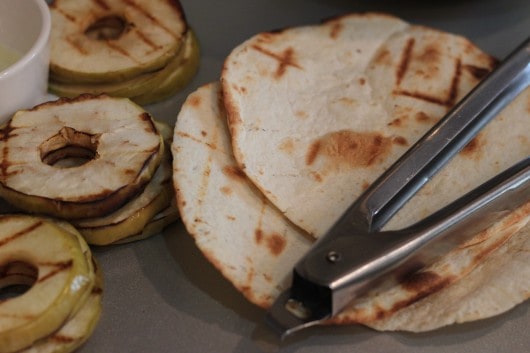 Now that everything is all grilled, it's time to assemble the tacos. Head on back inside and get out the ice cream, cinnamon sugar, and caramel sauce.
Place a couple apple slices in the tacos sprinkle with cinnamon sugar mixture and top them with ice cream, add more cinnamon sugar if you like and top with caramel sauce.
Grilled Apple Cinnamon A la Mode Tacos
Ingredients
4 Flour Tortillas
2 apples cored and sliced in rings
1/8 teaspoon cinnamon
1 tablespoon sugar
1-2 cups vanilla ice cream
1/4 cup caramel sauce
oil as needed for grilling
Instructions
Mix cinnamon and sugar together and place in shaker.
Grill sliced apples.
Brush on a little bit of oil, is they appear dry.
When apples are golden on both sides and have softened, grill tortillas for one 30 seconds each side.
Place apples in tortillas, sprinkle with cinnamon and sugar.
Add teaspoon sized scoops of vanilla ice cream on top of apples and drizzle with caramel sauce.
Notes
I soak the apples in cold water and the juice of 1/2 a lemon so they don't turn brown by the time I get to the grill.


Drizzle caramel sauce on plates also for a fun serving option. Stack layers of these flat and cut it like a pie/cake. Prepare apples ahead of time and just re-heat if needed for serving at a party.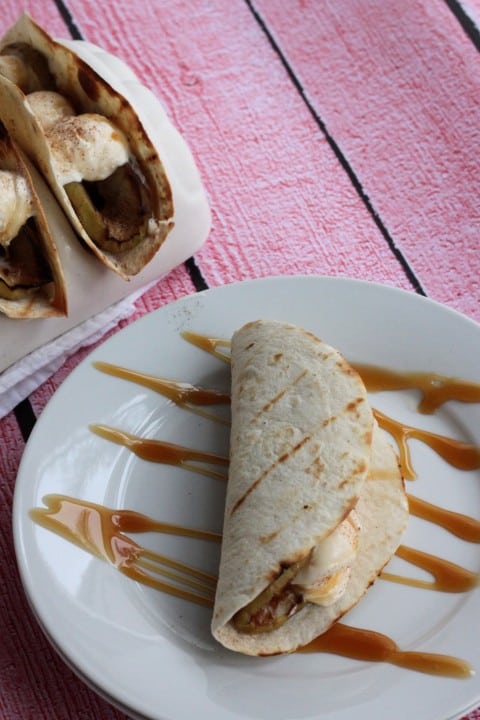 I'll just mention you can NEVER have too much caramel sauce, so go ahead and drizzle it all over the plate and enjoy.
Now, these would be great any day, but really they give new meaning to TACO TUESDAY don't you think!

I was compensated for this post, but as always all opinions are my own.