Mexican food can be quick and easy, and super tasty all at the same time. These empanadas need to be at the top of your must make list and they are just in time for Cinco de Mayo.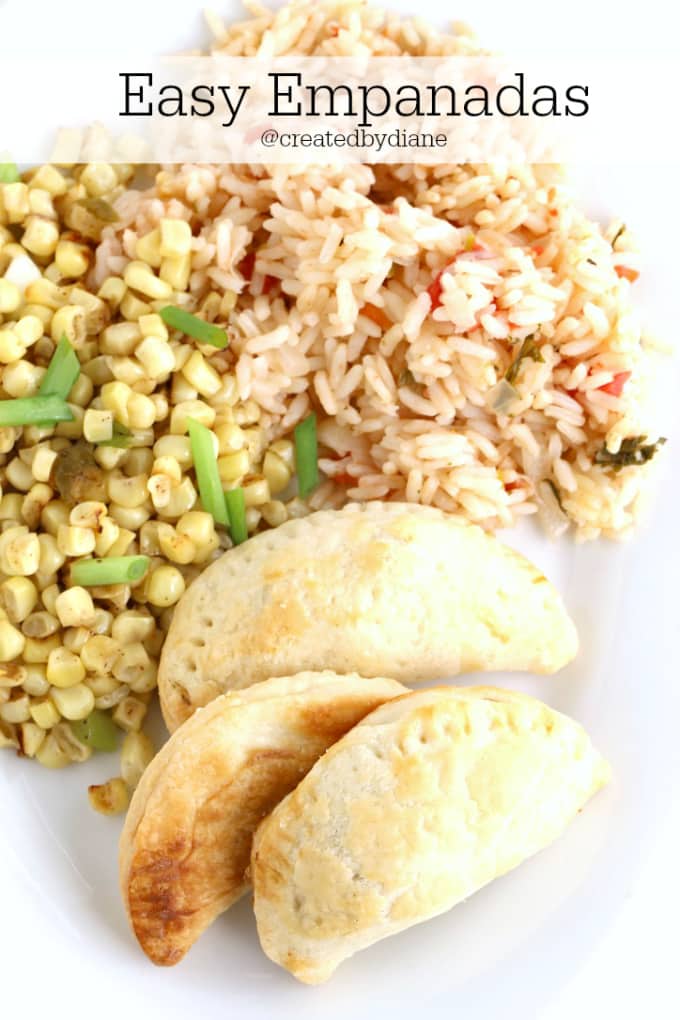 These easy empanadas are made with pie crust and seasoned ground chicken.
Feel free to make these with ground beef if you prefer.
These are served as an appetizer, or you can serve them as a main dish. I served them with a quicker version of my Mexican Rice I already had some rice cooking and decided to add in some tomatoes, and seasonings and Sauteed corn with green onions and jalapenos. If you like Elote (Mexican Street Corn) click here for my Mexican  Corn Macaroni Salad.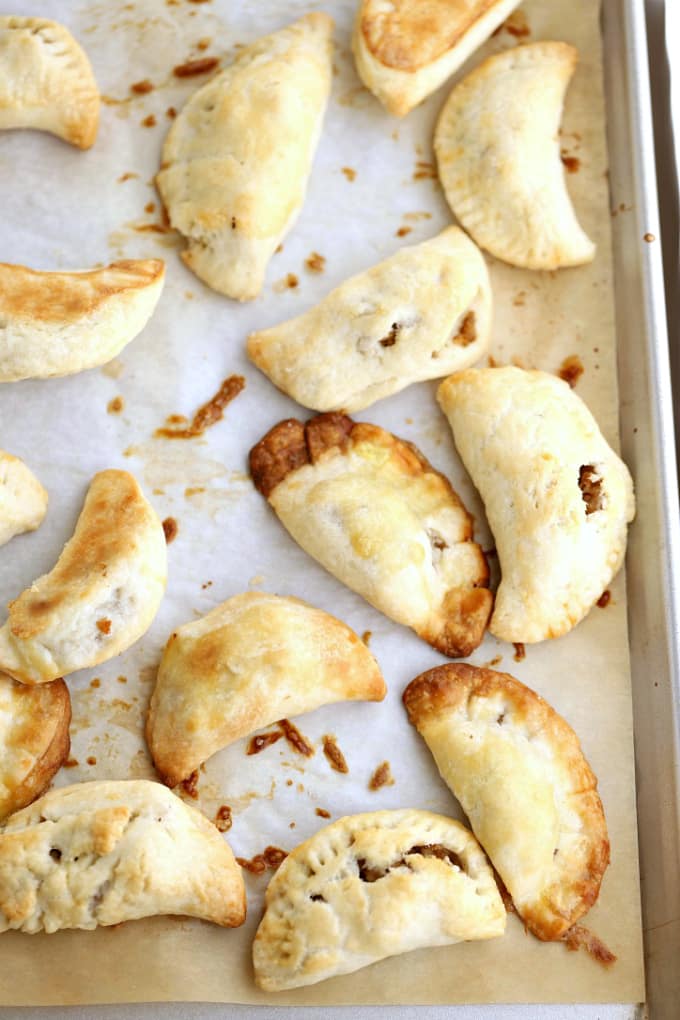 These empanadas are baked, bake them on a parchment-lined baking sheet and they won't stick and will brown up nicely.
Two things you will want to print out is my Pie Crust Recipe and I've given measurements for 1 pound of ground meat if you plan on making lots of empanadas or love taco seasoning print my Taco Seasoning Recipe too.
You can use purchased pie crust and taco seasoning if you prefer.

Easy Empanadas
Ingredients
1 pound ground chicken (or meat of your choice)
2 tablespoonstaco seasoning (my recipe is here)
1 teaspoon chili powder
1/2 teaspoon cumin
1/2 teaspoon oregano
1/2 teaspoon smoked paprika
1/4 teaspoon granulated garlic
1/4 teaspoon onion powder
1/8 teaspoon black pepper
pinch crushed red pepper
1/2 cup water
1 egg, beaten with 1 tablespoon water
Instructions
In a skillet cook ground chicken with seasonings and a 1/2 cup water.
Roll out pie crust and cut it into 3-inch circles
Place 2 tablespoons of meat into the center of each circle and use egg wash to rim the edge of the dough and press it together with your fingers or gently with a fork (I found it easier to do with my fingers)
Brush tops of empanadas with remaining egg wash.
Bake on a parchment lined baking sheet at 375 degrees for 15 minutes or until pie crust is cooked.
If you like this or any other recipe on Created by Diane be sure to share the post with the ones you love. You can click on the "share" buttons on the top and the bottom of each post, you can share it on social media or in an email.
~Sign up for email updates and GET delicious recipes delivered right to you! Plus get my free e-cookbook too.
Thanks ~Diane