Kick up your tortilla game, make these tortilla cones and top them with any of your favorite Mexican fillings and enjoy. 
Great for Taco Tuesday, serving them as appetizers, great with a side dish of Mexican Rice, Beans, or an afternoon snack! Not only cute, but fully functional, pile them high, grab some margaritas, I have some delicious recipes including Blueberry, Cherry, and Pineapple Margaritas and enjoy!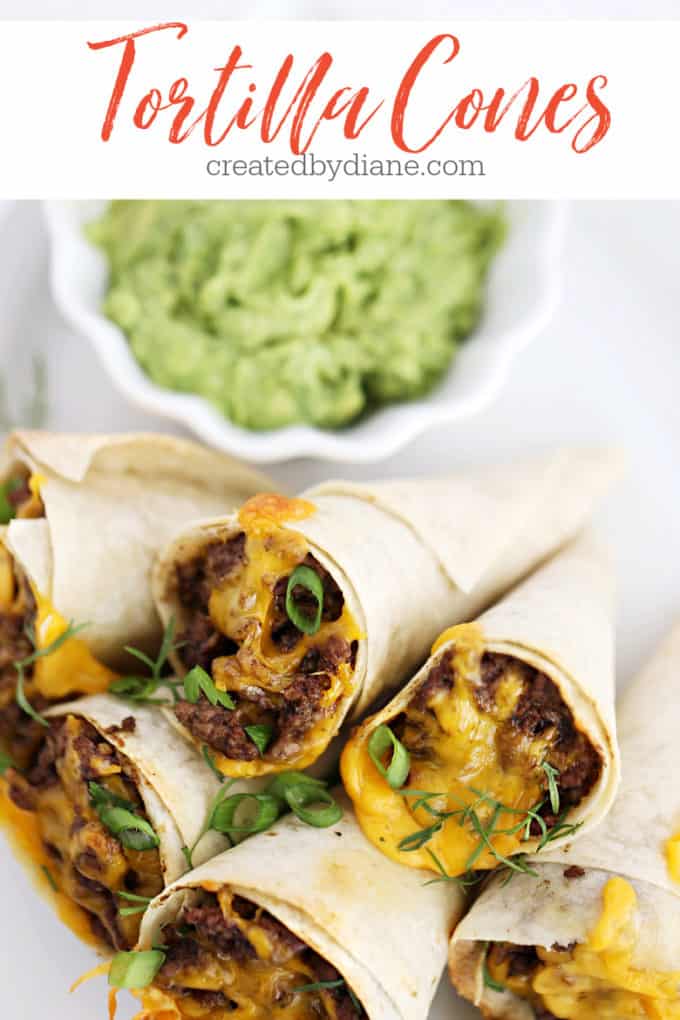 You'll use them for more than tacos… believe me, you'll want to fill them with everything from chili, to ceviche.
Tortilla cones are not only cute, they are functional and easy to make and great to serve for appetizers or making dinner more fun!
I always have tortillas in the fridge…
they are great for making quesadillas, breakfast burritos, or even my eggs benedict enchiladas, also to fry up for some delicious chips to dip into my favorite guacamole recipe…
also great for bean and cheese burritos at a moment's notice and of course tacos!
These are filled with ground beef with my taco seasoning mix and cheese, keeping it simple and delicious!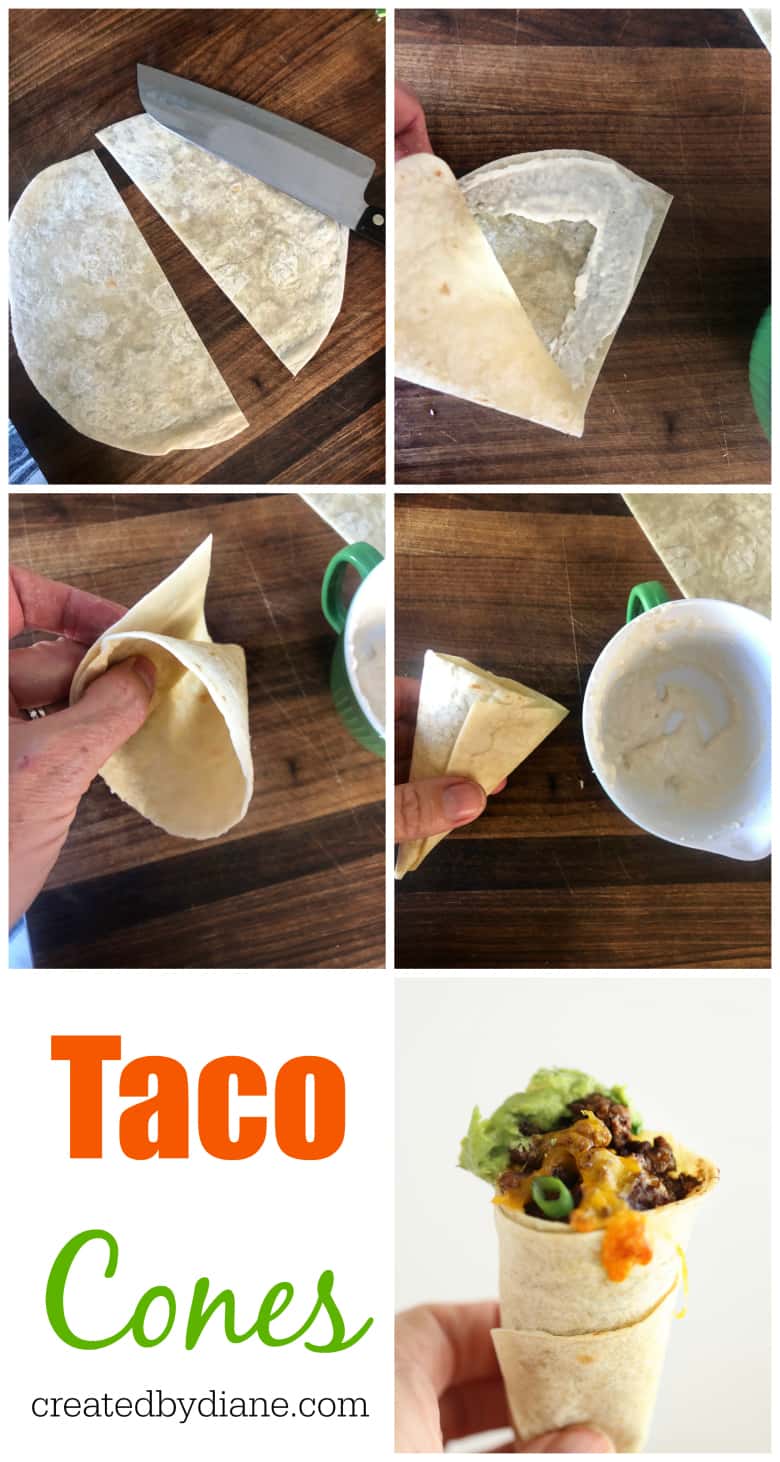 The cones are simple to make, and once you start you'll want to stuff these cones will all kinds of delicious fillings.
Start with 8″ flour tortillas (or similar size)
for every tortilla you use, you'll 2 cones.
Cut the tortilla across the middle, you then have two 1/2 circles.
You'll place a mixture of flour and water as the "glue" and wrap each one into a cone shape.
You can heat bake them in the oven empty to crisp the tortilla and cook the flour mixture to set it, or fill them and then bake them. Either way works.
To make the "Glue" you'll mix flour and water as I mentioned, use warm water it mixes easily and spreads well too.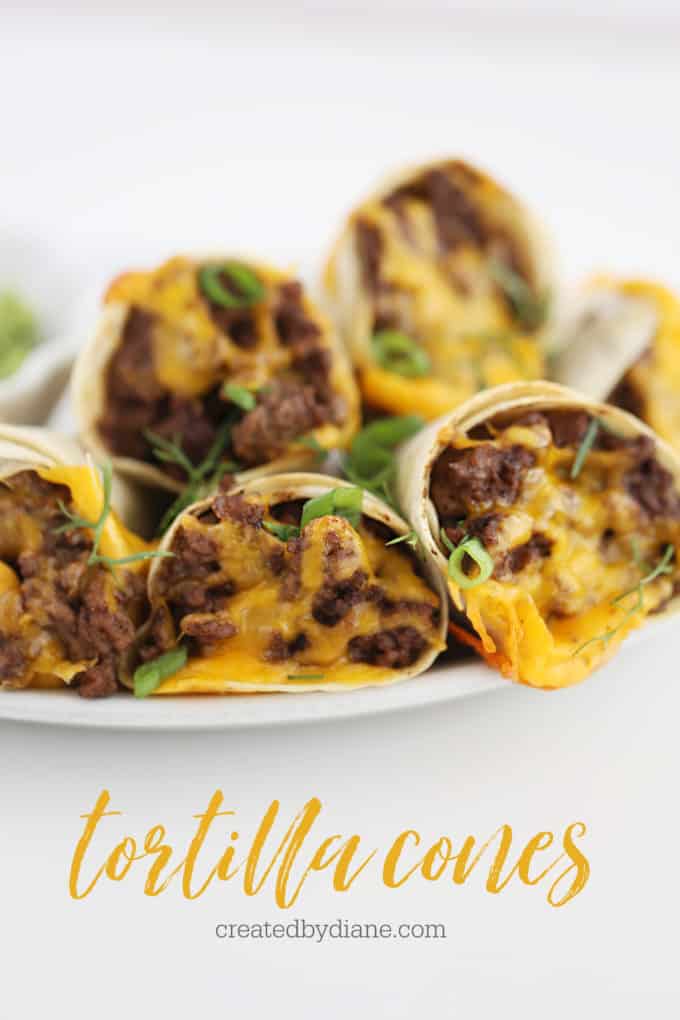 For 6 whole tortillas, you can start with 1/4 cup flour and 1-2 tablespoons of water, add 1 tablespoon of water and mix, then add the second as your mixing… add more flour or water as needed to get to a thick paste texture, not runny.
I apple the " glue" with my finger then press the corner down on top of the rolled tortillas and place the cones on the corner side down to hold them in place until I'm done making all the cones.
I can just see these filled with cheese and apples for a fun snack, here is my traditional apple cheese quesadillas if you want to take a peak.
Here is a guide of how many tortillas you'll use and how much filling you'll need.
1/2 lb meat=3 whole tortillas 6 cones
1 lb meat= 6 whole tortillas 12 cones
this will help you plan out how many tortillas you'll need for how much filling you have.
Check out my 50+ Mexican Recipe Post, full of easy and delicious recipes.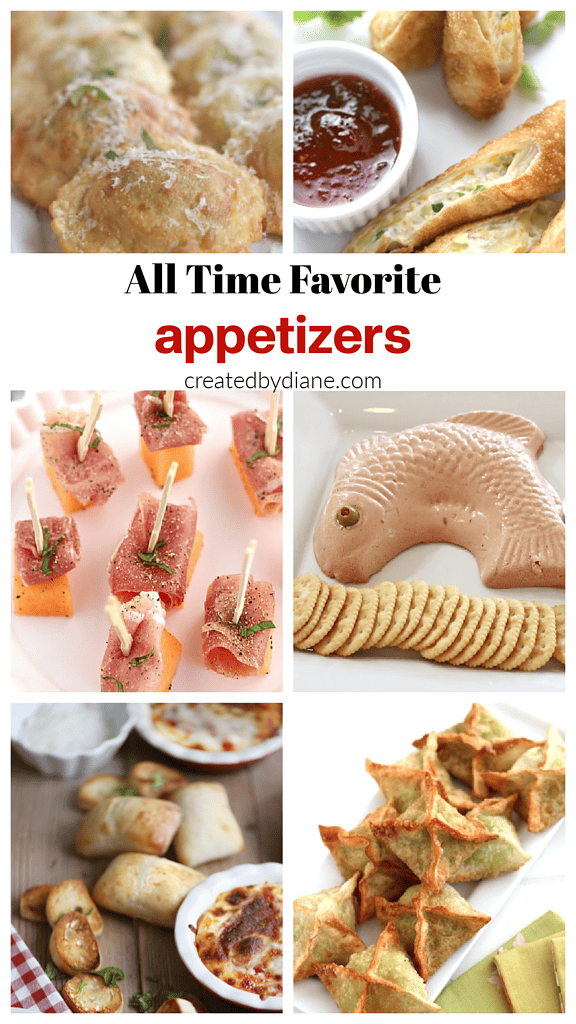 Taco Cones
Handheld tortilla cones, the perfect appetizer, or a great way to make the main dish more fun. Fill them with taco meat, chili, ceviche, and much more.
Author:
Diane Schmidt Created by Diane
Recipe type:
Appetizer, Main Dish
Ingredients
6 flour tortillas (8" round or similar size)
1/4 cup all-purpose flour
1-2 tablespoons water
Instructions
Slice the tortillas in half evenly.
Mix the flour and water in a small dish.
Place mixture with your finger onto one corner of the tortilla and wrap it into a cone shape, and press the "glued" corner down firmly.
Finish all the tortillas.
Bake the tortillas empty or full.
If they are full you can roll a piece of foil in a log shape and rest the cones on it so they don't spill out.
Or if you bake them empty you can bake them with the point up, you can fill them with tin foil if they are flimsy, some tortillas are thicker than others.
Bake for a few minutes at 400° or under a broiler on high, they will only take a few minutes to crisp up and become "toasted".
if you're baking them filled you can reduce the temperature to 375° or higher if you'll be being them longer.
The tortillas are done baking when they are golden and the "glued" areas is dry.