One of the most popular side dishes of summer… POTATO SALAD made simply and easily for perfect potato salad each and every time you make it!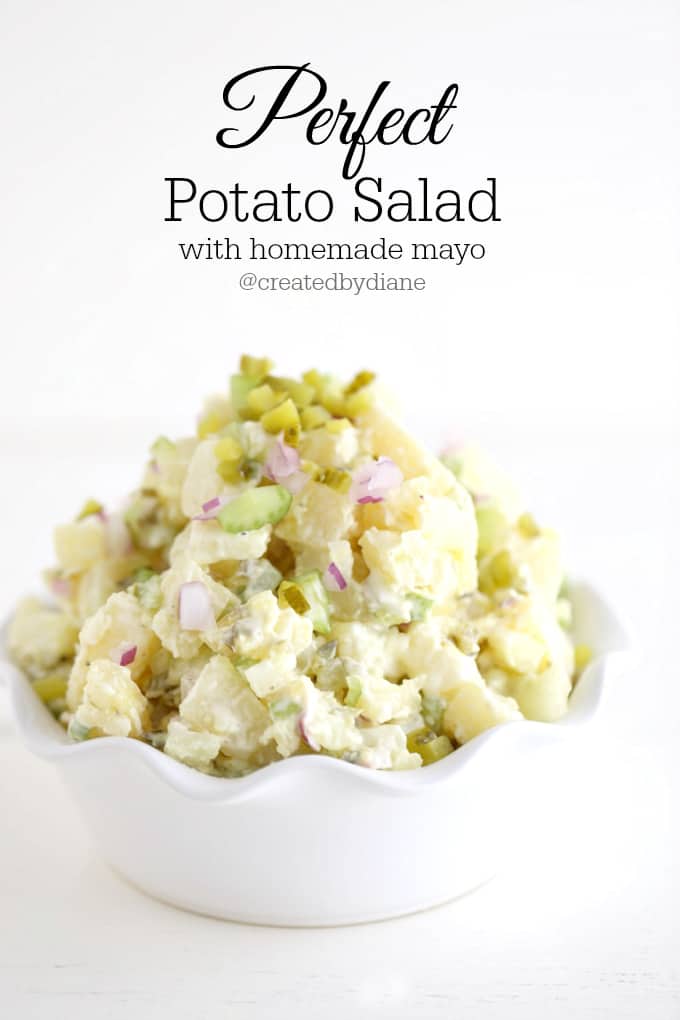 There are so many varieties of potato salad, this one is what I grew up on with subtle changes.
I recall her being asked to make it for parties, cookouts, you name it… it was requested often. She's always made 5 lbs, so there was plenty and I do the same thing. 
Want more recipe for BBQ's, Cookouts, Grilling check these out!
Yes, even for 4 people. I make a big batch and love the leftovers, perfect for hamburgers, hot dogs, and roast beef sandwiches. Great with pulled pork/chicken sandwiches. Steak, grilled chicken, sausage, or pork chops.
The best thing about a great basic potato salad is that if you prefer eggs in it, you can go right ahead and add them, if you like black olives, again you can add them right in.
It all starts with the potato!
I prefer red potatoes for potato salad for their texture, they hold together when mixed up.
I love red onion and dill pickle relish added in,
this combo makes perfectly delicious potato salad.
There is one thing I prefer Homemade Mayo you'll find my recipe here and it really makes all the difference to truly homemade potato salad.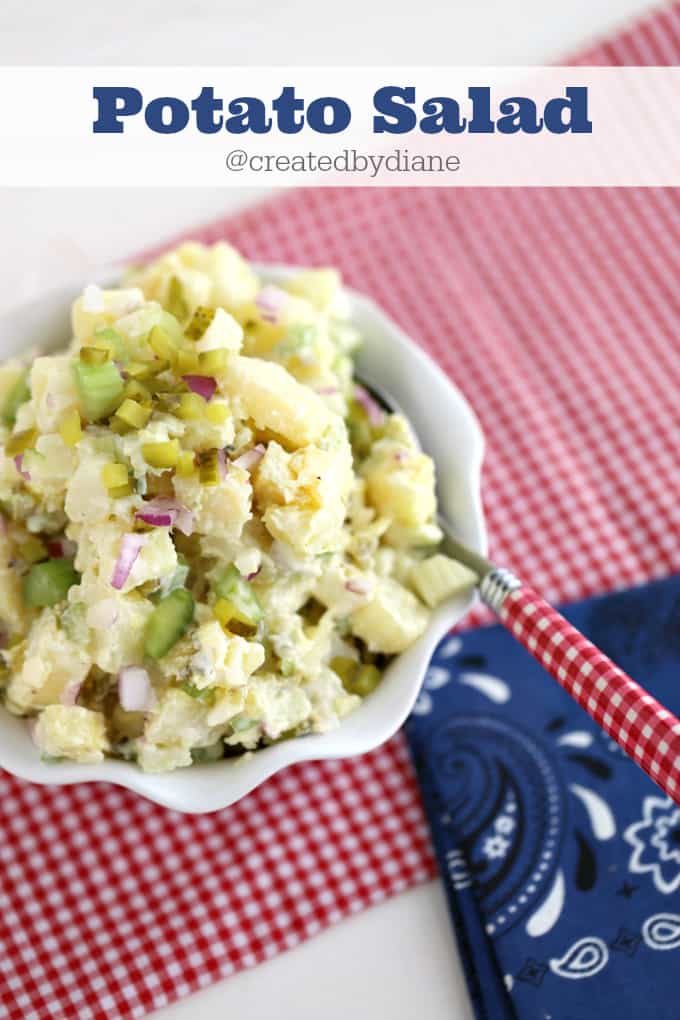 If you need a fun new BBQ Sauce you'll want to take a look at my Bloody Mary BBQ Sauce here.
I have another recipe you may like too, it's for BLT Cole Slaw.
and don't forget these pretty Beet Dyed Deviled Eggs.
Other great Potato Salad Recipes I love: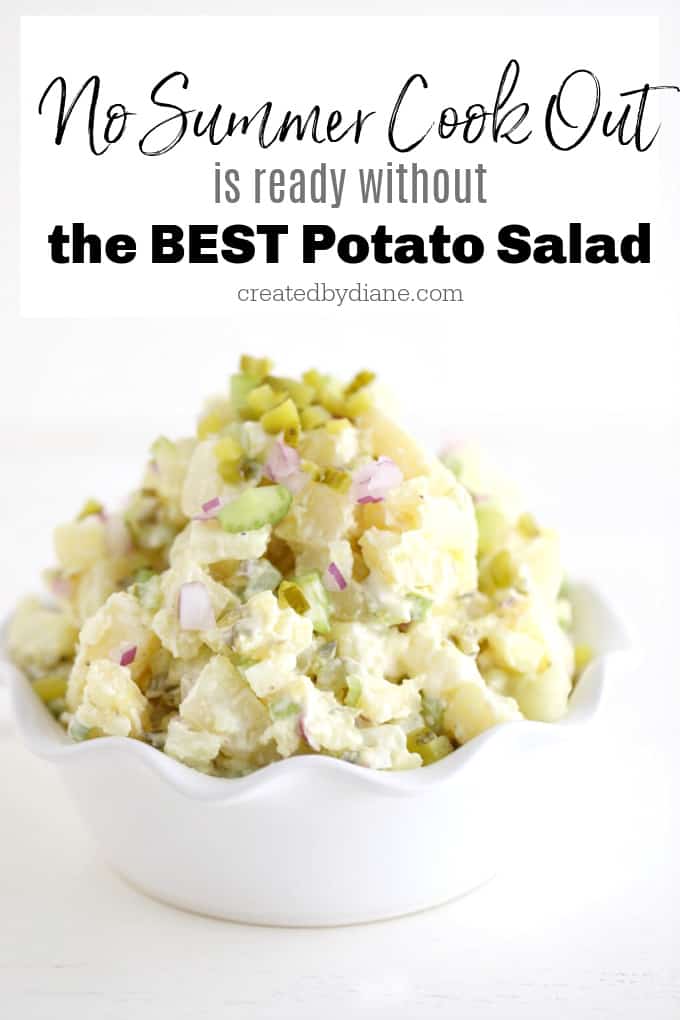 I could easily make a meal out of potato salad, I love it that much. But for me, it has to be homemade. My mom would bake it and I would have the hardest time waiting for it to chill before I would dive a fork into it.
Other great simple recipes to make:
And don't miss these great Potato Recipes:
Enjoy every minute of SUMMER, it seems to fly by faster each year!
BBQ's, cookouts, get-togethers no matter what you want to name your gathering…  friends, family, and enjoying delicious food is what summer is all about, don't you think!
Potato Salad
The most delicious potato salad recipe, you'll make for lunch, dinner, BBQ, to bring for game day to go with just about any main dish. It's so delicious.
Author:
Diane Schmidt, Created by Diane
Ingredients
5 lbs red potatoes
1/2 medium red onion, diced
4 stalks celery, diced
1/2 cup dill pickle relish drained (or sliced dill pickles) add more if you prefer.
1/4 teaspoon celery salt
1/2 teaspoon salt
1/4 teaspoon black pepper
1- 1 1/2 cup homemade mayo
Garnish with sliced dill pickles, drained relish, and red onion.
Instructions
In a large saucepan cover potatoes with cold water.
Over high heat bring to a boil with a lid on.
Once it boils, remove the lid and boil for 10-15 minutes until potatoes are pierced with a fork and slide off easily.
Drain water off potatoes.
Cool potatoes with cold water.
Peel potatoes carefully with a paring knife by scraping the skin off the potatoes.
Potatoes can be refrigerated overnight before peeling.
Peel and dice potatoes and mix with celery, onions, relish, celery salt, salt, pepper, and mayo.
Refrigerate potato salad after mixing. Having the potato salad in the fridge after it's mixed for a few hours allows for great flavor, a day in the fridge is great. This is a recipe that is great to make ahead of time.
Notes
different varieties of potatoes will result in different texture potato salad. Red and Gold potatoes are waxier and create a smooth potato for potato salad. Baking potatoes have a starchier grainy texture and fall apart a bit more, they will also absorb more mayo, if you use baking potatoes be sure you have enough mayo to coat the potatoes well they will absorb more than the other varieties I mentioned.
I prefer to make the mayo, it's easy and so delicious. If you want to use purchased mayo my recommended brand is Hellman's/Best Foods.
Thanks so much for stopping by to see this recipe!
Sharing this post is appreciated and encouraged. Use the share buttons at the top and bottom of the post, there are many options to all your favorite social media channels and you can also email it to a friend. Print out the recipe to enjoy it on your next kitchen adventure. Please don't copy and paste the full post, it's prohibited without written consent from me. Recipes including wording and photographs are Copyright of createdby-diane.com.
Please enjoy this recipe and click here to sign up for email updates to receive recipes in your inbox.