With the fresh flavors of lemon and dill, this potato salad is sure to be a pleaser!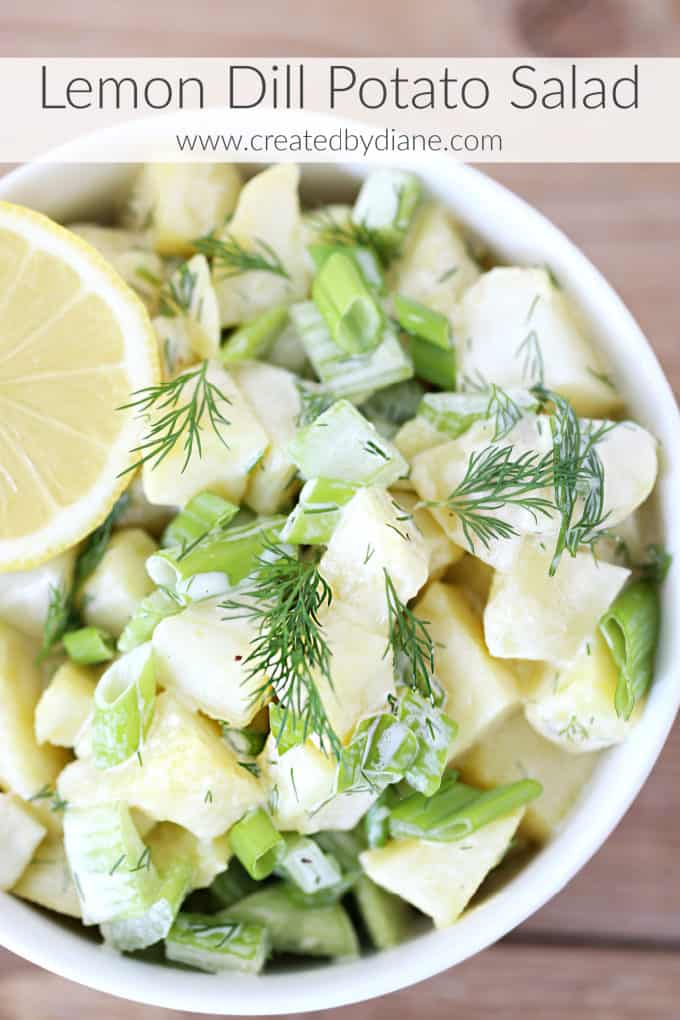 Summer should officially be known as Potato Salad Season!
This potato salad is made with Yukon gold potatoes, they have a smooth texture and delicious flavor. Mixed with homemade lemon mayo and fresh dill, this is a go-to recipe for summer with all sorts of summer eats.
Grill up some chicken, burgers or hot dogs and add this great tasting lemon dill potato salad and have everyone asking for seconds.
The recipe is completely customizable to any amount of potato salad you'll need. Just multiply away! 
Serving this for a small dinner make a pound or two, serving it for a party make 5 lbs or more. The flavors are so great this is sure to be repeated throughout the summer and beyond.
There are two things that make this SO over the top delicious, 
it's the lemon and the dill, and to be honest the homemade mayo makes it the best in my opinion
Lemon, use real lemon not the stuff in the little plastic lemon, buy a lemon, zest it, juice it and enjoy the delicious tanginess and fresh flavor!
Let's chat about mayo. There seems to be a lot of opinions when it comes to mayo out there. Some like it, some don't some like it a little and some love it more.
All I can say for sure is the non-mayo eater in my house eats homemade mayo with no trouble at all and likes it, but serve up prepared store-bought mayo (any brand) and you will see a total attitude, snubbing of food, sometimes storming out of a place if they put mayo on items that have been specifically requested to be sure there is no mayo on in the first place.
But homemade "mayo" aioli is just fine. So I call it aioli (even if there is no garlic in it, just to be sure there is no mention of mayo around said person,
who will remain nameless!
I myself am not as picky!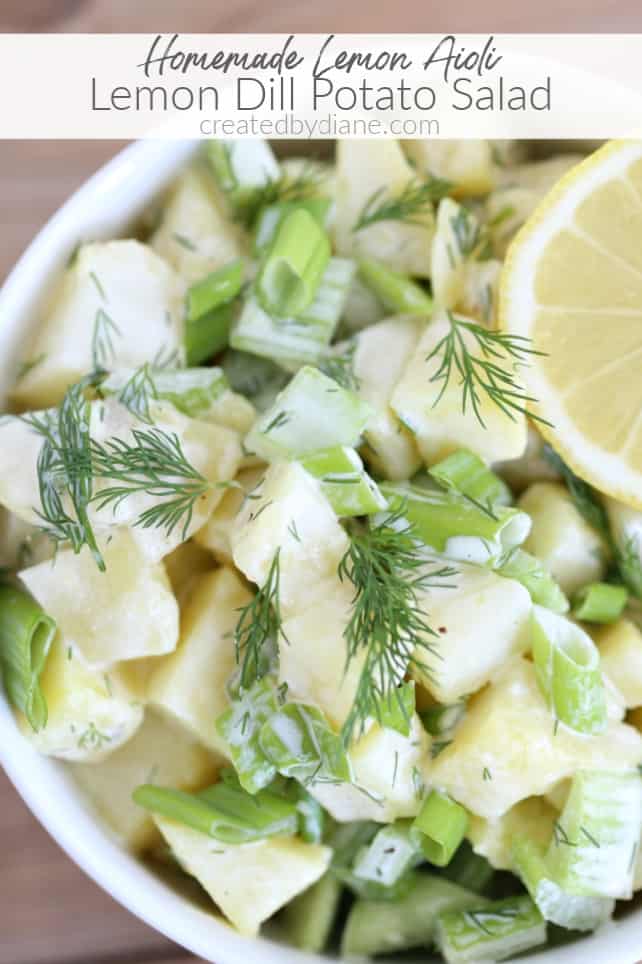 Other items you may like especially if you like dill…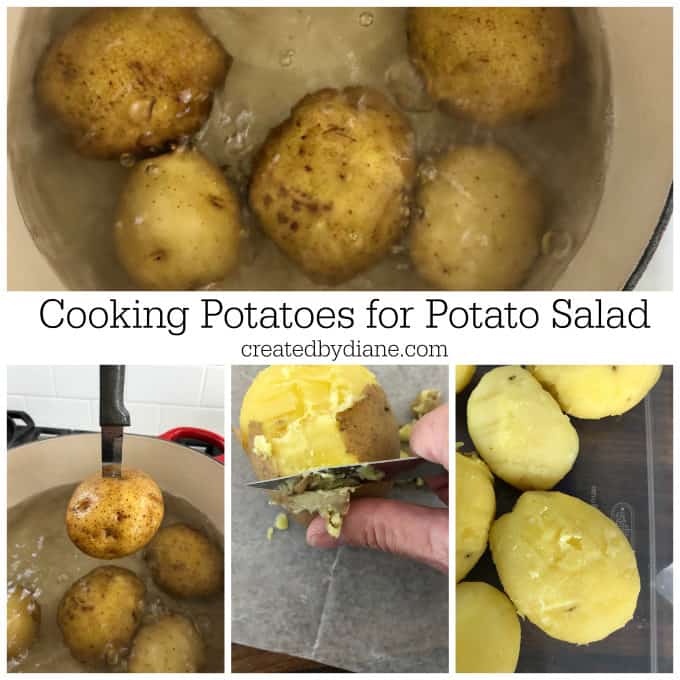 Let's talk potatoes:
you can use any variety you prefer but I highly suggest Yukon gold potatoes, they have a wonderful flavor and creamy texture that are just over the top delicious. Red potatoes would be a nice substitute, but give the fold potatoes a try first! You may just find a NEW favorite.
Bring the potatoes to a boil whole, until they are tender and fall off a knife easily when pierced, then put the potatoes into a container and refrigerate until cold, then peel them with a knife carefully. Then add them to the mayo mixture, then refrigerate until completely chilled, the flavor develops and it tastes fantastic!
OK, more about mayo…. homemade mayo sure is wonderful.
It's easy to make I even have a video:
I use an immersion blender and it's so easy. You can use a food processor, blender or some elbow grease and a whisk if you prefer! 
More on mayonnaise: 
So… make it with lemon juice, (not vinegar) for extra lemon flavor. 
Plus 1 additional tablespoon lemon juice after you've blended it thick, you can also add some lemon zest if you like.
Add 1 tablespoon fresh dill for every pound or two of potatoes you're using. (and additional dill and serve cold). 
Add salt and pepper to taste.
Remember processed mayo has a different taste than homemade if you're used to more processed foods typically they are saltier than what you would normally add yourself at home. The best part of homemade is you can make it to your taste.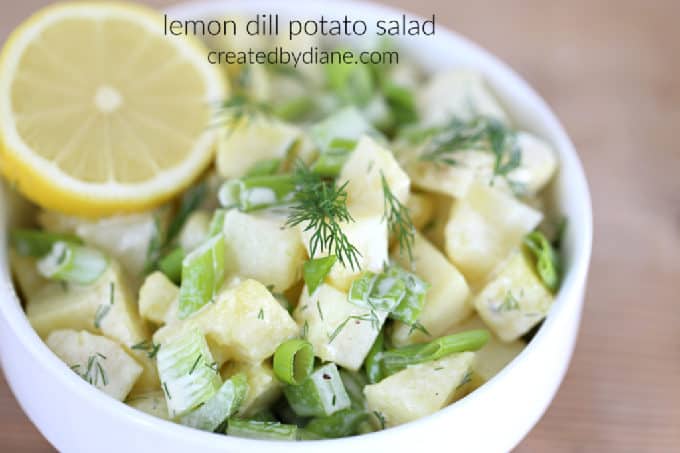 Potato salad is best when it's been refrigerated and everything has a chance to develop more flavor. So making this ahead of time is better than trying to whip it up at the last minute. Unless you prefer your potato salad warm, which by the way is yummy too, as I couldn't help myself and enjoyed a bowl as soon as I was done mixing (I heated it up for 30 seconds in the microwave)
If you use store-bought mayo, add the additional lemon juice and lemon zest and dill to it.

Lemon Dill Potato Salad
Ingredients
1 lb Yukon gold potatoes
2 tablespoons fresh lemon juice (if you love lemon zest add a teaspoon lemon zest)
1/4 cup diced celery
1/4 cup chopped green onion
2 tablespoons fresh dill
1/4-1/2 cup homemade mayo
MAYO
1/2 cup oil
3 tablespoons lemon juice or vinegar
1 egg yolk
1/4 teaspoon salt
Instructions
Wash potatoes then place in a pot and cover them with water.
Bring them to a boil and boil them whole until tender and when pierced with a knife they slide right off.
Then place potatoes in a container and refrigerate. ( I typically boil the potatoes the night before)
Once the potatoes are cold, peel the potatoes with a knife (carefully) and cut them into 1/2 inch cubes.
Mix mayo with lemon juice, (lemon zest if using), and dill.
Mix the mayo with potatoes and add celery and onion.
Place in fridge until chilled (at least an hour)
Then mix again and add more mayo if needed if potatoes absorbed mayo.
Add salt and pepper to taste, top with more green onions and dill.
Be sure to check out my post on
Homemade Mayo
if you'll be making the mayo from scratch as I do. You can use store-bought mayo, but homemade tastes best!