One Potato, Two Potato, Sweet Potato, MORE…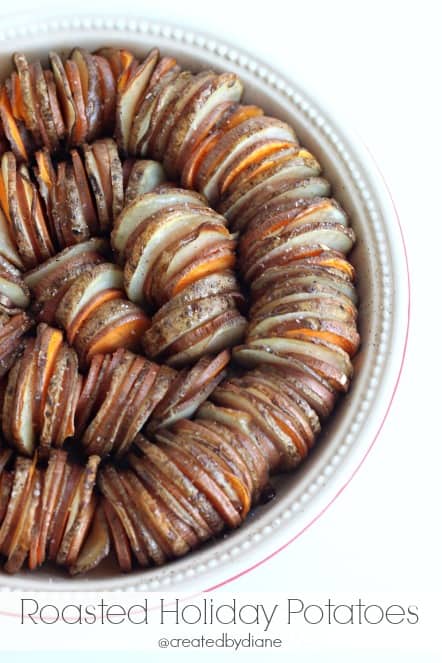 Holidays mean delicious meals and wonderful side dishes.
What ever your main dish, Turkey, Ham or a Roast,
this delicious and easy potato dish, will sure be a crowd pleaser.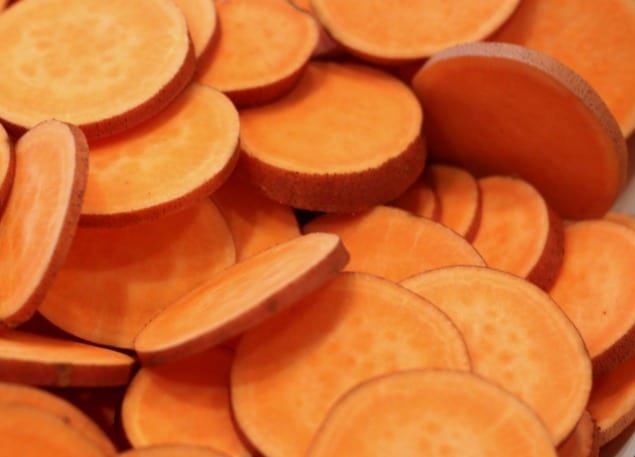 slice the sweet potatoes, between 1/8″ and 1/4″ so they bake evenly
slice baking potatoes the same way.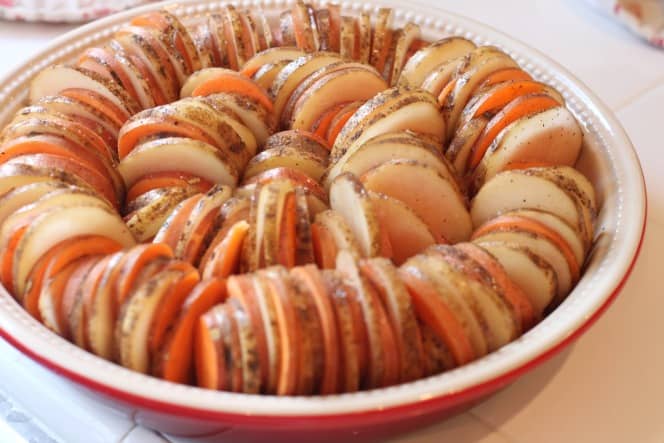 Toss them with some olive oil, salt and pepper. Stack them into a dish all lined up….I thought this would take a while, turns out it only took a few minutes and the result is so pretty. It's well worth the effort.
No Holiday table would be complete without sweet potatoes, they are my favorite and this way there is no chance of me burning the marshmallows. Not that I would know anything about that! But I hear marshmallows are easy to burn.
Alternating these pretty colors of these two potatoes creates a gorgeous side dish, perfect to accompany any meal, no need to really save this one for the Holidays if you are a potato lover like me.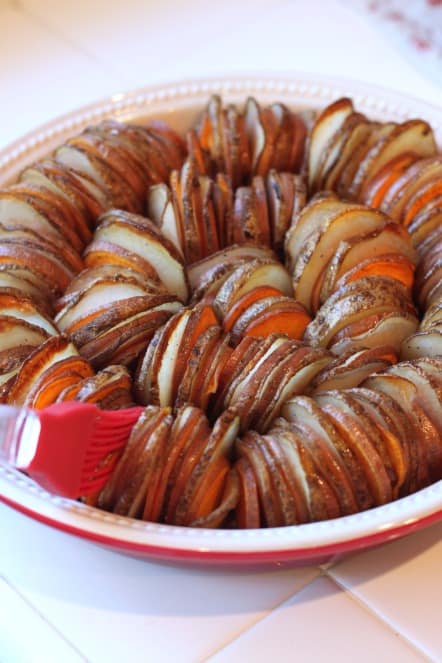 Once the potatoes are roasted, I brushed on a little olive oil over the tops. This gives them a great look and they won't get dried out on the tops. I added some salt and pepper too.
Roasted Holiday Potatos
Ingredients
2 lbs baking potatoes
2 lbs sweet potatoes
(about 4-5 medium potatoes each)
2 tablespoon olive oil
salt
black pepper
Instructions
Preheat oven to 375 degrees
Slice all the potatoes between 1/8 and 1/4".
You can slice them with a knife, if you have a Mandolin use it and know that I'm envious!
In a large bowl toss the potatoes with olive oil and 1/2 teaspoon salt and 1/4 teaspoon black pepper
Arrange the slices of potatoes alternating baking potatoes with sweet potatoes in a deep pie dish or oven save baking dish.
I found that stacking them into my hand then placing them into the dish was pretty easy and didn't take as long as I thought it would to arrange them.
Bake for one hour, then cover the potatoes with foil so the tops don't dry out and continue baking for 20-30 more minutes or until potatoes are fully cooked and tender.
Remove from oven, brush with a little olive oil and sprinkle with a small amount of salt and pepper, the oil will give the potatoes a great sheen and allow the salt and pepper to stick.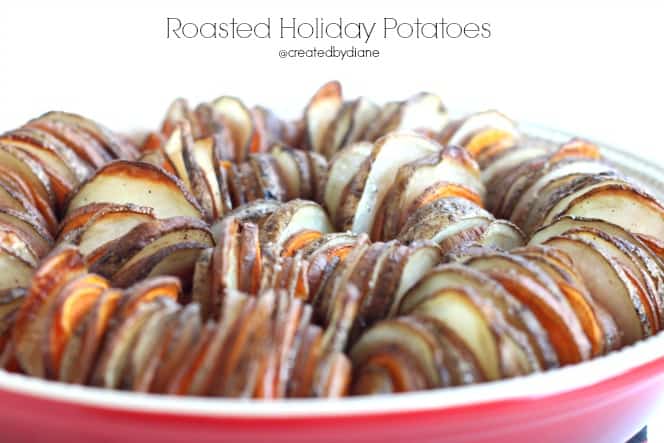 I bought sweet potatoes along with baking potatoes to create an easy and delicious side dish for the Holidays. I knew I wanted to alternate both into one delicious dish.
I have seen them sliced thicker and that was the idea in the back of my head….
UNTIL I took one look at Nicole from Wonky Wonderful's Roasted Potato Side Dish Recipe I knew I just had to be a copycat. A copycat in the most complimentary way of course. I just love how she sliced and arranged her potatoes. And OMG she added Bacon into her dish. I really NEED to make it! I also need to make her Hot Italian Sandwiches, they look delicious. Nicole sliced her potatoes thin with a mandolin and well, that item is still on my wish list. I sliced mine with a knife, but if you take a look at her beautiful potatoes and have a mandolin, be sure to use it.