Egg Salad is an American classic for its flavor and simplicity, with ideas for different flavor combinations too and it's low carb!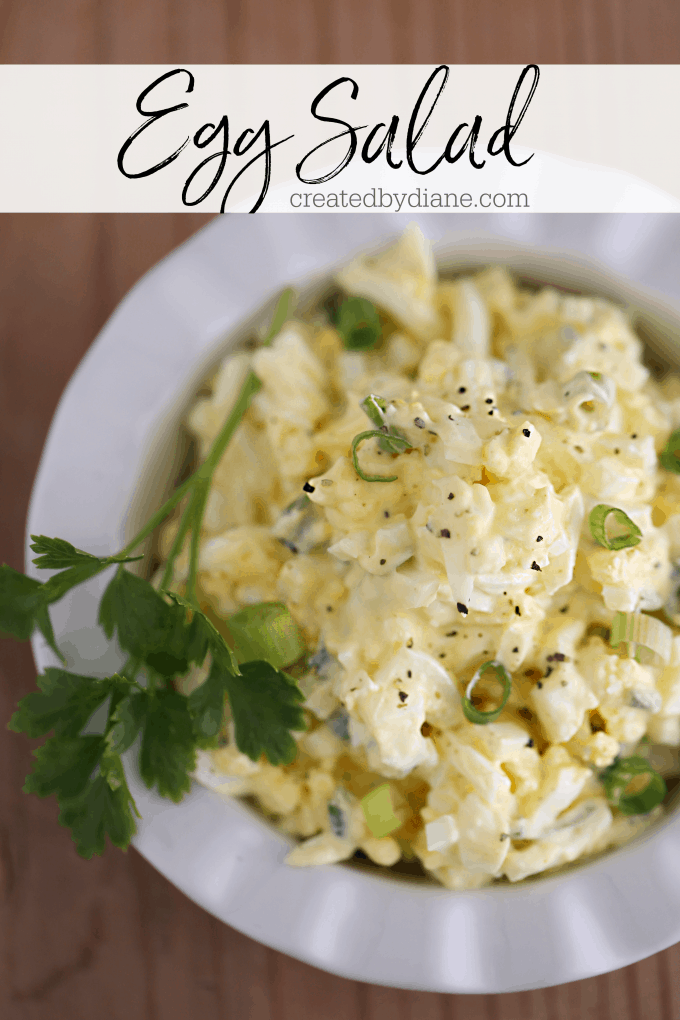 Made ahead of time, this salad can be enjoyed throughout the week as a breakfast with toast, for lunch as a sandwich, or atop some mixed greens for a low carb option.
I have a Low Carb Guide, take a look.
And lasting 5 days in the fridge it can make your busy week way easier! Truth be told I wasn't the biggest fan of egg salad when I was young, my mom didn't make it often, but now we both tend to make it often. It's funny how things change like that. I could eat egg salad every day now, and for any meal. 
Though the origin of the sandwich is credited to John Montagu, 4th Earl of Sandwich, the exact origin of egg salad is unknown. A New York Times article from 1910 seems to be the first mention, stating that two actors on a set were eating fried egg salad sandwiches. Whatever the origins, I'm sure glad it came to be!
And it's super customizable. One of my favorite items to add to egg salad is BACON! Combined with the mayo, it gives this salad a smokey sweetness that's irresistible. And I adore this combination on top of one of my many bread recipes.
And if you've ever become frustrated peeling boiled eggs, I'm going to show you a failsafe way to peel them without frustration.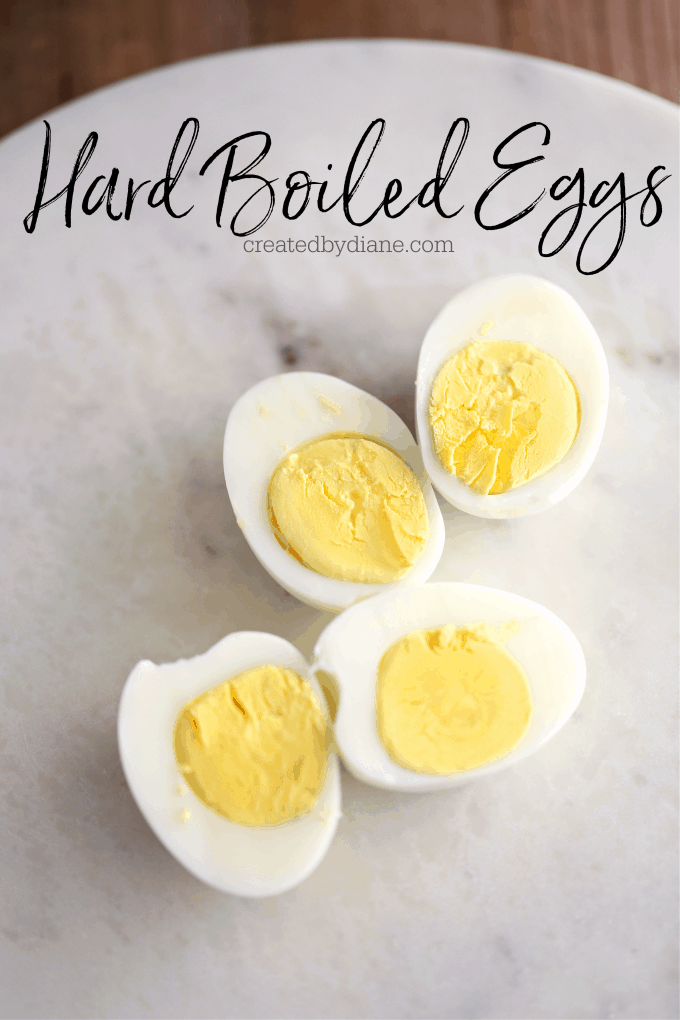 How to hard boil eggs:
Cook your desired amount of eggs with 1 cup of water in an Instant Pot or pressure cooker of your choice for 5 minutes then release pressure. I most often cook the eggs in my Instant Pot and have found the eggs peel so easy, it's my go-to method now.

In a saucepan bring the eggs and cold water enough to cover the eggs, to a boil. O

nce boiled, turn the flame off and move the pot to another burner, setting a timer for 12 minutes.

*As soon as your eggs are finished cooking you want to put them into an ice water bath, this will also help them peel easily.
While waiting, slice your green onions.
After your timer goes off, place the eggs in a bowl of ice water and peel them.
Once the eggs are completely cooled, peel them under cool water.
Once peeled, cut into small pieces with a knife or use an egg slicer.
Take a medium bowl for mixing your egg salad and add your eggs, green onions, and the remainder of your ingredients. Salt and pepper to taste.
At this point, you could serve or refrigerate in an airtight container.
Kitchen Note:
If your egg salad gets a little watery after a couple of days, add a tablespoon of breadcrumbs to it. If eating it as a sandwich or on top of toast, this will prevent the bread from getting soggy.
If you like a little spice, add a drop or two of hot sauce.
Even though this recipe is simple and straightforward, sometimes we just don't have everything we need on hand, here are some options:
I don't have dry mustard; can I use regular mustard?
Yes, you can use any mustard you'd like, Dijon would be great. Any mustard will give it some tanginess to balance the flavor of the egg salad.
Add a dash of hot sauce if you want to give your egg salad a little kick!
I'm out of mayonnaise, what can I do?
Make your own mayo! It's super simple, quick, and completely safe! I have a wonderful recipe for it here. 
You could use plain yogurt in a pinch, but mayo tends to be everyone's favorite in this recipe.
Can I make this without the yolks?
Sure, you can use all egg whites and then use greek yogurt (If you don't want any yolk at all ) or mayo and mix everything together, add a little mustard and it'll give it a nice flavor.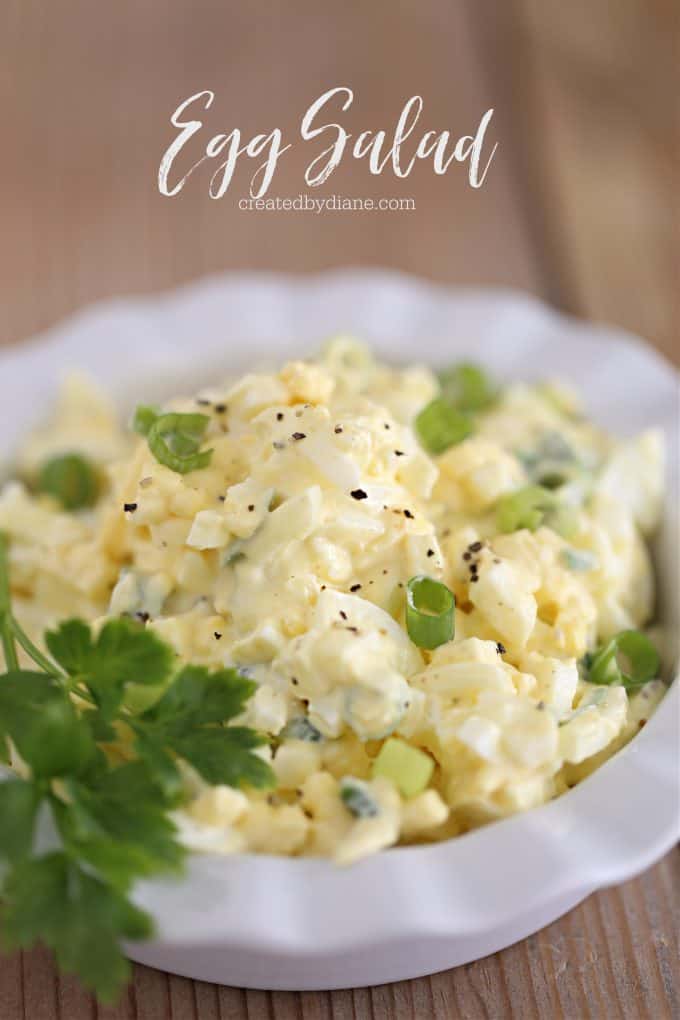 Don't forget that if you make this ahead of time you can enjoy a great breakfast in minutes, slather some egg salad on toast, eat it with a fork, any way you'll be enjoying some protein and fat and it's great for low carb eaters and it's great for 5 days, so make the week WAY easier and make some egg salad
I have more info on cooking eggs and recipes here. 
This is the Instant Pot I use and LOVE, be sure to check out some of my other Instant Pot Recipes.
And if you like deviled eggs, be sure to check out this recipe.
Be sure to check out my Egg Salad Spring Rolls here.

Egg Salad
A simple egg salad recipe that can be added to and adjusted to taste.
Author:
Diane Schmidt Created by Diane
Recipe type:
Main Dish, Eggs
Ingredients
4 eggs
1/4 cup mayonnaise
1/4 teaspoon dry mustard
1 green onion, diced
salt and pepper, to taste
options
add a few drops of hot sauce
If your egg salad gets a little watery after a couple of days add a tablespoon of bread crumbs to it before putting it on bread to prevent the bread from getting soggy.
Instructions
You'll begin by hard boiling the eggs, Bring the eggs over by cold water to a boil in a saucepan, then turn the flame off, move the pot to another burner and time for 12 minutes, or cook with 1 cup of water in an instant pot for 5 minutes then release pressure.
Place the eggs in a bowl of ice and water.
Peel eggs then cut them into small pieces with a knife or egg slicer.
In a bowl mix the eggs with mayonnaise, dry mustard, green onions, and a pinch of salt and pepper.
Serve or refrigerate.
Egg salad will last 5 days in the fridge.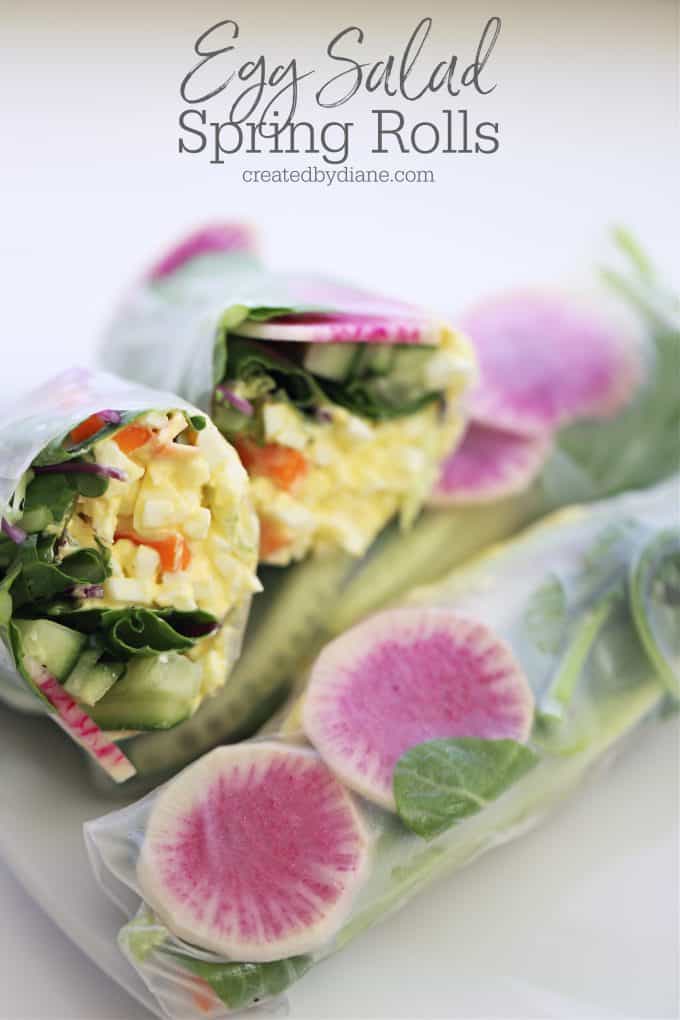 And turn this egg salad into the perfect snack or lunch… Egg Salad Spring Rolls.