A delicious pork chop marinade that will have you enjoying pork chops more often!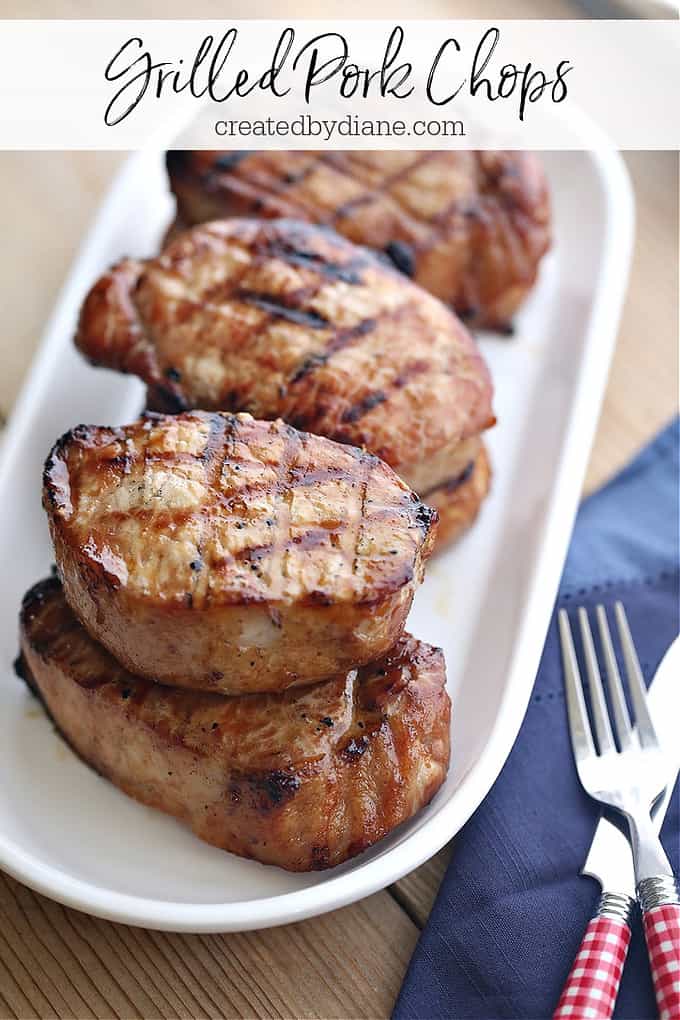 I often purchase a large package of boneless pork chops, marinade them, and then dice them to use in dishes like fried rice, lo mein, or serve with our favorite side dishes.
This quick marinade for pork chops on the grill is mouth-watering! 
Grill the pork chops to a golden color, serve with your favorite side dish, grilled vegetables, and I'll give you some more ideas!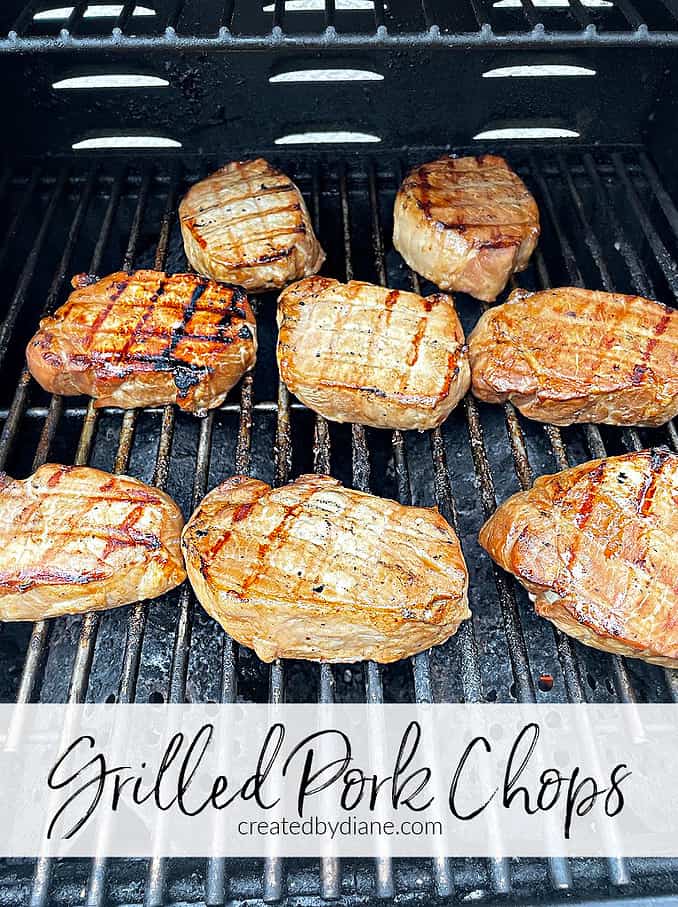 I love this easy pork chop marinade
soy sauce (or liquid aminos)
granulated sugar
tomato paste
rice vinegar
sesame oil
 granulated or 1 clove minced
*optional Asian hot mustard
Mix and marinade pork chops 4-24 hours.
Grill and serve!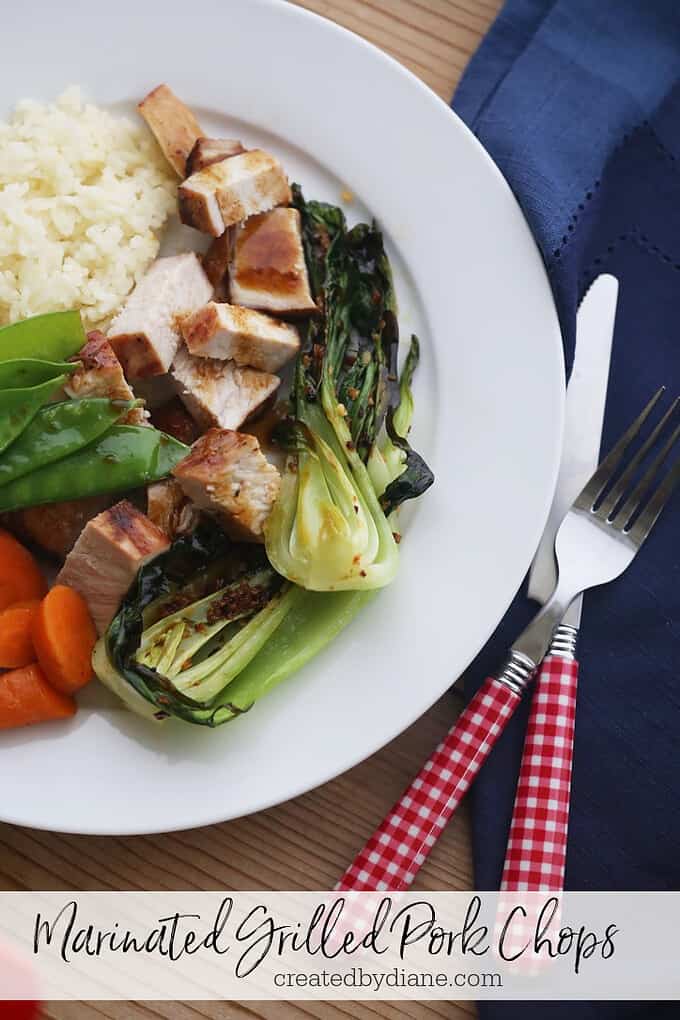 Now doesn't that look like a delicious meal!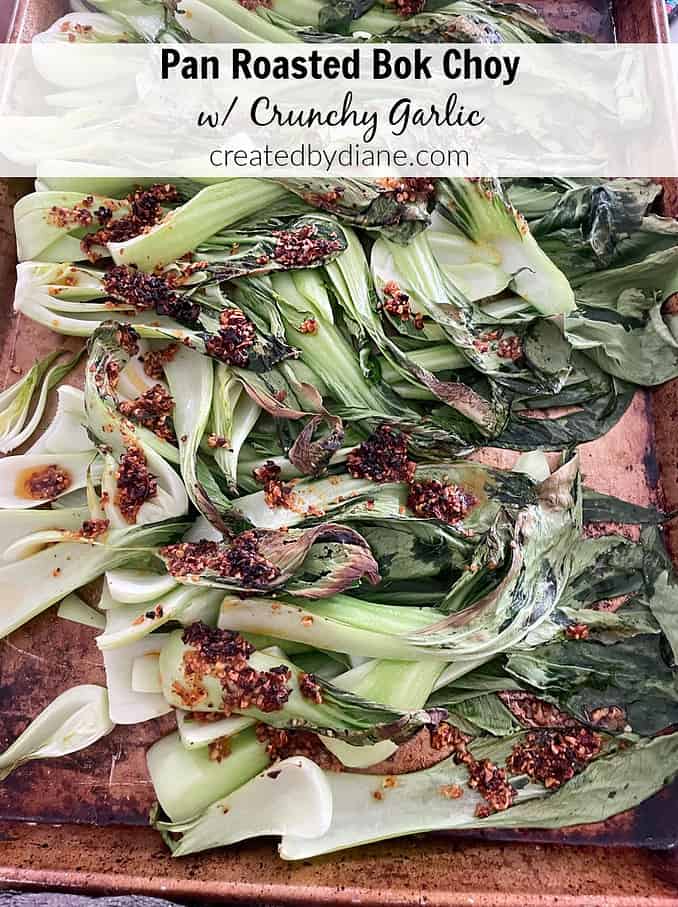 I pan roasted bok choy in a 425° oven with avocado oil, crunchy garlic (in chili oil). It's not overly spicy, it tastes great if you want more spice add some crushed red pepper. Add some kosher salt and enjoy. This is a great dish to serve with Fried Rice, Chicken Lo Mein, and Brown Sugar Soy Chicken.
Serve up these deliciously grilled pork chops with your favorite side dishes:
I served the pork with rice, bok choy sauteed in crunchy chili oil, carrots, and snow peas, drizzled with Bachans Japanese BBQ Sauce, which is also a great option for using for the marinade if you don't want to make/mix your own marinade.
Make a second batch of sauce to top meat with, drizzle with soy sauce, add some sriracha.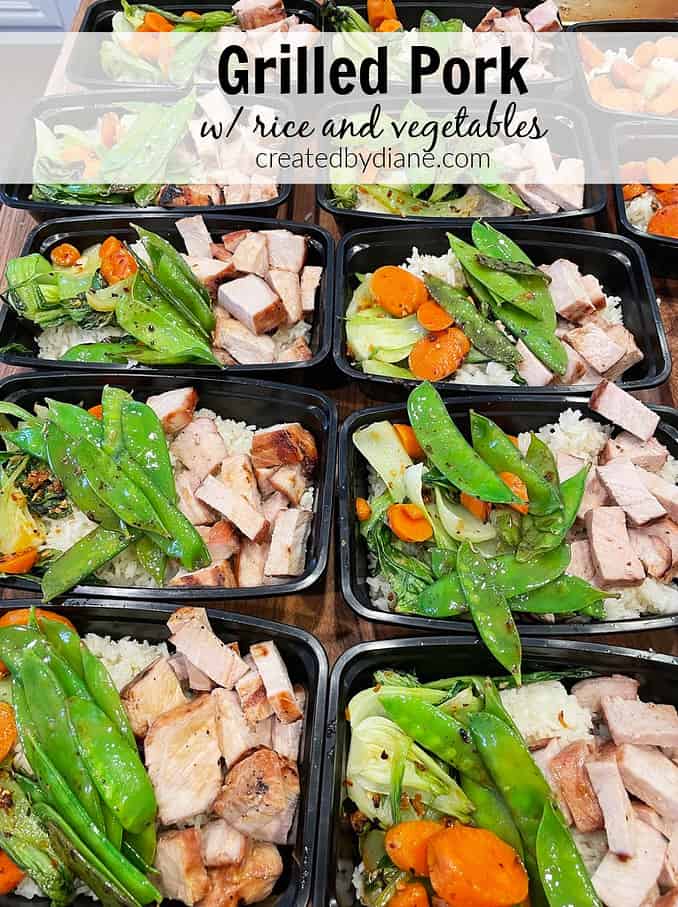 I meal prep and make between 12 and 20 meals at at time. We eat some that day, or out of the fridge and then I freeze them to eat at a later time if needed. It saves a ton of time and money each week. I sure wish I would have done more of this when my kids were younger. 
Everyone loves a hot fresh homemade meal, without additives and preservatives. This is a great way to have delicious food on hand!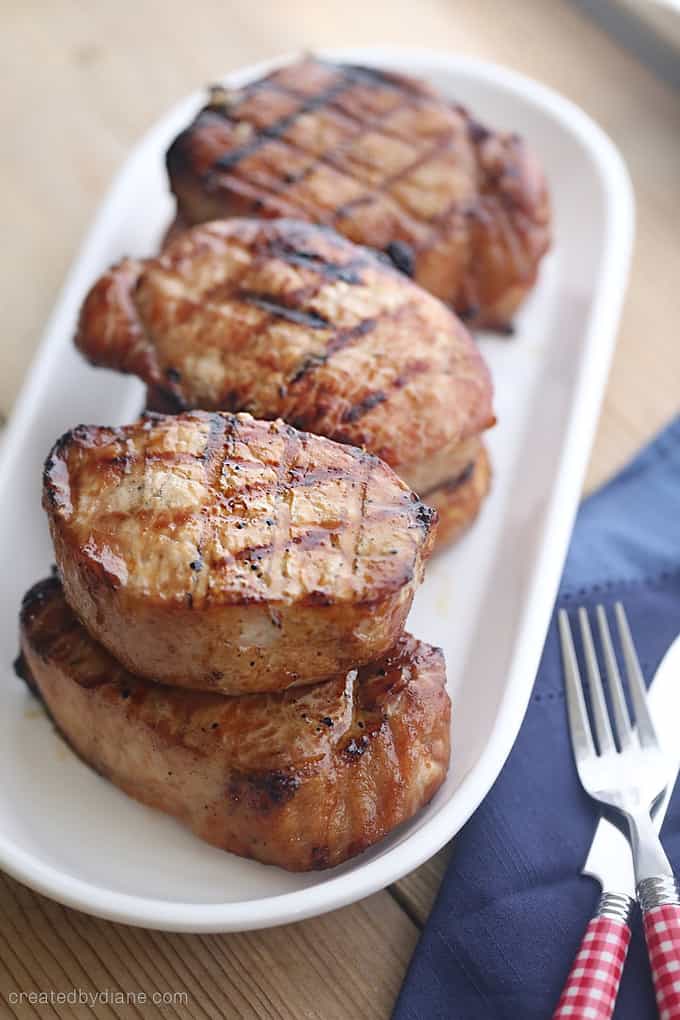 other great pork chop recipes:
Don't miss seeing this easy and delicious Cinnamon Apples , that goes great with Grilled Potk Chops!
Be sure to use a meat thermometer so the pork chops will be cooked without becoming dry. Boneless pork chops have very little fat, so cook them until the internal temperature of the pork is 145°. I love this thermometer, it's instant read, so you don't have to worry about burning your hands holding a thermometer over an open flame longer than needed.
Marinated Grilled Pork Chops
Easy and delicious marinated and grilled pork chops to enjoy or use in meals, fried rice, Asian tacos, and more.
Author:
Diane Schmidt, Created by Diane
Ingredients
1/2 cup soy sauce (or liquid aminos)
1 tablespoon granulated sugar
1 tablespoon tomato paste
1 tablespoons rice vinegar
1 tablespoon sesame oil
1/2 teaspoon granulated or 1 clove minced
*optional add 1/2 teaspoon Asian hot mustard
Instructions
In a small bowl or in a gallon zipper bag place all ingredients and mix well.
Add the pork chops into a bag or marinating container.
Marinade pork chops for 4 hours to overnight.
Cook pork chops over a hot grill until the internal temp is 145°.
Allow pork chops to rest for 5-10 minutes for the meat to absorb juices before slicing.
Serve with your favorite side dishes, rice, potato, or dice, and use in Asian-inspired recipes like lo mein, or fried rice or simply serve with roasted Asian-style vegetables, bok choy, carrots, and cabbage.