I've never had a potato I didn't LOVE… now break out your slow cooker and jump on board for this great way to make mashed potatoes that turn out fantastic!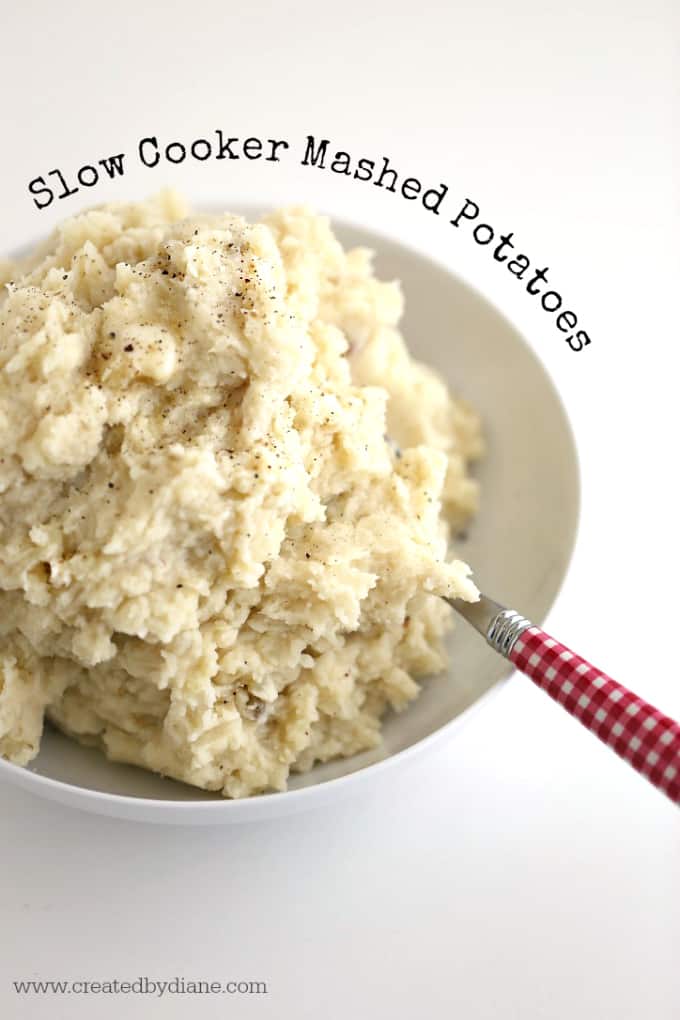 I'm typically a purest when it comes to my potatoes, but there are so many options for flavor on potatoes the possibilities are endless.
You won't believe how simple it is to make these.
This method will free up your stove and oven when they may be full of holiday meal items especially.
Now about flavors:
I love butter, cream, salt, and pepper. Simple and delicious.
I made these with some garlic and WOW the flavor was awesome. You add the garlic after the potatoes are cooked.
Now you can add a cup of cheese, any type would be yummy, cheddar, feta, pepper-jack, or your favorite cheese.
You can add in some veggies like roasted or steamed broccoli, fresh spinach, artichoke hearts, green onions, jalapenos, and BACON! Add a dollop of sour cream and you mashed potatoes will become the most delicious stuffed mashed ever!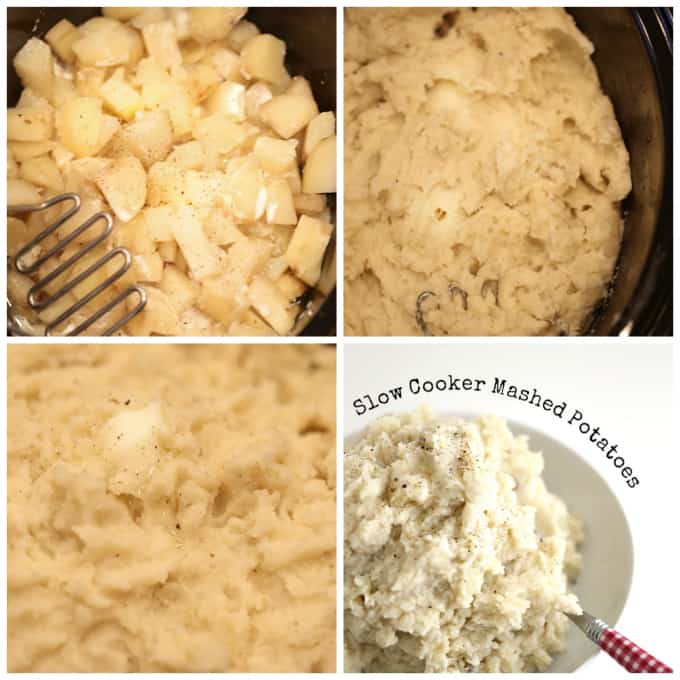 Peel and cut 3 lbs of potatoes (any type you prefer, I used russet). Cut the potatoes into a  large dice. The more even the potatoes are cut the more even they will cook, in the slow cooker or whenever you cook potatoes.
Pour some chicken stock into the slow cooker with the potatoes and set it on high for 3 hours or low for 4.5 to 5 hours.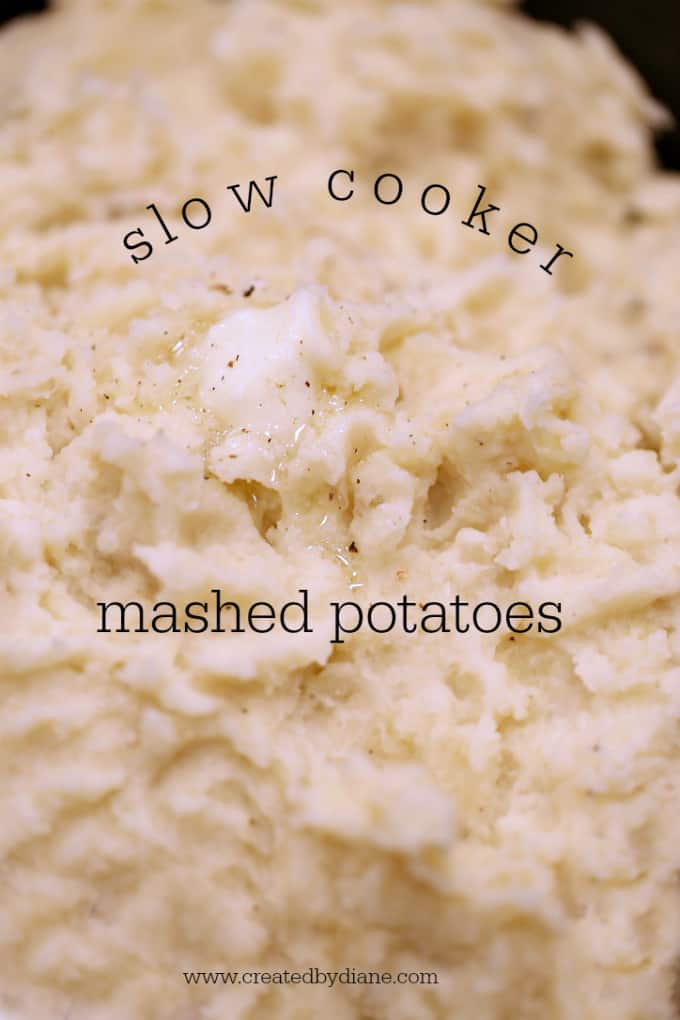 When they are tender and slide easily off a fork or knife when tested, add the cream or milk, butter, salt, and pepper and start mashing.
I used a hand masher and it took 1 minute to mash them.
You can whip them with an electric mixer if you want them whipped. If you prefer them really smoothly whipped add a little more cream or milk to achieve the consistency you like.
You can keep the mashed potatoes in the slow cooker on low to keep them hot until you serve which is great when you're having large meals and the oven may be full of other items.

Slow Cooker Mashed Potatoes
Ingredients
3 pounds russet potatoes
2 cup chicken broth
1/2 cup heavy cream
1/4 cup butter
1 tablespoon garlic paste
1 teaspoon salt (or the amount you prefer, potatoes are quite bland without salt)
cracked black pepper to taste
Instructions
Wash, peel, and cut the potatoes into a large dice so that all the potato pieces are fairly even.
Place the potatoes in the slow cooker with the chicken broth.
Set the slow cooker to high for 3 hours (or low for 4.5 hours)
When the time is up, test the potatoes. They should easily slide off a fork or knife.
Turn the slow cooker off.
Add the butter, cream, and salt and pepper and mash with a potato masher or use an electric mixer. Mix until smooth. Add more milk or cream if you want them creamier.
Add in any topping at this time and mix.
They will stay hot at a low temperature in the slow cooker if you're serving a large meal.