I am a huge fan of tabbouleh, but somehow can't seem to remember how to spell it (I thought it was tabouli)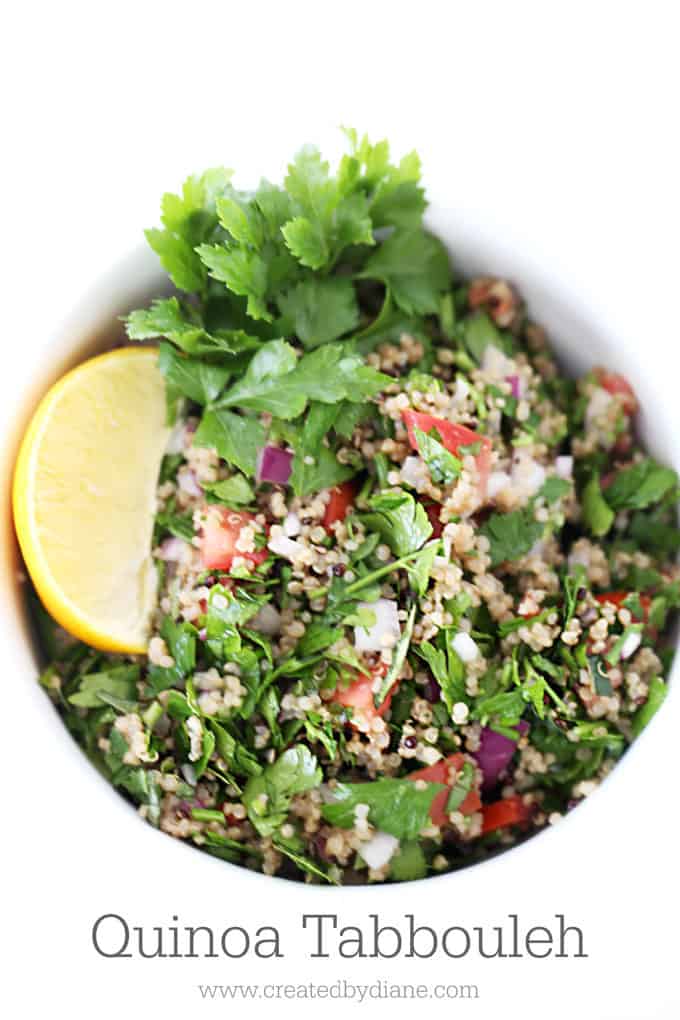 I am the biggest Kabob fan and love all the side dishes too.
Hummus, Tabbouleh the fresh lemon and parsley, garlic and oh the flavors go on and on.
I have a bunch of recipes if you like my lemon chicken kabob, hummus recipes and want to give this tabbouleh a try.
I feel very lucky that parsley grows here in southern California all year long (even survives some mild frost in the winter for me to be able to enjoy it all year long).
Other recipes you might want to try: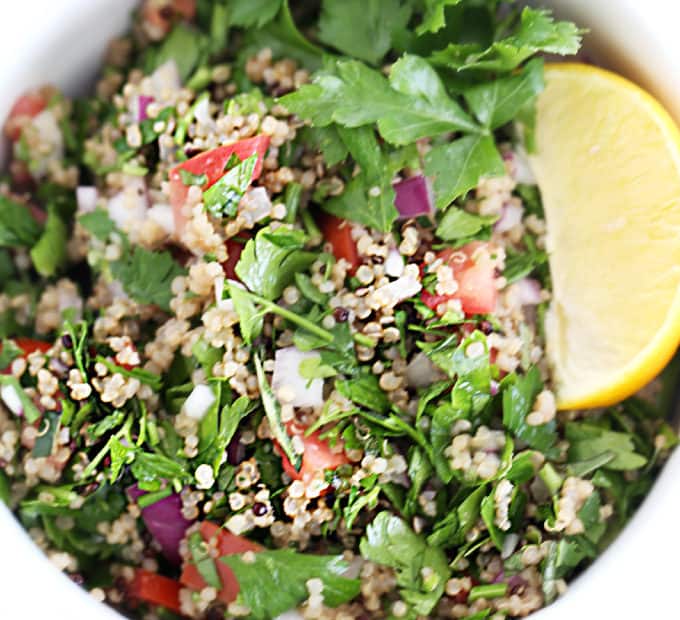 When I go out to eat I always look for "kabob" places, Persian, Greek, Lebanese… you name it. If it has Kabob in the title it makes it even easier.
It's been my favorite food for as long as I can remember, even in my early 20's  I was going on vacation and I was asking someone about a restaurant recommendation and they said the word kabob and I could hardly wait to get there. By the way, the recommendation was so good on a week-long trip I ate there twice!
Quinoa is easy to cook, but if you only need a small amount, they sell it precooked… in the rice aisle. OMG, that is exactly what I love. Simple, easy and allows for dishes to be made in minutes.
If you want to prepare the quinoa yourself, follow the package directions. You'll only need 1 cup of quinoa for this recipe. But this recipe easily doubles for larger portions.
This is the perfect side dish, it's full of fresh flavors and takes only minutes to make!
Pair it up with some kabobs and you're all set!

Quinoa Tabbouleh
Ingredients
1 cup cooked quinoa
1-1/2 cups chopped fresh parsley
2 tablespoons chopped fresh mint
1/2 red onion diced
2 tomatoes diced (I use Roma tomatoes)
2 tablespoons red wine vinegar
2 tablespoons lemon juice
1 tablespoon olive oil
salt and pepper to taste
Instructions
In a medium bowl mix quinoa, parsley, mint, onion, tomato with vinegar, lemon juice, olive oil, and salt and pepper.
Refrigerate until cold.