Cool and savory, nothing could be more perfect or easier than this Caprese Pasta Salad on a hot summer's day, or to enjoy to bring more summer into your life!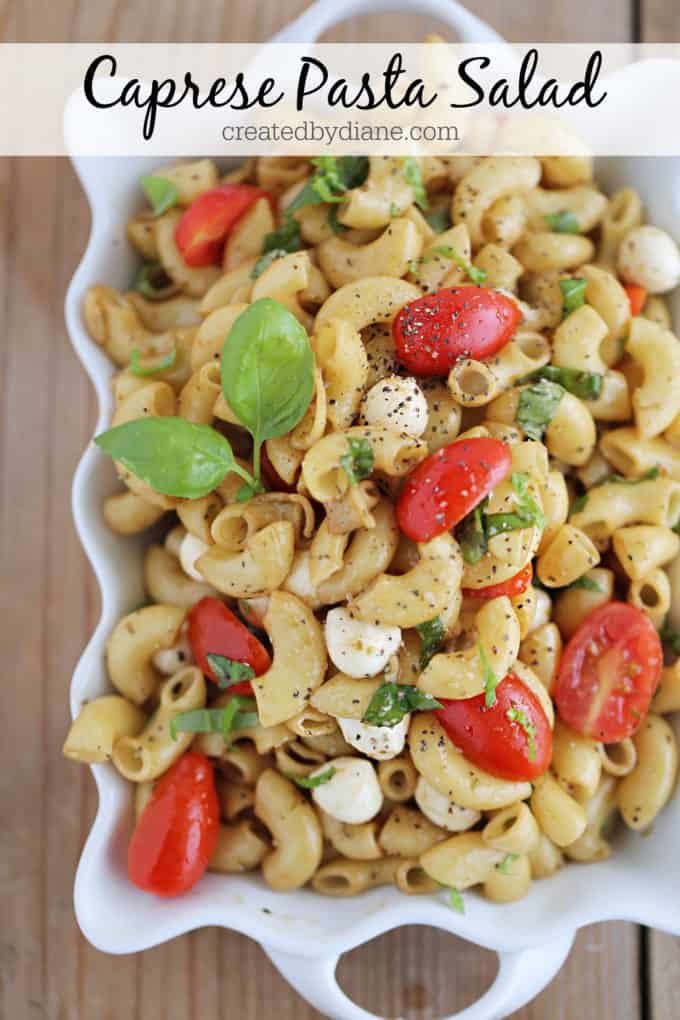 I just love a good Caprese, 
and enjoying the same great flavors in a pasta salad is s true winner in my book!
I use the tiny mozzarella pearls in this dish, they go great with the large elbow noodles.
I'm a huge basil fan, it's just about the ONE item I guarantee I can grow. This year I grew it from seed and have a ton of it, be sure to check out this, this, and this, if you're a basil fan too. They are some of my all-time favorite recipes!
Let's get started:
Get a large pot boiling with water and salt, then drop in the pasta – cook according to package directions – once finished drain well and run cold water over it to cool the pasta.
Place the pasta in a large bowl and use a tablespoon of oil and mix around so the pasta doesn't stick to itself.
Next, slice your tomatoes in half lengthwise and place them in a bowl with your mozzarella and pasta.
Mix the ingredients around and set aside to move onto your dressing.
The dressing is a cinch! Using a small bowl mix together the ingredients, your vinegar will want to separate, this is normal, keep mixing until incorporated. Use an immersion blender to emulsify it if you prefer.
Finally, pour the dressing over the bowl with the pasta, and mix well, adding some sliced basil towards the end, incorporating it fully.
You'll want to refrigerate this for at least an hour to give the ingredients a little bit of time to marry and get happy.
Once you're ready to eat, season with salt and pepper and lightly drizzle balsamic over top of pasta just before serving, if desired.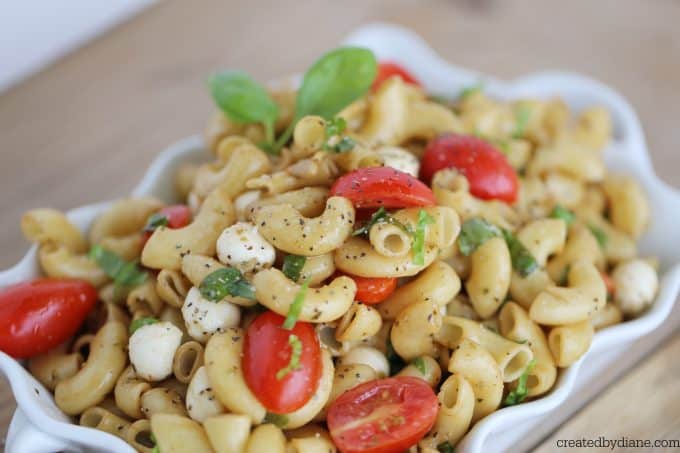 A couple important notes:
This recipe is for 8oz of pasta, which is about half of a regular package. You can use the whole package, just be sure you double the ingredients.
This dish can be divided into jars for easy on the go eating, lunch, the beach or to pre-portion it out for the week. It's a great travel anywhere food!
 The dressing can be made ahead of time – no refrigeration needed. Be aware that as it sits the vinegar will naturally separate from the oil. For this reason, keeping it in a ball jar for easy shaking can be advantageous.
Creativity is always welcome in the kitchen, and as such we have our Inquiring Minds section to help answer a few simple questions:
Is there a preferred mozzarella to use for this recipe?
Fresh is always best! Most groceries carry it, it will be in a clear container with its whey liquid included. I prefer the pearls, they are small and don't need to be cut and are a great size in this dish. If you can't fresh mozzarella, use a few mozzarella sticks and slice them into small disk shapes.
Can I use a different shaped pasta?
Yes, everyone seems to have their favorite pasta shape, and some are designed to hold onto sauce but here it's nice to use large elbows that are smooth so the dressing slides on the noodles but they aren't going to over absorb it. So look for smoothly shaped pasta, some penne is smooth, while other penne have ridges, I prefer smooth for this recipe.
Can I replace the balsamic vinegar?
Balsamic has a unique taste, but theoretically, you could – it will alter the flavor a bit. You can substitute 1 tablespoon cider or red wine vinegar plus a pinch of sugar to substitute for 1 tablespoon balsamic vinegar.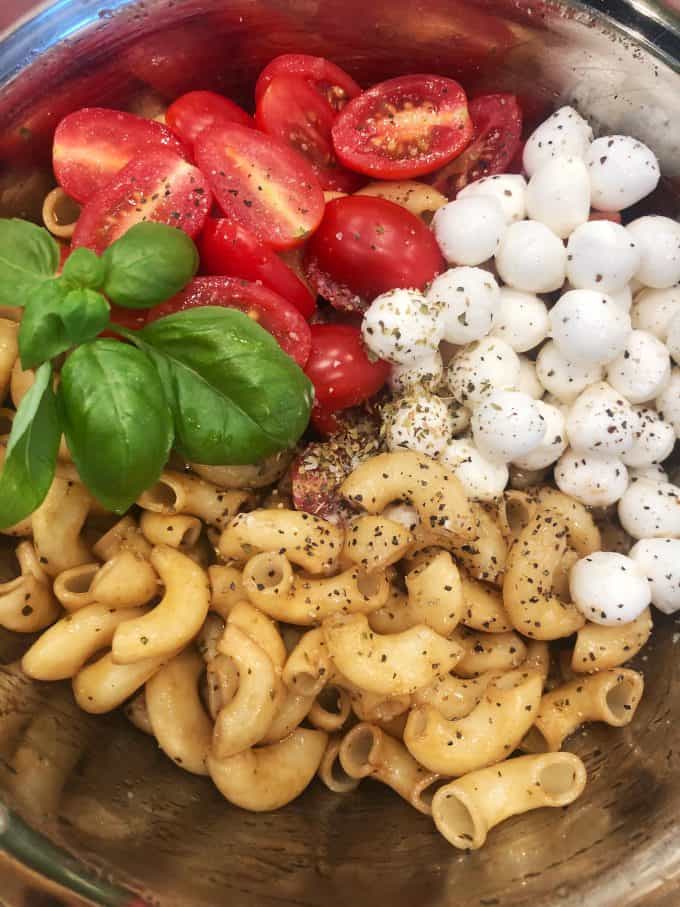 Dating back to post-World War I, traditional Caprese Salad has long been a staple of Italy. The story goes that a patriotic mason wanted to make a dish that was a tribute to his country, and this refreshing salad was born that visually incorporated the colors of Italy's flag.
Fast forward 30 years and King Farouk, in the 1950s, asked for a light afternoon snack and was given a Caprese sandwich. And this food planted it's foot firmly in food history and the Caprese salad became known as a staple of Capri food and culture.
And there are many ways to mix it up! King Farouk liked his sandwiches, and we'll be mixing up this salad by adding pasta for a complete meal. It fits in seamlessly with many meals, such as Grilled Chicken Caprese.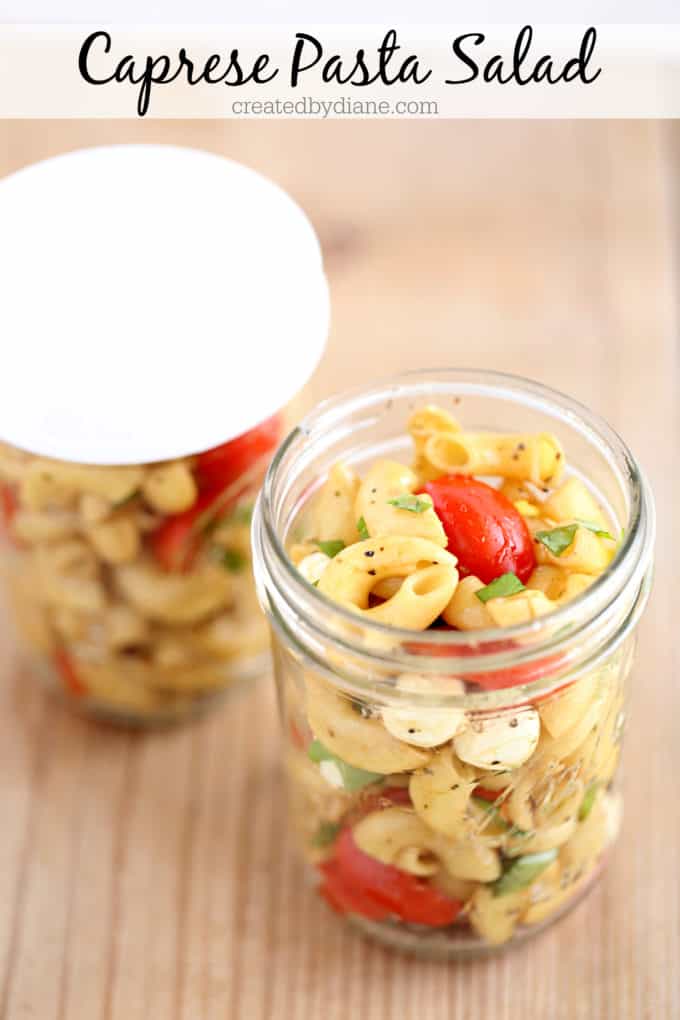 Place the pasta salad in jars for easy on the go eating, lunch, the beach or to pre-portion it out for the week.
Caprese Pasta Salad
this delicious tasting and easy to make Caprese pasta salad with balsamic dressing is a perfect cold dish to enjoy all year long.
Author:
Diane Schmidt Created by Diane
Cuisine:
American, Italian
Ingredients
8 oz large elbow pasta (or another pasta shape of similar size)
4 oz mozzarella pearls
5 ox grape tomatoes
6 leaves fresh basil, thinly sliced
dressing
3 tablespoon oil (I use avocado oil, any oil will work as well like olive oil, vegetable oil)
2 tablespoons red wine vinegar
2 tablespoons balsamic vinegar glaze (it's thick balsamic, any balsamic vinegar will work)
1/2 teaspoon oregano
1/4 teaspoon garlic powder
1/4 teaspoon salt
1/8 teaspoon black pepper
add more seasoning if desired or more dressing if the pasta absorbs it quicly
Instructions
Cook pasta according to package directions (this recipe is for a 1/2 lb pasta double remaining ingredients if you plan on making it with a pound of pasta)
Drain the pasta and run cold water to cool pasta.
Next, add a tablespoon or so of oil so the pasta won't stick together.
Slice the tomatoes in half lengthwise and place them in a bowl with the mozzarella and pasta.
Mix the ingredients for the dressing together well, (or use an immersion blender to emulsify it, pour the dressing over the bowl with the pasta, and mix well.
Add slide fresh basil
Place the pasta salad in the fridge. Chill the pasta salad for at least an hour for the best flavor.
Add additional salt and pepper to taste.
Drizzle additional balsamic glaze over top before serving if desired.