If you're looking for a delicious side dish that is cheesy and delicious look no further, this is it!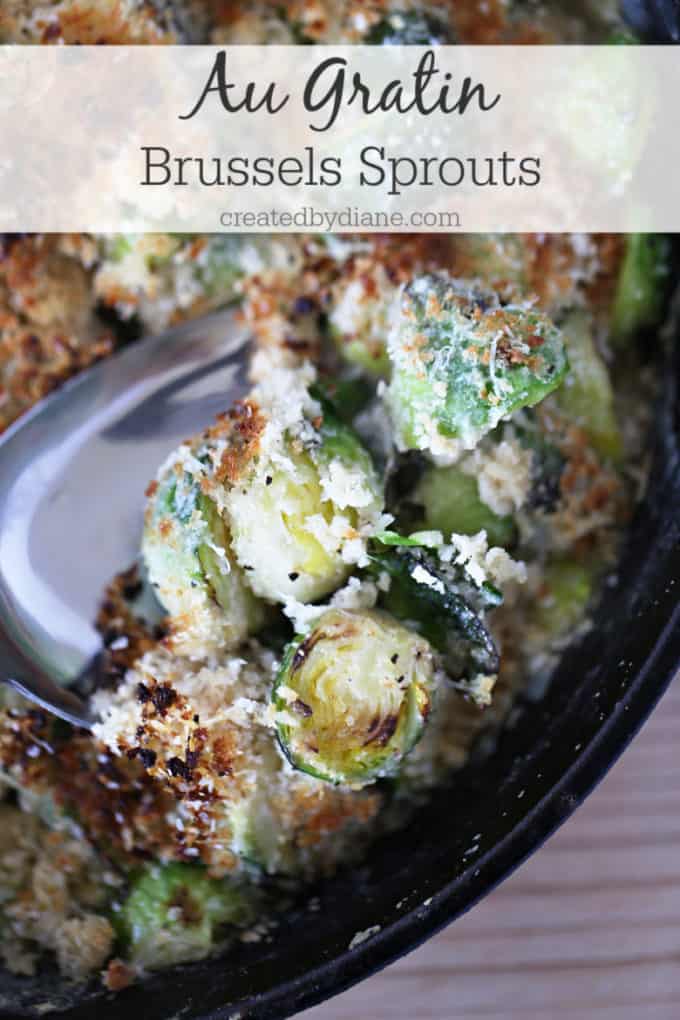 These creamy cheesy Brussels sprouts with bread crumbs are easier than you think.
You can use one pan and just 7 ingredients. Who knew au gratin Brussels sprout could be on your table in just 15 minutes! It can be!
That's why this au gratin Brussels sprout side is so delicious… 
the garlic, the cheese, and milk create an irresistible sauce…
You get soft little leafy sprouts with rich, creamy cheese, and a crunchy toasted topping. Everyone, including the kids, will love it!
If you don't think that you like Brussels sprouts, it's probably because you had them boiled or from a freezer bag. Give this recipe a try, it's won over many!
So, you probably just haven't had them when they were cooked to be their best selves. They go extremely well with bacon, pancetta, and/or cheese because they love salt. You can even balance the bitterness with something sweet like brown sugar or balsamic vinegar.
The best way to cook Brussels Sprouts is to roast or sauté them (in a skillet or you can roast them on a sheet pan in the oven. It softens them but also creates a crispy edge for added texture.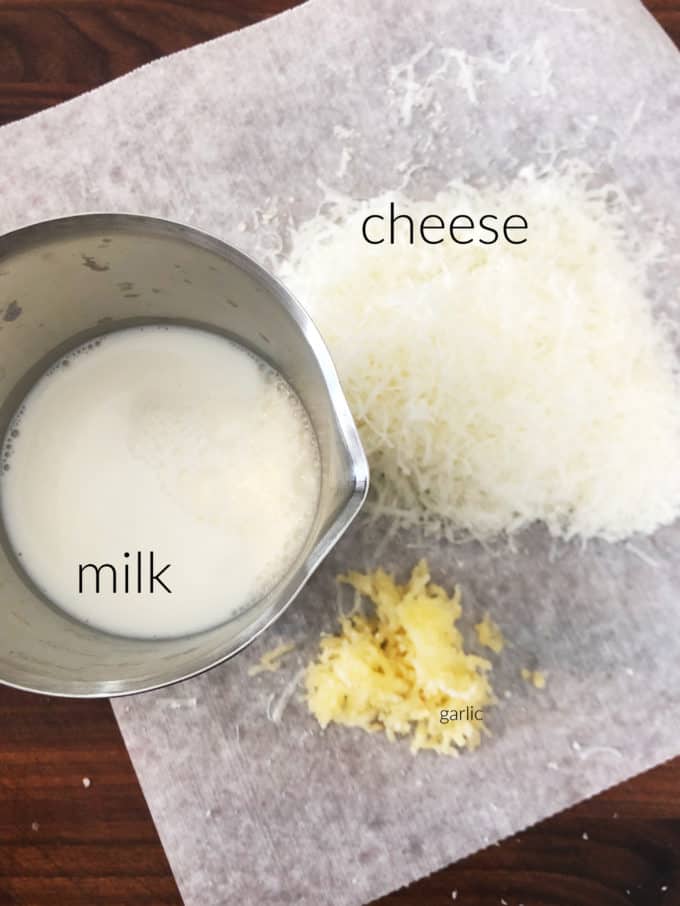 When you buy your sprouts, make sure they are firm, tightly layered, and the leaves aren't shriveled nor have holes. Look for a nice green color, but it's fine to have an occasional outside yellow leaf that you can pull off.
Most are sold individually by the pound or in a bunch. If you find them still on the stalk, get them! They are fresher and will stay that way longer. Put them in a vase, just like you would do with flowers, and remove them from the stalk when you're ready to use them.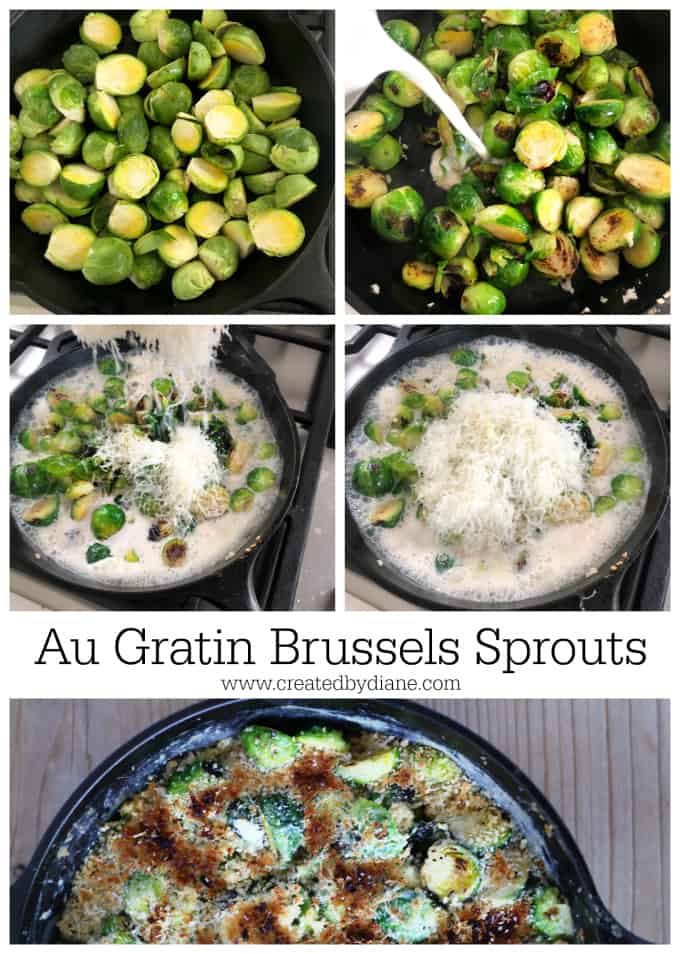 How to prep your Brussels sprouts?
     

Hold them sideways on your cutting board and cut the bottom stem off

     

Remove any damaged or yellow leaves and discard

     

Then cut the sprouts lengthwise in half through the stem
To cook, use a cast iron or stainless steel skillet so that you can transfer it to the oven when you're ready to brown your breadcrumb topping.
Now, as I said, sautéed sprouts are wonderful, so you could stop after you sauté them.
But why?!?
When you can go just a tiny bit further for this creamy crunchy Brussel sprout gratin!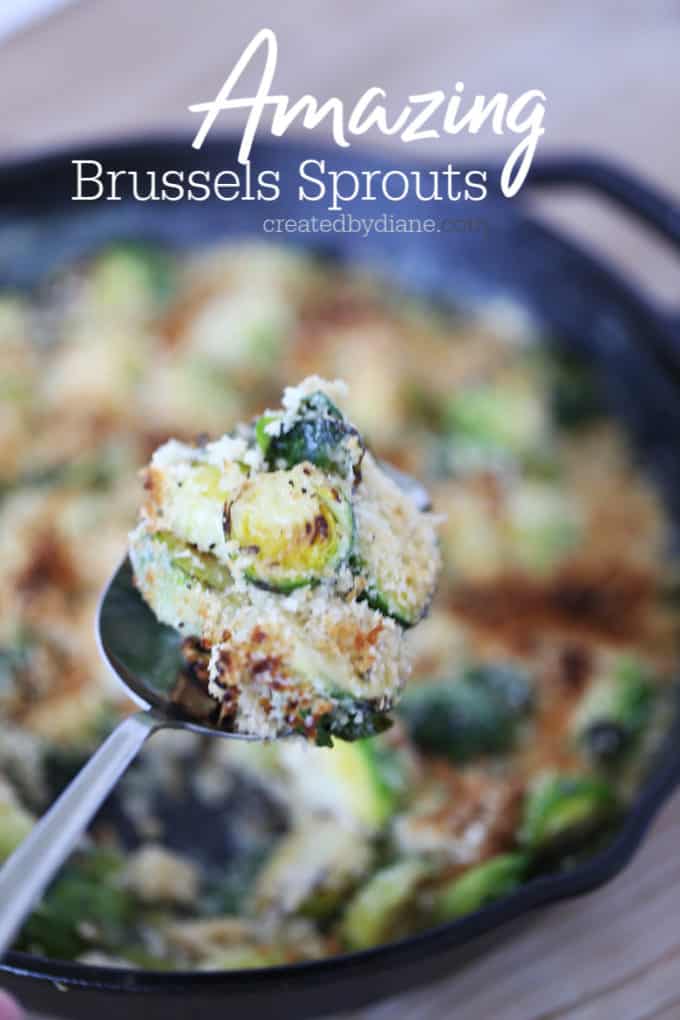 If you're looking for another cheesy side dish…
don't forget about my Creamy Mac and Cheese
And if you want another great side dish how about the BEST Potato Salad.
One of my all-time favorite Brussels Sprouts recipes is this great Caesar Salad... made with sprouts!

Au Gratin Brussels Sprouts
Creamy Cheesy Brussels Sprouts with toasted bread crumbs
Author:
Diane Schmidt Created by Diane
Ingredients
1 lb Brussels sprouts, cut in half
1 tablespoon oil
3 cloves garlic, minced
1 cup milk
2 oz Romano cheese, shaved (or Parmesan Cheese)
1/2 cup panko bread crumbs
salt and pepper
Instructions
In a skillet (I use cast iron, it easily goes into the oven to toast the bread crumbs)
Place oil and brussels sprouts in a skillet over high heat, brown the brussels sprouts, then stir to brown the other side of them.
Add in garlic and stir to coat garlic all over brussels sprouts.
Turn temperature to low.
Add in milk, then add in cheese and stir, cook for 2 minutes.
Turn oven broiler to high.
Add bread crumbs top of Brussels sprouts.
Place skillet in the oven under a high broiler for 1-2 minutes until everything is toasted and golden brown.
Add salt and pepper to taste and serve.
Brussels sprouts often come in packages in the stores, or loose, I was talking to some friends recently and they said they had never seen Brussels Sprouts on the Stalk… I was a little surprised, I've seen them in my local stores on the stalks, so here is what they look like. I thought I'd share this with you…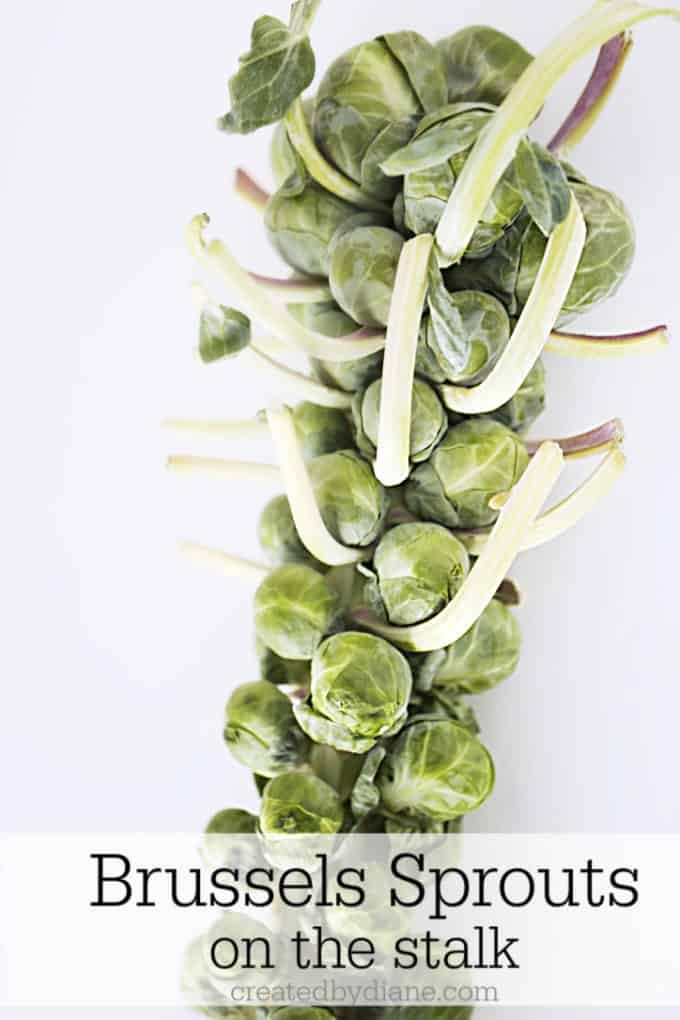 This is how they grow!  On the stalk, you can just break the sprouts off or cut them off.