Summertime is here and that means lots of grilling and the age-old question of what side dish do you want… 
this is the ANSWER!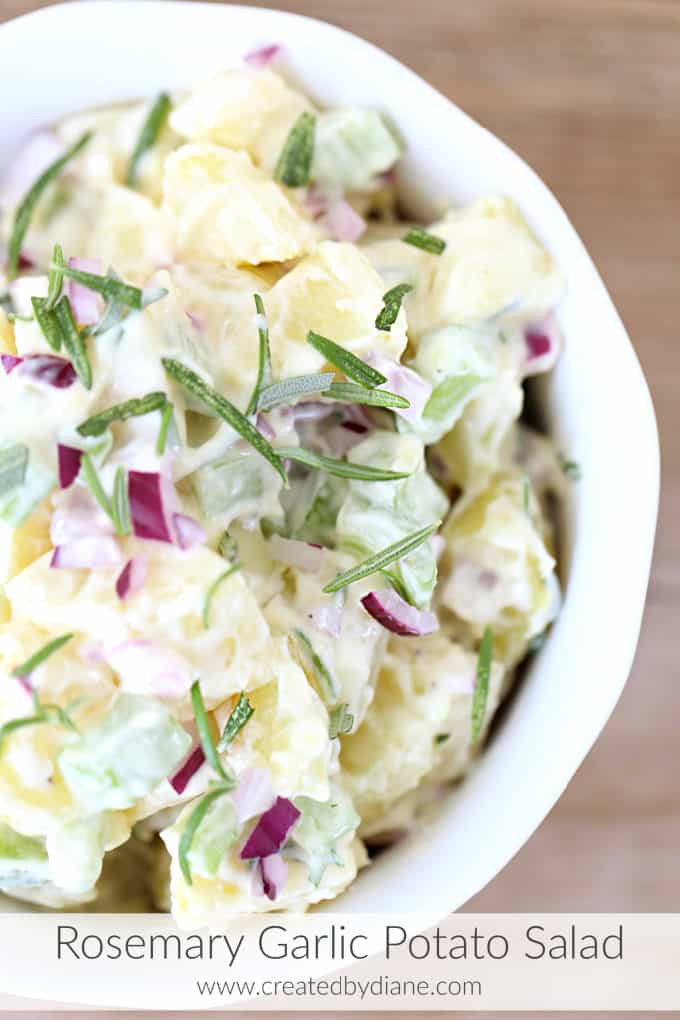 This super delicious Rosemary Garlic Potato Salad is full of flavor,
and the perfect accompaniment to your summertime meals.
I've talked many times about how I love homemade mayo and how simple it is to make and how great it makes any potato salad taste amazing.
With the addition of fresh rosemary, the flavor really pops in this dish, 
plus you can add as much GARLIC as you like.
I love garlic and rosemary together!
It pairs so well in this potato salad, I used Yukon gold potatoes they are smooth and have a creamy texture and a buttery like flavor. You can use red potatoes if you prefer, but give it a try with the gold potatoes, promise they're yummy!
Kick up your summer grilling by adding this side dish to grilled chicken, burgers or fish. 
I love grilling all year long, but when the sun comes out and the pool only steps away there is no better time to enjoy some side dishes you can make ahead of time, so dinner can be ready quickly and easily without any fussing.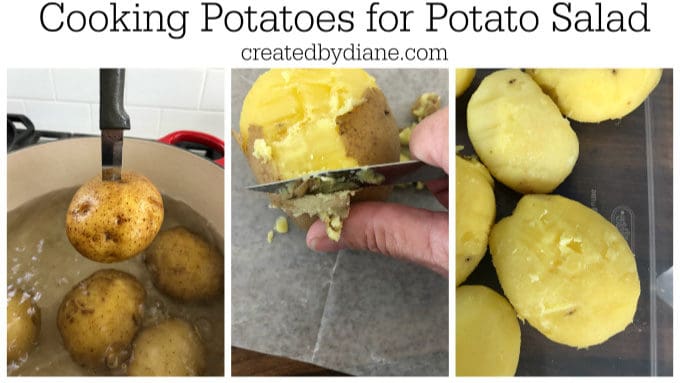 Boil the potatoes whole and unpeeled until are tender and fall off a knife easily when pierced.
Then refrigerate the potatoes until they are cold (I cook my potatoes the night before I need them).
Peel them carefully by scraping off the skin with a knife. Dice the potatoes and make the mayo for the potato salad. 
Heat the tablespoon of garlic paste with oil in a pan and let it cool while you begin mixing things together.
In a bowl, mix in the onion and celery with rosemary and heated garlic. Then refrigerate the potato salad for an hour.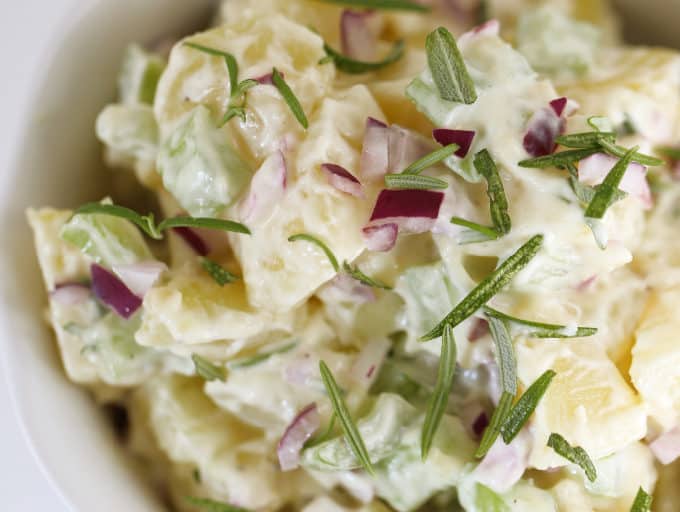 Other great summertime recipes:
And here are some fun summer grilled desserts to enjoy:
You can easily adjust this recipe to accommodate making a larger portion. Just multiply the ingredients accordingly.
Be sure to check out my post on Homemade Mayo if you'll be making the mayo from scratch as I do. You can use store-bought mayo, but homemade tastes best!

Rosemary Garlic Potato Salad
Ingredients
1 lb Yukon gold potatoes
1 tablespoon garlic paste ( I use Gourmet Gardens I like the flavor best)
1 tablespoon oil
2 tablespoons fresh rosemary chopped
1/4 cup diced red onion
1 stalk celery diced
1/4-1/2 cup homemade garlic mayo
MAYO
1/2 cup oil
3 tablespoons lemon juice or vinegar
2 teaspoons garlic paste
1 egg yolk
1/4 teaspoon salt
Instructions
Wash potatoes then place in a 3 quart or larger saucepan and cover them with water.
You'll be cooking the potatoes whole and unpeeled.
Next, bring them to a boil, cook them until tender, when pierced with a knife they slide right off.
Then place potatoes in a container and refrigerate. (I typically boil the potatoes the night before)
Once the potatoes are cold, peel the potatoes with a knife (carefully) and cut them into 1/2 inch cubes.
Mix up a batch of the mayo and don't forget the garlic!
Heat 1 tablespoon garlic paste with oil, then let it cool a minute.
Mix the mayo with potatoes and add the onion, celery, and rosemary and add in the garlic paste you heated.
Add salt and pepper to taste.
Place in fridge until chilled (at least an hour)
Then mix again and add more mayo if needed if potatoes absorbed mayo.
Top with some more rosemary and serve.
Notes
You can freshy mince garlic if you prefer.
Dry Rosemary can be used instead of fresh if you don't have fresh available.