Could meatloaf get any easier, I don't think so. I'm going to share with you all my favorites about meatloaf. The first one is that cooking it in a skillet is great… easy cleanup… and it stays warm throughout the whole meal!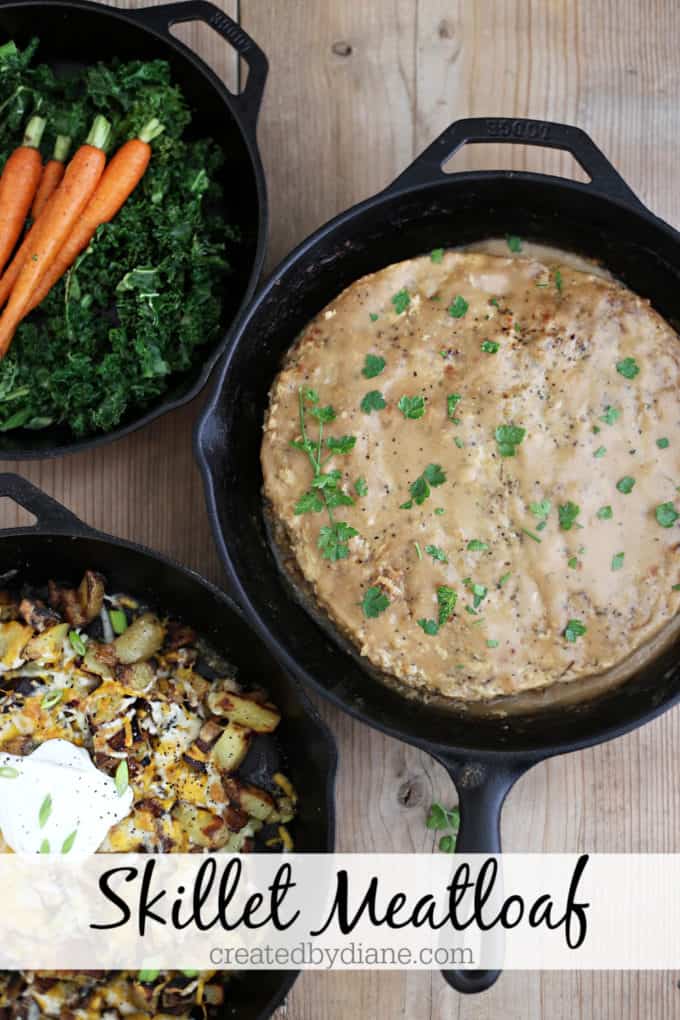 I was kinda surprised I never shared a meatloaf recipe on my blog sooner. I make meatloaf often, my family loves it!
I'm a gravy topped meatloaf kinda person, but I'll give you lots of delicious options below, as I've made many and will share them with you. There is something for everyone in this post!
I'm all about un-fancy serving dishes, keeping things easy, and I just love my cast iron skillets. I have lots of them, depending on family size will help you choose the perfect size for your needs if you don't already have some of them. My most used size is 12″ this is the one I have 3 of. I also have 2-10″ skillets I use for the side dishes and smaller cooking when I'm making 2 servings.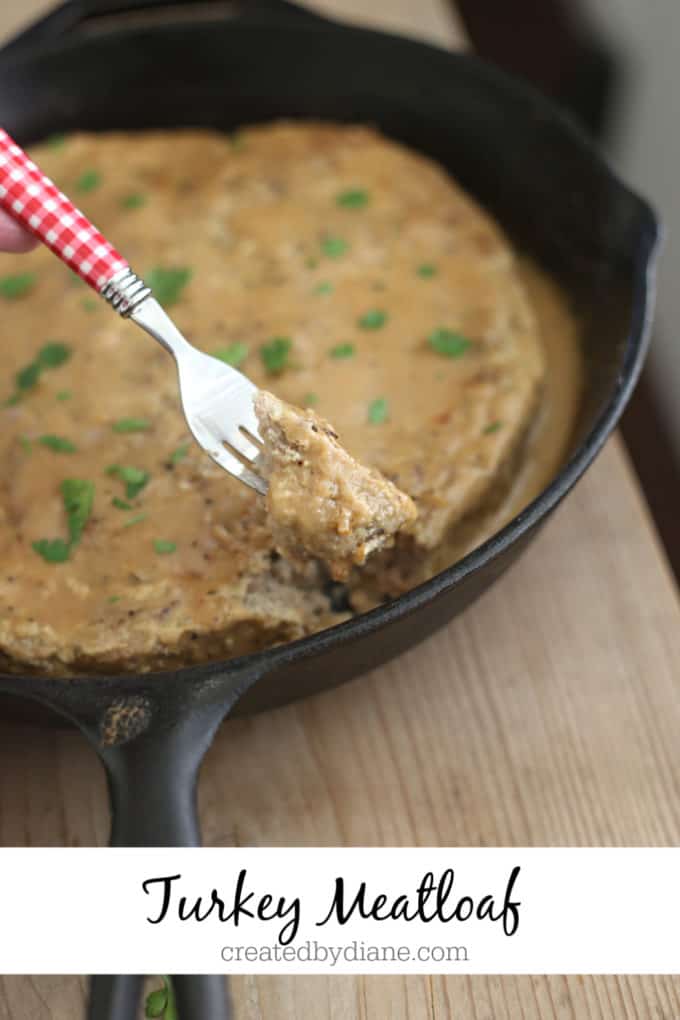 I made this meatloaf with ground turkey and topped it with some gravy, but I'll give you more info on meatloaf varieties as there are MANY.
Other options for ground turkey, chicken, or beef is to add diced jalapenos and onions and then top the meatloaf with cheddar cheese and even some Cotija cheese crumbled on top just before it's done so it just melts, then add some chopped green onion and cilantro, and serve it with this Pan Roasted Corn of a fun Mexican style dinner.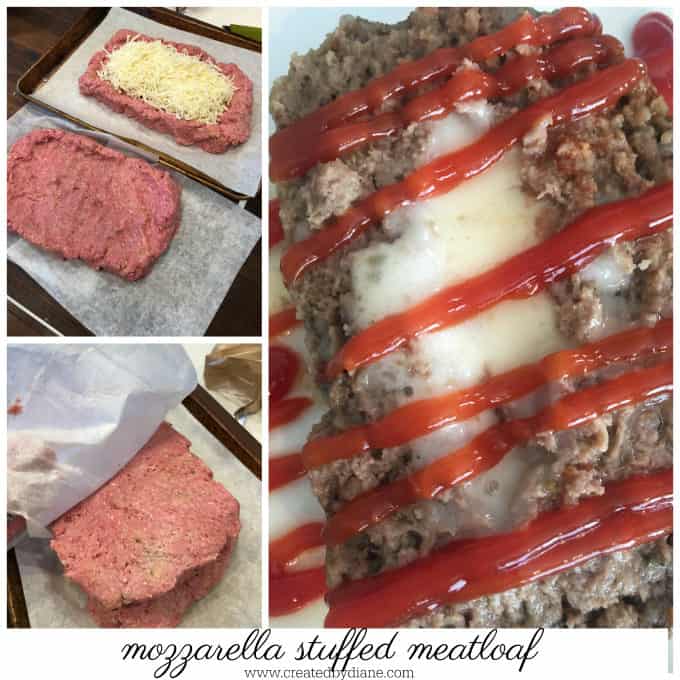 Never underestimate a stuffed meatloaf, baked in a skillet or sheet pan, it's delicious and a great cheese flavor in every bite.
Ground beef
I love ground beef meatloaf topped with tomato sauce, and stuff it's delicious stuffed with mozzarella cheese.
Or maybe ketchup topped meatloaf if you're thing, use 1/2 cup brown sugar and 1/4- 1/2 cup ketchup 1-2 tablespoons vinegar (any variety, apple cider vinegar, balsamic or rice wine vinegar) mixed then brushed over the meatloaf 10 minute before it's done cooking.
Ground chicken
Ground chicken Teriyaki style or with gravy.
To make it teriyaki style… add in a tablespoon of soy sauce, and a teaspoon of sesame oil, 3 diced green onions to the ground chicken mixture and bake and 10 minutes before it's done baking… top the meatloaf with a simple teriyaki sauce made with 1/2-1 cup pineapple juice, 1-2 tablespoons cornstarch, a pinch of crushed red pepper, 1/2 teaspoon dry ginger and 1./2 teaspoon granulated or fresh garlic, 1/2 cup brown sugar, 1-2 tablespoons soy sauce and slices of pineapple.
Ground pork
I love ground pork, but when it comes to meatloaf with ground pork I like it mixed with either ground beef, ground turkey, or ground chicken.
I like 1 lb ground pork with 2 lbs ground chicken, with 1-2 tablespoons garlic paste, 1/2 onion diced, and 1 teaspoon fresh or ground ginger and it'll give you a feeling of biting into a pork wonton. 
A pork and beef combination is also great and lovely topped with tomato sauce, add in some hot Italian sausage and you'll have an amazing trio of flavors combined.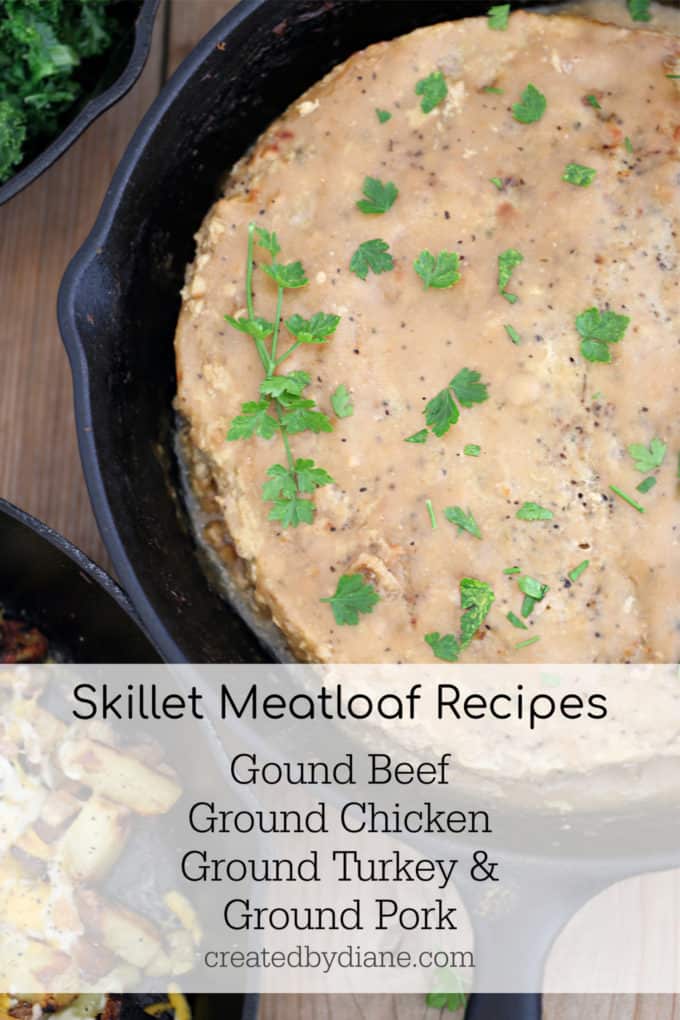 Other toppings for meatloaf
You can top meatloaf with strips of bacon and it'll crisp up as it bakes if you're a huge bacon fan. 
Other fun flavors on meatloaf are chili sauce, it's offers a ketchup quality but has more flavor and is less sweet. 
BBQ sauce is also a great option, brush on your favorite barbecue sauce and serve it with corn and potato salad for a fun southern flavor.
Keeping Meatloaf Delicious
Meat Keep meatloaf moist and delicious and that starts with the percent of fat in the meat used, if it's 90 percent lean add a tablespoon of oil, it'll help prevent tough, dry meatloaf, or add an additional egg is another option.
Breadcrumbs To hold the meat together add breadcrumbs (I use Italian breadcrumbs they have great flavor) and egg, this will not only help bind the meat together with seasonings it'll give it more depth. A dry stuffing mix is a fun option if you don't have breadcrumbs.
Seasoning Add some diced onion, finely minced garlic or garlic paste, salt, and pepper for great flavor no matter what meat your using. You can add seasoning salt or garlic salt as an option.
Don't overmix meatloaf, it'll become tough, just mix until the ingredients are combined. If your meatloaf needs more liquid to mix easily add additional milk (or heavy cream) a tablespoon at a time.
Now for the side dishes…
two items are my go-to when I serve meatloaf. A potato dish and a vegetable.
I often make mashed potatoes, and if you want some "kicked up" mashed potatoes try my caramelized onion sour cream mashed potatoes, as you can see in the photo I made sauteed potatoes topped with cheese and sour cream. I also love this Cheesy Potato Casserole. Be sure to check out my Slow Cooker Mashed Potatoes, these Cheesy 5-Minute Potatoes, or my Rosemary Garlic Potato Salad is also a huge hit!
If you need quick potatoes THESE are always an option!
Vegetable ideas
 ahead and try sauteed kale with garlic and oil and add some carrots, there is always corn or peas, or green beans, or try my Roasted Cabbage Steaks simple yet impressive. And these Au Gratin Brussels Sprouts are always a winner.
Baking Meatloaf
The meatloaf I made was 3 lbs. in a 12″ skillet. I used to make 2 lb meatloaf for dinner, but really there was never enough for leftovers, everyone seems to devour meatloaf. and don't forget about taking a meatloaf sandwich for lunch the following day! One thing is for sure meatloaf leftovers never last long. Adjust the amount of meatloaf you'll need to accommodate how many serving you'd like, this recipe can be easily cut in half or multiplied for more servings. 
Do I have to cook this meatloaf in a skillet?
Of course not, cook the meatloaf in a skillet as I did or shape it like a loaf and bake it on a sheet pan this allows the grease to drain and pool on the edges of meat versus a loaf pan that doesn't allow enough room to drain and actually steams the meat. The "thicker" the meatloaf the longer it will take to bake, so adjust the cooking time accordingly. 
Other great recipes with ground meat you may like
Skillet Meatloaf
Meatloaf for all eaters, ground turkey, chicken beef, and pork recipe options. A simple recipe that tastes delicious with multiple flavors to add on top, from red sauce to gravy and a teriyaki option as well.
Author:
Diane Schmidt Created by Diane
Ingredients
3 lbs ground turkey, chicken, beef, or pork (or a combination of meats)
3 eggs
1/2 cup milk (or heavy cream)
1 cup bread crumbs (I use Italian style it has great flavor) or panko breadcrumbs
1 cup diced onion
2-3 tablespoons garlic paste
1 1/2 teaspoons dry oregano (or Italian seasoning)
1/2-1 teaspoon salt
1/4 teaspoon black pepper
Instructions
Preheat oven to 375°
In a large bowl mix all the ingredients together until they are just combined.
Spread the mixture into the skillet or form it into a loaf shape and bake it on a baking sheet.
Bake for 1 hour or until the internal temperature reaches 165° degrees.
Allow the meatloaf to rest for 10 minutes, this will allow the meat to rest so it'll slice easily and the juices won't run out as soon as it's sliced.
If you're planning to bake the topping onto the meatloaf do that when the meatloaf is about 5 degrees away from being done, or 10 minutes before your estimated cooking time, Having the topping cook a few more minutes won't hurt.