Mashed potatoes get a makeover into these deliciously cheesy crispy mashed potato pancakes in minutes. Hello, leftovers!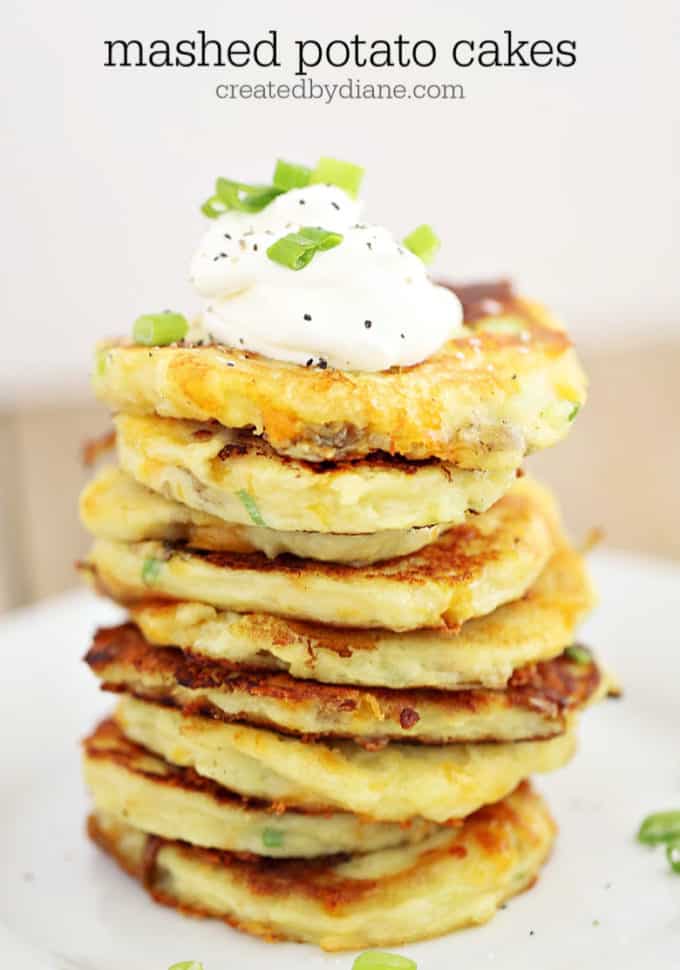 These crispy mashed potato pancakes are so great, they can not only be made with leftover mashed potatoes, they can be made with instant potatoes, frozen mashed potatoes. The options are many!
I've added to the potatoes some cheese and green onions,
but there are lots of other flavor options, these could very well be garlicky, you can add some dill for a great flavor, I used cheddar and Monterey Jack, but oh the endless options on cheese selection is to many to list. Goat cheese would be amazing! If you want to spice it up pepper jack and/or some diced jalapenos will work ell.
You can add in some other veggies to the mix like some fresh chopped spinach.
What protein can I add to these?
Add in some cooked bacon, cooked sausage, or even some diced ham or cooked chicken.
I have always been a HUGE mashed potato fan, it's ridiculous really. plate after plate of mashed potatoes… I have many childhood stories about how many plate fulls I could eat.
I love being able to take a favorite and make it a while new favorite in the process.
Are you getting hungry yet… I sure am just thinking about all the options.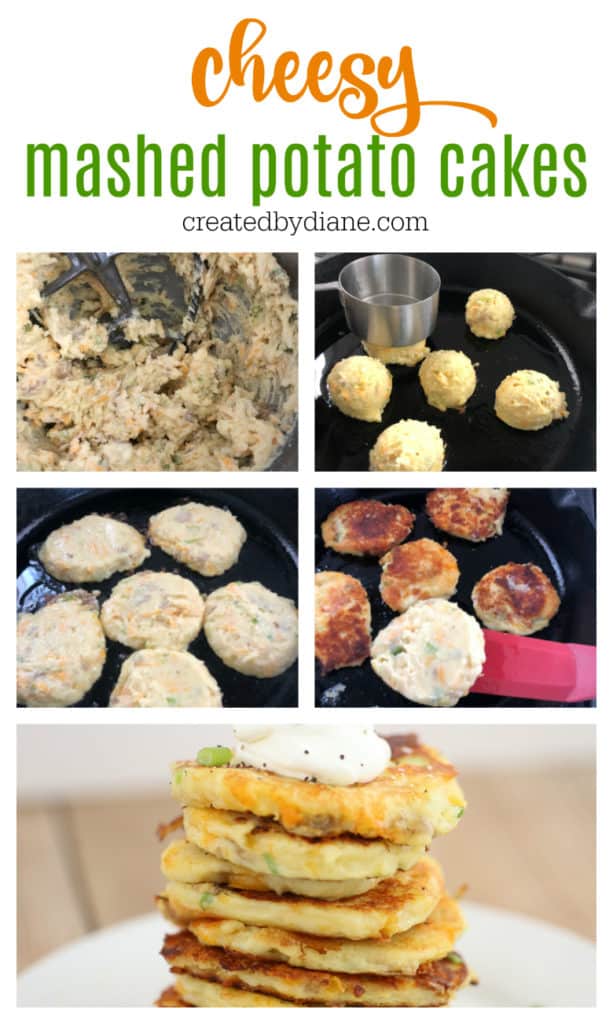 With just a few simple steps and ingredients you'll be able to grab your fork and dig into a stack of these in no time!
What you'll need
mashed potatoes (homemade or instant)
green onion
cheese
flour
egg
OMG… these savory mashed potato pancakes are bound to get your mouth watering, I love them with sour cream!
If you're using leftover mashed potatoes that have been flavored with salt and pepper, you won't need to add as much as if you're using purchased frozen or fresh mashed potatoes those might need some more flavor, same goes with instant mashed potatoes don't leave out the butter, salt, and pepper you want this recipe to have lots of flavor as potatoes on their own are fairly bland.
What else can I add to these?
Add in some cooked bacon or ham for a great flavor, if you like things spicy add in some diced jalapenos or use pepper jack cheese, alternatively you can add some hot sauce for a different spicy flavor. 
If you'd like to punch up the savory flavor to these mashed potato pancakes, add in some diced onion and minced garlic.
You can also add in some vegetables, grated zucchini, corn, or chopped fresh spinach are all great options. The spinach with tomatoes and mozzarella cheese and oregano is a great flavor combination too.
Since I'm a huge potato fan…
I thought you might be to so be sure to see my other potato recipes too.
These Sour Cream and Onion Mashed Potatoes are sure to make your belly smile!
I have a few potato salad recipes
One I consider "classic" potato salad recipe made with dill picked and has great flavor, it's so delicious with homemade mayo.
here are more great potato recipes: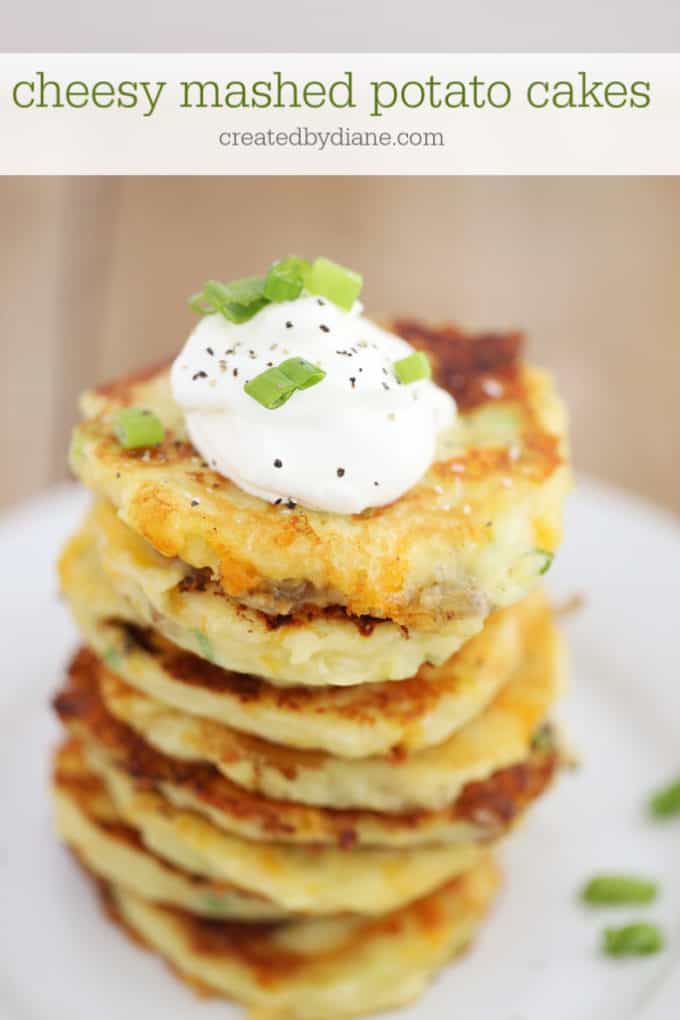 Can instant mashed potatoes be used in this recipe?
Yea, any type of mashed potatoes can be used, you can use instant, frozen-thawed, or prepared mashed potatoes. When I'm making mashed potatoes, I always make extra.
If I want to make these really quickly I use Idahoan instant mashed potatoes they have a really creamy texture, not dry, and only need to be mixed with boiling water which makes them not only fast but minimal ingredients are needed, so you don't feel like your cooking, and then cooking again.
Mashed Potato Cakes
These delicious pancakes are made with mashed potatoes and cheese and are the best savory pancakes to be served any time of day.
Author:
Diane Schmidt Created by Diane
Ingredients
3-4 cups mashed potatoes (homemade, purchased, instant)
1/4 cup chopped green onions, diced
1 cup shredded cheese (cheddar, Monterey Jack or similar)
1/2 cup flour
1 egg
Instructions
Place all the ingredients in the bowl of a mixer or medium bowl and mix by hand until completely combined.
You can either scoop and flatten the mixture into pancake shapes then place them in a hot pan with a 2 tablespoon oil, or place scoops in the hot pan then flatten with the back of a smooth cup that is lightly oiled.
Once the first ide is crisp, turn the pancake over and cook on the other side, you can cover the pan with a lid to allow them to fluff up with the steam and finish cooking them.
Serve with some sour cream, salt, and pepper.