This green eggs and ham recipe brings to mind all this green and March-related… March is a month full of celebrations, from Dr. Seuss's birthday to St. Patrick's Day, all the winter's rain and snow bring a very green March! And here you'll find some fun options for celebrating with some great green items.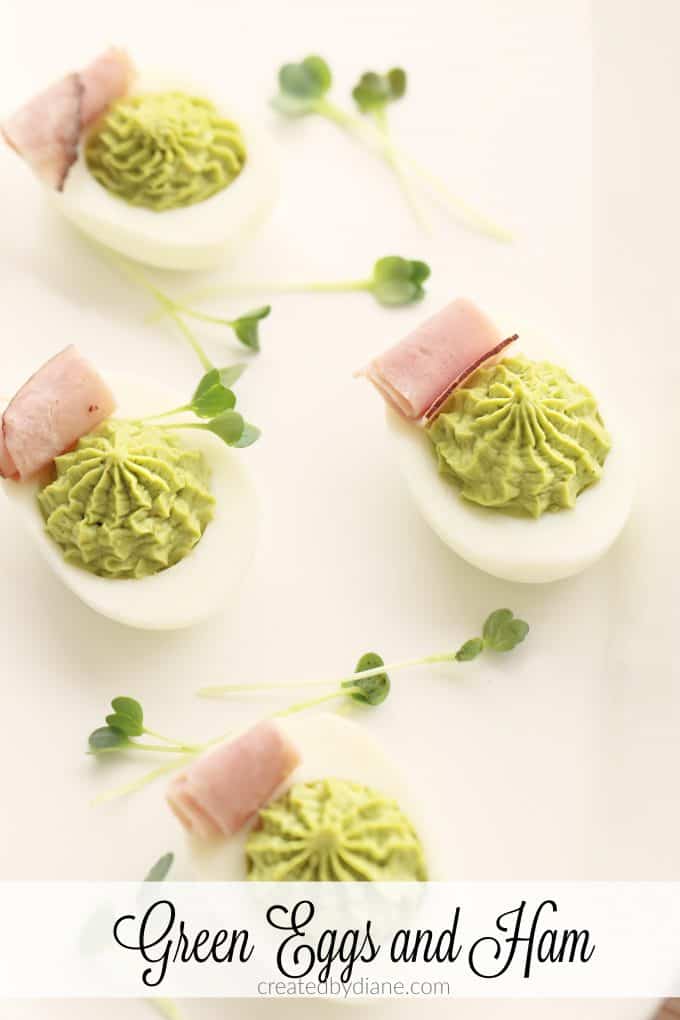 Green Eggs and Ham… a delicious combo and fun to get kids to eat differently. That is what the famous Dr. Seuss book is all about and under 50 words, how fun is that! 
Let's start with how to cook the eggs, simply put they are boiled eggs, hard-boiled to be specific. 
How to hard boil eggs?
The two most popular ways to prepare hard-boiled eggs:
Stovetop: Add the desired amount of eggs to a pot, cover with cold water, bring to a boil then shut off the burner, move the pot to another burner, place lid on top, and time for 10 minutes for large eggs, add 1 minute to xl eggs or reduce for medium eggs.
Pressure cooker: place eggs in the pressure cooker with 1 cup water, turn on low pressure for 5 minutes, release the remaining pressure then place in a cold water batch.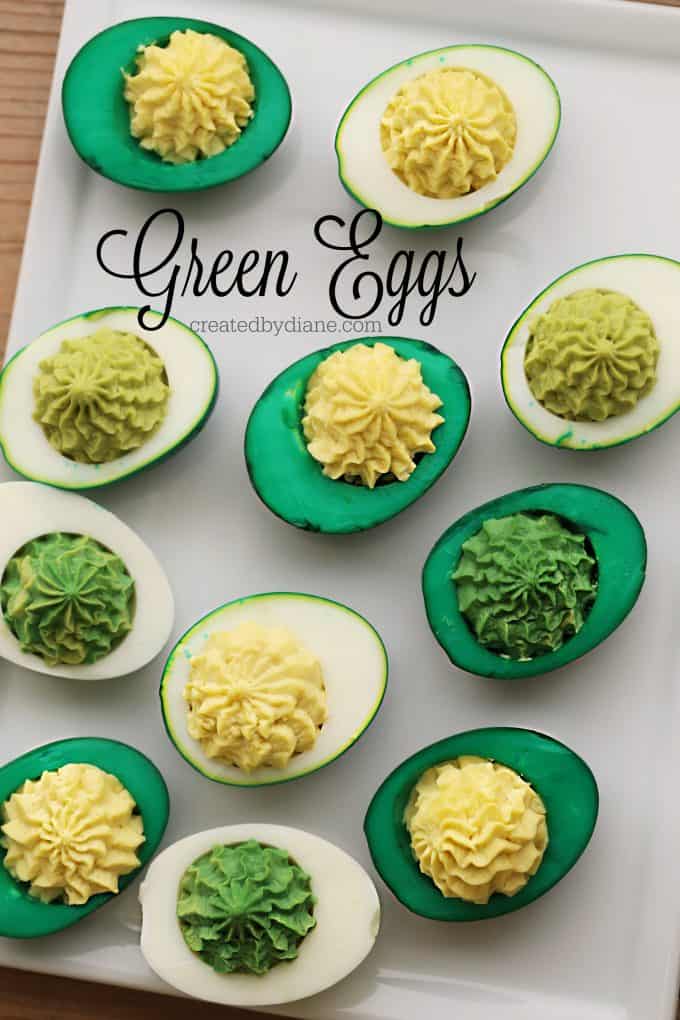 Now let's chat about coloring the eggs green
You can color the white of the egg green with food coloring, you can color just the outside, or cut the eggs in half, remove the yolk, and color all the white area green. 
Color the yolk, you can mix the yolk with avocado to give it a natural green color, or you can use food coloring to color the yolk green.
Mix and match or do them all the same, now for the ham, simply buy some deli ham for a nice thin roll of ham to place on top of each green deviled egg or you can use any type of ham you prefer.
If you don't prefer any food coloring simply add the avocado to the yolk and pipe it into the whites.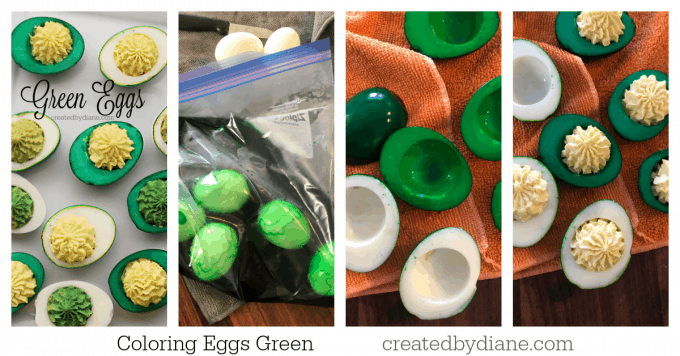 It's common to see all sorts of green time in March, and mint too, like shamrock shakes and thin mint Girl Scout cookies (always a winning flavor combo of chocolate and mint.
Green Eggs and Ham
A fun and delicious green eggs and ham, a great appetizer or breakfast.Options for using avocado, food coloring to create the green eggs.
Author:
Diane Schmidt, Created by Diane
Recipe type:
Eggs, Appetizer, Low Carb
Ingredients
6 eggs
1 slice ham (cut into very small pieces then roll them)
1/2 medium avocado (optional if using food coloring to make the eggs green)
1-2 tablespoons mayo
1 teaspoon lime juice
pinch of salt
Green food coloring(optional)
Instructions
Hard boil the eggs.
Either bring eggs covered with cold water to a boil, turn the burner off then place a lid on top and time for 10 minutes for large eggs.
Drain, place cold water and ice cubes to chill eggs quickly which makes them easy to peel.
Let sit for 10 minutes.
Or use a pressure cooker with 1 cup of water on low pressure for 5 minutes, then release pressure and then drain, and place cold water and ice cubes to chill eggs quickly which makes them easy to peel.
Let sit for 10 minutes.
Color eggs according to the desired effect, all instructions are in the post for the different ways to color either the whites or the yolk, you can use avocado to make the yolk green along with mayo salt and pepper and a little lime juice.
To color, the whites green add 1 cup hot water 1 tablespoon vinegar, and a teaspoon or more green food coloring in a gallon zipper bag, and submerge eggs to color them whole or cut.
Drain eggs, dry with a towel, cloth, or paper.
Cut the eggs in half if you haven't already done so.
Mix the yolk as desired with mayo salt and pepper and avocado if adding, or green food coloring, then pipe onto the whites with a star tip on a piping bag.
Chill in the fridge and then serve.
Store in an airtight container for 3 days, some of the food coloring will transfer to other eggs if they touch, placing them in an empty egg crate can help separate them, line the container with paper towels to absorb any liquid for less mess.
Decorate eggs with tiny pieces of rolled ham or cubed ham, top with sliced green onions or radish sprouts if desired.
*by no means is my blog support anything racist as there has been some recent controversy over some Dr. Seuss Books.