This has become my new favorite dish to bring to parties, make for easy lunches and to enjoy at the beach!
I add cooked chicken sometimes too, yum!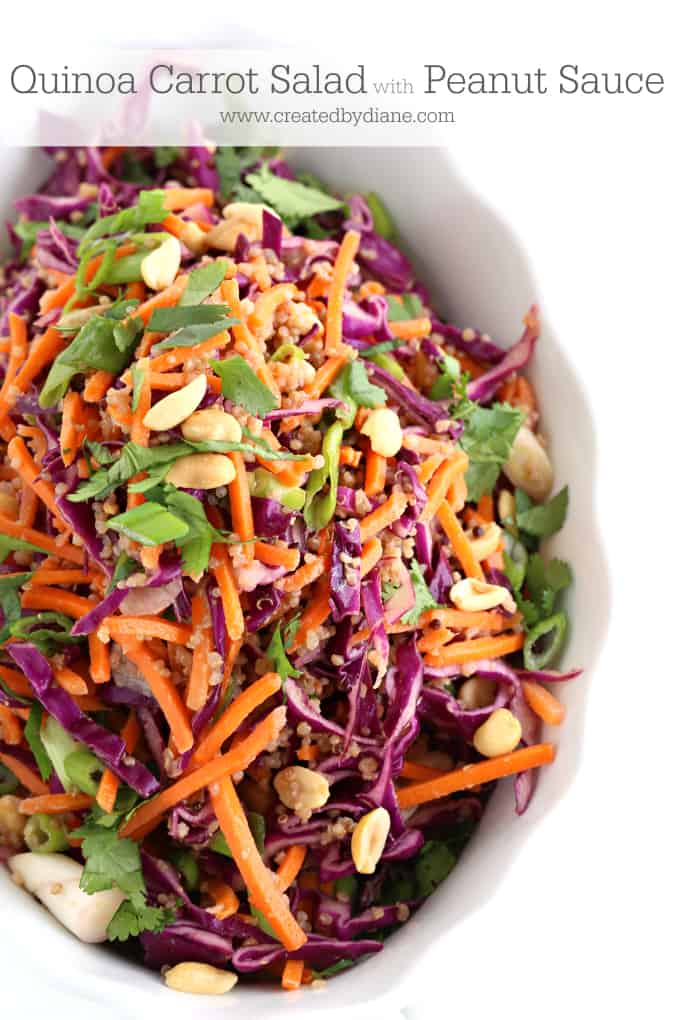 It's no secret I love Thai Peanut items!
I have a great Thai Peanut Sauce Recipe here,
and I often make it over pasta like HERE,
but since I've been eating low carb I wanted to make some dishes I could enjoy the great flavor of without feeling like I was missing out!
This is THAT dish!
I like piling it high and topping it with peanuts too!
It only takes minutes to prepare this…
take a look!
And before you start scrolling if you want another That Peanut Dish, this one is made with Sweet Potato Noodles.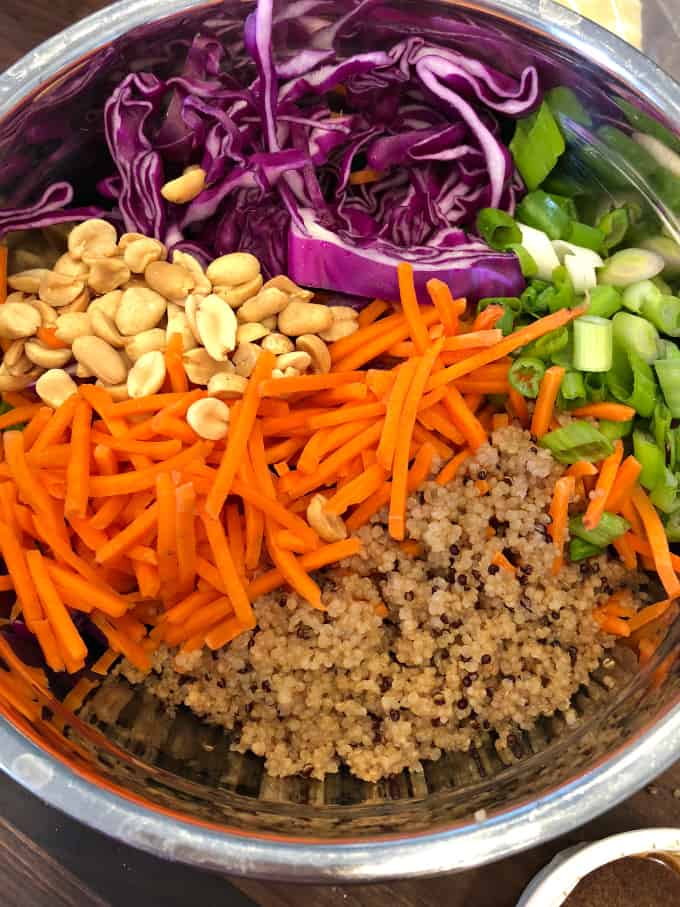 I buy already cooked quinoa if I'm making this size recipe, it comes in 1 cup portions and makes this even easier to make as there is no cooking at all then,
which is great in the summer,
perfect to make a meal in MINUTES really,
and so easy anyone can make this even those who don't like to "cook".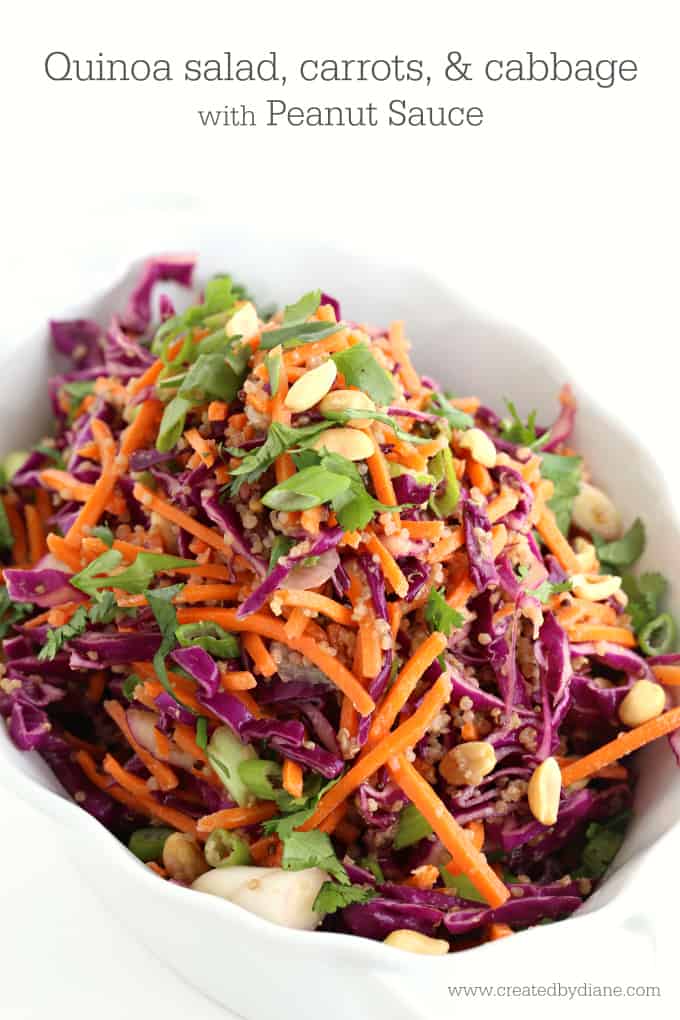 I just love having dishes like this in the fridge so there is no thinking involved in healthy eating!
Consider this when writing up your weekly menu plan and try something NEW!
Take a look in the produce section for pre-prepped veggies if you're looking to save more time. I buy bags of shredded carrots, I like when they are on the thicker side and they make this dish nice and crunchy!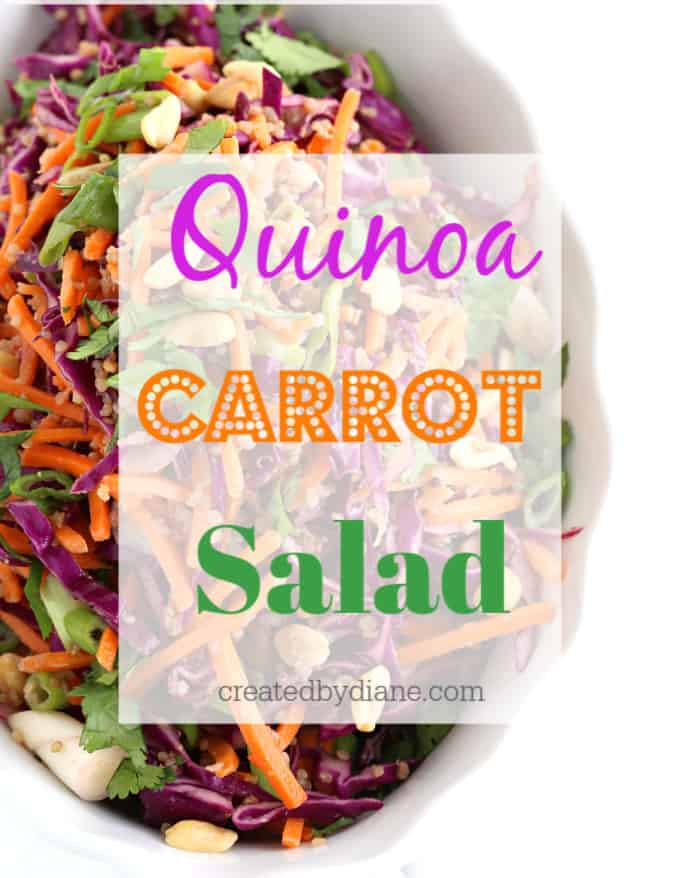 To reduce sodium, use low-sodium soy sauce, or Amino Acids, another option is balsamic vinegar.
If you don't want a peanut flavor in this dish if you're serving it as a low-carb side for the holiday or similar use your favorite Italian salad dressing. Olive Garden tastes nice for a change.

Quinoa Carrot Salad
Author:
Diane Schmidt, Created by Diane
Ingredients
1 cup cooked quinoa (I purchase cooked quinoa in 1 cup portions in the grocery store, or you can cook and prepare quinoa yourself)
2-3 cups chopped red cabbage
2 cups shredded carrots
3 green onions chopped
cilantro
1/4 cup peanuts
dressing
2 tablespoons peanut butter
juice of 1/2 a lime
2 tablespoons soy sauce
2 teaspoons sesame oil
salt and pepper to taste
Instructions
Place quinoa, cabbage, carrots, and green onion in a medium bowl.
Mix dressing, peanut butter, lime juice, soy sauce, sesame oil, and salt and pepper
Mix dressing over vegetables
top with peanuts.
ALternatively, you can use a different Italian salad dressing if you don't want the peanut flavor.