Easy recipe for ham is a must, keep it simple with this great glazed ham, get my tips, recipes, and more…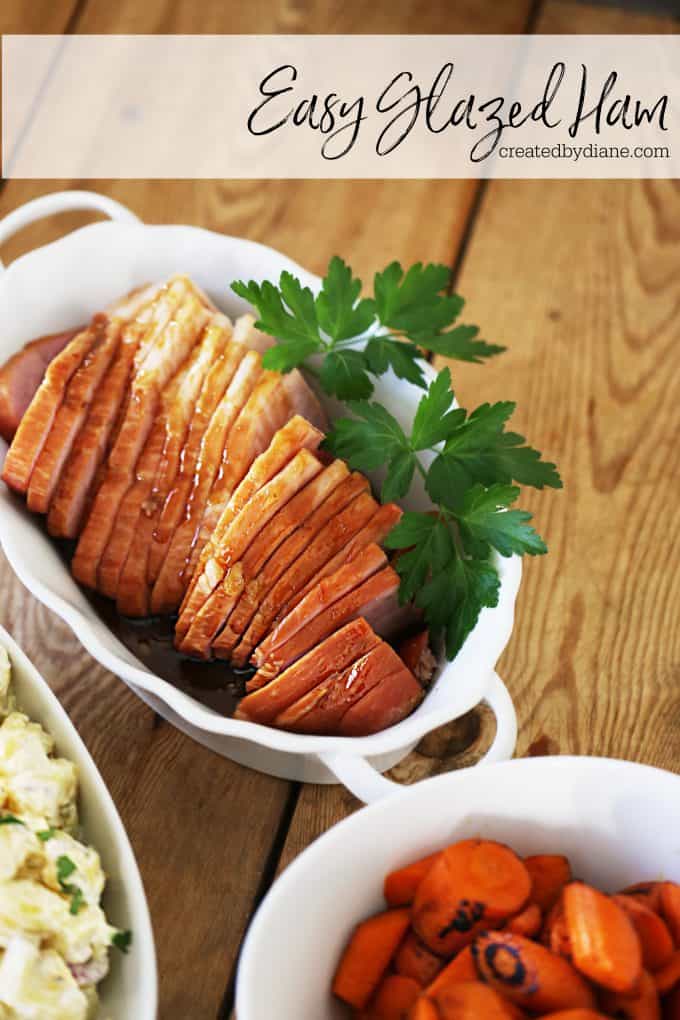 Maple Glazed Ham is just one great item to serve with little effort… take a look.
I love buying a carving ham, there is no bone, no mess when cutting, and virtually no waist. Carving hams are thin flat cuts of meat that are easy to slice and still allow for plenty of room on your plate for all your favorite side dishes. 
When holidays roll around, carving hams make it easy.
I used to cook ham in the oven, but more recently I cut the ham in half, and slice it and then cook it, be it in the oven, wrapped in foil, or I place it in the pressure cooker (Instant Pot) you can also easily cook it in the slow cooker as well.
Most ham that we purchase are precooked, so they just need to be heated, large hams take a while, so I often cut mine into smaller pieces to heat it a little faster and so it doesn't dry out.
In the springtime, I typically serve Potato Salad and Burnt Carrots (carrots cooked in a cast-iron skillet until, well… black on the edges) I like them blackened and so does my family. Garlic Kale is another great side dish in the spring, as is asparagus.
In the cooler months… I like serving glazed ham with a hot potato dish like Holiday Roasted Potatoes, Cheesy Baked Potato Casserole, or carrots like these.
If you're looking for Turkey cooking instructions take a look at my overnight turkey and my post that includes many cooking methods of turkey.
And if you're looking for more Holiday recipes check out my Holiday Ebook.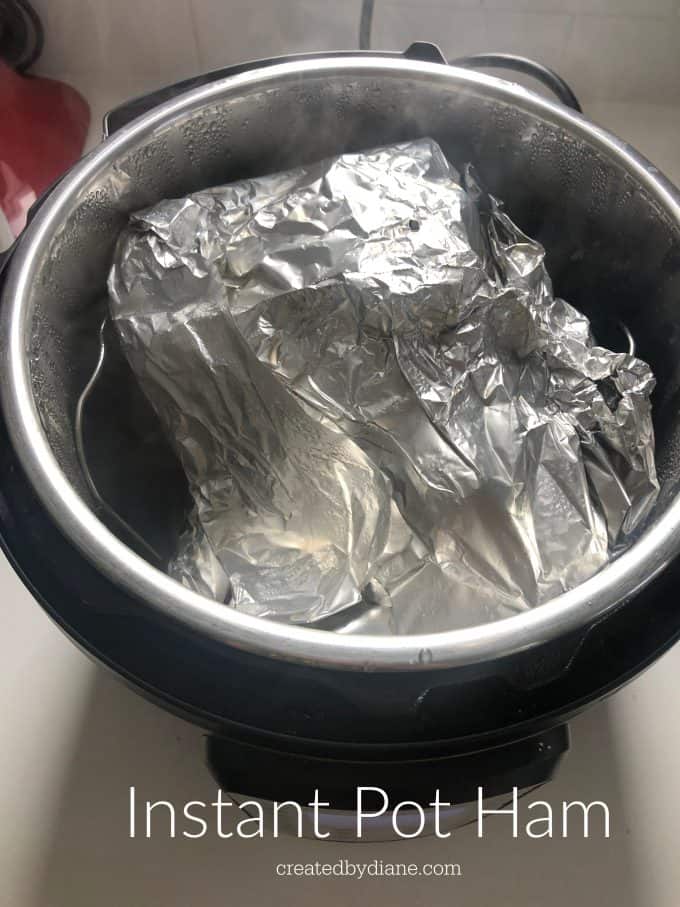 In the inner pot of the Instant Pot add 1 cup water with the sliced ham on the trivet which raises it above the water. You can wrap the ham in foil or simply place it on top of the trivet. I did both with great results. Placing it in the foil allowed it to stay in compact slices which looked nice when served.
As I mentioned the carving ham is thin and easily fits into the pressure cooker, I do cut it in half then slice it. You can slice it before placing it in the Instant pot for easy serving.
>>>Pressure Cooking Ham (Instant Pot):
Time the ham for 2-3 minutes per pound. Four pounds of sliced ham took 10 minutes (plus the time to heat up and release pressure). If you wrap it in foil add an additional 5 minutes. The internal temperature of the ham should be 145°.
You can cook ham in a heated oven (350° 15 minutes per pound, slow cooker,(4-5 hours) or in a pan on the stove with some water. Basically, you want to heat the ham to 145°.  Timing will depend on the size ham you have.
Pour heated glaze over the top of the ham and serve. 
Alternatively, you can place it under the broiler for a few minutes to crisp up the glaze if you prefer that.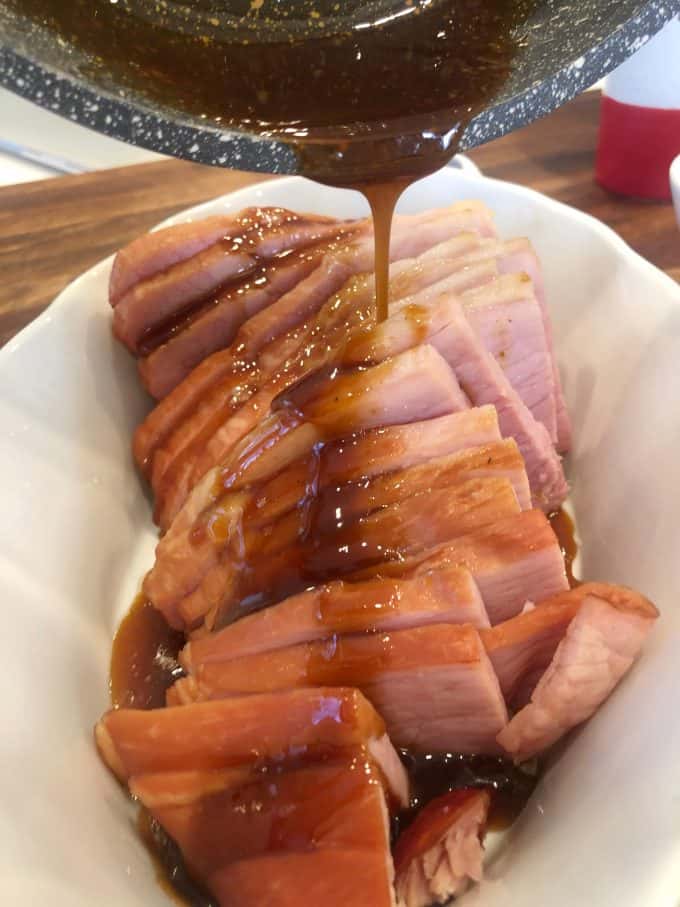 If you're baking the ham, pour the glaze mixture over top of the ham and you can heat it for 10 minutes if desired to get a thick texture to the glaze on the ham.
One of my all-time favorites is this maple glaze. It's the combination of sweet and tangy and delicious over ham.
I have lots of holiday side dishes, be sure to check out my Scalloped Corn Bread or Corn Bread Pudding or even a delicious Cornbread Recipe and I also have a great Buttermilk Cornbread, there is also Stuffing which is a great idea any time of year, It's not just for turkey and if you like turkey be sure to check out my amazing Overnight Turkey Recipe.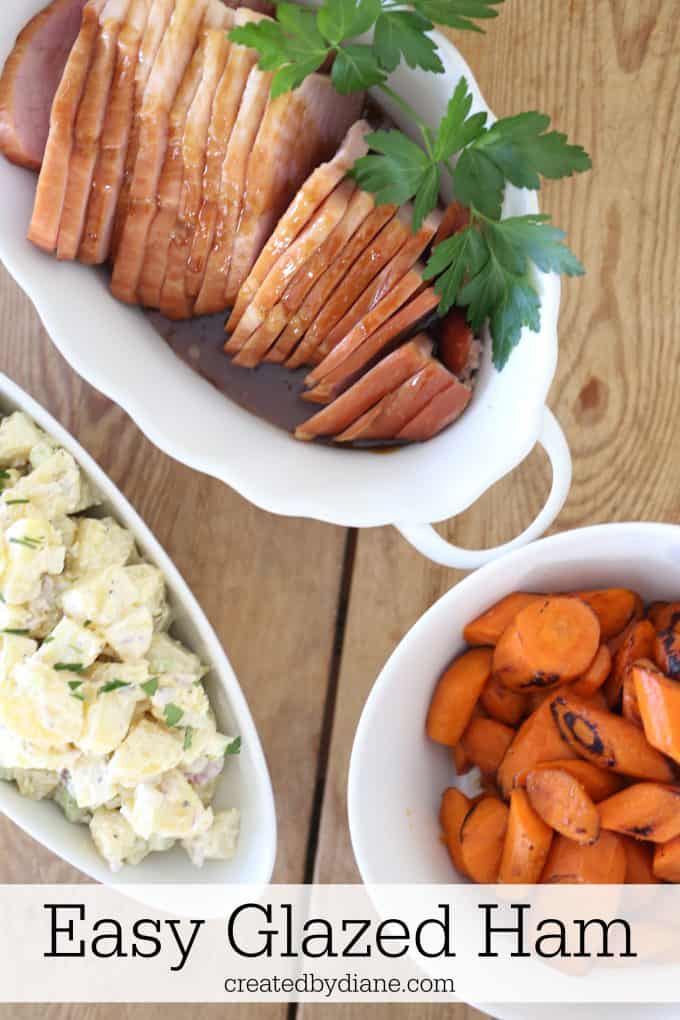 Gone are the days of everyone gathering around the dining table with a large ham, roast, or turkey just waiting to be carved. Most people carve it in the kitchen then serve it. So slicing it ahead of time not only saves time in shortening the cooking time, if you pre-slice it, it's ready hot out of the oven… and oh so delicious.
More glaze recipe options:
Glaze Options: Mix and Match some ingredients to make a custom glaze.
Pineapple, Orange, Cherry, Honey, tangy citrus flavors like pineapple and lemon make a fun glaze too. Around Christmas cranberry juice or cranberry sauce are great options.
Mix the item you'd like with some sugar and heat it up… equal parts work well, then drizzle it over the ham and WHAMO you have a fun new flavor!
Ham is great served around any holiday table, Thanksgiving, Christmas, New Years, Easter, and fun for a Mother Day Brunch as well check out my Eggs Benedict Enchiladas. If you're looking for an easy make-ahead breakfast try these Ham, Egg, and Cheese Cups.
Cordon Blue Baked Ziti. is always a great idea for leftover ham.
Ham and Cheese Soup is a comfort food you are sure to love.

Glazed Ham
A tasty maple mustard glaze great on ham or chicken, sweet and tangy will win you over with this easy recipe.
Author:
Diane Schmidt, Created by Diane
Ingredients
1/4 cup maple syrup
1/4 cup brown sugar
3 tablespoon dijon mustard or spicy brown
Optional additions
1 tablespoon vinegar if you want it tangy
pinch crushed red pepper if you want a little spicy
Instructions
Mix and heat in a saucepan the maple syrup, brown sugar, and dijon mustard until it simmers.
Alternatively, you can brush the cold sauce on the meat and heat it in the oven until the glaze is thick and heated.
This amount will coat 2-4 lbs of ham/chicken, double the recipe for it to cover more meat.