Baked potato soup is one of my all time favorites, it's creamy and delicious!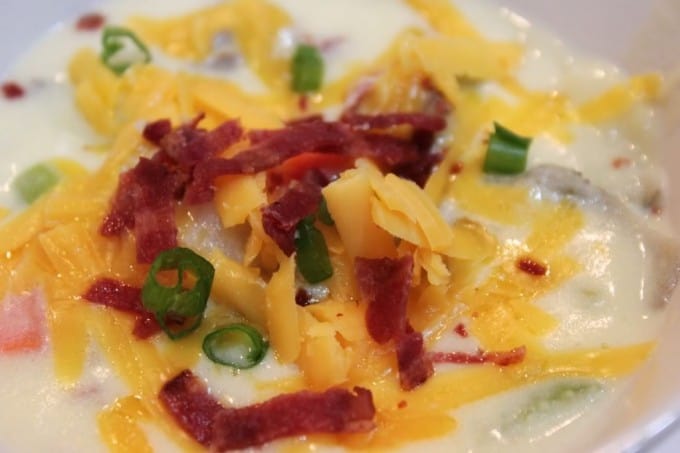 I love baked potatoes!
I love soup! So the combination of the two is GENIUS in my book!
It's almost funny that I made Loaded Baked Potato Soup a while back, and named it such because of how much it reminded me of a baked potato loaded with toppings, except this time I actually baked the potatoes before adding them to the soup.
WOW, what a difference it made!
I now think I should re-name the other soup and take out the word baked, it certainly reminded me of a loaded baked potato, but this version is truly BAKED!
There are so many things to LOVE about this soup, and one of them is the TOPPINGS,
add what you like, 
cheese, bacon, green onions!
If you're on a health kick, add some broccoli.
Just like a buttery baked potato, this soup is REALLY satisfying!
Baked Potato Soup
Ingredients
I baked 12 medium sized potatoes for 1 hour at 350 degrees
8 pieces of cooked turkey bacon (4 chopped and added to soup, 4 for topping off bowls of soup)
3 large carrots chopped
3 stalks celery chopped
1/2 onion chopped
2 cups chicken stock
6 cups whole milk
1 Tablespoon cornstarch
two egg yolks tempered with hot soup before adding so they don't curdle
1/2 cup mozzarella cheese grated
1 cup cheddar cheese grated (half to add to soup, half to top off bowls of soup)
Instructions
Saute chopped carrots, celery, onion till tender.
Add chicken stock and turn heat to medium.
Add cornstarch to a half cup of the milk and to the pot with the rest of the milk, stirring to incorporate.
Add egg yolks that are tempered with hot liquid and once soup comes to a boil.
Add in the potatoes that have been baked.
Often I peel the potatoes, today I was in a hurry and left the skins on,
Add cheese and bacon
Heat thoroughly until it thickens.
Serve with additional cheddar, bacon, and scallions. Sour cream if you like too.
This is a photo of it when the potatoes are peeled. I made this batch over a month ago.
I loved potato soup so much that I've even been known to make it without cheese or bacon but have added sausage to it….oh that is so good.
I make potato soup about once a month. There is only one problem with sausage, my girl doesn't like it, I was just like her growing up I wasn't a picky eater, but I DID NOT like sausage until later on. So we add sausage when we know she won't be eating with us.
Other soups I've made include