Baked potato soup is one of my all time favorites, it's creamy and delicious!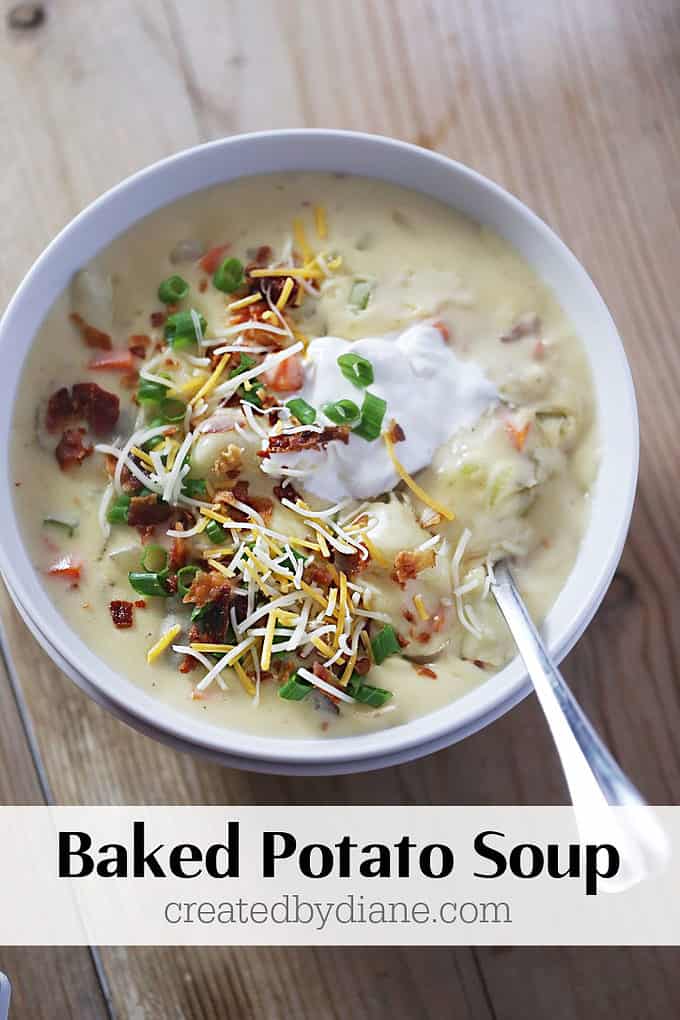 But really you can never go wrong with potatoes no matter how you serve them… right!
Potatoes are nothing short of spectacular…
don't you agree, they can be made into so many delicious dishes. Starting with my all-time favorite,
French Fries
if you're more into sweets be sure to check out these
Potato Chip Cookies
they are salty-sweet cookies you'll find irresistible.
In the '80s loaded baked potato skins were all the rage… this soup is a throwback to those…
and OMG this is so creamy and delicious and full of flavor and you won't believe how simple it is to make. A whole lot simpler than loaded potato skins!
I love soup! So the combination of the two is GENIUS in my book!
more potato recipes…
Now back to this loaded potato SOUP!
This fully loaded baked potato is just minutes away from you scooping and enjoying it by the spoonful!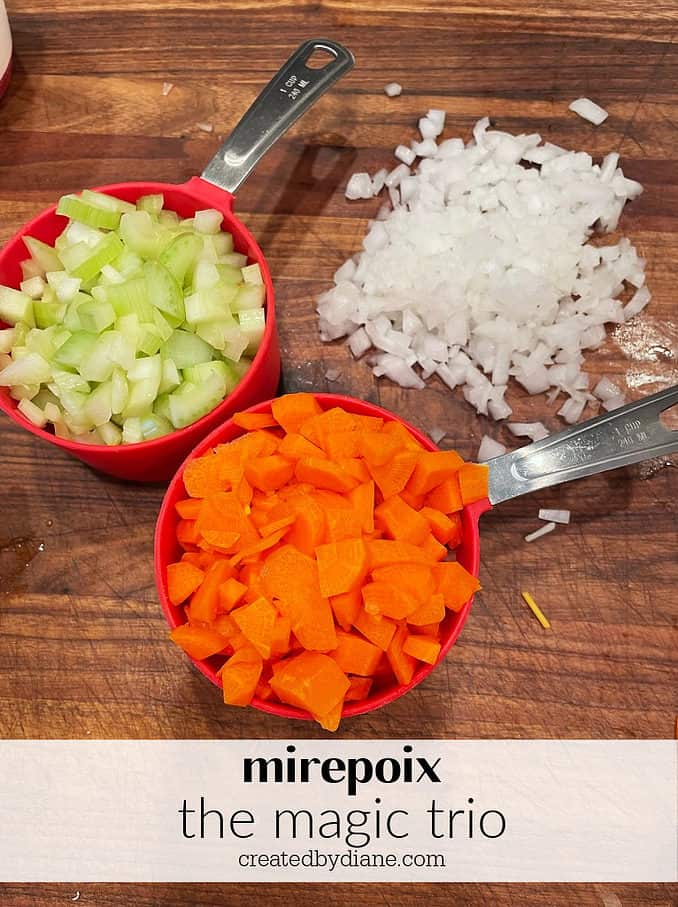 It all starts with sauteeing onion, carrot, and celery in butter. If you don't want any of those items in your soup, feel free to leave them out, it'll still taste delicious… promise!
Cooking the potatoes before adding them to the soup is KEY, but if you don't feel like baking them in the oven, just pop them into the microwave, by the time you prep the rest of the soup, you'll just chop the potatoes and add them in and VIOLA… 
you have the cheesy potato soup!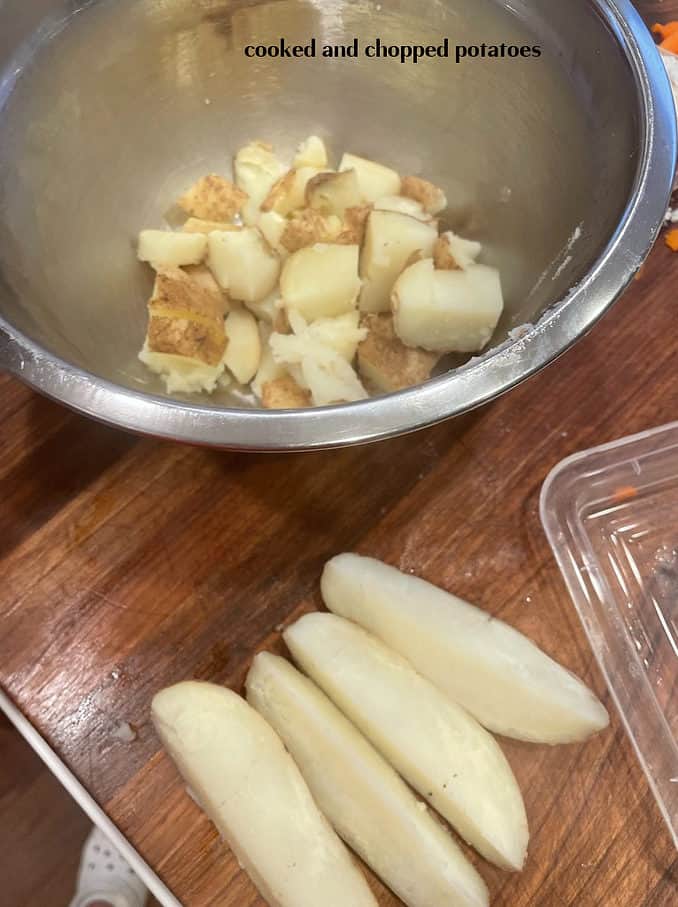 You don't even have to peel the potatoes (but you can if you want).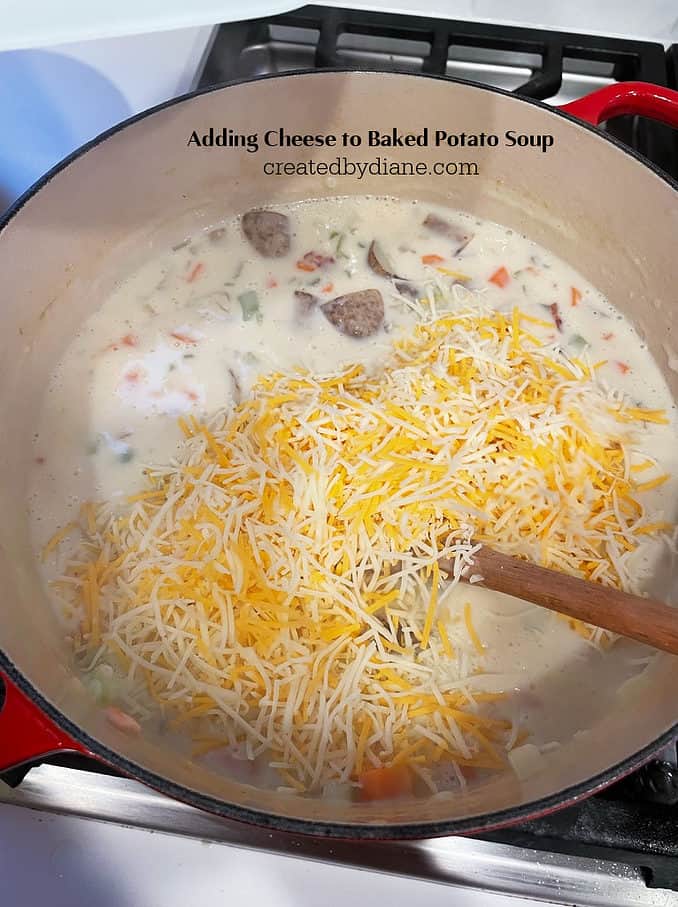 Cheddar baked potato soup, oh cheesy and delicious….
There are so many things to LOVE about this soup, and one of them is the TOPPINGS
add what you like… 
cheese, bacon, sour cream, and green onions!
Add some sliced jalapenos for added spice.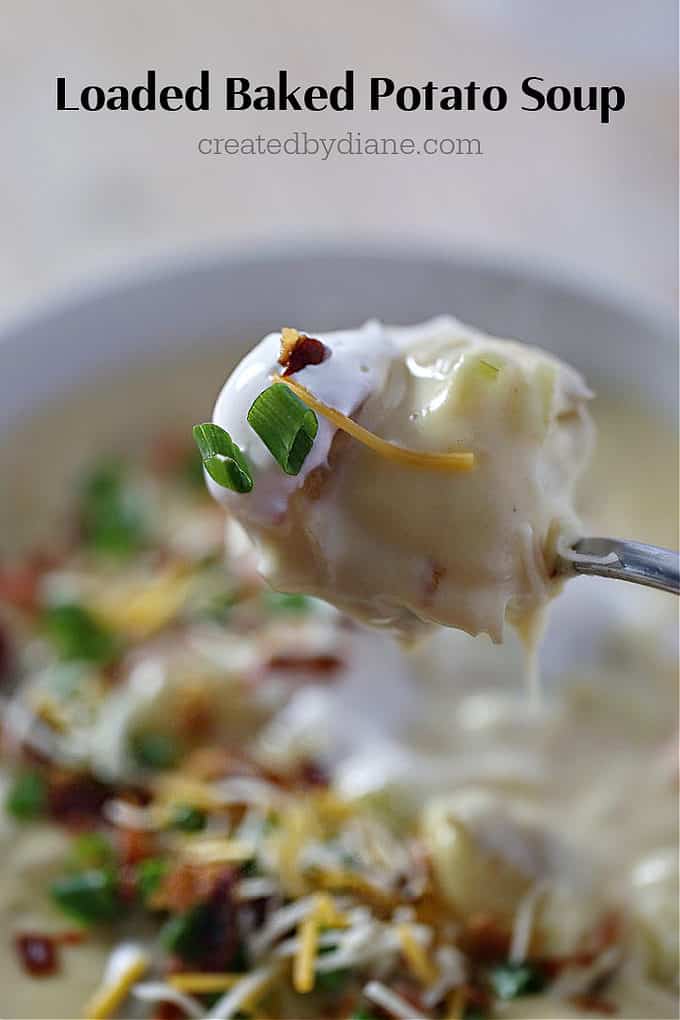 What makes this soup thick?
It's made with a roux ( a mix of butter and flour heated then slowly adding the liquid) if you want to make it thicker add some cornstarch mixed with water and slowly poured into simmering soup.
How can this soup be made creamier?
You can use add heavy cream instead of milk for a richer, creamier soup.
What can be added to make the soup richer tasting?
Adding in more butter will give it a richer flavor, adding more cheese, and stirring in more sour cream will all give the soup a richer flavor.
What will give this soup more flavor?
I find adding in chicken bouillon always gives soup the taste I desire. I always start there. For this soup, add more bacon for added flavor.
What should I avoid doing when making this soup?
Avoid a rapid boil, cream soups should be simmered, with small bubbles, rapid boil will separate the cream soup giving them a grainy texture.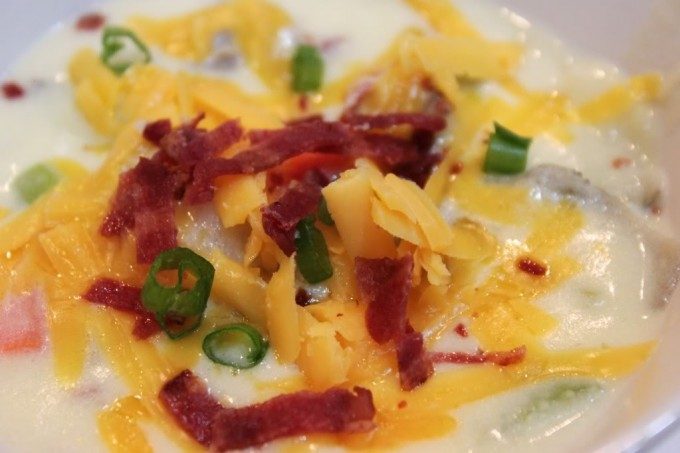 you'll want to try these soups too…
Baked Potato Soup
Bakes potato soup and delicous and creamy with all the topping of loaded potato skins, cheese, bacon and green onions along with sour cream make this easy soup irresistible
Author:
Diane Schmidt, Created by Diane
Ingredients
6 medium potaotes
8 oz bacon, chopped
2 tablespoons butter
2 tablespoons flour
3 medium carrots chopped (about 1 cup)
3 stalks celery chopped (about 1 cup)
1/2 white onion, diced (about 1/2 cup)
2 cups chicken broth
6 cups whole milk
1 Tablespoon cornstarch
2 cups cheddar cheese (6 oz)
1-2 teaspoons chicken bouillon
salt and pepper to taste
garnish
shredded cheddar
sour cream
green onions
Instructions
Prepare the potatoes by washing and baking at 350° for 1 hour, or microwave for 12 minutes, then chop into pieces.
Prepare bacon, either microwave it, or saute it.
In a 5 quart pot over medium high heat sauce carrot, onion, celery in butter for 2 minutes.
Add in flour and stir.
Slowly add in chicken broth and simmer over medium heat.
Then add in the cooked and chopped potatoes, slowly pour in the milk and chicken bouillon, stir well.
When it comes to a simmer (small bubbles) add in the cheese and bacon and stir.
Simmer for a few minutes until desired thickness.
Add cornstarch to a half cup of water poured into simmering soup if you want it thicker.
Serve with added cheese, sour cream, and green onions.