Oh my goodness do I need a salad today,
I think summertime may be a more indulgent time that the holidays.
Is that possible?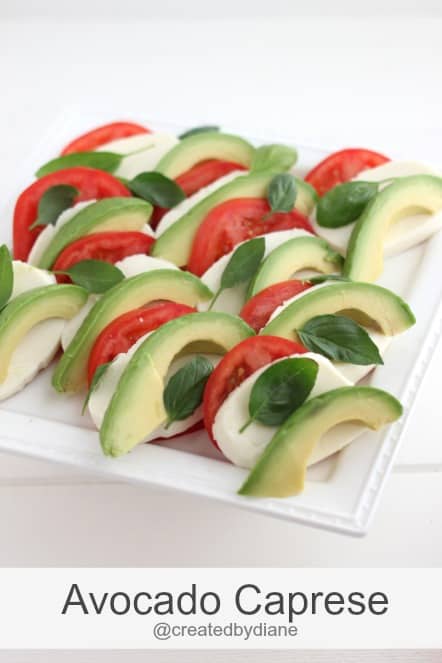 In order to keep on track, I think I should start the week off right with a fresh and delicious Salad.
There is no better time for this salad…tomatoes are red and ripe, and avocados are at the peek of the season in California.
This salad is colorful, fresh and delicious….
and takes only minutes to prepare.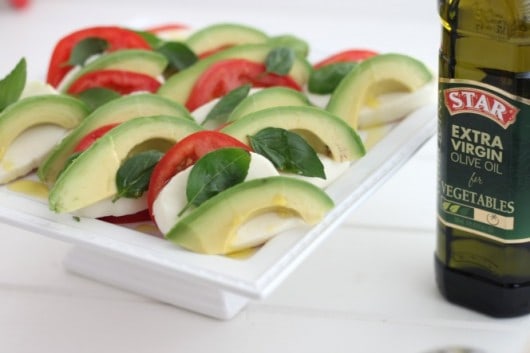 Oh how I love a Caprese Salad, the addition of avocado put it over the top!
This salad also makes a great appetizer, just add some sliced toasted pieces of bread and layer the salad on top.
Perfect for last minute get togethers.
Drizzle on the olive oil, this Star Extra Virgin Olive Oil for Vegetables smells like it came right out of the garden, I'd swear there were tomatoes in it!

Avocado Caprese Salad
Ingredients
2 medium tomatoes
2 ripe California Avocados
12 oz fresh mozzarella cheese
fresh basil
salt and pepper
balsamic vinegar glaze (it's a bit thicker than regular balsamic)
Instructions
slice tomatoes, avocados and mozzarella cheese and layer them alternating them evenly on a serving plate and place basil leaves in between the layers
add salt and pepper, olive oil and balsamic.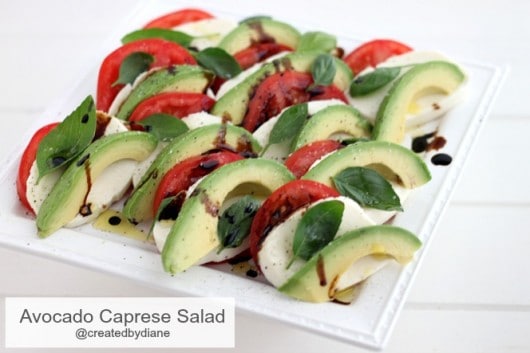 Top the salad off with a drizzle on some balsamic cream, it's a thick balsamic vinegar that stays on the food nicely. Shake on some salt and pepper and you are all ready to serve this beauty.
I seem to have plenty of fresh basil all summer long, it the only thing I can grow. Don't laugh, it's true and sad…I have grown some cherry tomatoes. I think I should make some mozzarella cheese… it's on my list of things to make and WOW that list is getting long. Do you have a similar list? I do make sure I cross a few things off of it each year, mozzarella cheese has been on there for a while. I hope to get some made soon, wish me LUCK!