Side dishes really can make the whole meal great, you'll want to make this "no-potato" potato salad pronto!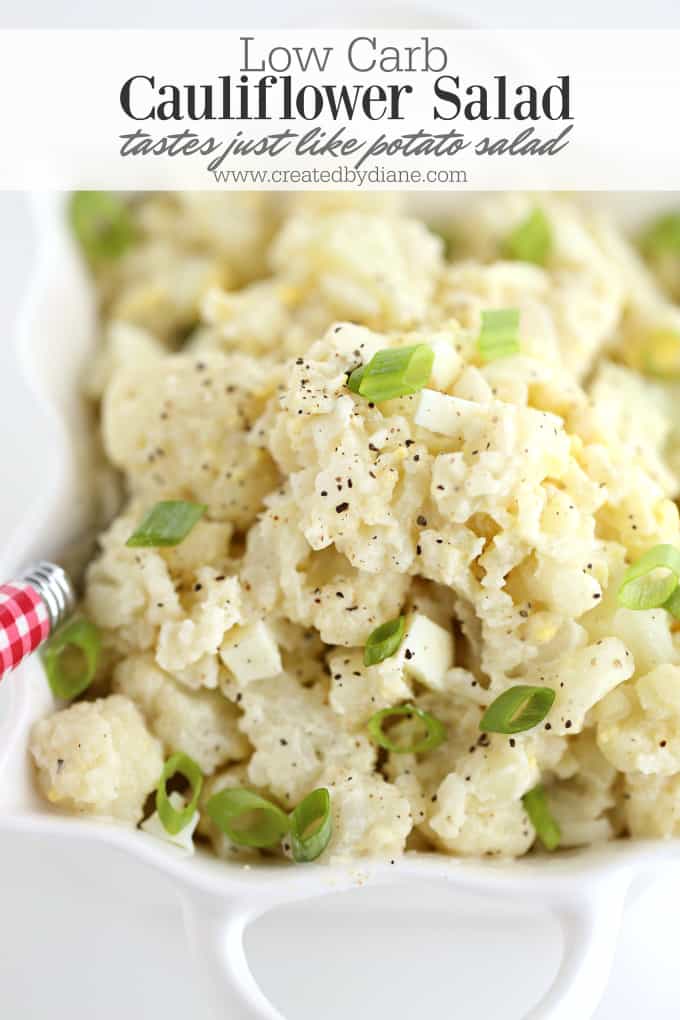 Ok, first of all this looks like potato salad.
When given to people to try each one said, yum, I love potato salad!
Now for the kicker, there are no potatoes in this.
Can you believe it?
They couldn't either, no one could believe this wasn't full of carbs/potatoes!
It's true, so this dish is now officially my new favorite side dish!
Because I've been eating low carb for a while now
 If you know me well you know I LOVE potato salad but hate peeling potatoes.
So this is a WIN-WIN! No potatoes to peel and it comes together super fast, then chill it.
You won't believe the flavor, it's so great and now a low carb version of a classic recipe is going to make its way onto the dinner table more and more.
If you're looking for more side dishes check out:
which are ALL LOW CARB too!!!
[rsss-cut]
Pickle Juice, let's talk about pickles. My favorite pickles are usually the kind that come in big barrels that someone makes and is known as the "pickle guy" at the well known "pickle place" since there is no such thing were I live now and I'm not often walking down the streets of New York, I buy my pickles in the grocery store, but not in the pickle aisle. I like Claussen Dill Pickles, they aren't cooked like typical jarred pickles, they are located in the refrigerated section of the grocery store, (near the hot dogs and such in my store)
They are so yummy, they have a great snap, and  the flavor is great the juice is no "cooked" and some odd green color, it's almost clear, OH… it's so good! I definitely have a couple spoonfuls when no one is looking. Now I often buy dill relish for potato salad but knew this recipe needed Clausen pickles, so yes it's worth getting a jar really. I diced some pickles up and added a couple tablespoons of the pickle juice to the sauce and it was PERFECT!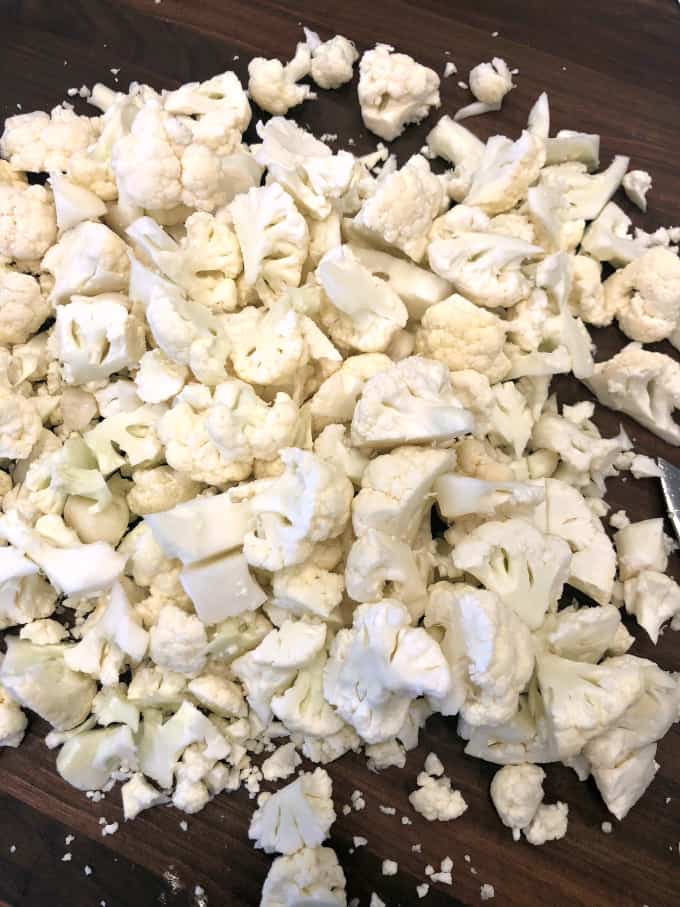 Chop up the cauliflower florets so they are about 1 inch, some with be smaller, they cook quickly and you'll be enjoying some great FAUX Potato Salad in no time!!!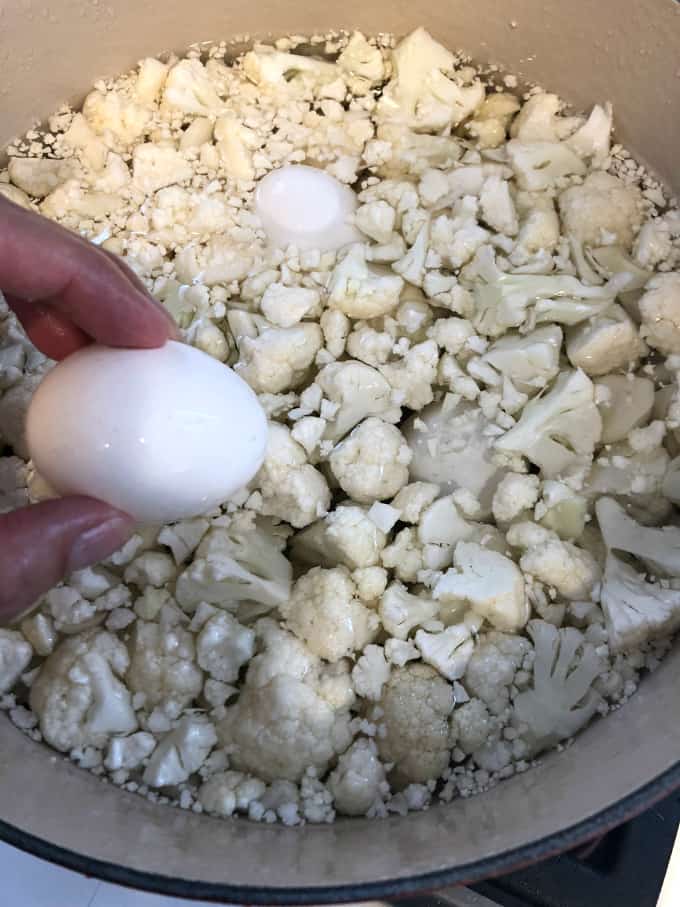 The cooking time is only 5 minutes for the cauliflower and eggs, so much fast than potatoes!!!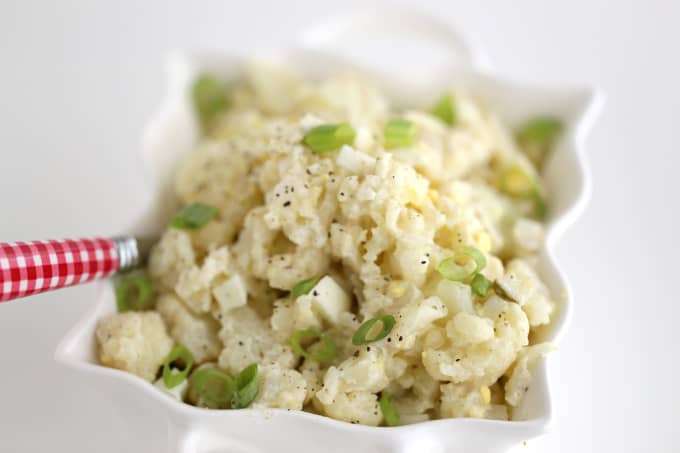 You can add any of your favorite items to this potato salad, diced celery, paprika, shredded carrots, you name it. Make it your own, but be sure to try it with my recommended items it really does offer the best flavor!
Cauliflower "Potato" Salad
Ingredients
2 lbs cauliflower florets cut into pieces that are 1/2-1 inch
2 eggs
1/2 cup diced onion
1/4 cup dill pickles diced (I prefer Claussen)
2 tablespoons pickle juice
1/3 cup mayonnaise (I prefer Hellmann's/Best Foods)
1 tablespoon mustard (I prefer Gouldens)
1/4 teaspoon celery salt
Salt and black pepper to taste
Instructions
In a large pot place cauliflower and eggs, cover with water by an inch.
Bring the pot to a boil, simmer for 5 minutes.
Drain cauliflower in a strainer, and rinse with cold water, and remove eggs and place the eggs in an ice bath.
In a medium bowl mix onion, pickles, mayo, mustard, celery salt.
Add in cooled cauliflower.
Then dice hard boiled eggs.
Mix cauliflower and eggs with mayo mixture, add salt and pepper then refrigerate until chilled completely.