There are many wonderful things about this potato salad….come take a look.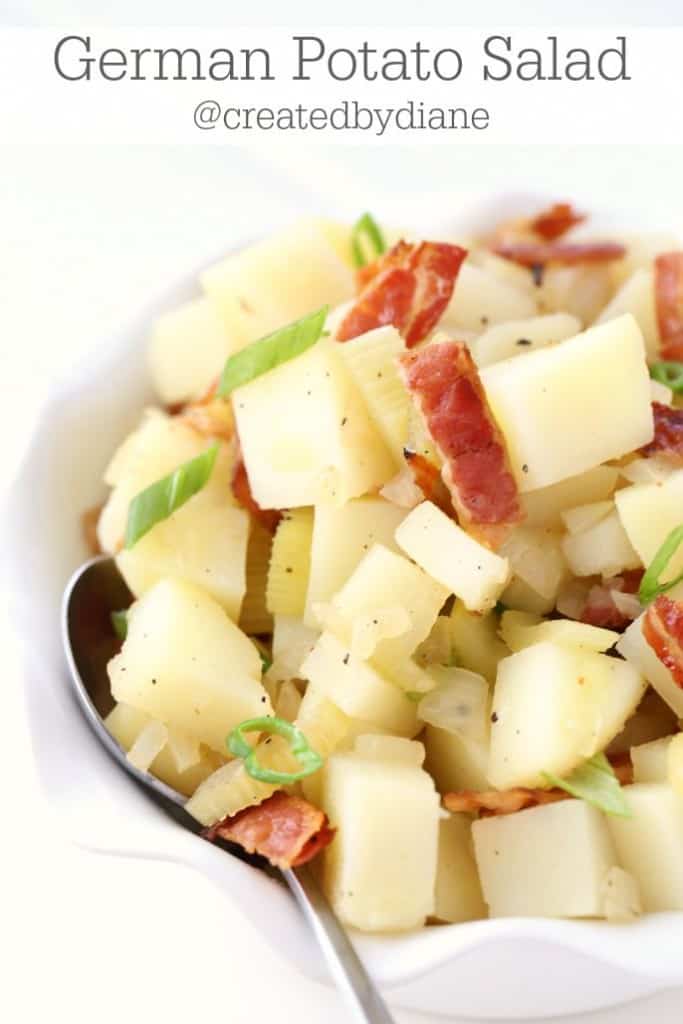 German Potato Salad Recipe
Pin this on Pinterest to save it for later
Follow Created by Diane on Pinterest to see some delicious recipes!
One of my favorite parts about this potato salad is the it tastes delicious hot, warm or cold. (do NOT message me about serving food at room temperature! We all eat room temperature food, if I had to choose a favorite way…. I'd choose warm. Although I sure ate plenty of it hot!
I just love the potato salad, the flavor is so  delicious and perfect for any BBQ or grilling item.
Whether you are grilling up chicken, burgers, or making some pulled pork sandwiches, maybe you're having some bratwurst or sausage…
this is the perfect side dish!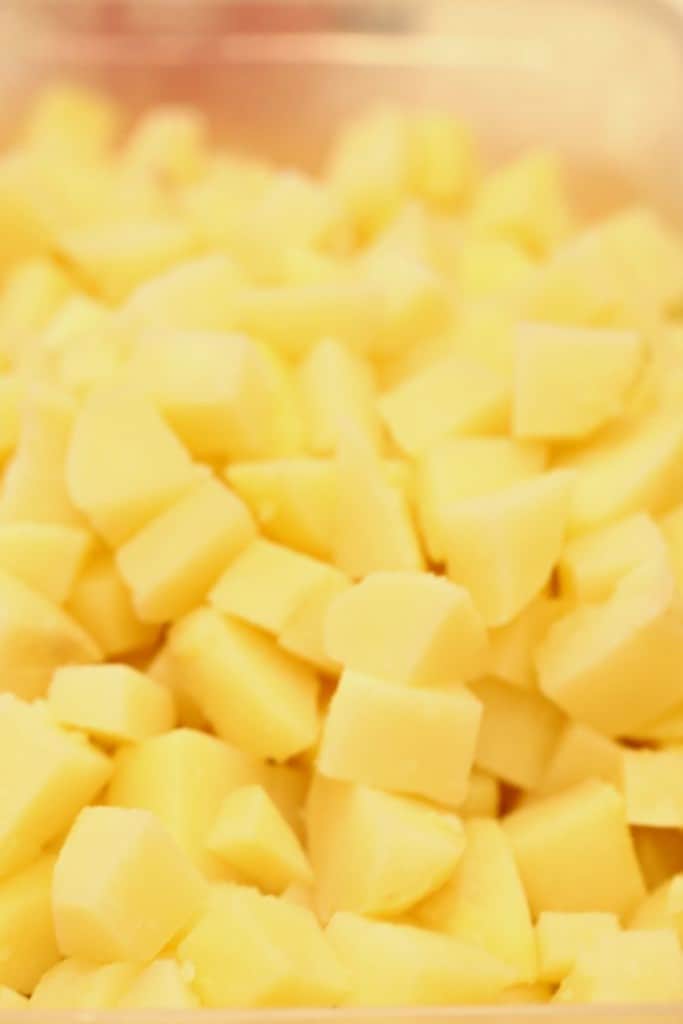 Fist the potato….you can select your favorite potato (red, white, yellow) I choose yellow. I love the buttery texture and smoothness and think it makes for great potato salad. Clean the potatoes and bring them to a boil in a large pot of water. Cook until tender. stick a fork or knife into each potato to be sure it slides out easily.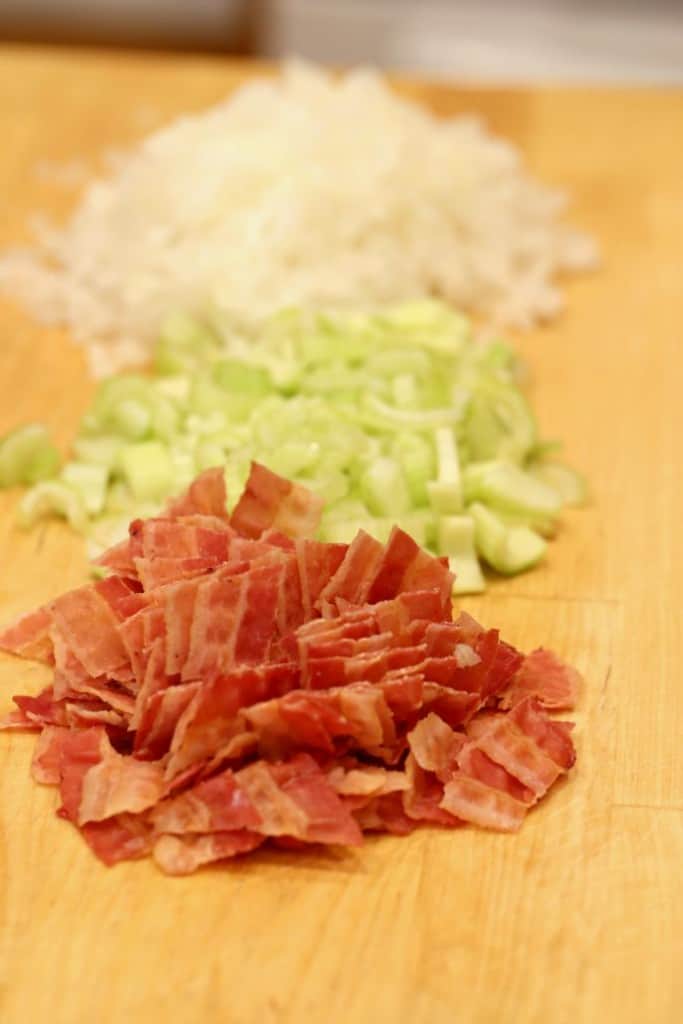 Chop up your bacon, celery and onions. Saute the bacon so it's really crispy, you will be adding some with the potatoes and some later. Crispy bacon is key! (You can use precooked bacon, turkey bacon, or cook bacon for this dish specifically. Here is my post on How to BAKE BACON, don't miss reading that one!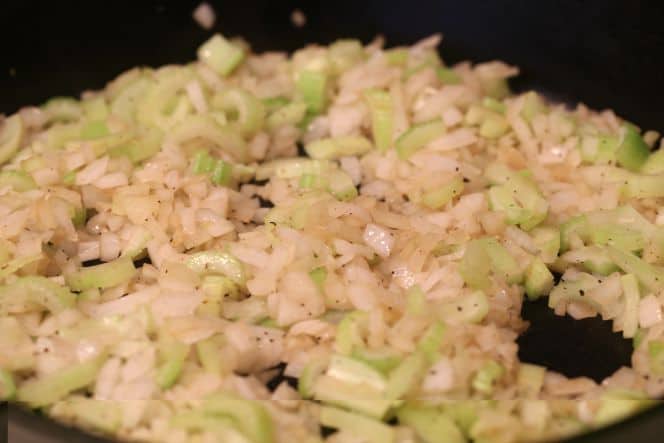 Saute the onions and celery with salt and pepper and get those flavors popping!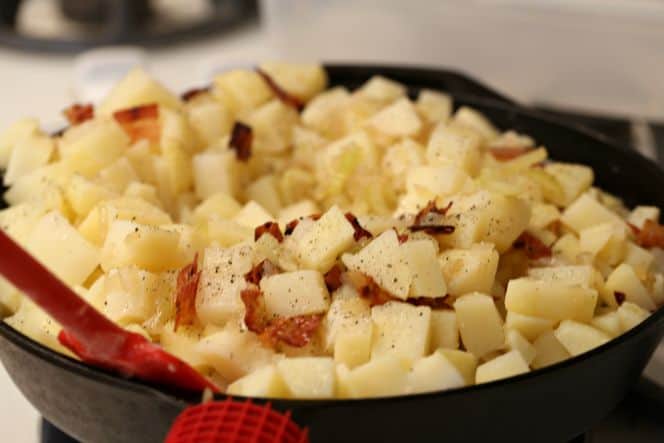 Stir in the potatoes and half the bacon.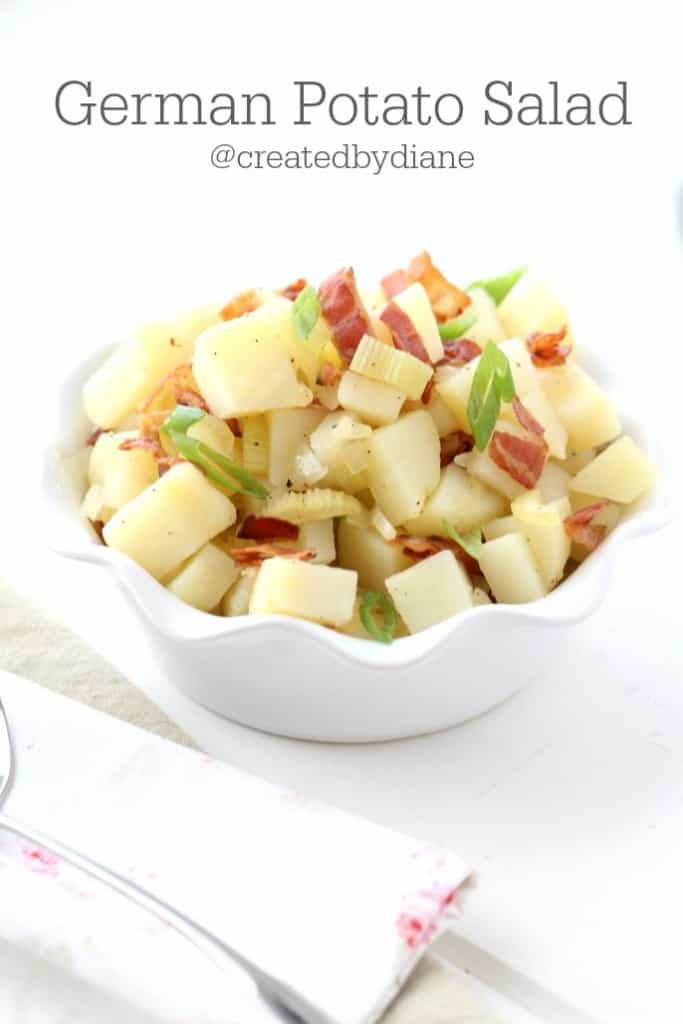 This dish is great for holiday meals as it can be made ahead of time and kept warm in the oven or even crock pot for easy serving.
It's delicious for BBQ's and Cookouts, goes great with any meat dish and it easy to make and you can double it to feed a large crowd.
German Potato Salad
Ingredients
5 lbs yellow/gold potatoes
12 slices bacon (think)
1 medium onion diced
2 stalks celery diced
3/4 cup vinegar
1/4 cup sugar
1 1/2 teaspoon salt
3/4 teaspoon black pepper
green onion for garnish
Instructions
Wash the potatoes and boil them until you can stick a fork or knife in them and it slides out easily.
Drain the potatoes.
You can cook the potatoes the day ahead and refrigerate them, when they are cold then you just peel back the skin with a knife and then dice them.
If you are cooking the potatoes and going to serve them immediately, score the skin of the potatoes with a knife around the middle and when they are finished cooking you can easily peel the skin off and then cut the potatoes.
Next heat up the bacon, you can start with uncooked bacon, cooked bacon, turkey bacon what every you like. I used cooked bacon and cut it into pieces and crisped it up in a skillet.
Remove the bacon from the pan.
Add in the onion and celery and saute until slightly tender.
Add in the vinegar, sugar, salt and pepper
Then place the diced potatoes into the skillet and distribute the sauce over the potatoes along with half the bacon
remove from heat when all the potatoes are heated and the sauce has coated them completely.
Stir in the remaining bacon and top the dish with some diced green onion.