Greek French Bread Pizza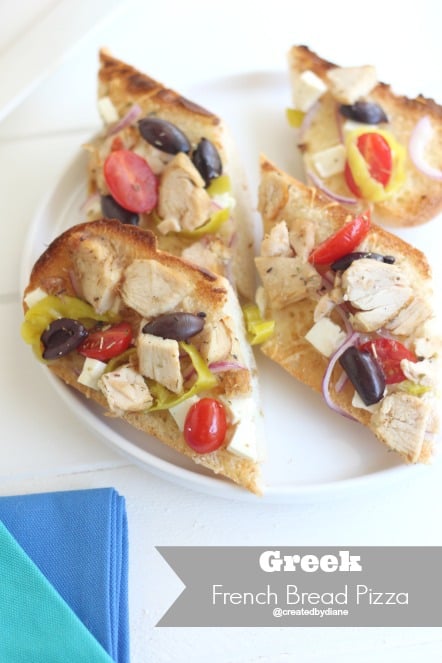 I love quick easy and delicious food,
this is great in the summer, when you don't want to really cook too.
In minutes you can have this piping hot out of the oven.
This pizza is great with leftover chicken, or you can use a rotisserie chicken, or well any cooked chicken you can get your hands on…remember this is easy!
Tossing the chicken in olive oil and lemon, gives it a delicious tangy taste you want…after all it's Greek.
Just think in about 5 minutes you can be enjoying this french bread pizza.
I always cook up a bunch of chicken at the beginning of the week, and it comes in really handy for items like this. Here is my post on How and Why I Cook Chicken for the Week all at Once.
If you like quick and easy that post is a life saver!
So grab the items you need to make this and get started.
Greek French Bread Pizza
Ingredients
1 loaf french bread (or a long baguette of soft bread)
1 cooked chicken breast, diced
1 tablespoon olive oil
1 tablespoon fresh lemon juice
1/2 cup thinly grated Romano or Parmesan Cheese
1-2 oz feta cheese (cut into small pieces)
1/4 red onion thinly sliced
10 Kalamata Olives (pitted and sliced in half)
2 tablespoons peperoncini rings
10 grape tomatoes, sliced in half
1/2 teaspoon dry oregano
Instructions
slice bread in half lengthwise
place the bread under broiler (but not on the closest rack to the heating element, go down one rack) on high for 2 minutes to crisp the inside of the bread
Heat chicken if it's cold (this is a great way to use leftover chicken)
place chicken, olive oil and lemon in bowl and toss until it's all coated
place Romano/Parmesan cheese on bread, top with remaining ingredients, placing them evenly on each piece of bread so each bite will have lots toppings.
sprinkle the top of the pizza with oregano
place under broiler for 3 minutes or until the cheeses are melted and the bread is golden on the edges.
*keep an eye on the food under the broiler, you don't want to burn it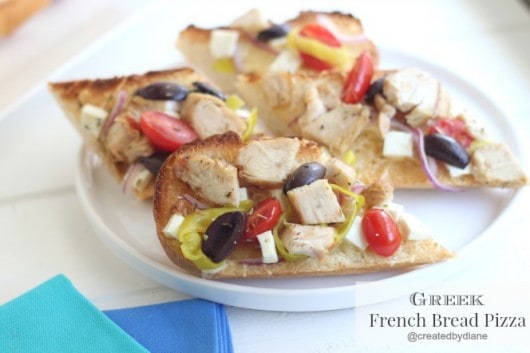 Delicious pizza in minutes without any fuss. Great for summer nights, lunch, a fun appetizer or any night you are in a hurry to get dinner on the table.