One dish comfort food with tons of flavor, ready in about a half-hour!
The weather has cooled off,
well, it was in the 80's…
not 90's or 100's like it has been.
That means some hearty meal recipes will be on their way.
This sausage, rice and beans dish is a family favorite around here, I've been making it for YEARS!
It's an easy dinner, that can be made in 30 minutes. Don't you just LOVE that! I know I do.
This is a meal that reheats well and freezes well and that is just TWO more reasons to make it, while you're at it make a double batch!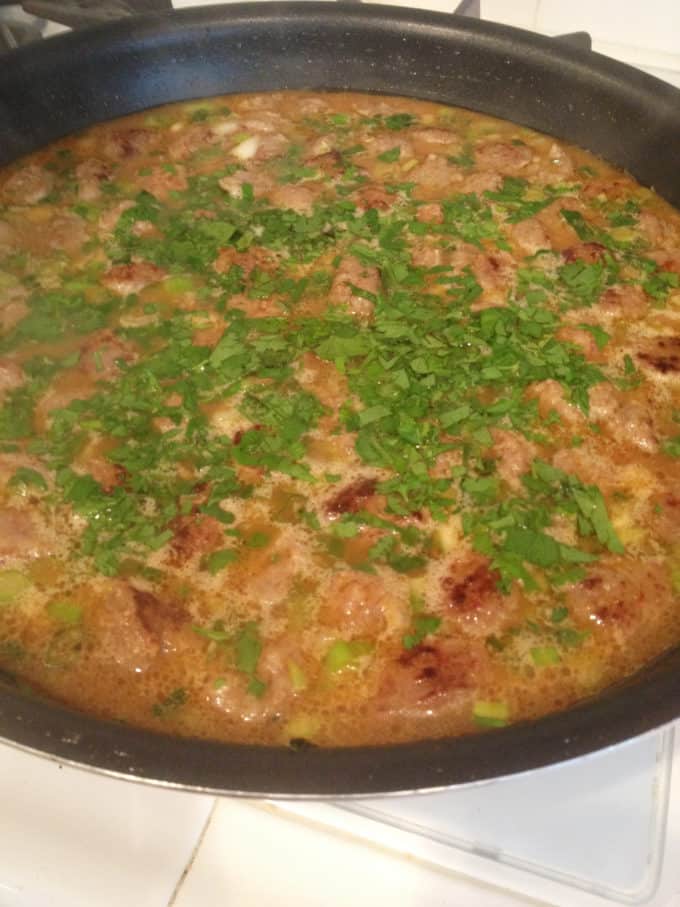 If you aren't the biggest fan of sausage this dish is great with chicken too.
Here is my post on how I make dinner time easier and cook plenty of the chicken for the week to save time and that chicken would be great in this dish.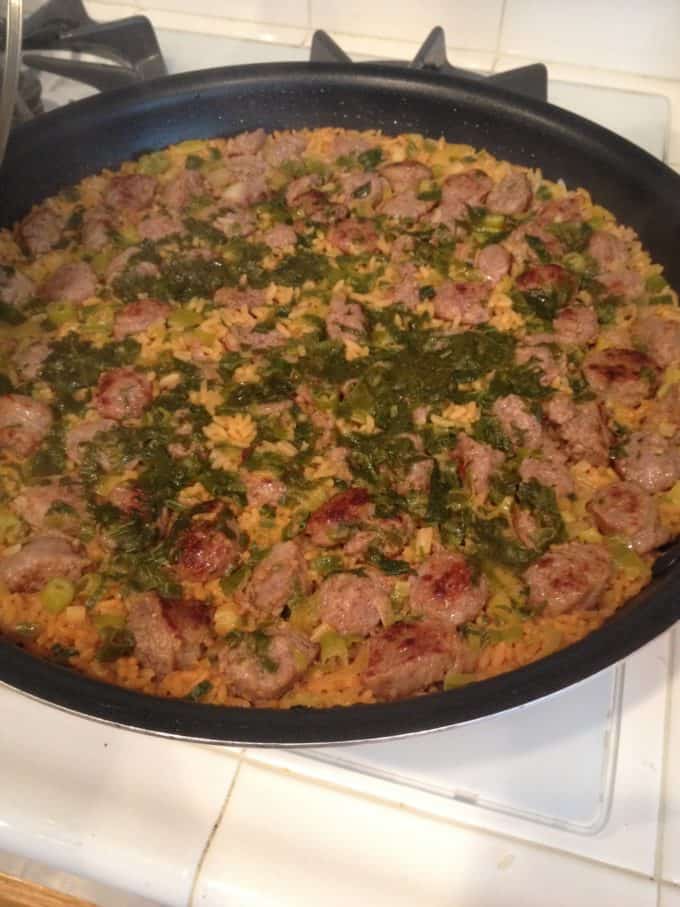 I used parboiled rice in this recipe, as it's not too starchy, so it doesn't stick together and is great for leftovers and for freezing too. It doesn't get clumped into a big solid amount of food or dry out the dish which makes for a less desirable reheating quality you often see in other rice.
Getting dinner on the table, that is where my focus is on weeknights and this dish makes it deliciously easy!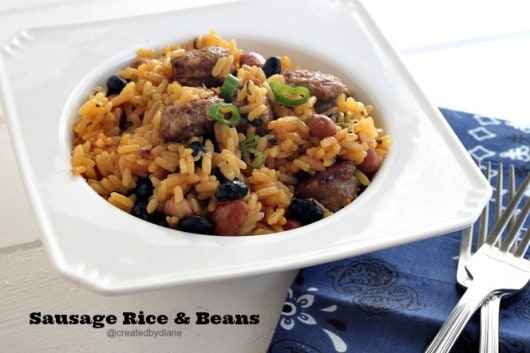 Sausage Rice and Beans (30-minute meal)
Ingredients
6-8 sausage links (mild or hot Italian)
2 scallions
1 1/2 cups parboiled rice
3 cups water
1/2 teaspoon cumin
1 package sazon seasoning from Goya, Cilantro, and Achiote
3 tablespoons fresh chopped cilantro
2 teaspoons chicken bouillon
2 cans (15 oz) beans, black beans, and pinto beans work well
Instructions
Slice sausage into 1/2 inch pieces
place sausage into a skillet on medium-high heat
saute sausage until it's browned on the outside
add in diced scallions
and stir in rice
cook rice for one minute until it's hot and covered in the oil from the sausage
pour in water and bring to a boil, add in cumin, sazon and chicken flavor and cilantro
turn on low and cover for 20-25 minutes till rice is tender
stir in beans and cover for two minutes or until completely hot
Notes
*you can use your favorite type of rice. Parboiled rice isn't sticky and my family loves it in this dish. It does reheat well, as the rice doesn't clump up, it stays separated.