Buffalo Chicken Pasta is one of the easiest dinners to make, it's full of flavor! The sauce is creamy and delicious and easy creamy and you will not miss the messy chicken wings… top with a drizzle of ranch dressing or crumbled blue cheese.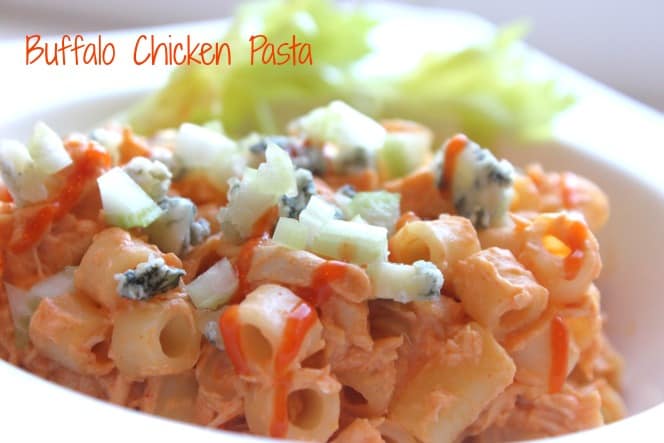 No messy sticky fingers, just a bowl full of yumminess
This has a great go-to dish.
I go to it when my kids stand in front of the refrigerator with the doors opened wide and want something to eat, but aren't looking for an entire 5 course meal to be prepared.
I often have cooked pasta in the fridge and cooked chicken, it really makes putting quick easy meals together WAY quicker if I already have some basics prepared.
If I don't…. well then this takes a few more minutes but at the most 30 minutes.
This is great game day food!
It's spicy and adding some diced celery gives it a great crunch.
How to make this Buffalo Chicken Pasta Recipe:
Prepare the pasta according to the package directions.
In a medium bowl mix the chicken with the hot sauce (or buffalo sauce) with sour cream.
Then stir the mixture into the pasta.
Garnish and serve.
My kids eat this cold, I prefer it hot. But it can easily go on your game day table for all to enjoy.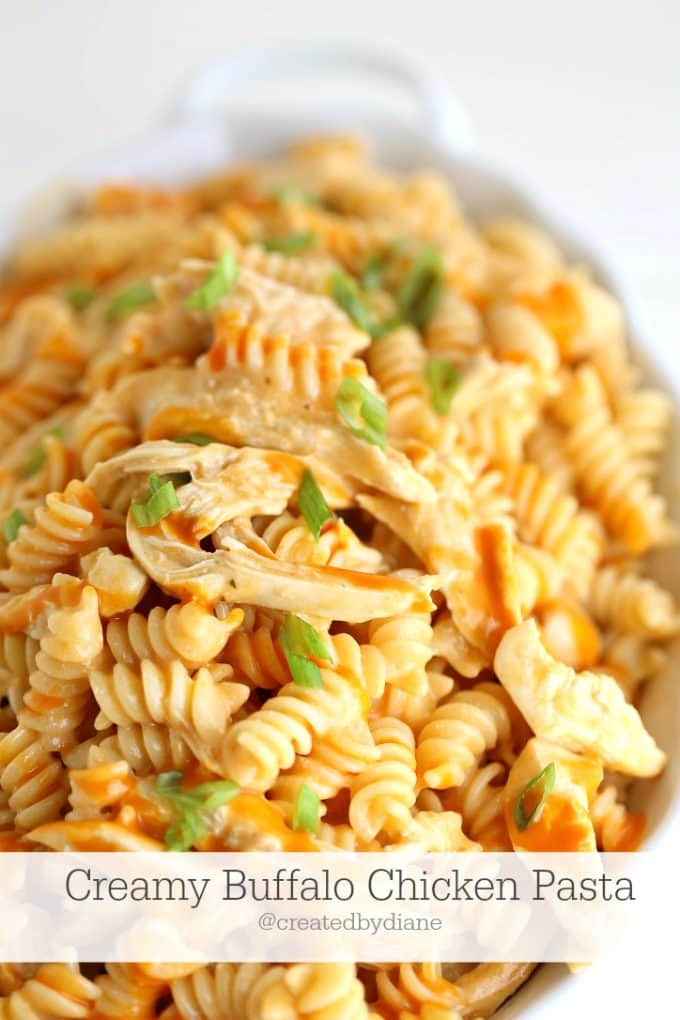 I've made a whole new version of this recipe and the new recipe it's CREAMIER Creamy Buffalo Chicken Pasta.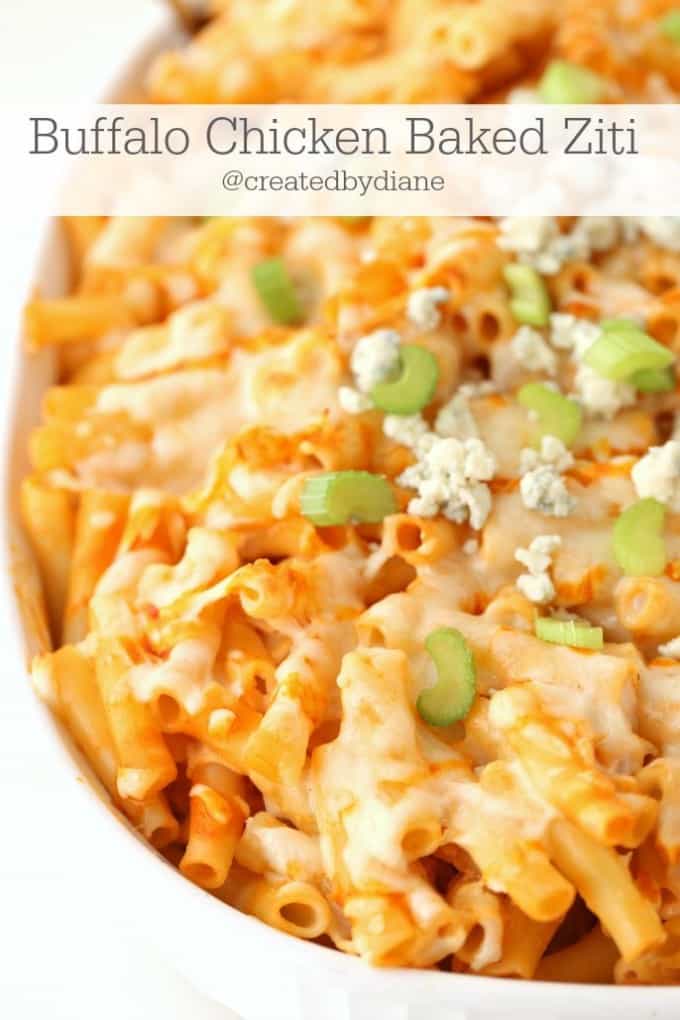 If you like cheesy baked dishes be sure to give THIS Buffalo Chicken Baked Ziti a try, it's fantastic.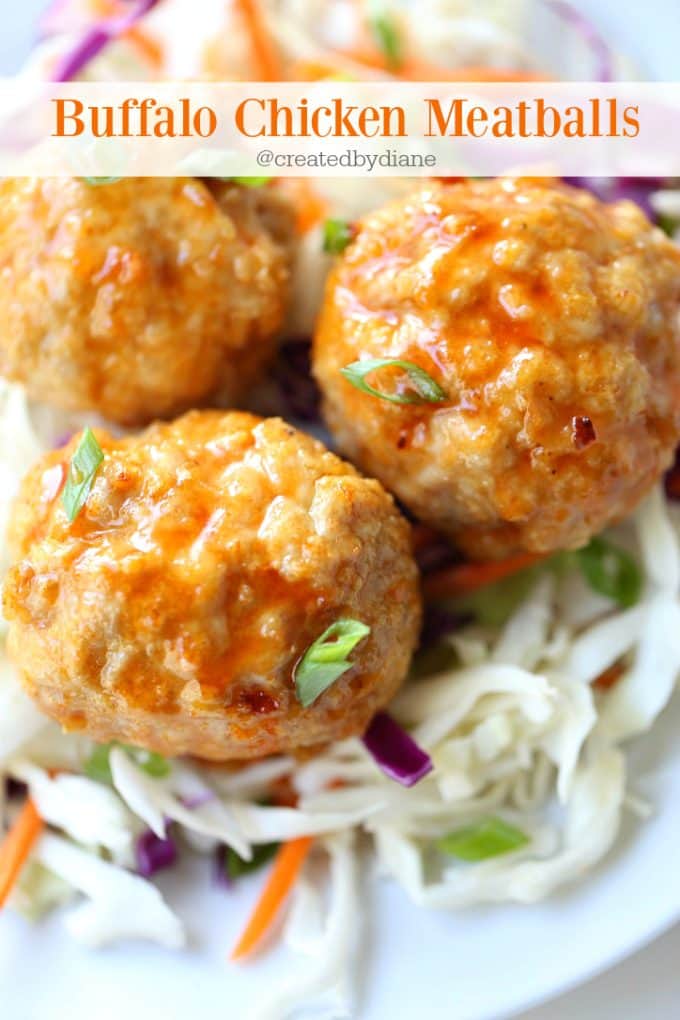 If you like meatballs, these Buffalo Chicken Meatballs will win you over.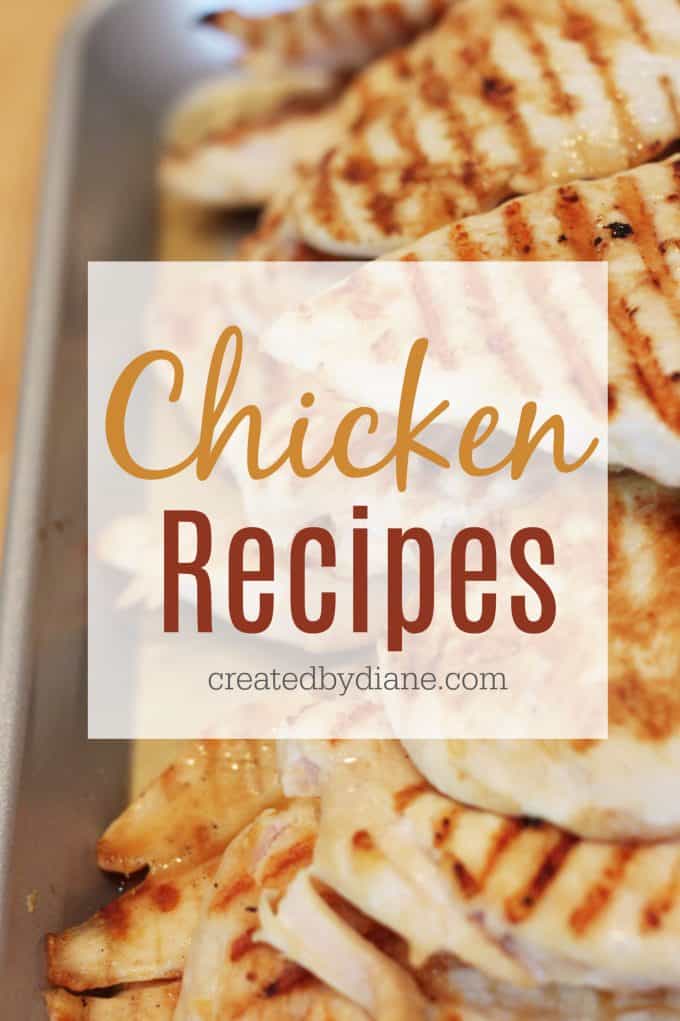 Find more of my chicken recipes here.
Buffalo Chicken Pasta
Ingredients
1 lb cooked pasta
2 cups shredded chicken
1/4 cup Franks Red Hot Sauce
1/2 cup sour cream
crumbled blue cheese (garnish)
diced celery (garnish)
Instructions
Mix sour cream with hot sauce.
Pour sauce over warm chicken, then toss with pasta.
Add blue cheese and diced celery on top with additional hot sauce.