Quick & Easy Chicken Parmesan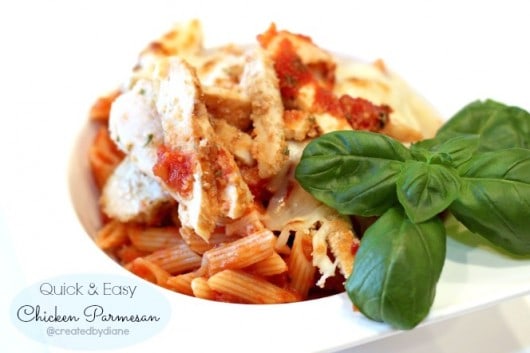 Some nights it's hard to believe dinner time is upon you with NO plan in sight.
Or does that just happen to me?
This is one dinner that I go to for  those nights.
It's my quick version of Chicken Parmesan.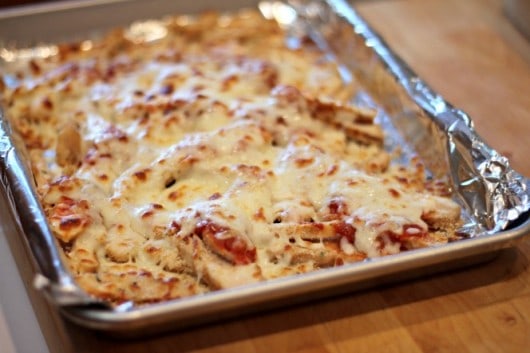 Each week I cook chicken so that I have it ready to put on salads, pasta dishes like this and well, you name it, once the chicken is all cooked dinner is really only a few minutes away.
This post shows you how and why I cook chicken for the week all at once
*if you don't already have precooked chicken, no problem. Heat up your skillet and cook the chicken, if you slice it thin and in pieces it will only take minutes to prepare it.
For this quick and easy chicken parmesan, I take 3 chicken breasts that have been cooked and sliced and toss them in Italian bread crumbs. I place the chicken on a baking sheet lined with non-stick aluminum foil, so the baked cheese doesn't stick and it makes for very easy clean up. Then I pour marinara sauce on top of the chicken and add mozzarella and parmesan cheese. I place it under a hot broiler for 5 minutes and it's all heated through. I serve it over hot pasta…and sometimes on a nice roll for a great chicken parmesan sandwich.

Quick & Easy Chicken Parmesan
Ingredients
3 chicken breasts cooked and sliced
1/2 cup Italian Bread crumbs
1/2 cup marinara sauce
1/2 cup mozzarella cheese
1/4 cup parmesan cheese
Instructions
Toss the chicken in the bread crumbs then spread the chicken out on a lined baking sheet, pour the tomato sauce over the chicken, top with cheese and place under broiler for 5 minutes.
Serve over hot pasta with sauce.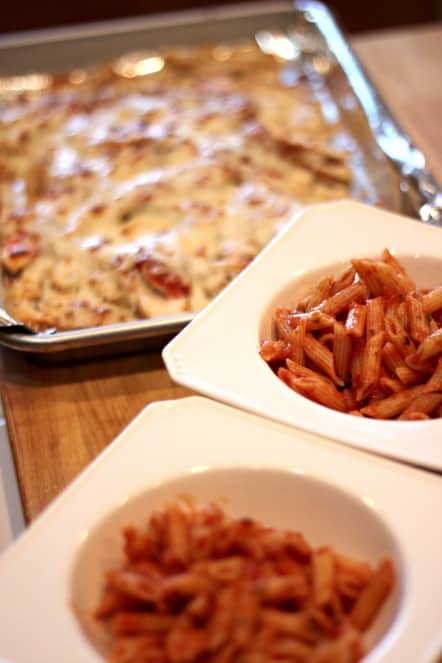 I just love dinners that are on the table in under 20 minutes, don't you?