These Cast Iron Baked Chicken Breasts are a great way to have tender baked chicken ready for many meals.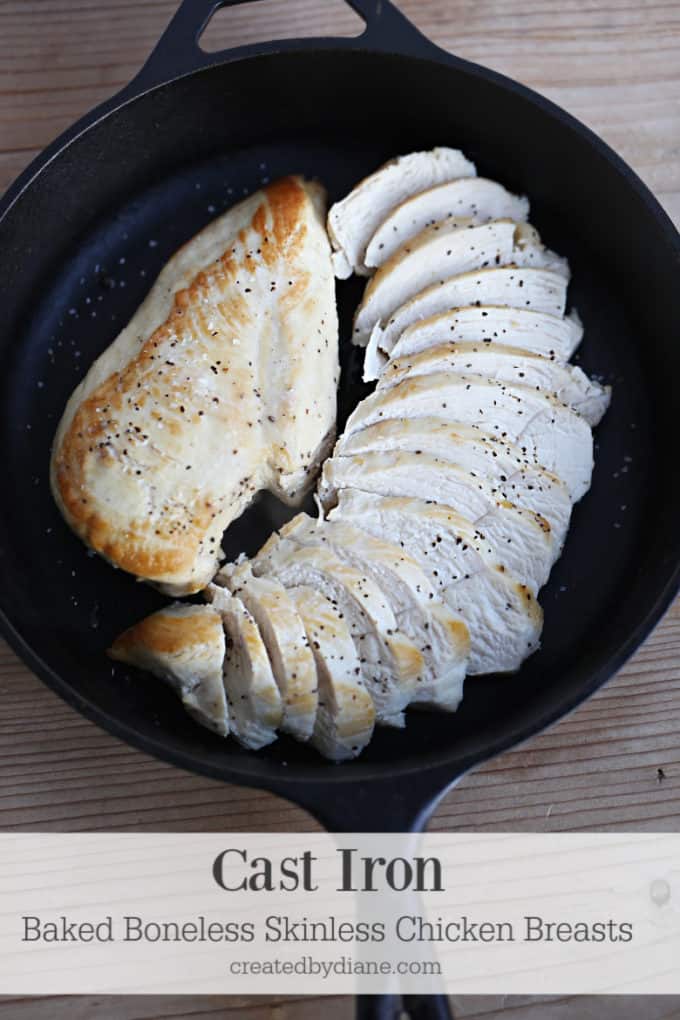 We eat a lot of chicken and I do like cooking it different ways for lots of recipe options, I like cooking all the chicken for the week I'm going to need, so it's easily on hand.  And makes mealtime super fast. Sometimes I'll do this by sticking them in an Instant Pot, but other times I reach for the old faithful, my cast iron skillet, the results is tender baked chicken breasts that are not dry.
There's something deeply satisfying about cooking anything in a cast-iron skillet. I enjoy it so much that I've used it for all kinds of dishes including dessert, such as my Chocolate Chocolate Chip Skillet Cake. And once I realized how tasty that was I expanded it to Fresh Cherry Scones, Skillet Carrot Cake, and lots more delectable and delicious treats. And of course, I have loads of savory skillet dishes as well, such as Creamy Shrimp and Pasta. And if you're not a fan of shellfish you can easily replace the shrimp with this amazing baked chicken recipe I'm about to show you! 
This skillet baked chicken recipe is such a cinch to make and produces the most lovely flavor. Plus the chicken can be used to put in salads, soups, curries, and your favorite pasta dish. Or serve it up simply with your favorite sides! I personally love it with Garlic Rosemary Skillet Potatoes. I've listed more recipes to use this chicken in at the end of this post.
Is your mouth watering yet? Let's walk through how to make these simple, yet best baked chicken you'll put in your mouth.
To begin, heat your oven to 350°
Next heat the cast iron skillet on the stove on high, adding a teaspoon of oil to the skillet. Once your oil is shimmery, add the chicken breast and brown on both sides.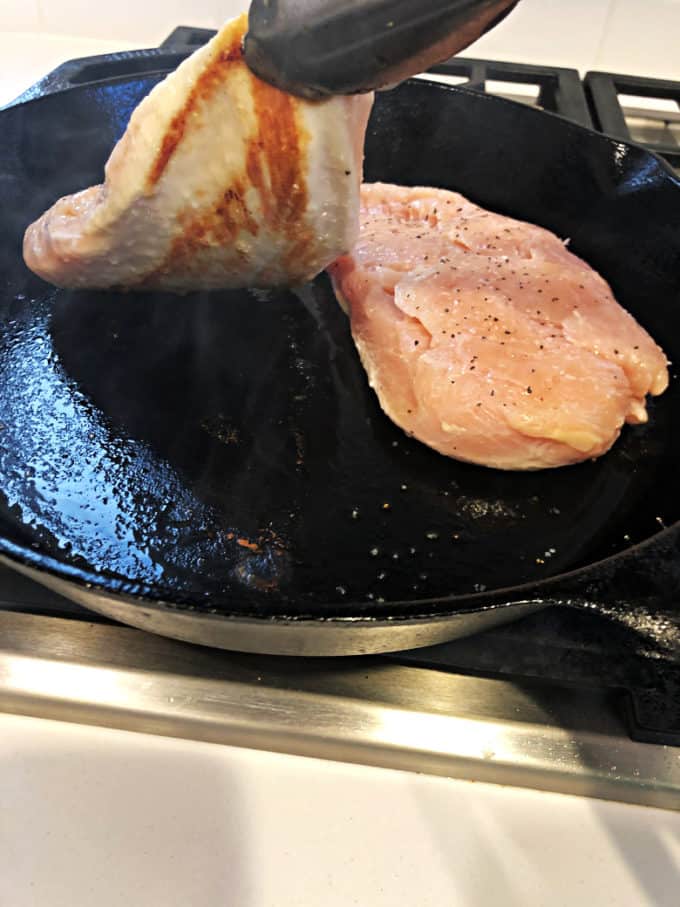 Once the meat is browned, cover the pan with foil or a lid, and bake for 20 minutes.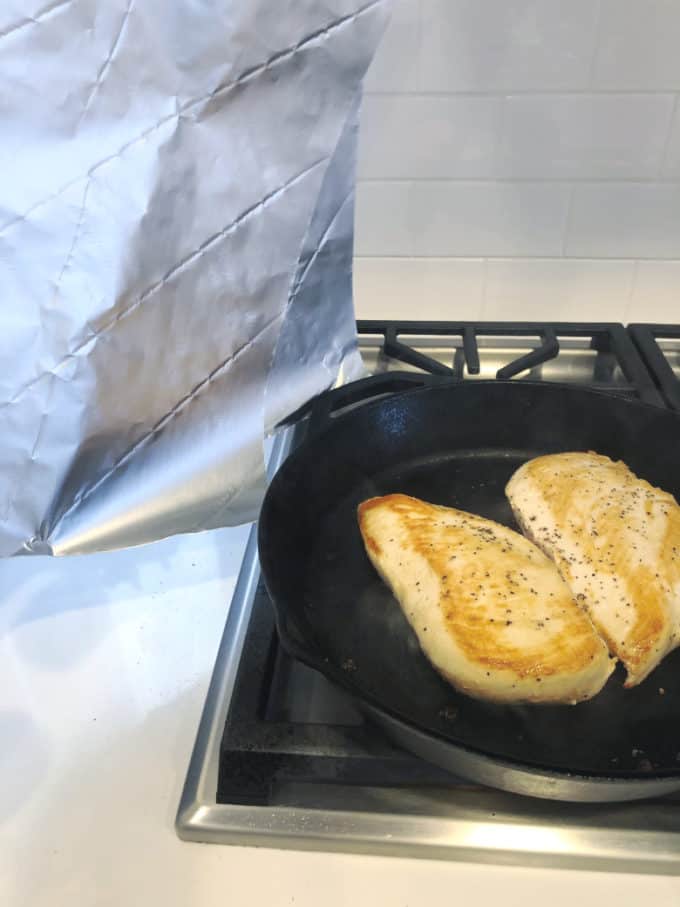 Cover the chicken with foil or a lid, and place the chicken into a preheated oven for 20 minutes (of the total 30 minute cooking time)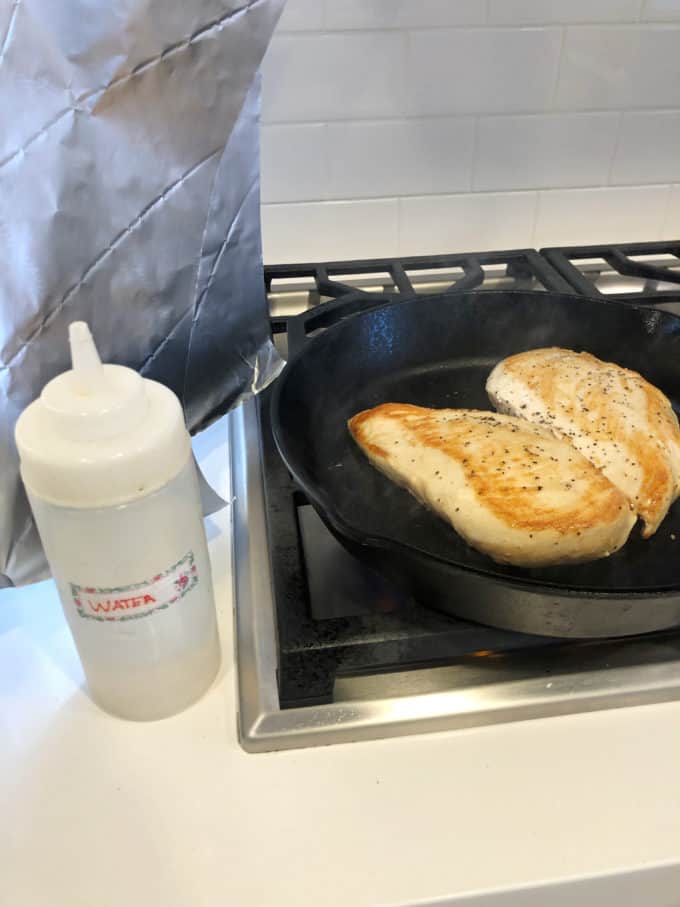 After 20 minutes in the oven, carefully remove your skillet and add 2 tablespoons of water to the pan. Adding water will help the chicken to cook evenly, and help it retain moisture so it won't dry out.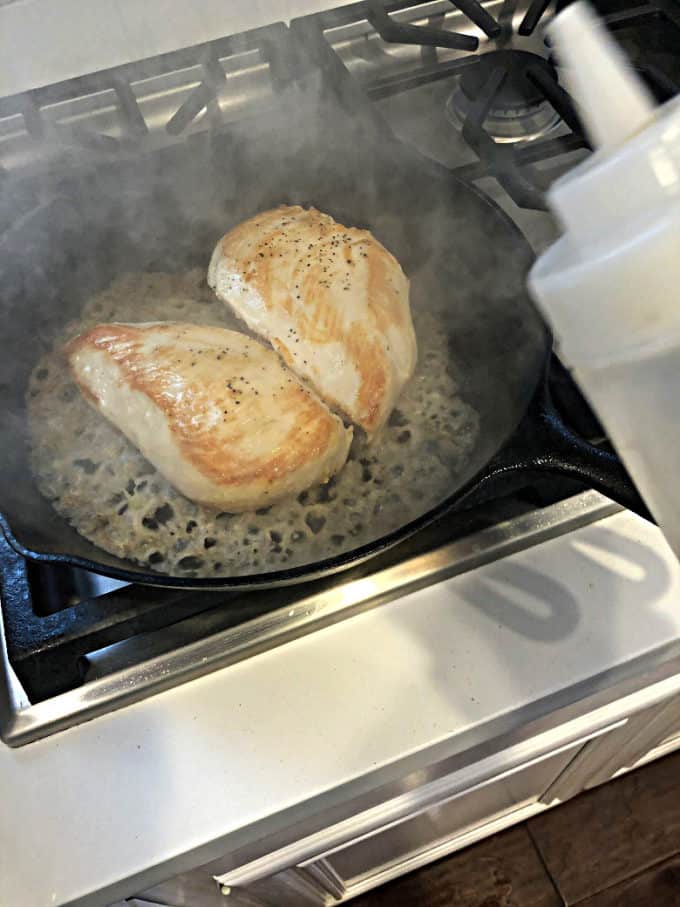 Adding water to a hot pan can be tricky…   
you don't want to get burned and it will create steam at a rapid pace. I use a squirt bottle in the kitchen to add while I'm cooking and I've found it's the easiest way, and my hand is further from the pan as I add the water.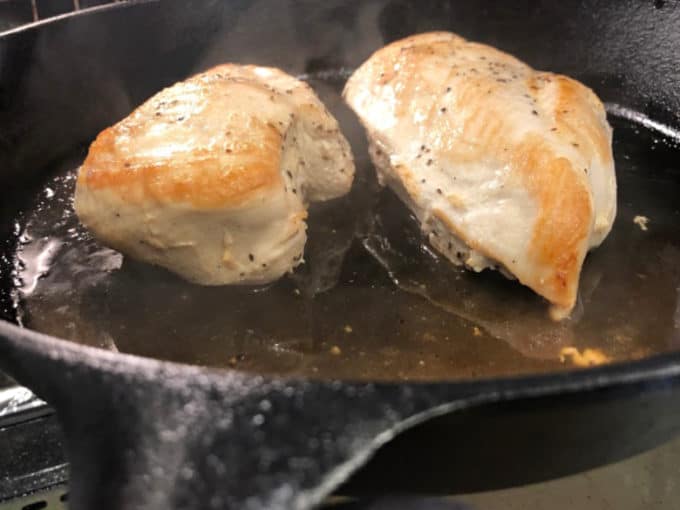 Finish cooking the chicken in the oven, covered. Allow the chicken to rest for 5-10 minutes, then slice the chicken and serve.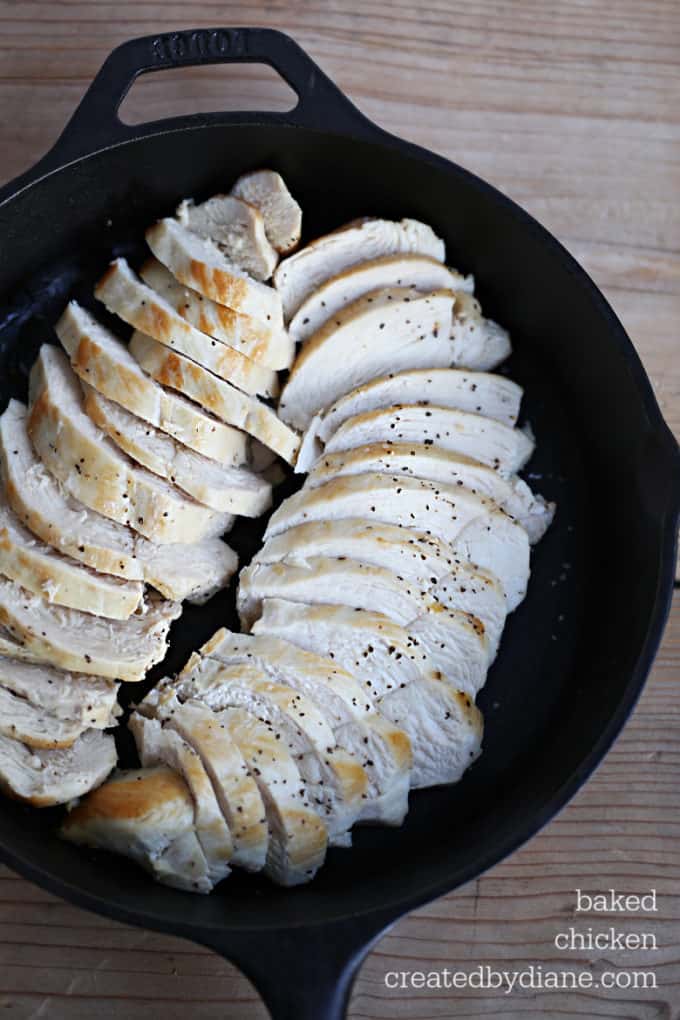 Do you have a recommendation on meat thermometers? There are so many to choose from!
Having a great meat thermometer makes all the difference in cooking, it'll be the difference between cooked and over cooked, and no one likes dry meat, I have two recommendations. The thermometer is really good, it reads a quick temperature perfect for any cook. I was sure to buy my daughter one when she moved out to make sure she's cook really good meals effortlessly. THIS thermometer is more expensive and is a true workhorse,  it's quicker and when you cook a lot or want to check a dozen chicken breasts cooking on the grill in a matter of seconds this is the one for you. I don't know what took me so long to get one, but now that I have one, it's my go-to gift to give, great for anyone who cooks, grills and it's great if you make meringue, fudge, candy or similar as a super fast read time is imperative.
You're right! There are a lot of options out there. You don't need anything fancy unless you just want one like that. Your basic meat thermometer will work just fine!
How do I tell if the chicken is browned enough?
This is a great question. People often move their meat too much. Once you place it in the pan, let it be for a couple of minutes, and then begin to check coloring by gently lifting up the edges to peek underneath. It should be a golden brown color and should release from the pan easily.
Some great recipes to use cooked chicken in:
Cast Iron Baked Chicken
Simple baked chicken breasts, perfect to make for any meal, to top a salad, and great to add to lots of recipes including pasta and soup recipes.
Author:
Diane Schmidt Created by Diane
Ingredients
2 lbs boneless skinless chicken breasts ( each chicken breast I had were large, 1 lb breasts. If you're are smaller you can use 4 smaller breasts in one pan, giving them room to brown nicely in a 12" skillet)
1 teaspoon oil (I use avocado oil, it has a high smoke point)
salt and pepper (I use coarse kosher salt)
2 tablespoons water
Instructions
Heat your oven to 350°
Next heat the cast iron skillet on the stove and add a teaspoon of oil to the skillet and brown the chicken breasts on both sides.
Cover the pan with foil or a lid, and bake for 20 minutes, then remove and add 2 tablespoon water, place cover back on and return to the oven for the remaining 10 minutes, or until the internal temperature reaches 165.
Remove pan from oven and let rest for 5-10 minutes, this will allow the juices to settle into the meat and help keep it moist.
Then slice and serve.