These will soon make it into your weekly rotation of recipes. These Buffalo Chicken Meatballs are perfect for weeknight meals, to serve as an appetizer or mid-day snack and perfect for game day!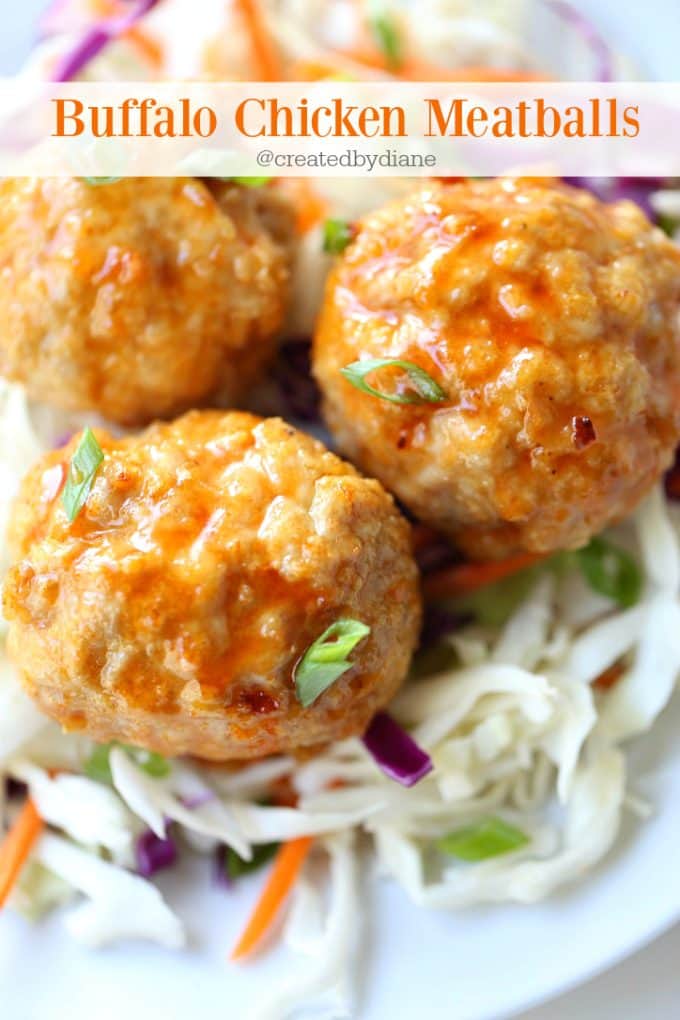 We go through quite a bit of buffalo sauce in my house, is it the same in yours?
Everyone seems to LOVE buffalo chicken wings. For this recipe use your favorite buffalo sauce, we like Franks Buffalo Sauce, it's readily available in grocery stores.
There are a few great things about these meatballs, one is when you eat them your hands don't have to get all sticky and messy as you can eat them with a fork. There are no bones to deal with which means…
you can spend more time eating and less time fussing…
isn't that GREAT NEWS!
These are great served over noodles or rice, and fun on a salad or simply served over a bed of cabbage for some crunch and also so they don't go rolling off your plate!
My kids love them drizzled with ranch, me I'm more of a blue cheese person.
You may want to double the recipe as BELIEVE me these will be devoured!
For more buffalo chicken recipe check out my :
and take a look at my post on How and Why I Cook Chicken for the Week at Once for more great recipes.

Buffalo Chicken Meatballs
Ingredients
2 pounds ground chicken
1 egg
1 tablespoon buffalo hot sauce ( I use Franks Buffalo Hot Sauce)
1 tablespoon garlic paste
1/2 teaspoon salt
1/4 teaspoon black pepper
1 cup panko breadcrumbs
Sauce
1/2 cup Buffalo Hot Sauce (I use Franks Buffalo Hot Sauce}
3/4 cup brown sugar
2 tablespoons apple cider vinegar
1 tablespoon cornstarch
pinch red pepper flakes if you like things spicy
Instructions
Sauce
In a small saucepan heat 1/2 cup hot sauce, brown sugar, apple cider vinegar, cornstarch and red pepper flakes.
The sauce will thicken as it cools.
In a medium bowl combine chicken, garlic, egg, hot sauce, salt, pepper, and breadcrumbs.
Roll mixture into 2-3 tablespoon size balls.
Bake the meatballs on a baking sheet at 400° for 15 minutes or until the internal temperature is 165 degrees. (alternatively, you can cook the meatballs in a medium-high skillet turning them to cook them evenly)
Pour sauce over meatballs when they come out of the oven or are completely cooked in a skillet.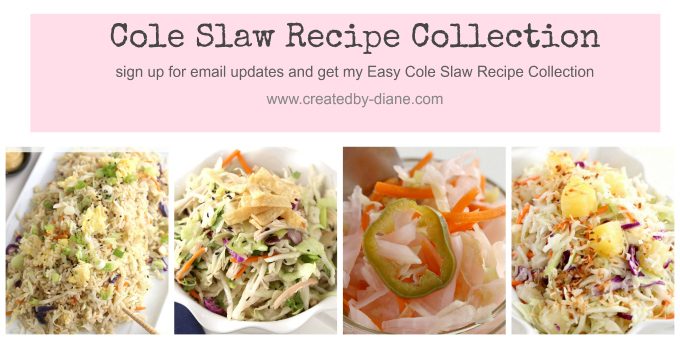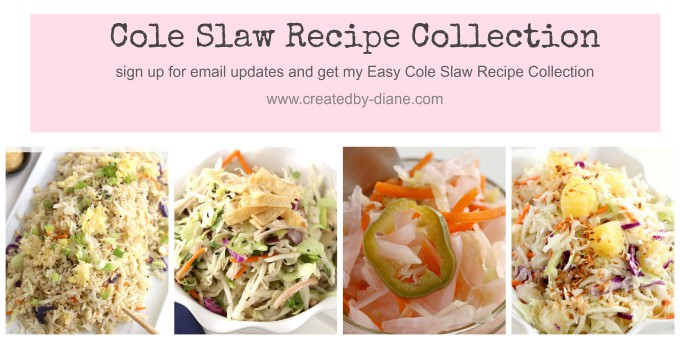 Sign up for email updates from Created by Diane and receive this Cole Slaw Recipe Collection!

Buffalo Chicken Meatballs/Firecracker Chicken Meatball Recipe