Creamy, flavorful, and easy to make this Buttermilk Pesto Pasta Sauce is sure to become a new favorite.
The flavors of basil and garlic abound in this wonderful pasta sauce!
This creamy pesto pasta recipe is bright and zesty and just perfect for a quick meal! My favorite thing about pasta dishes is their versatility. I can't count how many times I start with a basic recipe, then add fresh herbs and spices, and even different proteins and it totally transforms the dish into something new each time. One of my favorite addition is chicken.
In fact, chicken is my go-to and I always have some in the fridge, pre-cooked and ready to play with other ingredients. I am such a fan of this, that I created this post on how to cook chicken for the week.  I cook it ahead of time to accommodate my busy schedule. Gone are the days when I'm too tired to cook after running here and there. Life is hectic… and having pre-cooked chicken is always a lifesaver!  I've used multiple different ways to do this but my ultimate favorite way is a cast iron grill, but you could do it in an instant pot or whichever way works best for your busy life!
Having on-hand chicken is perfect for adding to salads, sandwiches, or any number of other ways. Here are a few recipes I love using it for:
This recipe is also great with shrimp, having precooked shrimp in the freezer makes for easy meals in minutes, just that it in a bowl of cool water, and by the time the pasta cooks you can toss the shrimp in the sauce to heat them up.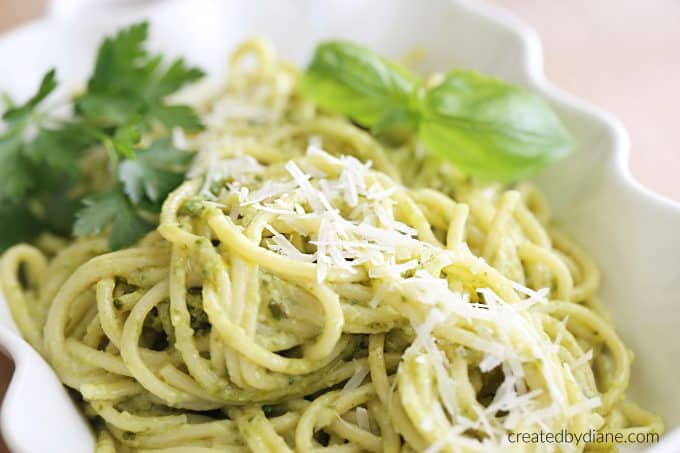 Let's focus on that sauce…
It really couldn't be more simple. When we have attempted something before, we tend to overcomplicate it in our mind. And it's the same with a sauce! I'm going to walk you through how to make this tangy and herby sauce. But I also have step-by-step directions with a few twists in my blog How to Make a Sauce. 
Okay to begin:
While you prepare the pasta, begin making the sauce. In a skillet, heat the butter with flour until the butter is melted, whisking continuously.
Next, pour in the buttermilk slowly while continuing to whisk until the sauce is creamy.
Add in the pesto, lemon juice, and any additional items that you wish at this point. Serve over drained pasta and garnish with fresh herbs or pine nuts.
That's it! See how easy that was? And you now have a wonderful homemade dish to sit down to at the end of a long day. And it only took minutes to prepare!
How do I know if my pasta is done?
It's best to follow the timing on the package for a guide, the best way to test if pasta is done cooking is to taste a piece, it should be slightly firm but not hard, it should not be so soft it's mushy or has no texture to it. When I put the pasta into the boiling water I give it a stir and then start timing right away. I do not let it come to a boil to begin the timing, it tends to be overcooked, which also depends on how hot your burner is, how much water you're using, and the size pan. 
Can I replace the buttermilk with cream or whole milk?
Yes, you can but if you want the sauce "tangy" add in some lemon or a splash of vinegar, they also sell dry buttermilk which would give it great flavor as well. There are many flavor options, you can add fresh herbs, chicken, beef, or tomato bouillon as well. Be sure to check out my post on How to Make a Sauce.
Could I add parmesan into the sauce for a cheesy flavor?
You can,  this will thicken your sauce, so add a little at a time. My favorite way to enjoy the flavor of Romano or Parmesan Cheese is to sprinkle some on top of the finished dish. If the sauce gets too thick, add a few tablespoons of buttermilk or milk until you get the consistency you like.
The recipe can be easily doubled to make enough sauce for a pound of pasta, you can also use 1 cup buttermilk and 1 cup milk (or half/half). Remember this sauce is great on vegetables and a great way to use buttermilk if you have it on hand.
Great vegetables to add to this are zucchini, broccoli, grape tomatoes, asparagus, spinach, or kale.
This is a great recipe for when you have leftover buttermilk, which often happens when I make Irish soda bread in March, so I thought I'd share this recipe If you not only love buttermilk but at some point might have some extra buttermilk and want another recipe to use it in.
Buttermilk Pesto Pasta Sauce
A tangy and flavorful pasta sauce can also be used on vegetables, A great use for extra buttermilk. The fresh lemon brings out a great flavor to this pesto-based buttermilk sauce.
Author:
Diane Schmidt, Created by Diane
Recipe type:
Main Dish, Sauce
Ingredients
1 tablespoon butter
1 tablespoon flour
1 cups buttermilk, add more if you want it saucier
2 tablespoons prepared pesto, (or chopped basil, garlic, plus 1 tablespoon oil)
1/4 lemon wedge fresh squeezed
Add fresh lemon zest, fresh herbs, chopped walnuts, or pine nuts if desired
8 oz pasta prepared according to package directions or serve over vegetables like zucchini noodles or broccoli
Instructions
While you prepare the pasta, begin making the sauce.
In a skillet heat the butter with flour until the butter is melted.
Slowly pour in the buttermilk while whisking until the sauce is creamy.
Next add in the pesto, lemon juice, and any additional items.
Serve over drained pasta.
Garnish with fresh herbs, cheese, or nuts.