You read that right… cauliflower pasta salad, and you won't believe how yummy this is! The cauliflower is roasted, the pasta is small and the bow ties are oh so cute, and red quinoa gives the dish great color. Then add in the tangy lemon dressing with fresh herbs, and saffron and you have a real WINNER!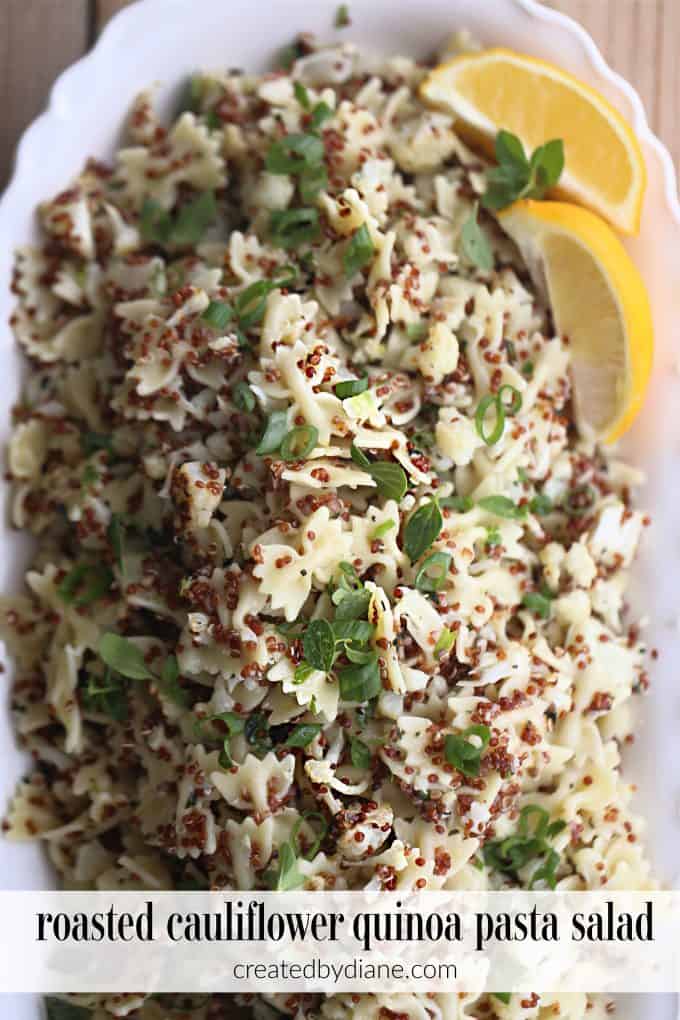 This recipe is FULL of a whole head of cauliflower, it's kinda hard to see as it's the same color as the pasta, wow… but it's in there and super yummy. It's roasted so it has a delicious nutty flavor, and with the pasta and quinoa, it's really a delicious combo. 
The dressing is full of lemon and mint and saffron, and other yummy ingredients that make this whole dish so delicious. It may look simple, but the flavor combinations are so great together, this could easily become your new go-to recipe. 
It's perfect for on the go eating, pack it in glass jars with a lid for lunch, you can prep them out at the beginning of the week and you're all set for easy meal prep. If you prefer a spice to your meals, add in some crushed red pepper flakes to the dressing.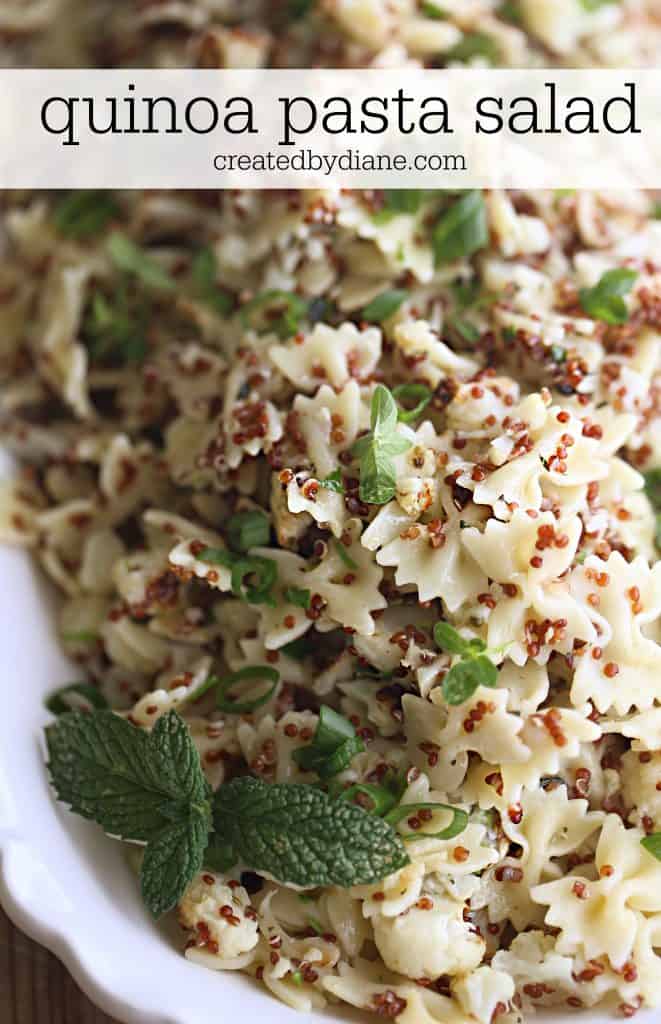 This cauliflower pasta salad will win you over all summer long, and in the winter heat it back up for a comforting meal!
This meal is perfect for lunch, add some shredded grilled chicken to complete the meal if you prefer.
And though you may not be able to see it, this dish is full of roasted cauliflower.
An entire head went into this delicious pasta salad, loading it with delightful flavor and getting in our cruciferous veggies.
And this is good news as cruciferous vegetables are rich in vitamins, such as folate and vitamin K. Darker cruciferous vegetables bring vitamins A and C to the table, while adding in a dash of phytonutrients – which help lower inflammation and reduce the risk of cancer – including breast, pancreatic, bladder, lung, prostate and colon! Just more reasons to enjoy this "flower" of a veggie.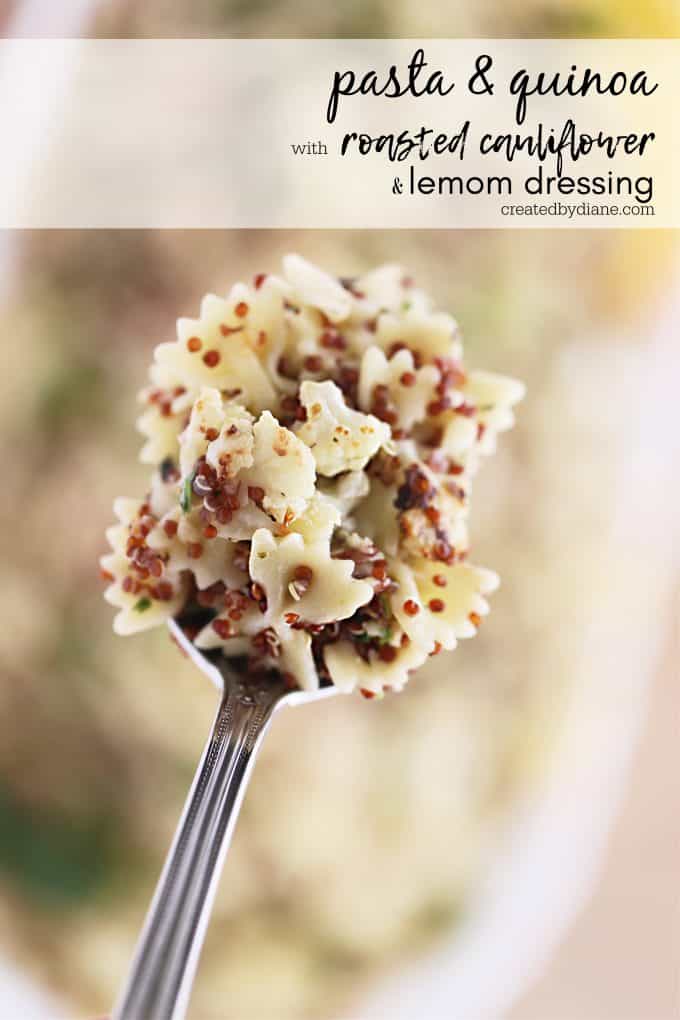 So, that's all about the veggie side of things, but let's take a closer look at Quinoa. 
It went from a barely known grain to being a household food. And that's because it has superpowers! One cup of this whole grain offers eight grams of protein and five grams of fiber. To put this in perspective, one egg has six grams of protein. And one cup of oatmeal only yields 4 grams of fiber. So this small grain packs a super punch of nutrition. The flavor is mild and nutty, which makes it a great option as a salad add-in.
This dressing is my go-to for a few different recipes. Its Mediterranean flavor lends itself well to a variety of salads, so you may want to save it and experiment – you won't be disappointed. Lemon and garlic go together like eggs and bacon. And saffron adds a sweet and floral flavor that is pleasing to almost any palate.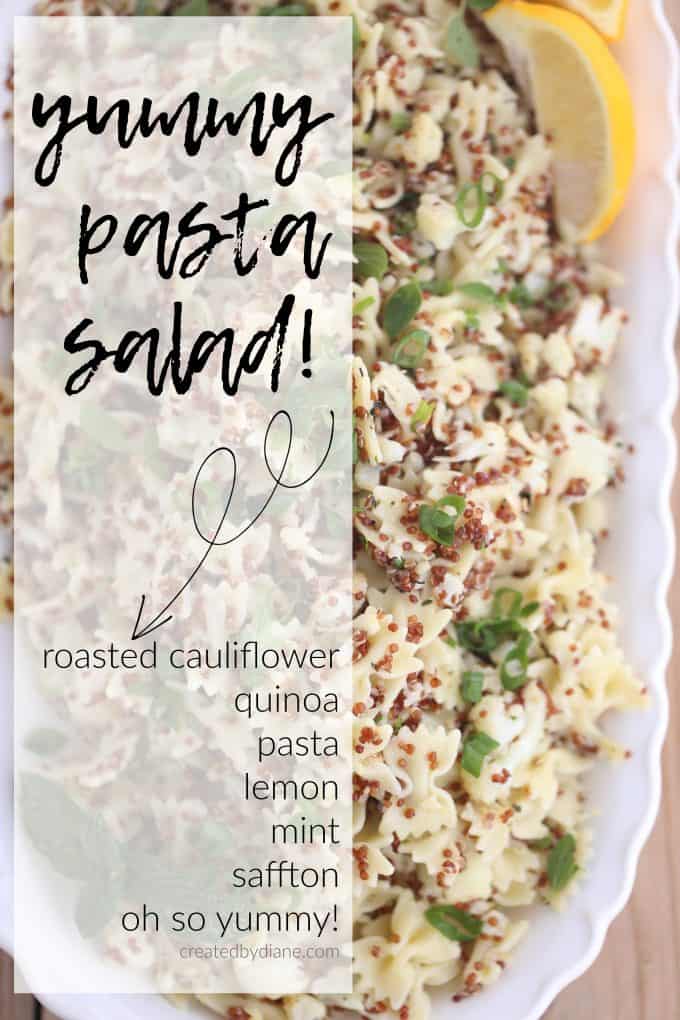 And lastly, if you did want to add a little extra protein, chicken is perfect. In fact, I keep some pre-cooked chicken in my fridge for a quick and easy meal. I wrote a blog on it, complete with some recipes. You can find it HERE.
Okay, let's get started!
To begin, preheat the oven to 450 degrees.
Cut your cauliflower up into florets and drizzle with olive oil and salt. Place the veggies on a well-oiled sheet pan.
Roast in the oven for 15 minutes, or until golden brown.
While your roast the cauliflower, you can prepare your pasta and quinoa. If you'd like to add more veggies, roast some peppers, onions, asparagus, broccoli, or your favorite vegetable.
Lemon Salad Dressing: combine all your ingredients -lemon juice, oil, garlic,  green onions, oregano, parsley, mint, salt, and pepper. Mix thoroughly in a glass jar or use an immersion blender. If you'd like this dressing to be "creamy" add in an egg yolk and process with an immersion blender.
You can opt to squeeze a little extra lemon juice on top if you like a little extra zing. Eat up and feel good about it as you do!
Do I need to prep my quinoa before cooking?
Quinoa can be bitter, so I find it's best to rinse the grain beforehand. This simple step can make a big difference. They sell cooked quinoa in the same aisle as raw quinoa, so take a look and if they have "plain" go ahead and use it, but if it's flavored don't bother, I've tried a few and the flavors do not taste well even garlic, or garlic and herb quinoa had a very off taste.
For the dressing, how do I know I'm purchasing good saffron?
It's true. Not all saffron is created equal. In fact, sometimes items labeled as saffron are just imitators. And there is a big difference in flavor. Saffron threads are trumpet-shaped at the end. Also, when it's rubbed between your fingers, your skin will turn yellow/orange. I think saffron is one of the most underutilized seasonings. It's so delicious in Paella too!
What type of lemons should I use?
There's not a wrong lemon. But if you prefer a sweeter lemon, Meyer Lemons may be your ticket. For a tangier lemon flavor use Eureka or Lisbon lemons, but don't use bottles of lemon juice,  it has a very different flavor as the preservatives affect the taste.
Roasted cauliflower, quinoa, pasta salad
A flavorful pasta salad with quinoa, roasted cauliflower and a nice tangy lemon salad dressing with saffron, mint, garlic, and green onions.
Author:
Diane Schmidt, Created by Diane
Ingredients
1-1/2 cups cooked quinoa (1/2 cup quinoa with 1 cup water makes about 1 1/4 cups cooked quinoa)
1/2 lb Pasta (mini bow tie)
1 head roasted chopped cauliflower 450° 15 minutes until golden
lemon saffron dressing
¼ cup lemon juice
¼ cup oil (I use avocado oil, or light olive oil)
1-2 cloves fresh garlic
5 sprigs fresh parsley
5 leaves fresh mint
2 green onions
6 threads saffron
1 teaspoon dry oregano (or fresh)
½ teaspoon salt
¼ teaspoon black pepper
Instructions
Prepare the quinoa according to package directions (add more or less quinoa if desired)
Prepare the pasta according to the package directions (add more or less pasta if desired)
Chop and place cauliflower on a baking sheet drizzle with oil and roast the cauliflower in a 450° oven for 15 minutes until tender and golden.
Mix the salad dressing by mixing lemon juice, oil, garlic, parsley, mint, onions, saffron, oregano, salt, and pepper. in a glass jar, or use an immersion blender. If you want it CREAMY, add in an egg yolk and as it blends it'll emulsify into a creamy sauce.
Cool the quinoa by running cold water over it and drain it.
Do the same for the pasta, run cold water over the pasta until it's cooled.
Allow the cauliflower to cool for 10 minutes.
Mix all the ingredients together.
Add in cooked shredded chicken if desired.
Chill and serve when cold. or you can serve it hot, or once chilled you can serve it reheated as well.