This Curry Chicken Salad is a great flavor twist on a great classic!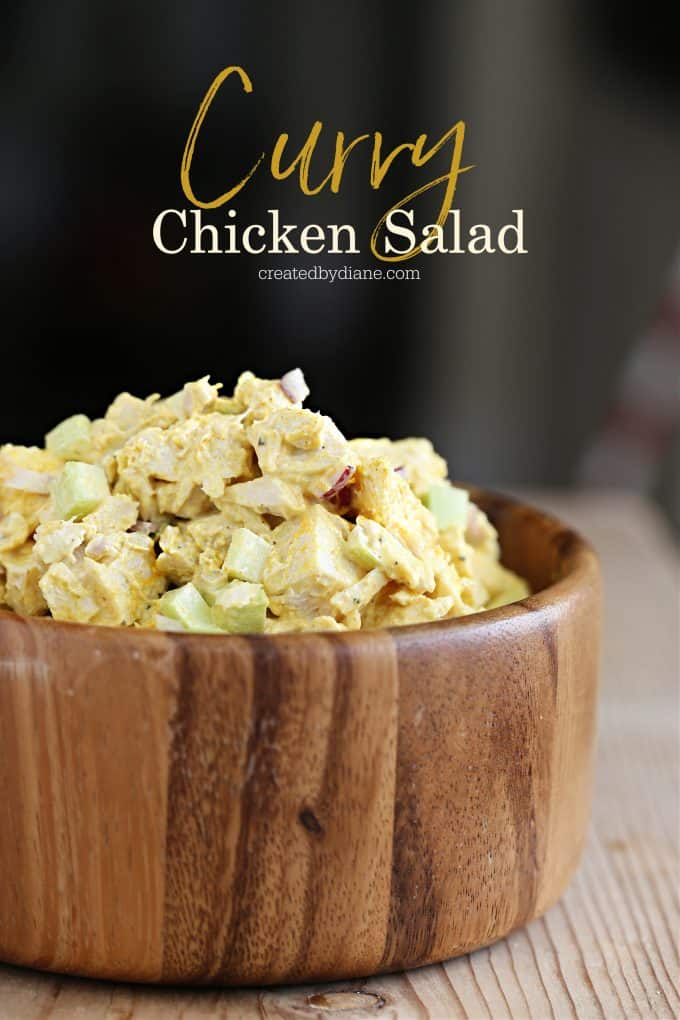 I love curry. Of any kind. I love its warmth, aroma, and its so full of delicious flavor.
One day while making chicken salad, I realized that curry could be a great compliment to this classic dish.
And I was right!
On days that I have a sweeter tooth, I'll add a bit of pineapple to it and it's so good! The sweetness of the fruit balances the spices in the curry for a mouthwatering salad.
You can make this as spicy or as mild as you'd like. And if you're looking for more sweetness chop up some coconut really fine and add it in when you mix the chicken.
And this isn't my first go-around with curry, I have experimented with it over the years with great success and have some wonderful recipes on this blog that are worth making. Here are two of my favorites!
For this curry chicken salad recipe we'll be using yellow curry. Yellow curry is a spice mix made of ground turmeric, cumin, coriander, ginger, and fresh or dried chilies. You can use whatever curry you prefer. Yellow curry is sweet and spicy without being too hot – it has a nice mellow warmth that you're sure to love. 
This is so easy and quick, you'll want to whip up a bowl of it to have in your fridge for lunch during the week.  
Now let's begin!
Begin by cutting or shredding your chicken up. It's much easier to shred your chicken while it's still warm. Otherwise, just cut it into bite size pieces.
Dice your celery and your red onions.
Next, mix your mayo and chicken together.
Finally, add the remaining ingredients into your bowl and mix around until fully incorporated.
Then serve, or refrigerate and serve.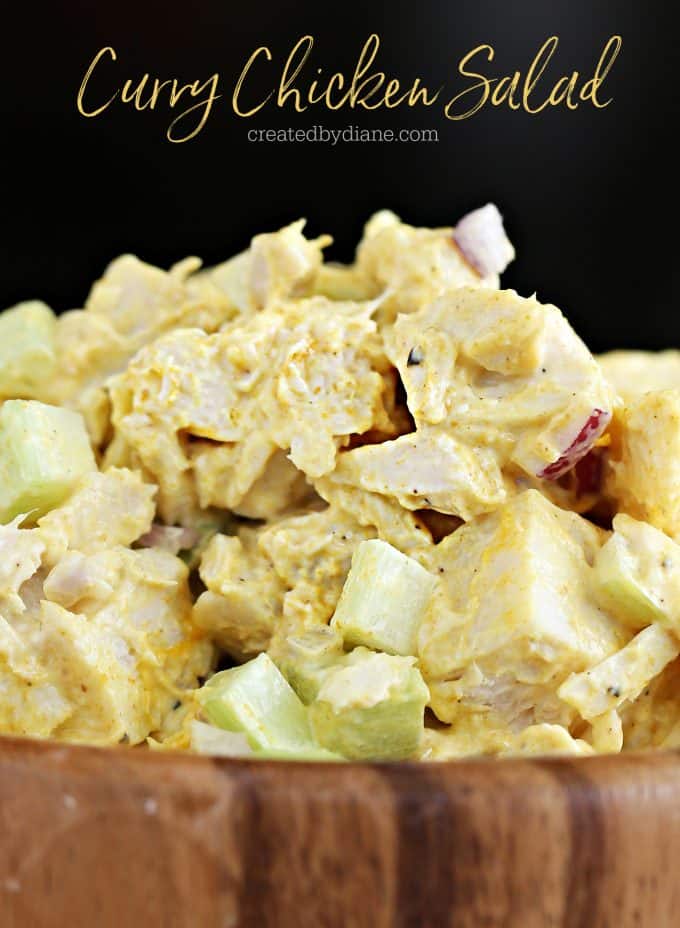 I have red curry, is that much different from yellow?
Yes, it's quite different in flavor. Where yellow curry is attributed to India, Red is most often associated with Thailand. It is made up of red chili peppers, garlic, sea salt, lemongrass, turmeric, and shrimp paste.
What about cooking the chicken, is white or dark meat better? Does it matter?
This is up to your own preference. I have used leftover chicken from a rotisserie chicken, precooked chicken from the deli, or cooked chicken breast fresh and let them cool. I have some great chicken cooking tips if you decide to go that route.
I don't have yellow curry, what else can I use?
You can make your own! 
4 teaspoons ground cumin

2 teaspoons ground coriander

2 teaspoon turmeric

1 teaspoon ginger

1/4 teaspoons dry mustard 

1/4 teaspoon cayenne pepper

1/4 teaspoon harissa if you have it I like the Harissa from trader joes, or I use this dry harissa, it adds a great flavor to curry.
Curry Chicken Salad
Curry flavored chicken is bound to be a curry lover's favorite, add pineapple for a fun fruity sweetness.
Author:
Diane Schmidt, Created by Diane
Recipe type:
Chichen, Main Dish
Ingredients
3 cups cooked chicken (1 lb chicken) 6 servings
½ cup mayo
1 stalk celery, diced
2 tablespoons diced red onion
1/4 teaspoon curry powder
1/8-1/4 teaspoon turmeric
pinch of salt and pepper
*optional pineapple, 1/2 cup fresh or canned and well-drained and blotted pineapple
*add in a little harissa for spice or crushed red pepper flakes.
Instructions
Cut or shred chicken into small pieces.
If shredding chicken it's best to do that while the chicken is warm, but allow any chicken to cool completely before mixing with mayo.
Mix the chicken with mayo.
Then add in the celery, curry, turmeric, and salt, and pepper to taste.