A delicious and hearty salad that is a fresh tasing perfect meal, this Apple Walnut Gorgonzola Salad is great anytime.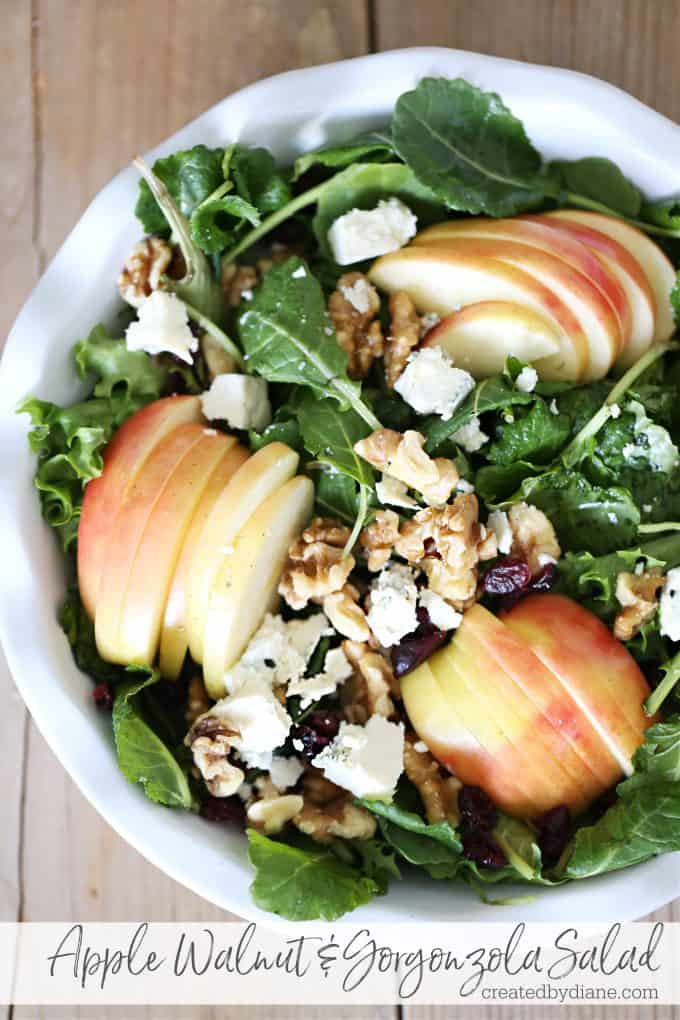 Salads are great, I love them but I always want more than just a simple green salad. This flavor explosion is great all year long, apples are readily available and the added flavor of delicious cheese, dried cranberries, and nuts with a simple dressing puts this salad over the top.
In the summer the heat can really make you feel heavy and tired, but the right food to put in your body can lighten you right up. This salad provides key nutrients to help you stay energized. Kale contains vitamin C and Iron, and walnuts add a dose of protein while apples add fiber. 
 And because it's a cold dish with ingredients that won't sit heavy, you'll feel refreshed! It's the perfect lunch to take with you to work as everything can be prepared ahead of time. Just throw it in a container, your balsamic dressing in another, and you're ready to go!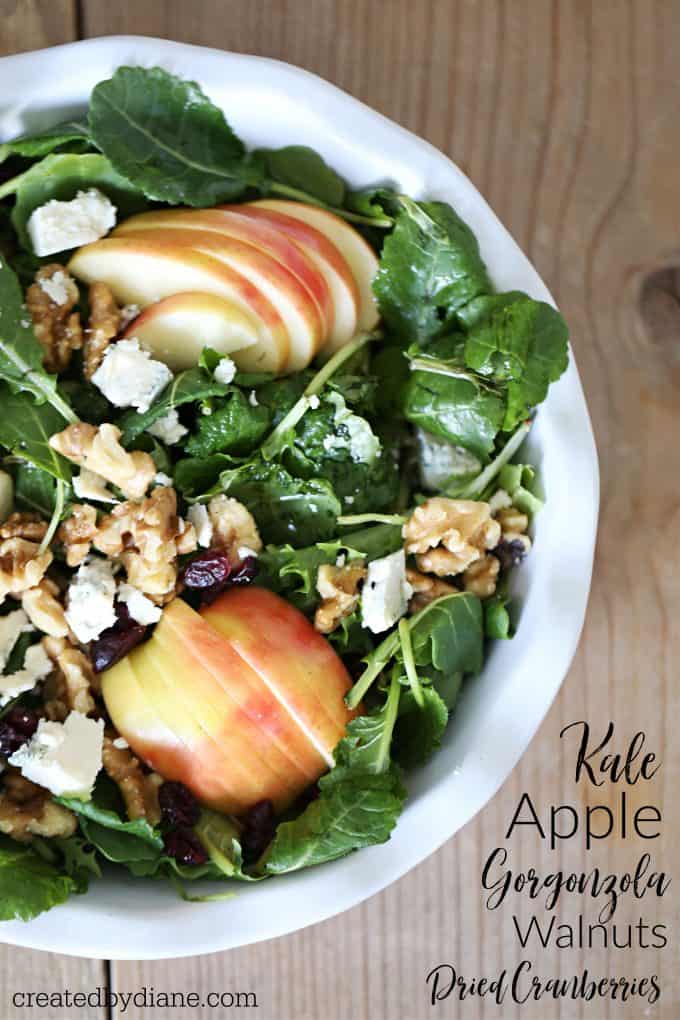 And many times, if I want something a little heartier, I'll add in cooked chicken. I always have some on hand as I precook a bunch at the beginning of the week for fast meals. I have a blog all about cooking chicken here!
It really does come in handy on those weeks where you're running from one end of town to the other. Life gets busy! Having pre-cooked chicken on hand makes it a little easier. I use it in all kinds of recipes too! Here are a few of my favorites!
Chicken Salad – Of course! This is a classic and so delicious, and again an easy one to make ahead of time and take with you on the go!
Skillet Chicken and Stuffing – I use this recipe a lot with holiday leftovers. It's filling and simply delicious – making the holidays last a little longer.
Chicken Pho – One of my all-time favorite dishes to make. After a long day, it's so nice to sit down to something warm and comforting.
Creamy Buffalo Chicken Salad – Another wonderful summer dish, sweet and tangy. A go-to dish for a quick meal.
And I have loads more. But let's begin making our salad!
To begin, in a jar add oil, balsamic vinegar, mustard, garlic, oregano, along with salt and pepper. Put your lid on and shake until combined. If you make this ahead of time, as it sits the oils and vinegar will separate, that's 100% normal, just re-shake before serving.
Place the greens into a medium bowl and toss with 2 tablespoons of dressing (add more if desired).
Core and slice the apple and lay it onto greens.
Finally add the cheese, cranberries, and walnuts. Add in some cooked sliced chicken if desired.
What other greens would go well with this?
Baby spinach is wonderful, and even a little arugula for a spicy kick is a great addition. There's no wrong green really, though iceberg and romaine are my least favorite for this dish. This salad is also great with romaine.
Could I replace the walnuts with something else?
You could, some people omit the walnuts all together. Pecans or almonds work great as a substitute.
I can't find gorgonzola, is there a good replacement?
Goat cheese or blue cheese can work well in this dish if you don't have or can't find gorgonzola.
Apple Walnut Gorgonzola Salad
This delicious salad is not only full of flavor but has the best topping ever, including gorgonzola cheese, dried cranberries, and walnuts along with apples in a creamy balsamic dressing and tender greens.
Author:
Diane Schmidt, Created by Diane
Ingredients
2 cups baby kale or other lettuce greens
2 tablespoons dry cranberries
1/4 cup walnuts
1/4 cup gorgonzola cheese (or blue cheese)
1 honey crisp apple
chicken cooked optional
Balsamic Dressing
2/3 cup oil I use avocado oil (can use any olive oil or other great tasting oil)
1/3 cup balsamic vinegar
2 teaspoons mustard (dijon, spicy brown, or 1/2 dry mustard)
1 teaspoon garlic
1/2 teaspoon dry oregano
pinch of salt and black pepper
If you won't want to make the dressing buy a balsamic vinaigrette dressing and add mustard to make it thicker and creamier
Instructions
Mix the salad dressing in a jar.
Add oil, balsamic vinegar, mustard, garlic, oregano, along with salt and pepper. Mix well to combine.
Place the greens into a medium bowl and toss with 2 tablespoons of dressing (add more if desired).
Core and slice apple and lay apple onto greens.
Then add the cheese, cranberries, and walnuts.
Serve immediately.